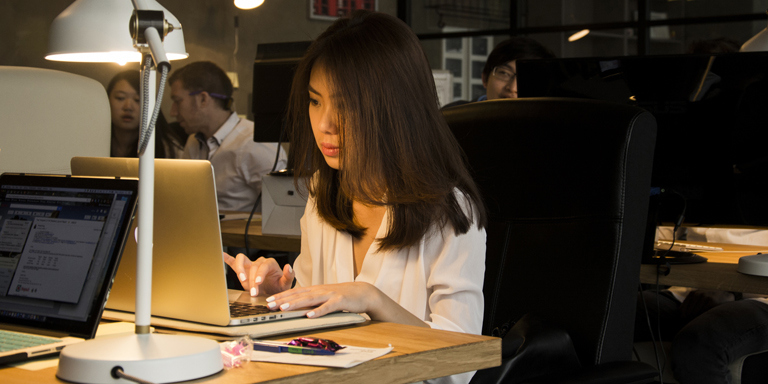 https://hkmb.hktdc.com/en/1X0A4WVH
Snappy Answers
A Hong Kong start-up provides online tutoring for students via an innovative app.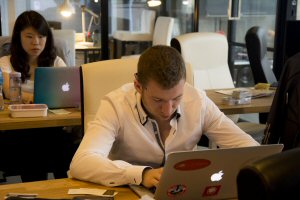 Launched in 2013, Snapask aims to help students by directing their questions to a team of experienced online tutors, who can counsel users on subjects ranging from mathematics to hospitality management.

Questions can be posted as text or images, with the option of using audio. "The format of reply usually depends on the subject of the question," explains CEO and founder Timothy Yu, a graduate of the University of Hong Kong. "Science or maths-related subjects are usually answered with a picture response together with further text explanation on one or two points."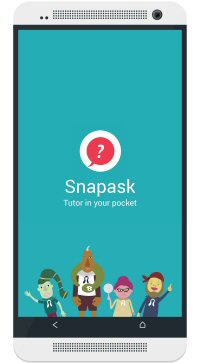 The company also recruits tutors via crowdsourcing through the app, with the minimum university degree requirement. To ensure the quality of answers offered, tutors are required to submit a copy of their public examination transcripts and university student cards. "Tutors only answer questions on subjects they have attained an "A" for in the public examination," adds Mr Yu, whose background in private tutoring gave him the idea for the business.

"Like many university students, I provided private tuition to secondary school students after class. At 21, I opened a tuition centre in Fortress Hill, which focused on providing small-group tuition. Though the business started off well, business growth was limited by high rents and an insufficient number of tutors," he says.

The company business model is based around a credit scheme, with a HK$150 starter pack entitling students to 150 Snapask credits (each in-app question costs 10 credits) and a standard pack for HK$300 worth 400 credits. The company from this month started selling credit packs at select 7-Eleven stores. According to the founder, Snapask has already broken even, so revenue from the credits scheme is ploughed back into the business.
Proactive Learning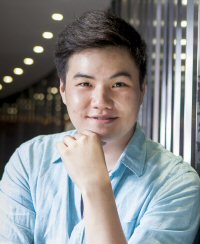 To date, the app has 30,000 users, 2,000 of which are qualified tutors, and is recording double-digit monthly increase in activity, according to the company. With a presence in Shanghai, Taiwan and Singapore, the Hong Kong company currently employs 35 full-time staff, most of them university students and recent graduates.

Mr Yu says its major challenge lies in encouraging students to ask questions. "The Asian learning culture focuses heavily on passively absorbing information rather than active questioning. We want students to best utilise their time and encourage them to ask questions, and aim to provide accessible learning so that education can be a level playing field for all."
Snapask 3.0 launched last December, and the app's latest version has optimised the student-tutor matching mechanism to induce faster responses. "A machine-learning algorithm has also been introduced in the new version to better understand students' study pattern for our next phase of tailor-made courses," says Mr Yu.
Working with Schools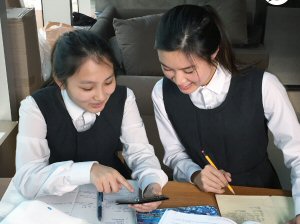 The CEO views Snapask as complementary to offline education and is working closely with schools to deliver a new model of in-class interactions. "From 2016, we will put Snapask in more than 100 schools to test the new system with thousands of students. We want to work alongside teachers to present an online-to-offline (O2O) experience, where classes are supplemented by online interaction."

Snapask's research found that such topics as probability and statistics can be particularly problematic for students. "Hong Kong's school curriculum hasn't changed for the last 20 years, and we can see that some topics need more time to be explained. It's about focusing resources to tackle these problems," says Mr Yu.
Procuring Investment
The Cyberport Incubation Programme supported Snapask with seed funding and free office space for 24 months. Mr Yu also sold his private tutoring business in Fortress Hill to raise capital for his app.

Snapask completed its Pre-A Series investment last August, which was led by Arthur Kho, a former Hong Kong celebrity tutor. Together with additional funds from individuals and organisations in the education field, it has raised HK$13.5 million to expand its role in the O2O education market.
Government Support
Mr Yu says being based in Hong Kong has been instrumental to the company's rapid expansion. "The competitive education system in the city has created a lucrative tutoring market, which laid a sound foundation for the set-up of Snapask," he says. "Without such demand and acceptance towards tutorial education, we could not have expanded at our current rate."

Government support also plays an important role, he adds. "Low taxes and Hong Kong's laissez-faire economic policy offer a favourable environment for businesses. With the help of government incubation efforts and start-up community development, we have received tremendous support, both financially and technically, throughout our journey.

"It is difficult for us to imagine what the journey would have been like had we started outside of Hong Kong, says Mr Yu. We have definitely seen an increasing amount of effort in the international community in supporting start-ups, but we believe the opportunities we have been offered and the support we have gathered in Hong Kong are key to our current achievement."
Related Link
Snapask
Education & Training
Technology