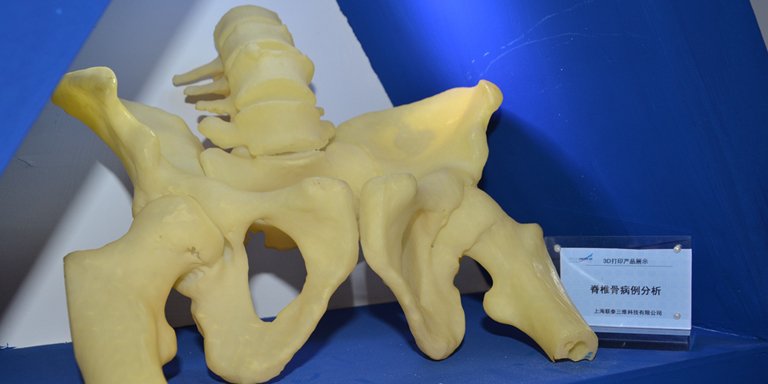 Medical Dimension
Rising demand for precision prosthetics across the Chinese mainland is opening huge opportunities for pioneers in 3D printing.
The rapid growth of 3D printing for medical applications was highlighted at last September's 3D Printing Asia, held in Guangdong. The ability of such technology to produce precision, one-off prosthetics – customised to an individual patient's unique anatomy – has broadened the possibilities of using additive manufacturing in medicine.

The event also showcased a wide variety of 3D printing equipment as well as related innovations for modelling and scanning. Exhibits ranged from industrial-grade equipment to home-use 3D printers, which have become increasingly affordable.

However, it was the technology's medical applications that proved the biggest draw, reflecting a significant rise in demand for customised medical supplies.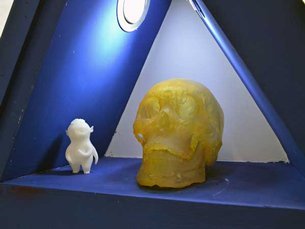 Precise Printing
In essence, 3D printing offers various benefits over other forms of low-volume manufacturing, including precise printing quality, speedy processing and the capability of rendering complex objects that are impossible to reproduce by other means. Compared with traditional manufacturing techniques, 3D printing ensures consistent quality, as well as cost savings related to the amount of time, resources and manpower required.

Guangdong-based technology firm Xindaya attracted considerable attention with its 3D-rendered specialist cutting tool for hip arthroplasty, complete with a side stem, surgical guide plate, dental crown and acetabular cup, which is delicately produced with a dense interspace on the surface. When grafted to a human bone, the implant allows the living bone to grow into its metal pore surface, providing firm integration with the metal implant.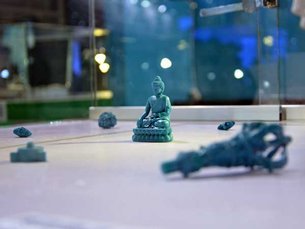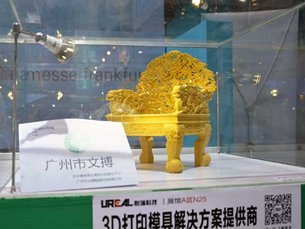 According to Song Changhui, Assistant to Xindaya's General Manager, 3D printing can precisely reconstruct the acetabular bone far more effectively than conventional techniques. At present, only acetabular cups made with cobalt-chrome-molybdenum alloy and titanium alloy can be implanted into the human body. According to Mr Song, cobalt-chrome-molybdenum alloy costs about half the price of titanium alloy, which is priced at about Rmb4,000 per kg. About 0.1-0.3 kg of cobalt-chrome-molybdenum alloy is required to print an acetabular cup.

The company also featured a surgical guide plate pre-3D-printed with two drilling bits. The 3D-printed surgical guide plates allow doctors to pre-set the drilling positions, while enabling rehearsals of similar operations on 3D-printed products. Apart from the added convenience for surgeons, the technique is also said to enjoy a relatively high success rate.
A range of 3D-printed medical supplies from Shanghai Union 3D Technology was also featured at the event. Qiu Xinxin, the company's Head of Marketing for the southern region, said 3D printing now has extensive applications in several medical fields, including oral and maxillofacial surgery, neurological surgery and spinal surgery. Doctors can directly use 3D printing technology to reconstruct a more precise model of a patient's spine. Such three-dimensional and accurately rendered models are considered superior to the overlapping bone architecture images typically produced by 2D ultrasound scans. As a result, doctors can accurately analyse spinal structures, and help patients better understand the causes of their illness as well as boosting diagnostic accuracy.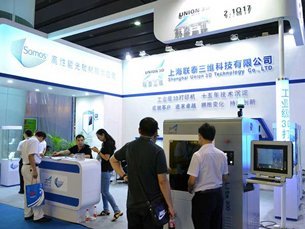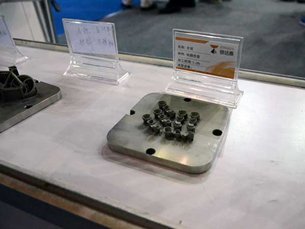 Medics can also choose the most suitable surgery options by studying 3D-printed artificial spines. All these refinements significantly boost the accuracy and safety of any surgery, ensuring a better post-operative prognosis.
Customised Supplies
Mr Qiu sees 3D printing technology embarking on a period of rapid expansion. Shanghai Union is capable of printing a wide array of medical supplies with applications in various fields, including surgical guide plates, dental crowns, cranial prosthesis, orthodontics and spinal damage prosthetics.

The company lays claim to being among the first on the mainland to specialise in 3D printing applications. The company, to date, uses mostly soft materials for 3D printing, which are ideal to manufacture "invisible" braces. Orthodontics is also in demand on the mainland, according to Mr Qui, with many people opting for invisible braces to improve their appearance.

Due to varied requirements of different patients, customised invisible braces are an increasingly popular form of treatment. Throughout a course of orthodontic remedies, any teeth movement may create the need for periodic adjustments to achieve the desired outcome. Traditional mass-production techniques can no longer satisfy such market demands, creating a real demand for 3D-printed items.
Xindaya also plans to produce 3D orthodontic medical products with its metal 3D printing technology. The company's device uses a selective laser melting process, requiring only two hours to print 30 artificial teeth.

Allowing for the differences in individual teeth, the Xindaya facilities can also simultaneously print artificial teeth in various shapes, allowing for a range of dental solutions, including crowns, bridges, partial dentures and tooth implants.

Mr Song said 3D printers with a product printing size of 250mm x 250mm would cost about Rmb5 million overseas, compared to about Rmb2.58 million on the mainland. Xindaya's 3D printer, with a product print area of 50mm x 50mm, is priced at about Rmb800,000. The company's equipment may not perform as consistently as some produced by their overseas competitors, but print quality is claimed to be already reaching international standards.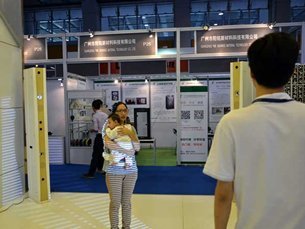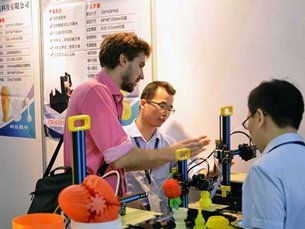 High-speed Scanning
Visitors also tested the ESUN 3D+Human Body Scanner from Shenzhen ESUN Display, which can reproduce a three-dimensional human body image on a computer screen in just a few seconds. According to ESUN's Chief Engineer, Wang Haifeng, the system has an extremely high scanning speed, capable of completing 360 degree scanning in just two seconds. The system can even recreate the clothing and skin colour of the scanned person. Mr Wang said the equipment is primarily used by clothing manufacturers to take tailoring measurements.
Another potential medical application for 3D scanners is in the field of cosmetic surgery. Since disputes can easily arise as a result of such treatments, Mr Wang said the use of the ESUN system allows for before and after images to be saved and compared. This inevitably helps arbitrate issues related to the success of any given treatment.
The scanner is sold locally and overseas, with several already exported to the United States and Europe. Depending on specifications and model, the units sell for between Rmb450,000 and Rmb650,000.

For more China market opportunities, please visit: http://research.hktdc.com.
Technology
Medical Supplies & Medicine