https://hkmb.hktdc.com/en/1X0A4PMB
Marketing Services Demand in China (4): Green Food Market Stalwart Sets Sights on Wider Asia Market
The green food market is flourishing in China, with the retail prices commanded by organic produce often double that of conventional food products. According to Fu Li, Vice-president of Tianjin New Green Food Co. Ltd., a green food enterprise specialising in deep-processed organic foods, the market is also becoming ever more competitive.
Drawing on the experiences of her own company, she said: "We promoted the launch of our Tanggu store in Tianjin's Binhai New Area via WeChat and other e-commerce platforms, and followed an O2O model in order to secure customer loyalty. The competition in the market, however, is getting more intense these days, with green foods widely available on the mainland. We would now like to explore the markets in Hong Kong, Taiwan, South Korea and the rest of Asia, but we need professional support services to help us develop strong branding and well-rounded marketing strategies."
Organic food products of Tianjin New Green Food includes frozen steamed and boiled food items, dim sum and desserts, with the company's products being mainly sold in Beijing, Hebei and Tianjin. Its typical customers include government organisations, large catering groups, supermarkets, and the canteens of kindergartens and other educational institutions.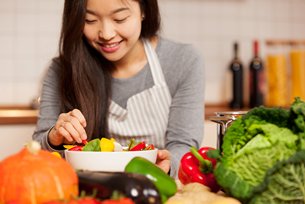 To ensure compliance with green and organic food standards and other safety requirements, Tianjin New Green Food selects organic produce with specified origins of cultivation and accreditation, all of which are grown using high quality, internationally certified raw materials. The company has adopted a policy of full process traceability management for all of its products. It has also set up a quality inspection centre to monitor soil and water quality, as well as the manufacturing, packaging and delivery processes of every batch of products. In addition, The company engages premium third-party cold chain logistics service providers to deliver its products.
High quality products aside, Fu believes that strong branding and marketing strategies are keys to the firm's future development. Tianjin New Green Food has adopted a progressive development model that starts with a few select products before diversifying. This model focusses first on building the domestic market before looking to the international markets. The company also aims to have its name become synonymous with high-quality green food. And Hong Kong's brand and marketing professionals are renowned for being able to provide an all-round strategic service for their clients. With their international perspective, they are able to help processing-specific enterprises effectively refine their branding, while simultaneously exploring the markets in both China and abroad.
Design Services
Advertising Services
Mainland China
Hong Kong
Mainland China
Hong Kong