https://hkmb.hktdc.com/en/1X0A4L72
Sustainability in the Wood and Paper Supply Chain
In the face of ever more frequent and severe extreme weather events around the world, businesses and consumers have become increasingly aware of green issues. As environmentally-friendly consumerism gains greater credence, a growing number of socially responsible companies have been keen to demonstrate their green credentials, while also expecting their business partners to do the same. According to SCM World's 2015 Future of Supply Chain survey of more than 1,000 supply chain leaders, 54% believe their supply chains play a "substantial" role in ensuring long-term environmental sustainability. Similarly, the findings of a number of surveys conducted during several HKTDC trade fairs also indicated that buyers now have a growing commitment to sourcing environmentally-friendly products (or products made using eco-friendly materials).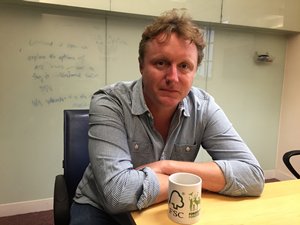 According to Alistair Monument, Asia-Pacific Director of the Forest Stewardship Council (FSC), many consumers now have a distinct penchant for 'green living'. This includes a preference for the use of natural materials, notably with regard to wood interiors, furnishings and homes. Wood can be an eco-friendly material if it is responsibly harvested, and compared to steel or plastic can have much less impact on greenhouse gas emissions. It also has the advantage of being renewable, reusable and recyclable.
In order to ensure a long term sustainable supply of wood and to contribute to nature conservation, the FSC has introduced a third-party certification system. This has been designed to promote responsible environmentally appropriate, socially beneficial, and economically viable forest management. It also acts to certify that individual products have used wooden materials from a legal and responsibly managed source.
Founded in 1994, the FSC is a global, non-profit making organisation with a remit to promote responsible forest management worldwide. The FSC system features two distinct certifications. The first is a Forest Management (FM) certification and is awarded to forest managers or owners who comply with the standards required for responsible forest management. The second is a Chain of Custody (COC) certificate. This is issued to companies manufacturing, buying or selling FSC-certified materials along an unbroken supply chain.
As of November 2015, the FSC had issued more than 30,000 certificates in some 110 countries, a 100% increase on its 2010 figure. Significantly, some 42% of the total number of FSC-certified forest assets are located in countries covered by China's Belt and Road Initiative [1] – more than 70 million hectares in Europe and seven million hectares in Asia.
According to the latest FSC Global Market Survey of 3,656 FSC certificate holders from 95 countries (conducted in June-July 2014), the most common reason for becoming or remaining FSC-certified is compliance with the expectations of potential and existing clients and markets. For many of these, FSC- certification is now a part of their sustainability strategy.
FSC-certification is increasingly important for those companies looking to participate in the green building industry. It also helps to ensure compliance with changing timber regulations around the world and the requirement to use legally-harvested timber. Internationally, many public procurement bodies make certification a pre-requisite when selecting construction material suppliers.
According to the FSC Global Market Survey, building and construction materials aside, the most commonly bought and sold FSC-certified products are paper, books and printed matter, timber, packaging materials, round wood, furniture and stationery.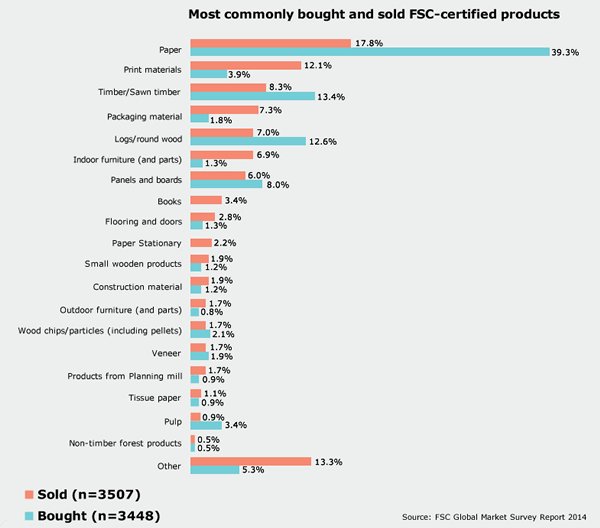 Many of the items in everyday use – from furniture to paper to textiles to building materials – are originally sourced from forests. By choosing to buy and sell only FSC-certified products, businesses add value in a number of different ways. This is true not only because more consumers want to buy and use environmentally responsible and sustainable products, but also because the EU (and a number of other markets) has regulations and targets in place designed to minimise the environmental and social impact of packaging-related waste, while also increasing recycling rates. This has seen packaging companies come under increasing pressure to demonstrate the highest environmental credentials.
Today, many of the most innovative companies in the world are FSC-certified. Along with addressing the relevant forest issues, a number of these are now committed to designing and manufacturing products that satisfy several of the other concerns of the sustainable design community. These include efforts to improve indoor air quality (IAQ), boost recycling and reduce the use of certain toxic chemicals.
In retail, more and more retailers are choosing FSC certified products as part of their portfolio. The FSC label is an easy way of showing customers that they are buying a product derived from sustainable forest operations. It also demonstrates that manufacturers are committed to protecting the rights of both workers and local communities, while also maintaining forest biodiversity and conserving wildlife.
It is not only in Europe, the region with the highest level of awareness of the FSC label, where consumers are opting for green goods. Outside of Europe, FSC awareness is also on the rise. This includes many of the Asian markets, notably Hong Kong where consumer awareness of the FSC reached 36% in 2013. With increasing recognition of the concept, demand for FSC-certified products has grown considerably, a development that is expected to continue.
Sustainability is far more than a passing trend, however, and it's vital for successful businesses in increasingly crowded markets to be forward thinking in order to remain relevant. Whether it's the family dining table, the chopping board, the milk carton, tissues or a humble paper bag, consumers want to know that all of their wood and paper products have been sourced responsibly.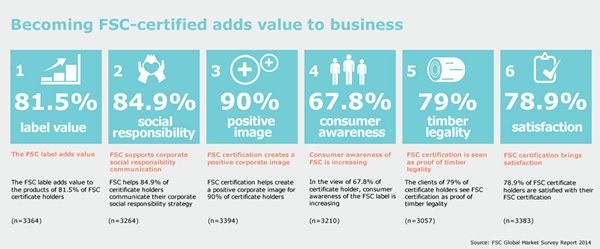 ---
[1] The Belt and Road Initiative aims to promote the connectivity of the continents of Asia, Europe and Africa, as well as their adjacent seas, while also supporting sustainable development in these countries. Under the terms of the initiative, when conducting investment and trade activities in these areas, every effort should be made to promote ecological progress. This would include increased cooperation with regard to conserving the eco-environment, protecting biodiversity and tackling climate change. Ultimately, the aim is to ensure the Silk Road progresses in an environmentally-friendly fashion.
Books & Printed Items
Building Materials
Furniture & Furnishings
Packaging
Environmental Protection
Quality Inspection and Testing
Hong Kong
Mainland China
Hong Kong
Mainland China