https://hkmb.hktdc.com/en/1X0A49WD
Marketing Services Demand in China (2): Consumer Goods and the Industrial Market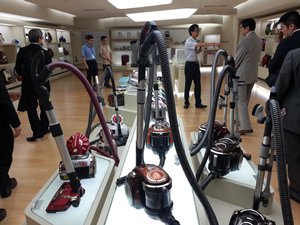 Chinese enterprises are placing increasing emphasis on product design and brand development and have adopted different means to identify market demand. This is not just the case with small- and medium-sized enterprises, but has become the long-term strategy for many larger and more mature businesses. Their demand for design and brand services provides ample opportunities for any related service providers. Such service providers, however, should take note that mainland enterprises are seeking much more diversified services as they look to penetrate different market segments. Service providers must understand the development strategies of different consumer brands and industrial firms in order to tailor their services to fit the needs of their clients.
Multi-brand Development Strategy
Speaking to a visiting Hong Kong brand and creative design delegation [1], Suzhou-based Kingclean Electric Co Ltd indicated its status as market leader for home and environmental cleaning products. Its Lexy brand vacuum cleaner has, apparently, been the top-selling brand in China for 19 years, ever since the company first launched back in the 1990s. Today, the company still devotes considerable efforts to improving its product design and technological innovation, while trying to further open up different market segments with multiple brands.
The company's branding strategy is designed to meet the needs of different marketing channels and consumers by projecting a variety of professional brand images. For example, its Lexy brand is mainly used for high-end home appliances, such as vacuum cleaners and air purifiers, which are sold through physical stores, including 3C stores, mid-range to upmarket department stores and high-end supermarkets. Its "bewinch" brand, meanwhile, focusses on high-end intelligent water purifiers, with its sales channels focusing on high-end department stores and gift shops, as well as installation engineering companies.
But Kingclean Electric has not overlooked neither the fast-growing online market nor the strong purchasing power of young people. A niche brand, Lexy Jimmy, has been developed for home cleaning and personal care products and these are marketed to younger consumers through online and mobile platforms, supermarkets and third- and fourth-tier wholesale channels.
Listed on the Shanghai Stock Exchange, Kingclean Electric employs 500-plus engineers and product designers at its R&D centres worldwide. It is committed to developing intelligent, high-end and aesthetic products to meet consumer demands for a high quality green lifestyle. In addition to the China market, its products are sold in more than 120 countries and regions.
Promoting Corporate Image
Tianjin Optical Electrical Group Co Ltd (TOEC) is a high-tech enterprise focussing on the development, manufacture and marketing of optoelectronic equipment, electronic devices and electronics manufacturing services. The group grossed Rmb2.26 billion in annual sales in 2014. TOEC has 17 subsidiaries, in many of which it maintains a controlling interest. Each of these subsidiaries has its own independent team for R&D, production, promotion and marketing.
Speaking to HKTDC Research, a company spokesman for TOEC said big differences existed between the branding and promotion strategies of enterprises specialising in industrial applications and products and those for consumer brands.
He said that the branding strategy of TOEC, as the parent company, is to project its corporate image and promote its business as a whole to the industrial market. In addition to traditional media, billboard advertising and online platforms, TOEC uses specialised exhibitions and the technology and business networking workshops of different industries to promote itself to its peers and the general public, as well as to project the professional image of the group. It also registers the trademarks for all of the group's industrial and optoelectronic products sold in the mainland market in order to ensure suitable protection.
Going forward, the company will endeavour to further develop new-generation information technology, including technology co-operation, technology transfer and project innovation for information security, smart city, mobile internet and other high-end electronic products. It also intends to co-operate with Hong Kong universities and other technology partners, bring in commercialisation solutions for technology projects, and secure support for branding and marketing services in order to advance the development of the relevant businesses of the group as a whole.
---
[1] HKTDC organised a Hong Kong brand and creative design delegation in August 2015 to Suzhou and other cities in the Yangtze River Delta to promote Hong Kong's professional services in branding strategy, market promotion and design.
Design Services
Advertising Services
Mainland China
Hong Kong
Mainland China
Hong Kong