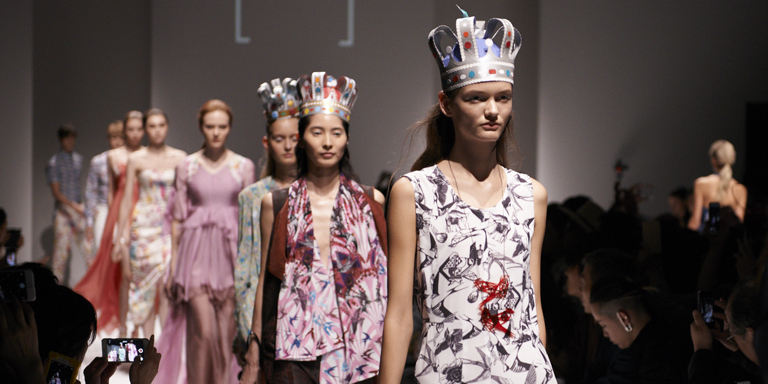 https://hkmb.hktdc.com/en/1X0A44YQ
Hong Kong Fashion Wows Tokyo
The Mercedes-Benz Fashion Week Tokyo 2016 Spring/Summer showcased some of the best in Hong Kong design.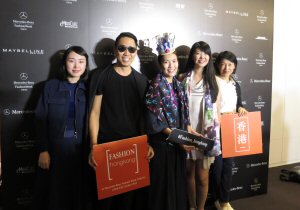 Hong Kong's leading fashion designers were in the spotlight at Tokyo Fashion Week last month. Organised by the Hong Kong Trade Development Council (HKTDC), the October 2015 "Fashion Hong Kong" event showcased the latest collections by five of the city's designers: Lulu Cheung, Chailie Ho, Polly Ho, Kathy Lam and KOYO William.

More than 330 buyers, media and fashionistas from Tokyo were on hand for the show, the latest to be organised overseas to promote Hong Kong design talent.

Alongside the runway action, a "Fashion Gallery" pop-up showroom featured a diverse range of painting, music and movies that inspired the designers and helped facilitate networking opportunities. The five designers offered some observations and key takeaways from Hong Kong's first appearance at Tokyo's premier fashion event.
"Fashion bloggers are replacing reporters and fashion editors, and they compare designs constantly. I think it's important to remain unique and marketable in the fickle world of fashion."
Championing the Traditional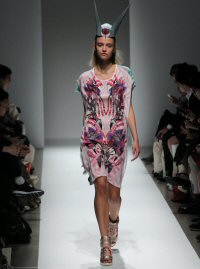 The latest collection by Polly Ho's Loom Loop, design partnership with Melancholicandy, used traditional Canton silk to offer cool, comfortable and eco-friendly creations. "The method of weaving the jacquard fabric has not been compromised," Ms Ho said. "The old traditional wooden machine is still used to weave it. The whole dyeing process of this fabric is eco-friendly, too, with the raw silk fabric dyed in yam juice.

"This fabric is a good representation of Lingnan culture, and we hope to conserve the traditional culture and craftsmanship that accompanies it. We don't want this fabric to exist only in the costume museum," she adds. "We want to create a trend of wearing Chinese-style clothing, but in a modern way."

While using traditional Chinese fabric, the brand also takes cues from the West. Its Spring/Summer 2016 collection, for example, is inspired by Oscar Wilde's fairytale, The Happy Prince, and features art deco-style prints and a swallow motif. Ms Ho said her design's East-meets-West concept were well received in the Japanese capital.

"Tokyo is one of Asia's most prominent cosmopolitan cities and one of the most important fashion cities. Many Japanese shoppers are sophisticated and looking for high-quality fashion products. They aren't just interested in Western brands; they are also looking for something with heritage and quality." Japan was also a source of inspiration, Ms Ho said. "For our Autumn/Winter 2015 collection, "Attack of the Crab Monster," we paired the crab print with sushi to make it more fun."
Silk Screen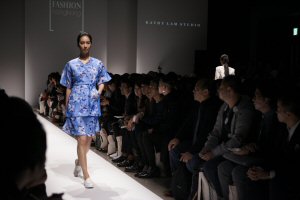 Incorporating traditional silk screening into her designs, some of Kathy Lam's collections exclusively use her favourite colours – blue and white. The brand's Autumn/Winter 2015 womenswear collection, Moon Safari, was inspired by an album of the same name by French electronica duo Air. Radiating a romantic and chic feel, the collection featured cloud prints, velvet bow trim, deep side slit pants and trimmed wavy skirt details. Ms Lam said her Spring/Summer 2016 collection, featuring elegant designs using blurred lily patterns, also was influenced by music and art – including the likes of Scottish band Cocteau Twins and digital artist Heath West.

One of the highlights of the Tokyo show for Ms Lam was gaining Japanese media exposure, including features on her Spring/Summer 2016 collection in the Yomiuri Shimbun and Mainichi Shimbun.
Jean Genius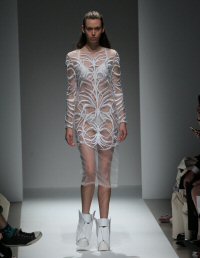 Despite its name, the Koyo Jeans label is more than denim, according to designer KOYO William. Showcasing his latest space-themed collection at the Tokyo show, he included a men's jumpsuit with abstract swirl prints and a sheer dress – both paired with makeshift moon boots. The collection, he says, reflects the growing accessibility of space exploration. "Space travel can become a reality in the near future. This is no longer just fantasy," said the designer.

KOYO William's signature gothic rock style has gone down well in Europe, where he sells through a distributor. Japan, he said, looks equally promising. "Tokyo Fashion Week was an attentive host. They took great care of each person and each show detail; we didn't need to worry about anything. It was great to have the opportunity to be in one of the world's fashion capitals and mingle with many fashion lovers."
A Naturalistic Approach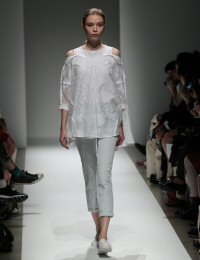 Taking inspiration from the textures, forms and colours of nature, designer Lulu Cheung's designs combine femininity with a down-to-earth practicality. This approach is reflected in her Autumn/Winter 2015 collection, which features muted tones and practical blacks.

To stand out from the mass market, Ms Cheung believes designers need to be daring. "Hong Kong fashion designers face new challenges due to difficult market conditions," she said. "To be more competitive in the marketplace, it's time for designers to bring more creative and innovative designs to the market."
Watercolour Wonder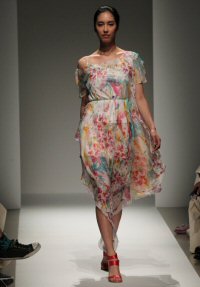 Chailie Ho's Spring Summer 2016 collection, "Mermaid Circus," was inspired by a visit to a circus show featuring performances by teams from different countries.

Ms Ho's pieces include scarves and lingerie, and showcase her hand-drawn watercolour prints. She said her approach to design is to appreciate classic beauty by visualising and highlighting, feminine touches. "My designs need to be very comfortable to benefit the wearer, while the rich colours are eye-catching. My philosophy is to enhance and project the perfect female body shape, no matter who the wearer is."

The designer said that attending Tokyo Fashion Week allowed her to experience first-hand the efficiency required to pull together such a big event. She praised the show for an intense focus on small details, and great teamwork backstage. "Everything is linked, and people worked together very quickly to deal with any issues that may arise," she said.
Related Links
Chailie Ho
Kathy Lam
Koyo
Loom Loop
Lulu Cheung