https://hkmb.hktdc.com/en/1X0A3WQM
Zhengzhou: Profile of a Consumer Market
1. Economic Overview and Development Planning
Zhengzhou is the provincial capital of Henan and, as such, its economic strength is far greater than other cities in the province. In terms of GDP, it is the third largest city in China's central region, trailing only Wuhan and Changsha. In 2014 the city's GDP reached Rmb678.3 billion, up 9.5% year-on-year, 19.4% of the provincial total. In the same year, Zhengzhou's per capita GDP stood at Rmb73,056, which was about double the Rmb37,117 Henan average.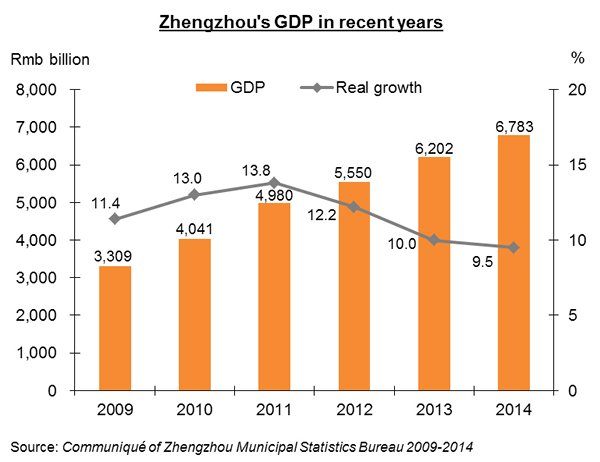 Located in China's heartland and enjoying a long history and a superior geographic position, Zhengzhou is an important transportation hub in China. With its prospering commerce and trade it is designated by the State Council as one of the three pilot cities for implementing commercial centre reforms. It boasts a large number of large commercial and trading facilities and numerous commodity distribution markets with wide geographic coverage. In the coming year, five commodity trading markets are expected to exceed Rmb10 billion annual transactions.
Zhengzhou possesses clear advantages in textiles, machinery, building materials, refractory materials, energy resources, as well as raw and auxiliary materials. Its seven leading industries are automobile and equipment manufacturing, electronic information, new materials, aluminium processing, food, pharmaceuticals and casual clothing. In 2014, these seven industries generated value-added amounting to Rmb215.5 billion, representing 13.2% growth from the previous year and 70% of the value-added from industries above a designated scale. Zhengzhou is one of China's textile bases, a vital base for metallurgy and building materials, with its alumina output approximately half of that of the whole country.
Zhengzhou has long been one of the railway hubs in China. It is at the intersection not only of the Beijing-Guangzhou and Lanzhou-Lianyungang railways, but also of the Beijing-Guangzhou and Xuzhou-Lanzhou high-speed lines. It is the presence of this double intersection that makes it an integrated rail transportation hub. Zhengzhou Railway Station is one of the three major passenger terminals in China and connects directly to 31 provinces, autonomous regions and cities around the country. While Zhengzhou North Station is Asia's largest marshalling station, Zhengzhou East Station is China's largest less-than-truckload freight station. Under the Plan for Developing Zhengzhou into an Integrated Transportation Hub (2014-2020), a railway network radiating out like the spokes will be built in Zhengzhou. On top of the existing Beijing-Guangzhou-Shenzhen-Hong Kong and Xuzhou-Lanzhou high-speed passenger railways, high-speed lines leading to Wanzhou (near Chongqing), Jinan, Taiyuan and Hefei will also be built. Furthermore, based on the existing Zhengzhou to Europe international freight trains, a logistics hub connecting to the rest of the world will be built to capitalise on the role of Zhengzhou as an important node along the Silk Road Economic Belt.
According to Zhengzhou Overall Urban Planning (2008-2020), Zhengzhou's development will be directed mainly towards its eastern, western and southern sides with different areas in the city centre having different positioning. According to development planning, Jinshui District will become a commercial district for comprehensive services. Along the axes of Wenhua Road, Jingsan Road and Nanyang Road in Jinshui District, efforts will be focused mainly towards the development of the commerce and trade sector, services sector, culture and entertainment, education and scientific research and other urban industries. In the neighbourhood of Huayuan Road, Wenhua Road and Dongfeng Road, a commercial services centre will be established; hotels, guest houses and other tourist services will be developed along Huayuan Road; restaurants and bars will be established along Jingsan Road; while institutes of higher education and research entities will be concentrated on Wenhua Road.
Through the development of comprehensive service functions, Zhengdong New Area will be turned into a provincial level regional services centre catering to the needs of cities in central China and Henan. Towards the north of this district, a district-level commercial service centre will be established in the short term and a municipal-level tourist and leisure centre will be established in the long term. In Guancheng District, a commercial service centre will first be developed north of South 3rd Ring Road and east of Shanggang East Road. Further development will see to the establishment of a municipal-level sports and cultural centre here.
2. Zhengzhou's Consumer Market
2.1 Growth in Retail Sales
In the last few years, Zhengzhou's consumer goods retail sales have posted double-digit growth. In 2014, retail sales of consumer goods grew 11.1% to Rmb291.4 billion, constituting a 21.1% share of the province's total and more than double that of Luoyang, the second largest consumer market in the province. In the year, of all enterprises above a designated scale, retail sales of food, beverages, tobacco and wine grew 30.6%; retail sales of clothing, headwear, footwear and knitted textile grew 11.8%; precious jewellery 21.1%; everyday items 16.4%; furniture 50.5%; and cars 11.3%.
2.2 Per Capita Disposable Income and Consumption Expenditure
In 2014, per capita urban household disposable income in Zhengzhou was up 9.3% from the previous year, to Rmb29,095, giving a real growth of 7.2% after deducting price factors. Per capita consumption expenditure was Rmb20,122, representing a year-on-year growth of 7.8% or a real growth of 5.7%.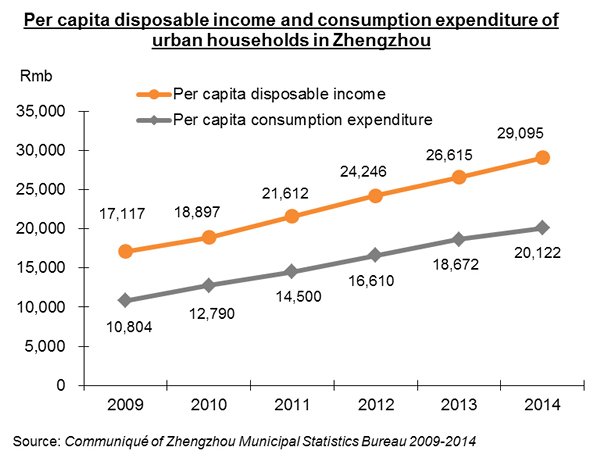 3. Characteristics of Zhengzhou's Consumer Market
3.1 Population Structure
Zhengzhou's permanent population in 2014 was 9.38 million, up 30% from 2005.
According to China's 2010 sixth population census, among the permanent population, 51% were male, 16.0% were aged 0-14, 76.8% were aged and 7.2% were 65 or above.
There have been marked increases in the education attainment of the permanent population. 19% have a university education, 19% have senior high school education, 36% have junior senior school education while 16% have a primary school education. Compared with the findings of the fifth census 10 years earlier, the proportion of Zhengzhou residents with a university education has increased from 8,267 to 18,945 per 100,000 people.
There were 2.44 million households in Zhengzhou, with an average size of 3.15 persons, 0.35 persons fewer than 10 years earlier.
3.2 Characteristics of Consumers
As a city that has prospered from commerce, Zhengzhou is known as China's 'capital of commerce'. It is designated not only as a pilot city for comprehensive reforms in the services sector, but also a demonstration city in national e-commerce and one of the experimental grounds in providing e-commerce services for cross-border trading. In recent years, through reforms and innovations in the retailing, trading and distribution of goods, rapid development has been achieved. Total area of retailing enterprises with a floor area of more than 5,000 sqm has increased from less than 2.80 million sqm in 2011 to 4.56 million sqm at present, an increase of more than 70%.
Experience consumption rising gradually
With rises in people's living standards, consumers are getting increasingly demanding of shopping environments, reflected in the huge popularity of venues offering experience consumption; examples include shopping malls and pedestrian streets under the Jinyi, Wanda or MixC brand. By offering a full range of shopping, dining and entertainment facilities and by providing a superior ambience, these venues are much sought after by young consumers. During the 'golden week' this year, sales at the upgraded and renovated pedestrian street in Jinyi Plaza saw a year-on-year growth of 60%. Business for cinemas, such as Wanda and Jackie Chan Yaolai boomed substantially, while restaurants in Wanda Plaza and MixC were often full.
Huge online shopping community
Data from the China E-Commerce Research Center (100ec.cn) indicate that, in 2013, the 6.55 million 'netizens' in Zhengzhou together generated Internet retail sales of Rmb24.1 billion, which constituted 9.3% of the city's total retail sales of consumer goods. The figure broke down into a per capita spend of Rmb3,679. According to the Development Planning for Zhengzhou's E-commerce, Internet retail sales in 2017 would account for more than 20% of total retail sales of consumer goods, attesting to the increasing importance of online shopping in Zhengzhou's consumer market.
Shopping with the swipe of a finger
According to a source at the Henan Provincial Commerce Department, "red packet snatching" games organised by some e-commerce giants have successfully lured consumers into shopping via their mobile payment platforms. For example, during the Spring Festival in 2014, it was popular with Henan consumers to use their mobile devices to make group purchases of Lunar New Year's Eve set dinners. Meanwhile, some restaurants in Zhengzhou offered New Year's Eve set dinners at prices Rmb300-400 lower than the original prices to cater to this new consumption mode and seize market share.
Food and beverages consumption
While sales of high-price goods have plummeted, mass-market eateries are becoming increasingly popular. During the Spring Festival, there was increase in general public consumption, while luxury consumption declined. During the holidays, sales of high-price goods decreased sharply, particularly so for tobacco and alcoholic products, as well as non-staple food. Mass-market catering enterprises monitored by the Provincial Commerce Department reported a significant increase in the number of diners. There were more moderately-priced, ordinary dishes on the menus, but per capita spending was down appreciably.
The huge potential of O2O [online to offline] catering is worth noting. Online ordering of takeaway lunch has become a way of life for many office workers in Zhengzhou. A staff from The One Logistics, a local takeaway outfit, points out that bad weather conditions, such as rain or snow, could boost sales 20-40%. Any menu item could be sold out, and office buildings teeming with delivery people during the busy lunch hours.
4. Profiles of Zhengzhou's Major Commercial Districts
As the pre-eminent city in China's central plain economic zone and a key integrated transportation and communication hub nationally, Zhengzhou plays an important role in the national development of retailing by connecting the east to the west and the north to the south, projecting its influence to the rest of the country. As the city develops rapidly, commercial districts are springing up everywhere. The main commercial districts include Erqi, Zhengdong New Area CBD, Bishagang, Huayuan Road, Zhongyuan Road-Tongbai Road and Zhengzhou Railway Station. In particular, with the successive completion and opening of key commercial projects, such as MixC (of China Resources), Erqi Wanda, Jinyi City and Century Shopping Park Phase II, the commercial districts of Erqi and Zhengdong New Area are gaining in influence and drawing power.
Erqi
Located near Zhengzhou Railway Station, the Erqi commercial district is the traditional commercial centre of Zhengzhou, with a long history and strong business ambience. In fact, it was ground zero of China's famous trade war in the 1990s, involving several leading retail outlets, such as the Asia Department Store, which resulted in commercial reforms in the city and across the whole province. As the leading district for commerce in Zhengzhou, Erqi has the most vibrant business environment in the city. Here one can find Dehua Pedestrian Street, the first commercial pedestrian street in China's central plains where shopping, entertainment and dining can be found together. There are also scores of large-scale shopping malls including Dashang New Mart Jinboda Shop, Beijing Hualian, Shanghai Century Lianhua (Century Mart) and Tianjin Homeworld as well as Century Shopping Park and major retailers such as Zhenghong International Store and Gome Electrical Appliances. Encompassing traditional department stores, supermarkets and individual retailers as well as a commercial pedestrian street and wholesalers, Erqi has a full complement of business formats and support facilities.
Zhengdong New Area CBD
Zhengdong New Area CBD is the central business district of Zhengzhou and the heart of Zhengdong New Area. With a planned area of approximately 3.45 sq km, it is a town area composed of 60 high-rise buildings arranged in two rings. The buildings in the inner ring are 80m tall while those in the outer ring are 120m tall. Between the two rings are a commercial pedestrian street and a 24-hour sleepless town. Landmark architecture is scattered among the ring-shaped building clusters, including The Zhengzhou International Convention Centre, Henan Art Center and a 280m tall convention and exhibition guest house. The presence of alternative commercial formats including Powerlong City Plaza, Dennis Mid Town Seven and World Collection culture street, adds to the vibrancy of this central business district.
Bishagang
Located on the periphery of the Bishagang Park, this district is one of the earliest commercial districts in Zhengzhou. With its shopping malls and supermarkets, including Zhongyuan Business and Trade Plaza, Homeworld and Dennis supermarket, plus home appliance chain stores including Gome and Five Star, it is a commercial district serving western Zhengzhou residents. Since this district is in the neighbourhood of Bishagang Park and Lvcheng Square and close to urban trunk roads including Jianshe Road, Songshan Road and Zhongyuan Road, it is well served by the transportation system.
Huayuan Road
This commercial district is near the junction between Nongye Road and Huayuan Road. Here, one can find hypermarkets and shopping malls including Dennis, Jinboda, Zhengdao, Zijingshan Department Store and Zhonghuan Department Store, as well as specialty commercial streets such as the Nongke Road bar & leisure street. There is a concentration of financial institutions, with the provincial headquarters of Bank of China, China Construction Bank and Agricultural Bank of China, as well as the Zhengzhou branch of the People's Bank, Bank of Communications, Everbright Bank and Industrial Bank are all found here. In addition, China Mobile, China Unicom, Gome Electrical Appliances and the distributors of all major mobile phone brands have set up shop here. Thus it is a modern upmarket regional business centre with a full suite of functions, including business and retailing.
Zhongyuan Road-Tongbai Road
This commercial district is centred around Zhongyuan Road and Tongbai Road. Its main components consist of commercial complexes, including Zhongyuan Wanda Plaza, Jinyi Classic Life and Xiyuan International Plaza. Major shopping malls and department stores in these complexes include Wal-Mart, Wanda Department Store, Wanda Cinemas, Wanda pedestrian street, Beijing Wangfujing Department Store and Century Lianhua Jinyi Store. Together, these complexes and their stores form a specialty commercial centre that enjoys convenient transportation, a high concentration of population and a full complement of infrastructure facilities. It offers large commercial centres, leisure and entertainment outlets and a commercial pedestrian street, as well as upmarket office buildings and luxury apartments. The emergence of this commercial district answers the consumption needs of the residents in western Zhengzhou effectively and plays an important role in upgrading the quality of the commercial districts in this area, as well as in filling gaps in urban services functions and industry layout.
Zhengzhou Railway Station
Similar to railway station commercial districts in other provinces, the railway station commercial district in Zhengzhou also consists of major wholesale markets characteristic of railway stations. The prosperity of this commercial district is attributable not only to its historical commercial ambience, it also enjoys the advantage of Zhengzhou Railway Station being the largest railway station in Asia and the convergence of goods from around the country. The long-haul bus station on the northern fringe of the railway station also has a part to play in this respect. Together, the clothing and small commodity wholesale markets here bring together tens of thousands of merchants. There are now more than 40 specialised wholesale markets housing over 5,000 stores in this district. Examples include Yinji Trading City, Dunmu Road clothing wholesale mart, and other markets offering communications equipment, shoes and food, among others.
Mainland China
Mainland China