https://hkmb.hktdc.com/en/1X0A3VWJ
Wuxi: Profile of a Consumer Market
1. Economic Overview and Development Planning
Wuxi's GDP reached Rmb820.5 billion in 2014, representing a year-on-year growth of 8.2%. Primary industries accounted for merely 1.9% of the city's GDP, secondary industries accounted for 51.0%, while tertiary industries accounted for 47.1%, with contribution by the manufacturing industry exceeding 50%. The total output value of industries above a designated scale in Wuxi stood at Rmb1,484.1 billion in 2014, second only to Suzhou within Jiangsu province. Calculated in terms of permanent population, the city's per capita GDP was Rmb126,400 in 2014.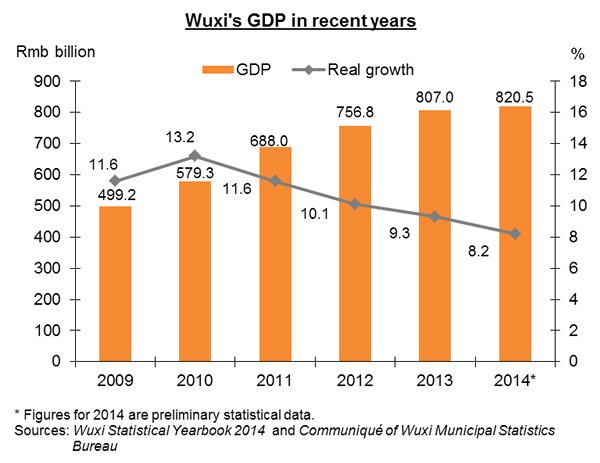 Wuxi has a thriving private economy. In 2014, registered capital from this sector was Rmb756 billion, up 13.7% from the previous year while value-added achieved was Rmb533.4 billion or a year-on-year increase of 8.0%. 65% of the city's GDP was contributed by this sector.
Wuxi is one of the 20 model cities for service outsourcing in China approved by the State Council. The value of outsourcing contracts signed by services providers in 2014 amounted to US$11.65 billion, up 35.0%, while the value of contracts executed amounted to US$9.42 billion, up 35.6%. Of which, the value of offshore contracts totalled US$6.25 billion and offshore service outsourcing ranked top in Jiangsu province.
In recent years, Wuxi's rail transportation has been developing quickly. With the successive completion of Metro Line 1 and Line 2 in 2014, a rail transportation network with lines running in the north-south and east-west directions has been formed and intra-city transportation time has been greatly reduced. As the rail system brings more passenger traffic to districts in the vicinity of the metro lines, construction of urban facilities, such as commercial districts, housing and schools has been stepped up. In addition, planning of the Metro Line 3 project is now underway and the line is expected to be operational in 2020. By that time, the five major transportation hubs of Shuofang Airport, Metro New District Station, Wuxi Railway Station, Wuxi Railway West Station and Metro Huishan Station will be fully linked up and a much improved transportation network will emerge.
2. Wuxi's Consumer Market
2.1 Growth in Retail Sales
Retail sales of consumer goods in Wuxi increased 10.7% on a year-on-year basis to top Rmb305.5 billion in 2014. The size of Wuxi's retail market ranks third among all cities in Jiangsu province, trailing only Suzhou and Nanjing.
In 2014, among all industries above a designated scale, the retail sales of building and decoration materials grew 33.7%; hardware and electrical appliances grew 23.5%; traditional Chinese and Western pharmaceuticals grew 17.6%; furniture grew 16.4%; and books, newspapers and magazines grew 12.3%.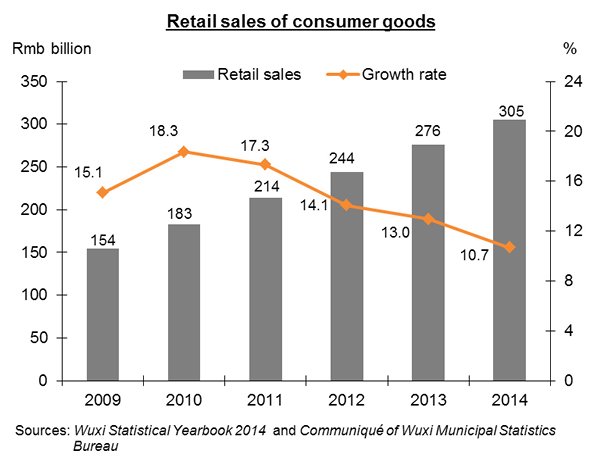 Ownership of personal electronic products such as computers and mobile phones per 100 urban households has been on an upward trend in recent years, while car ownership has registered marked increases. As the penetration rate of electrical appliances rises, growth in ownership of related products has slowed down.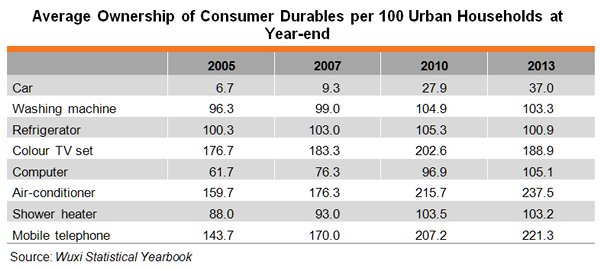 2.2 Per Capita Disposable Income and Consumption Expenditure
In 2014, the per capita disposable income of urban households in Wuxi was Rmb41,731, while per capita consumption expenditure reached Rmb27,358. Between 2009 and 2014, the average annual growth rate of per capita disposable income was 10.8%, while per capita consumption expenditure in the same period rose 11.9% annually.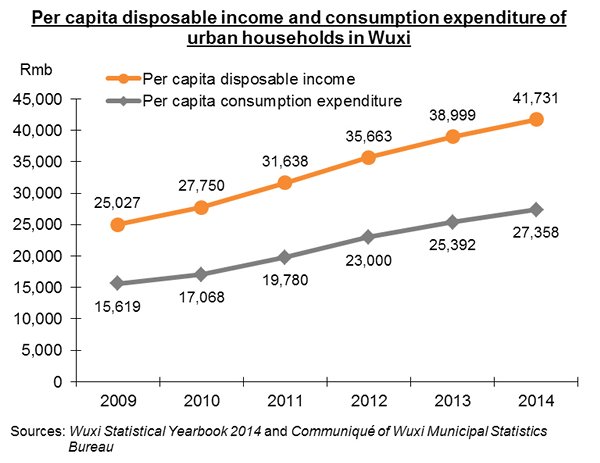 3. Characteristics of Wuxi's Consumer Market
3.1 Population Structure
In 2014, the permanent population in Wuxi was 6.5 million, accounting for 8.1% of Jiangsu's provincial total. Compared with figures for 2005, its permanent population grew 16.8%.
According to China's sixth population census, of the city's permanent population in 2010, 51.9% were male, with 10.3% aged 0-14, 80.2% aged 15-64, and 9.5% aged 65 and above.
In Wuxi's permanent population, 12.9% have reached university level, 17.8% have received senior high school education, 41.7% have received junior high school education, while 21% have reached primary school level. Compared with the fifth population census which took place in 2000, the number of people in Wuxi reaching university level has risen from 4,834 to 12,876 per 100,000 people.
The 2.05 million households comprising the permanent population in Wuxi had an average of 2.87 persons per household, or 0.29 person fewer than in 2000.
3.2 Characteristics of Consumers
Dubbed the 'Pearl of Tai Lake', Wuxi is located at the core section of the Shanghai-Nanjing city cluster axis and on an important node of the Xinyi-Yixing city cluster axis. In addition, it is one of the core cities of the Suzhou-Wuxi-Changzhou metropolis circle. Relative to the cities in its periphery, Wuxi commercial districts are teeming with shopping malls. On the whole, people in Wuxi are affluent, their consumption demands strong and their consumption attitudes relatively advanced. Moreover, thanks to the presence of a large number of thriving private enterprises, Wuxi is home to a group of entrepreneurs with extremely strong spending power who are also passionate about luxury cars and luxury goods in general. With international luxury brands, such as Hermes and Louis Vuitton having established their presence in the city, the Wuxi market can now satisfy the consumption demands of the locals and even those of county-level cities in its periphery.
Enjoying life becomes the norm
Last year, Wuxi residents spent a substantial amount on food; around one-third of their outlay. One reason for this is that people are dining out more frequently, as restaurants catering to the masses multiply rapidly. Another reason is that, as people become well fed, they are more mindful of healthy eating, so much so that green food is getting increasingly popular.
According to the ranking of consumer spending on restaurant dining during the Spring Festival in 2014 compiled by Meituan.com (a Chinese group buying website), among the top 30 Chinese cities for restaurant dining, Wuxi ranked seventh. The marked changes in the dining market are worth noting: dining with friends and relatives has now become mainstream in contrast to the predominance of business dining in the past. As e-commerce develops, almost 30% of the catering enterprises in Wuxi are now offering online booking and online group buying.
With rises in material living standards, Wuxi residents' demand for spiritual and cultural satisfaction is also on the increase. Statistics show that, in 2014, among the eight main categories of consumption in Wuxi, spending on 'education, culture and entertainment' and 'transportation and communication' grew the fastest. In the last two years, judging from the roaring business enjoyed by the eating outlets in commercial complexes that have been cropping up continuously and the rapid replacement and upgrading of various types of hi-tech communication devices, the quality of life of Wuxi residents is improving constantly and their leisure life is getting increasingly diversified. In short, enjoying life has become a norm.
Car buying desires feverish, ownership way above national average
As at 2014 year-end, ownership of private cars in Wuxi stood at 1.03 million, which was an increase of 16% from the previous year. While ownership of family cars per 100 urban households was 37, ownership per 100 rural households was also as high as 30 – both figures way above the national average. From an analysis of the brands of cars, residents of Wuxi prefer buying brands of Sino-foreign joint ventures. It is worth noting that, with the gradual introduction of a two-child policy, quite a number of families which had planned to buy a small sedan car are now switching to a sports utility vehicle (SUV). Luxury branded cars with large engine capacity and high gasoline consumption are still the primary choice of local high-end consumers.
Rapid growth of e-commerce
Data from Alibaba show that, during Singles' Day sales on 11 November 2014, spending on online shopping in Wuxi reached Rmb357 million, ranking 19th among mainland cities of prefecture level or above, trailing only Suzhou and Nanjing in Jiangsu province. Wuxi consumers' spending on women's clothing accounted for about 16% of total online spending on that day, followed by men's clothing and bedding/soft fabric decorations.
3.3 Retail Channels
As of January 2015, there were already some 40 urban complexes and more than 70 shopping malls of all sizes in Wuxi. A new batch of commercial complexes, including T12 Shopping Mall, Mega All in One and Harmony Plaza, will soon emerge too. The huge potential of the Wuxi consumer market has attracted a number of foreign companies. Currently, large supermarket chains, including Metro, Auchan, Carrefour and Wal-Mart, and department stores like Knightsbridge, Far Eastern of Taiwan and Maoye, have found their way into the city.
In the last two years, boutique supermarkets are stepping up their efforts in setting up in Wuxi. In addition to the boutique supermarkets operated by chains such as Grand Orient, Parkson and Far Eastern, some urban complexes have brought in boutique supermarket brands such as Ole, Lincos and Yonghui, which focus mostly on the upmarket segment of the business, with imported merchandise as their mainstay.
Four lines have been planned for Wuxi's underground railway transport system. Lines 1 and 2 are now operative; while Line 3 will be fully operational by 2016, serious efforts are being made to allow phase 1 of Line 4 to be operational by 2017. The underground railway lines will further drive changes in business and people flow and there will definite be impacts on the business landscape along the railway lines.
4. Profiles of Wuxi's Major Commercial Districts
As Wuxi expands relentlessly, the single core commercial district of Zhongshan Road has gradually evolved into a diversified and multi-tiered business setting. Moreover, there is a trend that localised commercial centres are emerging one after another. Apart from Zhongshan Road, key commercial districts are being built respectively around Heleikou, Changjiang Road in New District, and Chong'an New City. Following the government's 'head south' initiative in recent years and the opening of the metro system, the Taihu New City commercial district has emerged at a breakneck pace.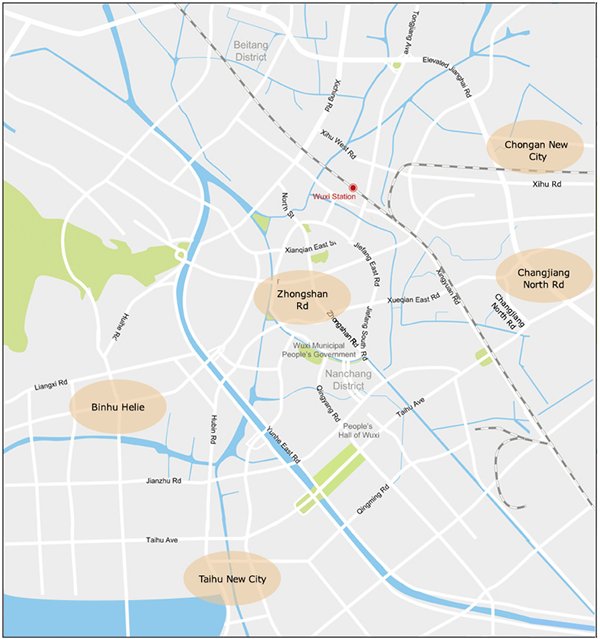 Zhongshan Road
As the earliest developed, most centrally located and most mature commercial district in Wuxi, Zhongshan Road is most representative of commerce in Wuxi. This district revolves around Zhongshan Road as a north-south axis and Renmin Road as an east-west axis and is home to numerous department stores and malls. In addition to well-established shops, like Grand Orient, Yaohan and Sanyang Parkson, brands Far Eastern Department Store and Baoli Shopping Park cater to the newer generation of customers. For lifestyle experience, there are pedestrian streets at Chong'an Temple, Nanchan Temple and Dacheng Lane. Since September 2013, with the successive opening of Center 66 (of Hang Lung Properties), Suning Plaza and Maoye Department Store, Zhongshan Road's commercial status has been further bolstered. As a whole, businesses in this commercial district are quite concentrated and the fact that they variously target the high-, middle- and low-end markets can satisfy the needs of different customer groups. Average customer flow is 300,000 a day, but will jump to over one million during golden week holidays.
In July 2014, Wuxi officially entered its underground mass transit era. At Sanyang Plaza Station, the interchange station of Line 1 and Line 2 of Wuxi Metro, 27 exits have been designed, thereby linking up almost all commercial properties at the Renmin Road-Zhongshan Road junction and generating a strong agglomeration effect of human traffic. Meanwhile, the coming on stream of the metro system has raised the demand for one-stop services at the core commercial district. Take catering for instance, at the Renmin Road-Zhongshan Road junction, the areas of catering outlets total almost 100,000 sqm.
While above ground facilities have been improving, an underground commercial space comprising parking, shopping and leisure facilities has taken shape within the commercial district. The two complexes of Suning Plaza and Center 66 have already added 170,000 sqm in underground space in support of the core urban area, including close to 3,000 parking spaces. These underground support areas have not only linked up underground traffic, but also energised above-ground economic activities.
Taihu New City
Designed to become Wuxi's new city centre, Taihu New City is now coming up fast. According to planning, this commercial district is expected to absorb one million permanent residents. In the financial business district, huge urban complexes, community businesses and various types of business formats have been set up successively. Commercial projects now in place include MixC, Coastal City, Mega All in One and Jiaye International City.
With the completion of Wuxi Coastal City in June 2014, international brands such as ZARA, H&M, Muji and Starbucks have already moved in. MixC was opened in December 2014. It now boasts the largest real ice skating rink, the largest OSGH IMAX Cinemas and more than 50 specialty catering facilities. In May 2015, construction work was started for Baoneng City project, which will be twice the size of Wanda Plaza in Heleikou.
Changjiang North Road
Changjiang North Road is most representative of Wuxi's new urban centres. It lies inside the high-speed inner ring road at a point nearest to the city centre and has, in recent years, been the top choice for newly appointed city officials and business elites settling into the city. With the presence of Vanke Golden Paradise, Columbus Plaza and Auchan supermarket, a commercial district prototype has already taken shape. These three projects, however, are set too far apart from each other and all adopt basic living-related businesses, such as supermarkets, daily chemicals and catering as main business types. In 2014, construction work for Jinke Center's Yaoyinhe (耀銀河) project was started. It will adopt shopping mall as its business format and, according to plan, Metro Line 3 will connect to this project.
The main characteristic of Changjiang North Road is that there will be housing and commerce supporting each other in this area. It is expected that the dense population here will translate into huge commercial demand. At the same time, the passing through of Metro Line 3 will mean a seamless linkage with the city centre and improvements in the transportation network will lay the foundation for the future development of Changjiang North Road.
Heleikou
Heleikou is an important residential area on the western side of Wuxi city proper. The commercial district is made up of six business streets: Liangxi Road, Liangqing Road, Qingqi Road, Huihe Road, Hubin Road and Jianzhu Road. As such, it is a secondary commercial centre operating in concert with Wuxi city centre from a distance. With the speedy construction of the city's rail transportation system, there will be two light-rails passing through Heleikou. Line 4 will run in a north-south direction along Huihe Road and Qingqi Road. Line 2 will run along Liangqing Road in an east-west direction towards Fishing Port New City. Together, these two lines will bring spurts of activities to the district.
In its early days, Heleikou had always been a small to medium-sized commercial system. The opening of Wanda Plaza in 2010 had transformed this situation completely. Within Wanda Plaza there is a business mix of supermarkets, cinemas, department stores, karaoke bars, theme restaurants and fashion pedestrian streets. People flow here has been increasing year after year and is estimated at nearly 30 million annually.
Chong'an New City
As Wuxi's 'Eastern Gate', Chong'an New City used to be home to Wuxi's specialised market clusters. In particular, the decorations and building materials shops on Xihu Road had nurtured countless entrepreneurs. After much planning and reorganisation, commercial properties including Yuexing home furnishing square, Xihu Famous City (名品城), Huaxia Materials Port, Jiashimao (嘉飾茂), Derlook furniture mall and HomeArt have been established on Xihu Road. After a few years, the supersize store has become the mainstream business format there and a market cluster featuring the home furnishing industry has taken shape.
The continuous upgrading of the specialised markets has further raised the value of Xihu Road in a short period of time. At present, Wuzhou International Columbus Plaza is fully operational. Phase I of this project is focusing on meeting the living needs of the public and on providing conveniences to their daily lives. In Phase II, with the addition of Long'an Department Store (瓏安百貨), a flagship branded merchandise store, business formats have further diversified and entertainment, shopping and business facilities are now available. In January 2014, with the opening of Wuzhou International Plaza Galactic City and the concurrent launch of a number of leisure and commercial facilities, a lifestyle experiencing centre was formed.
Xidong
As the core area of Xidong New City, Xidong High-speed Rail Business District enjoys convenient underground and high-speed rail transportation and a slew of high-tech industries on its periphery. It is expected to draw a population of several hundred thousands in future. Though RT-Mart and Yidong City Square (怡東城市廣場) have set up shop here, as a whole Xidong's commercial facilities are still at an initial stage. In 2014, with Zhong Long Plaza making a presence in Xidong, the commercial landscape in the district has started changing. Zhonglong Plaza is a large urban commercial complex sitting on top of the Xidong high-speed rail station. With the construction of leisure facilities offering all-new experiences, it has made life in Xidong substantially richer and more convenient.
Now with the high-speed rail and Metro Line 2 becoming operational successively, the added convenience in transportation not only draws in Wuxi residents from outside Xishan District, but also those from surrounding cities like Shanghai to come and invest in real properties. A survey has found that nearly 20% of those buying properties in Xidong come from outside Xishan District or even from Shanghai, while most tenants of the office buildings in this business area are enterprises from Shanghai and Beijing. It takes only half an hour to travel from Shanghai to Wuxi by high-speed train, but the cost of running a business in Wuxi is considerably lower, and that is exactly Xidong's advantage.
Mainland China
Mainland China