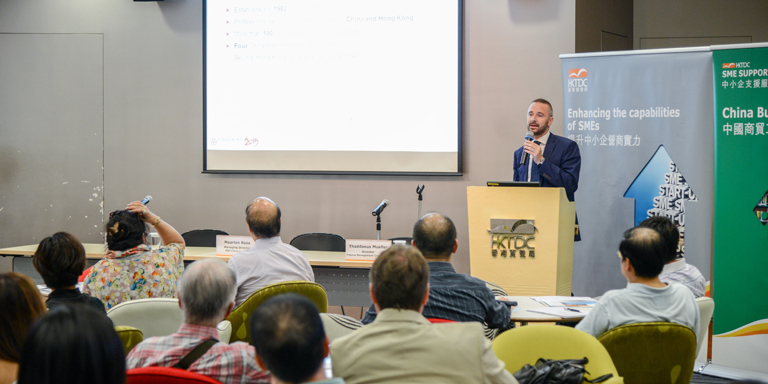 https://hkmb.hktdc.com/en/1X0A3VIX
"Flexpats" for Hire
Fiducia's Thaddeus Mueller discusses the changing face of China's foreign labour force.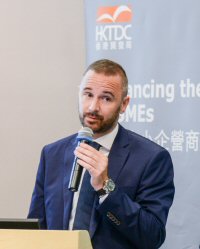 Foreign employees can no longer expect generous expatriate packages while working in the Chinese mainland, according to Thaddaeus Mueller, Director of Hong Kong-based consultancy Fiducia. Speaking at a recent HKTDC SME seminar on China's changing labour market, Mr Mueller said China's expat talent pool is more diverse – from job descriptions to compensation – as competition intensifies. Technology, such as WeChat, is also changing the way companies recruit and retain employees.

As part of Fiducia, a 33-year-old family-run consultancy firm, Mr Mueller specialises in finding innovative solutions for clients looking to enter the Greater China region. Mr Mueller explains the rules of recruitment for businesses in China.

What are the expatriate employment opportunities in today's China?
The typical expatriate manager may be a story of the past. More western people are working in the mainland and have gained a reasonable level of Mandarin skills after living in the country for a while. They have navigation skills and a sales network. They are the "Flexpats" – expats with more flexibility. They have a reasonable salary and some support for housing, insurance, and I expect, more people will be working in the country under this arrangement.

Expatriates are facing competition from Chinese graduates, who are very well trained, have a very good network and speak several languages. These people can get expensive because they know they are rare in the market.

What should employers look out for?
China has consistently ranked first in PISA (Programme for International Student Assessment), a study assessing the level of student knowledge, suggesting candidates from China are in the lead. Having said that, the practical experience of Chinese graduates lags behind their western counterparts. A Chinese graduate's experience is less extensive than someone who went to university in the United States or Europe, where it's compulsory for students to do internships and be exposed to extra work.

The annual average wages offered by a foreign company is about 25 per cent higher than the national average. So if you are representing a foreign business trying to be successful in China, you definitely have an additional salary price tag.

What are salary expectations?
Companies entered China with expectations based on their home markets. In Europe, the expected salary of a sales manager in remote areas is about 50,000 euros a year, and people there live in a low-cost environment. In cities like Beijing and Shanghai, people who have specialised skills, such as engineers, expect double that.

The devaluation of the renminbi, which has been happening in the last five to 10 years, including the recent devaluation, has led European companies to think that labour costs in China are relatively low. But that's not the case. Salary expectation is very high for senior-level people, who have demands beyond the expected pay in Europe and the US.

How are the mainland's labour laws different from Hong Kong's?
First, you will need a proper bilingual contract. In Hong Kong, it will just be the English contract. But in China, only the Chinese contract will be relevant if you ever run into a legal dispute. Another fundamental difference is the concept of Mandatory Provident Fund. In China it's a different system called social security. On top of that, there are a number of funds that you have to pay: the pension fund, the medical fund, work-related injury fund and maternity fund just to name a few, which you have to calculate into your budget plan.

Tax is an important element. The salary tax in Hong Kong is really low, and the system is really transparent and easy to understand. China's tax system is more complex so you may need to engage a professional to help with this.

The function of roles also varies. In Hong Kong, there's a Managing Director, but in China, we have a Chief Representative, and it comes with a whole different set of responsibilities. You have to be aware of the discrepancy, otherwise the person you assigned with this task might do things you don't want them to do.

How has technology affected mainland recruitment?
Technology is really changing the way we find and retain employees in China. We've looked at [Chinese social media] WeChat as a way of recruiting. To raise its company profile, German industrial company Voith created a sticker named XiaoFu for users to download and send to their colleagues. The campaign really created a buzz around the corporate world and interest in the company and its products. It's also a very smart way to engage and retain their existing employees, knowing their company is the first foreign company to have created such a sticker campaign on WeChat.

What's your advice for retaining Generation X and Y employees on the mainland?
Many of our employees are born in the 1980s or later. This year, we've organised a three-day trip for our team leaders. We know that reaching out to the Generation X and Y employees really gives them a sense of belonging.

Salary is also an important factor. Generation X and Y staff talk about their salary in the workplace even though it is confidential. Once they know about this competition, they'll feel unhappy and less motivated. So you have to make sure that salary remains confidential.
The younger generations place more emphasis on work-life balance, a factor all companies must take into consideration in their HR strategies. Perks such as flexible working hours, birthday leave or work-from-home arrangements can go a long way when it comes to retaining employees.
Related Link
Fiducia
Mainland China
Hong Kong