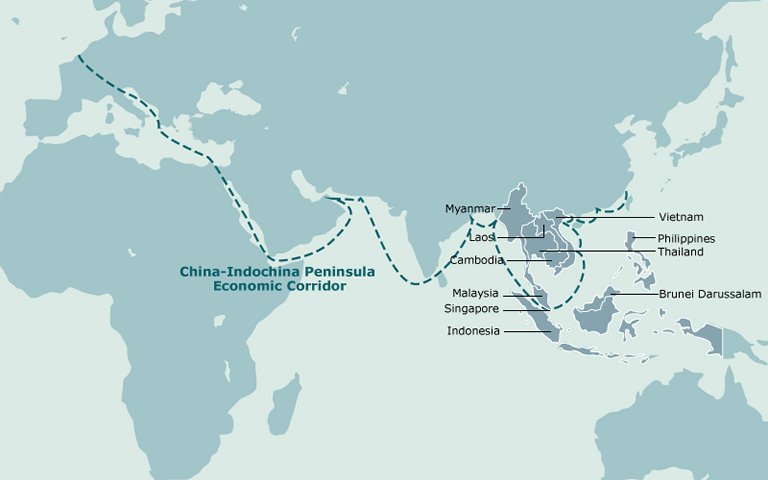 https://hkmb.hktdc.com/en/1X0A3UUO
The ASEAN Link in China's Belt and Road Initiative
Located along the planned path of the China-IndoChina Peninsula Economic Corridor, ASEAN countries are set to play a crucial role in the Belt and Road Initiative.
Crucial Position of ASEAN in both the Land and Sea Routes
Chinese President Xi Jinping's announcement of the creation of the 21st Century Maritime Silk Road during a speech to the Indonesian parliament in October 2013 is seen as an indication of the important role that ASEAN plays in China's Belt and Road Initiative. In March 2015, when China issued The Vision and Actions on Jointly Building the Silk Road Economic Belt and the 21st Century Maritime Silk Road policy initiative, it came as no surprise that strong emphasis was placed on orienting the trade routes towards ASEAN countries with a proposed China-Indochina Peninsula Economic Corridor.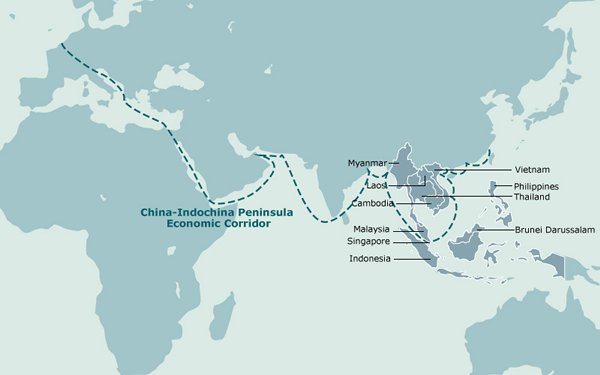 ASEAN countries have long been the key trading partners of China. Since the launch of the China-ASEAN Free Trade Area (CAFTA) in 2010, improved institutional co-ordination and increasingly sophisticated intra-regional supply chains have driven China-ASEAN bilateral trade to new heights. Bilateral trade has grown significantly at an average annual rate of 18% between 2009 and 2014. To deepen multilateral co-operation, China and ASEAN began negotiating an upgrade of the existing CAFTA pact in 2014, with a focus on strengthening investment, trade in goods and services, and economic and technology co-operation. The discussion, likely to be concluded by the end of 2015, is expected to further enhance ASEAN's crucial role in the Belt and Road Initiative and to facilitate further regional integration.
Mainland Southeast Asia, or the Indochina peninsula, is connected to China by land. The transnational transport network of the Greater Mekong Sub-region (GMS), of which Guangxi and Yunnan provinces are members, in combination with the proposed maritime silk road that will link major sea ports along the coasts of Vietnam, Cambodia, Thailand and Myanmar, will intensify China-ASEAN trade and industrial co-operation. It will also extend the economic benefits further afield to South Asia and Western Asia when the new multimodal transportation networks are in place.
Transportation Network in the China-Indochina Peninsula Economic Corridor
In building the China-Indochina Peninsula Economic Corridor, China will piggyback on the economic co-operation mechanisms of the GMS. During the Fifth Leaders Meeting on Greater Mekong Sub-regional Economic Co-operation, held in Bangkok in December 2014, Chinese Premier Li Keqiang put forward three suggestions with regard to deepening the relations between China and the five countries in the Indochina Peninsula. These were: (1) to jointly plan and build an extensive transportation network, as well as a number of industrial co-operation projects; (2) to create a new mode of co-operation for fundraising; and (3) to promote sustainable and co-ordinated socio-economic development. Currently, the countries along the Greater Mekong River are engaged in building nine cross-national highways, connecting east and west, and linking north to south.
Land Transportation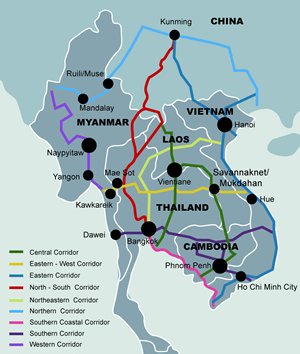 The nine highways linking the GMS intersect with the 'East-West Economic Corridor', 'North-South Economic Corridor' and 'Southern Economic Corridor', and form the backbone of the GMS transportation infrastructure. These three major economic corridors will integrate infrastructure development with trade, investment and other economic opportunities of the GMS countries.
The North-South Economic Corridor has been taking shape with the opening of the whole Kunming-Bangkok Highway in 2013, while China has also completed construction of an expressway in Guangxi leading to the Friendship Gate and Dongxing Port at the China-Vietnam border. The highway from Kunming to its borders with Myanmar and Vietnam has also been upgraded.
Building upon existing infrastructure, China and Thailand are working to improve cross-border rail networks. Construction is scheduled to begin in October 2015 on a new dual-track railway that will connect Laem Chabang (Thailand's largest port) with Nong Khai, an industrial border area near to the Laotian capital of Vientiane, and to run further to Kunming. A high-speed rail link between Kunming and Kolkata in India, crossing Myanmar and Bangladesh, is also under study.
The China-led Asia Infrastructure Investment Bank (AIIB), with its focus primarily on infrastructure projects in Asia, is expected to play a constructive role in bridging the huge investment gap in funding ASEAN's major cross-border infrastructure projects, such as the ASEAN Highway Network and Singapore-Kunming Rail Link.
Sea Transportation
Maritime co-operation is essential to building the 21st Century Maritime Silk Road. Currently, Vietnam and Thailand have the most developed seaport facilities among the GMS countries.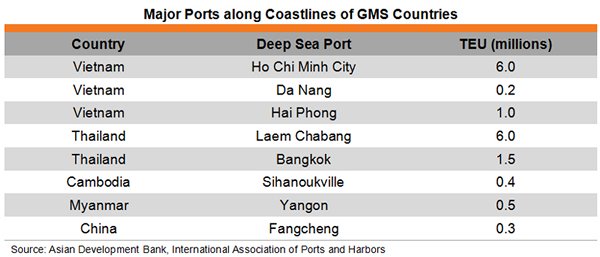 China and the maritime ASEAN countries are actively investing in their maritime infrastructure. The Philippines is promoting its Strong Republic Nautical Highway to enhance inter-island connectivity, while Indonesia announced its Maritime Axis policy doctrine in 2014. Besides, China has carried out a variety of ocean-related co-operations with Indonesia, Thailand, Malaysia, India and Sri Lanka, including a China-Malaysia joint port project in Malacca.
Air Transportation
Air connectivity is also key to completing a comprehensive sea, land and air integrated network. The ASEAN Open Skies policy, effective from 2015, is set to enhance regional trade by allowing airlines from ASEAN countries to fly freely throughout the region under a single, unified market. ASEAN has also recently concluded an exchange of fifth freedom air traffic rights between ASEAN countries and China, allowing Chinese carriers to use ASEAN gateway city airports to fly beyond.
Within China, Kunming is seen to be the main airline transit point to ASEAN and South Asia, with more than half of its international flights destined for Southeast Asian countries. In total, Kunming has air routes to more than 20 cities in ASEAN and South Asian countries, including newly added direct flights to Koh Samui and Krabi Island in Thailand, and Siem Reap in Cambodia.
Custom Reforms Fuel Cross-border Trade and Investment
Aside from infrastructure upgrade, GMS countries are keen to enhance regional connectivity through introducing one-stop customs and harmonised administrative measures across their borders. Thailand, for example, has introduced e-logistics at its borders with other GMS countries and a One Stop Export Service Centre to improve logistics efficiency. Laos and Vietnam have recently launched single-window inspection at their border checkpoints, while China and Thailand are also working to streamline their respective import regulations.
In March 2015, China's General Administration of Customs (GAC) announced it would introduce customs clearance integration reforms in provinces along the Silk Road Economic Belt. Under reforms that took effect in May 2015, companies in Chinese cities within the Economic Belt have the option to go through customs formalities (including declaration, tax payment and goods inspection) either through their local in-charge customs houses, or via port customs through which goods are either imported or exported.
Accelerating Cross-border E-commerce
E-commerce has played an increasingly important role in stimulating international trade in recent years. With the ASEAN Economic Community (AEC) set for formal establishment by the end of 2015, and the promotion of e-commerce as a means to expand trade under China's Belt and Road Initiative, cross-border e-commerce is likely to further accelerate.
China has been exploring ways to tap into the ASEAN e-commerce market. Yunnan and Guangxi have taken the lead in this, given their strategic locations and geographical proximity to mainland Southeast Asia. In 2013, the Chinese government designated Yunnan and Guangxi as the border financial comprehensive reform pilot areas, with the aim to facilitate trade and investment activities in the two provinces and to promote the use of the Renminbi in the China-Indochina Peninsula Economic Corridor and the Bangladesh-China-India-Myanmar Economic Corridor. These reform measures help to reduce costs and facilitate regional trade. China has also raised the cash limit that individuals are allowed to carry when crossing the border from RMB20,000 to RMB200,000.
At the seventh GMS Economic Corridors Forum held in June 2015, ministers from the six GMS countries endorsed the GMS cross-border e-commerce co-operation platform framework that China proposed, with a view to promoting cross-border trade and facilitate goods and commodity flows. Key areas of co-operation will cover co-operation of e-commerce enterprises, facilitation of cross-border e-commerce customs procedures, investment in cross-border e-commerce infrastructure, improvement of the e-commerce supporting services systems and building the capacity of e-commerce.
At the China-ASEAN e-commerce summit held in Nanning in September 2015, it was announced that Nanning had become a state-level cross-border e-commerce pilot city, with the establishment of the China-ASEAN e-commerce park and the participation of leading Chinese e-commerce companies such as Jingdong, Tencent, Alibaba and Meiliwan. To provide better services and facilitate trade flows, Guangxi will strengthen co-operation with ASEAN countries in customs, import / export inspection and quarantine, as well as other information exchanges. According to the Regional Department of Commerce Office, Guangxi's e-commerce trade value rose 65.9% to RMB210 billion in 2014 and increased further by 84.7% to RMB 194 billion in the first half of 2015.
Mainland e-commerce companies are also moving quickly to explore the new models of cross-border e-commerce with ASEAN. Tmall Global, China's leading e-commerce platform, announced in 2015 that it would launch a partnership duty-free shop project with King Power, Thailand's largest duty-free group. Under the agreement, Chinese tourists will be allowed to buy stored-value cards online prior to travelling abroad, and be able to collect the purchased items from five of King Power's duty-free shops upon arrival in Thailand.
Brunei Darussalam
Cambodia
Indonesia
Laos
Malaysia
Myanmar
Philippines
Singapore
Thailand
Viet Nam
Mainland China
ASEAN
Southeast Asia
Mainland China