Bringing Hong Kong Style to Indonesia
Best of Hong Kong showcased at the city's largest promotion in Southeast Asia.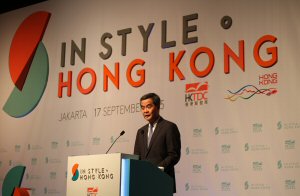 Indonesia was the focus of the latest Hong Kong services symposium and product expo to tap one of the fastest-growing markets in the region. "In Style • Hong Kong," organised by the Hong Kong Trade Development Council (HKTDC), opened 17 September at the Jakarta Convention Center.

"Jakarta is a rising global powerhouse buoyed by a surging economy and an ambitious, increasingly brand-conscious population," said Hong Kong Chief Executive CY Leung at the business symposium opening. "That's why we're here with "In Style•Hong Kong," a brand and services promotion counting more than 180 Hong Kong companies. Together, we can help satisfy your consumer and your business services' needs, wants and wishes."

Mr Leung highlighted Hong Kong's role as a gateway for trade between the Chinese mainland and the ASEAN region. He added that a Hong Kong-ASEAN Free Trade Agreement (FTA) would be concluded within the coming year, noting that "it will strengthen economic ties and cooperation between Hong Kong and Indonesia. With our help, it will encourage more Indonesian exports to the mainland of China. Inevitably, more Hong Kong and mainland investment will also find its way to Indonesia."

Also officiating at the opening ceremony was the Minister of Tourism of the Republic of Indonesia, Arief Yahya, who described the event as "an important business gathering" for Indonesia. "It is enhancing the partnership between Indonesia and Hong Kong, especially in trade, investment and tourism," said Mr Yahya.

Meanwhile, Secretary of the Ministry of Cooperatives and SMEs of the Republic of Indonesia, Agus Muharram, said Hong Kong is a gateway for Indonesian companies, "not only to the Hong Kong and China markets, but the global market as well as [providing] potential for Indonesian cooperatives and small and medium-sized enterprises products.

"By maintaining a good relationship between Indonesia and Hong Kong, we hope that this will present good results in export market expansion and promotion of Indonesian cooperatives and small and medium-sized enterprises products," said Mr Muharram.
Services under the Spotlight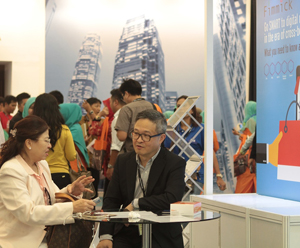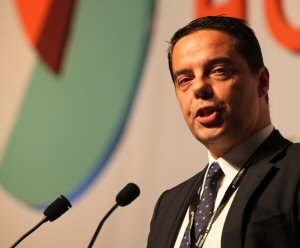 The day-long services symposium featured heavyweight speakers, including Hong Kong Secretary for Justice Rimsky Yuen; Armando Tolomelli, CEO of Prada Asia Pacific; YK Pang, Director, Jardine Matheson Holdings Ltd; Royce Yuen, founder and CEO of New Brand New Ltd; and Kent Wong, Managing Director, Chow Tai Fook Jewellery Group Ltd. More than 2,100 people attended the symposium.

Five thematic sessions were held to highlight ways Hong Kong services, including financial services, legal and arbitration, design and branding services, digital marketing and ICT services, can help Indonesian companies expand their business in Asia, particularly the Chinese mainland. The symposium also featured a mini-exhibition, where 18 Hong Kong services providers and trade organisations provided on-site business consultations.
Spirit of Entrepreneurship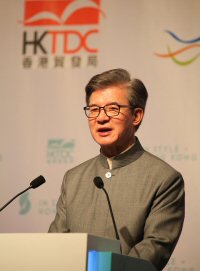 "We continue to celebrate the spirit of cooperation and business entrepreneurship," said HKTDC Chairman Vincent HS Lo. In Style • Hong Kong, he said, is an expansion of previous expos organised by the HKTDC in Jakarta. "This event is bigger and better," Mr Lo said. "In addition to products, we have added today's business symposium, where you can find and network with core business leaders and find out how to take advantage of Hong Kong's world-class services to grow your business."

At the product expo, more than 12,900 Indonesian trade buyers, importers, distributors, retailers, brand agents, franchisees, department stores and specialist vendors took part. Meanwhile, the Hong Kong Design Award Display Zone showcased a range of award-winning products to celebrate Hong Kong's creative and design talent. Buyers could place low-volume orders of five to 1,000 pieces at the hktdc.com Small Orders display.

More than 190 participating companies featured Hong Kong lifestyle goods in four major theme zones: fashion and fashion accessories, jewellery and watches, gifts and houseware, and consumer electronics.
Batik Crossover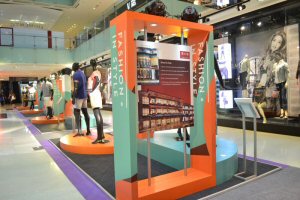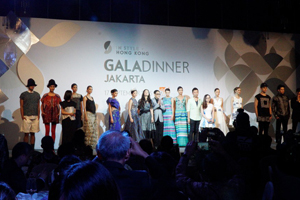 At a gala dinner held following the symposium, about 500 business leaders were treated to a parade of stunning fashion designs under the theme of "Batik Crossover," symbolising the cultural and creative links between Hong Kong and Indonesia. Sponsored by leading Indonesian textile and garment company Sritex, the show featured six batik-themed fashion collections by noted Hong Kong designers: Lulu Cheung, Walter Kong and Jessica Lau, Walter Ma, Aries Sin, Harrison Wong and Cecilia Yau.

"To try to understand their fabric is one of the important things. That's why this time we have some crossover projects, using their batik and turning it into a modern garment," said fashion designer Mr Wong, who was also an expo exhibitor. "I came here to see the potential in the city, to see how people are dressed, and what this market is like. I also want to find potential buyers."

The collections were later displayed at the Skybridge in the Grand Indonesia Shopping Town as part of a citywide promotion, during which local consumers were able to get a taste of unique Hong Kong fashion, food and lifestyle products. The promotions featured some of Hong Kong's leading chefs sharing their specialties to Indonesian consumers. While Hong Kong fashion brands G2000, Giordano and Staccato offered discounts and other consumer incentives as part of the "Hong Kong Lifestyle Products" promotion.

Related Link
In Style • Hong Kong
Garments, Textiles & Accessories
Finance & Investment