https://hkmb.hktdc.com/en/1X0A3R5M
Poised to Take Off in 2016: The Smartwatch
The 2015 Hong Kong Watch & Clock Fair Survey
The HKTDC Hong Kong Watch & Clock Fair is the largest event of its kind in the world. The 2015 edition of the Fair[1] saw face-to-face interviews conducted with 408 exhibitors and 700 buyers in order to gauge industry views on the latest market prospects, product trends and e-tailing developments.
The survey results showed that industry players were cautiously optimistic with regard to anticipated sales for the next year. Among all the different watch categories, both buyers and exhibitors expected smartwatches to be the most popular items in 2016. In addition, developments in the e-tailing sector continued to interest many industry players.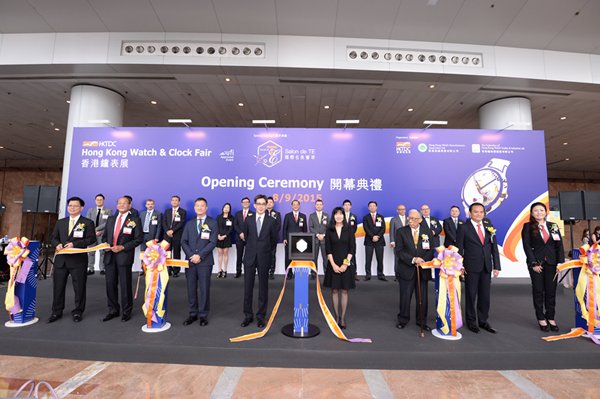 Cautious Optimism for 2016
In general, both exhibitors (75%) and buyers (67%) were cautiously optimistic about the overall sales outlook for 2016. Among the 67% of exhibitors expecting an increase in production/sourcing prices, 61% indicated they would raise their FOB selling prices in order to offset these rising costs. Overall, exhibitors expected Western Europe (53%) and North America (49%) to be the top two export markets.
Among buyers, 42% expected sourcing prices to increase in the coming year, with only 24% of them saying they would increase their retail prices as a result. The majority of buyers (60%) expected to mainly source products from the Chinese mainland.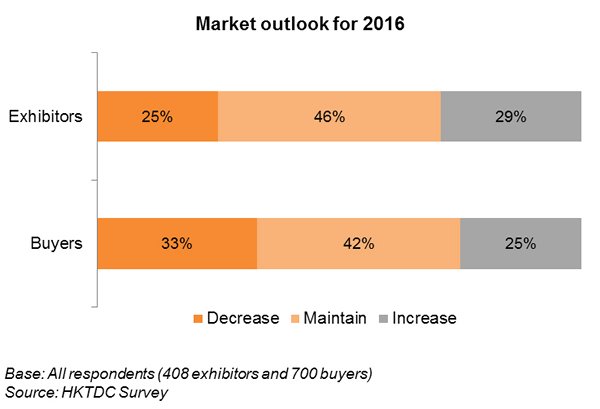 Smart Thinking
The smartphone has become increasingly popular in recent years, but the smartwatch has also started to gain momentum. Both buyers and exhibitors expected that smartwatches would become the most popular items in 2016. For the first time ever in an HKTDC survey, smartwatches overtook quartz analogue timepieces to become the most popular items in the watch category.
The survey results revealed that 43% of all respondents believed that smartwatches offered the largest growth potential for 2016, with an expected average growth rate of 20% and an expected retail price of HK$2,692. Perhaps due to economic uncertainties, the expected average retail price of luxury/jewellery watches dropped from last year's prediction of HK$40,770 to HK$36,311, as indicated in this year's survey results.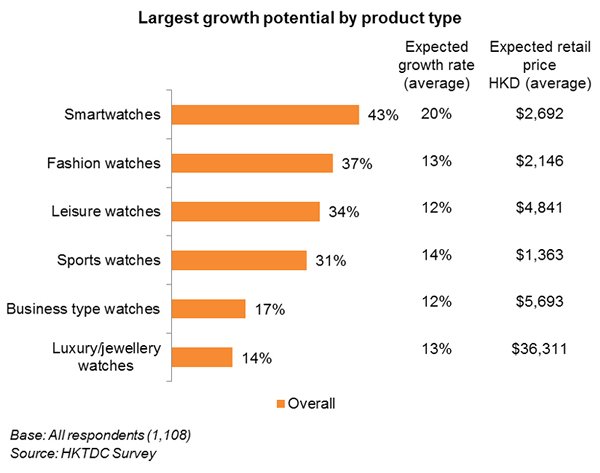 In terms of product development strategy, both exhibitors and buyers indicated that "going smart – having the facility to interact with smart devices" would represent their most significant area of product development in 2016.
For exhibitors, after smartwatches, the next most important categories were "Collections that align with current season's fashion trends" (35%), "limited edition collections" (26%), and "brand licensing watches" (26%).
Buyers held a different view, however, rating "crossover/joint promotion" (32%) as the next most preferred strategy, followed by "collections that align with current season's fashion trends" (31%) and "limited edition collections" (31%).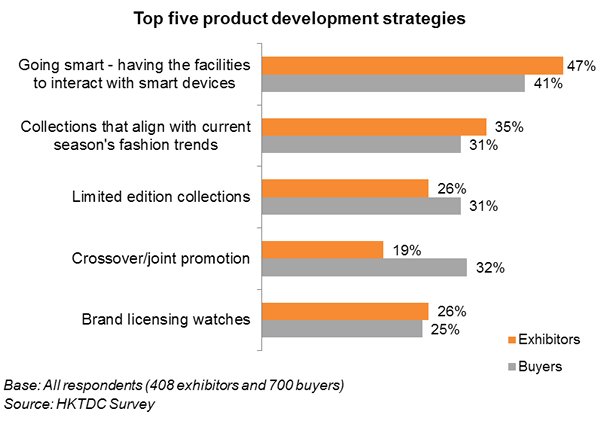 E-tailing Business: Increasingly Significant
Online trading is becoming an increasingly significant channel. According to this year's poll results, about 35% of exhibitors and buyers make use of e-tailing to directly sell products, compared to the 29% who sold via e-tailing last year. Among those companies not currently engaged in e-tailing, 20% of them indicated plans to start an e-tailing operation within the next 12 months. Companies currently engaged in the e-tailing business or planning to start e-tailing operations said they mainly sought products in a price range of between HK$1,000 to HK$4,999.
For companies engaged in e-tailing business, 45% used the Alibaba platform for sourcing, followed by hktdc.com (31%) and eBay (28%). On average, e-tailing accounted for 23% of their total sales revenue. These companies expected that the proportion of e-tailing business would grow by 14% in the next two years.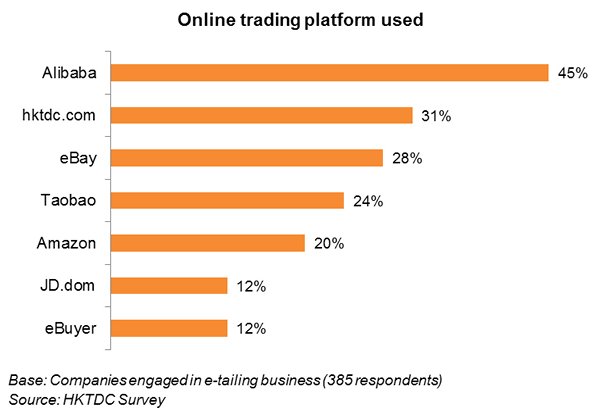 Market Potential of the Chinese Mainland
Among all respondents, 62% of exhibitors and 42% of buyers sell to the Chinese mainland. Overall, exhibitors were slightly more optimistic than buyers about the prospects for the Chinese mainland market. In total, 54% of exhibitors expected positive growth in the coming year, while only 47% of buyers shared that view.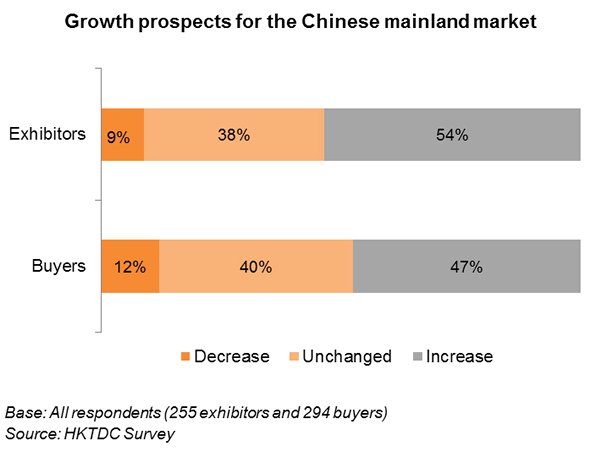 Stronger market demand (87% of exhibitors and 78% of buyers) was given as the key reason for expecting a larger sales volume. Among those companies that expected a decrease in sales volume in the mainland market, decreasing demand (69%) and intensifying competition (46%) were cited as the key factors.
Development Strategies for the Chinese Mainland Market
Both exhibitors and buyers had taken a similar approaches when it came to strengthening their presence on the mainland. Overall, expanding their existing retailing/wholesaling network on the Chinese mainland was seen as the key market development strategy.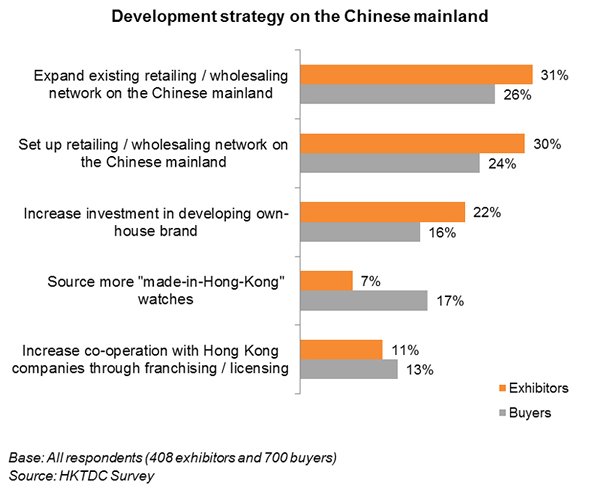 Rising Production Costs
Overall, some 70% of exhibitors have manufacturing plants on the Chinese mainland. Over the past three years, they have experienced rising costs in a number of different areas, including labour costs (95%), raw materials (92%) and utility costs (86%).
To cope with increasing costs, 62% of exhibitors said they planned to increase the price of their products, while 40% indicated their intent to source cheaper raw materials. Only 7% indicated an intent to relocate manufacturing plants to other provinces on the mainland, while 6% had plans to relocate to areas outside the Pearl River Delta (although still in Guangdong province).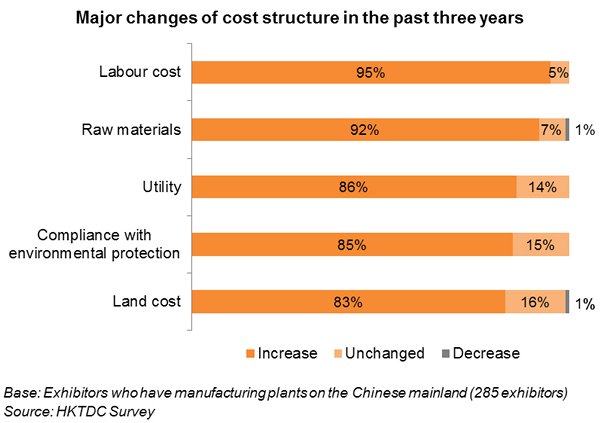 Profile of Respondents
408 exhibitors: 45% were based in Hong Kong, 40% on the Chinese mainland and 15% in other regions.
700 buyers: 50% were from Hong Kong, 15% on the Chinese mainland and 35% in other regions.
---
[1] The 2015 HKTDC Hong Kong Watch and Clock Fair was held from 8-12 September.