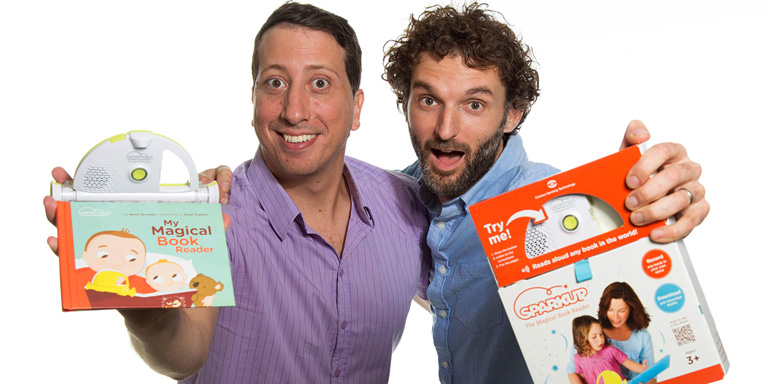 https://hkmb.hktdc.com/en/1X0A3C00
Bright Spark
An Israeli educational tech company has launched its second- generation optical book reader device exclusively in China.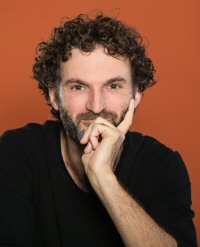 Showcased at Hong Kong's first RISE Technology Conference last month, optical device Sparkup is set to revolutionise the way Chinese children learn English. The device allows users to read along with the pre-recorded voice of a family member, or user-generated audio readings via a cloud platform. Launched in 2014, the first iteration sold more than US$1 million in its first year.

Aiming to reconnect children with printed books, Sparkup responds to studies on the potential negative effects of digital devices on early-learning behaviour. Amir Koren, company founder and CEO, explains the decision to launch its second-generation device exclusively in China.
How did you come up with the idea for Sparkup?
I was travelling a lot and looking for ways to stay in touch with my two-year-old daughter. As there is a lot of magic around story time, I thought if I could record those precious moments then she could hear my voice when I was away. When we started raising money for this project in 2010, it was around the time of the iPad launch and people told us we were crazy, that in a few years' time there wouldn't be printed books any more. But I could never see that happening, and children's books continue to sell well, and this segment is rapidly growing in China. As a parent, I also felt a need to preserve this medium because our children are glued to digital devices, and overuse can have many negative effects.

How does it work?
You clip the device onto any book and the optical sensor matches the pictures with the pre-recorded audio, which is either your voice or a user-generated one, both of which are part of our business model. Then you press the button and the device will start reading the pages. Once the book is validated, it becomes available to the entire Sparkup community, and we are building a big library relatively fast. We want to give parents incentives to share their recordings with the community, the main one being a points system that enables users to accumulate points and use them to download professionally recorded books.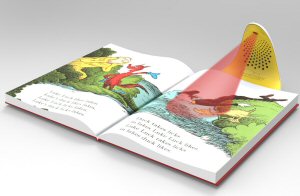 What lessons did you learn from launching the first-generation Sparkup?
Mainly, it was manufacturing, shipment, delivering things on time and localisation of software. But the major feedback we got is that many parents are relatively lazy. They will record maybe three, four, five books but that's it. If you go to a typical five-year-old's book shelf, you might find 60 books. Ideally, a child would be able to pick up any book and there is a recording to go with it.

How does the new model differ from a business standpoint?
With the second generation, there's two-way communication, so if your child picks up a book that you've done a recording for, say, two days ago, you automatically get notification of that, so it's a very unique way to stay in touch with your child. Using this two-way communication is also part of our updated business model, so let's say your child loves a certain book, we can encourage you to buy merchandise, or the second book from the same series. It's opened up new ways for us to monetise this platform, and that will enable us to lower the product retail price. So now, instead of trying to sell a product, we're trying to sell a service and giving you the product almost at cost. Our original price was US$150 and our target is to take it to around half that so we can get a bigger user base.

Why did you decide to launch the second generation Sparkup device exclusively in the China market?
We've been here many times for production; our factory is based in Shenzhen. But we're seeing a growing number of high-tech and start-up companies coming to China to find investors. For Sparkup specifically, after conducting intensive research, we came to a very clear conclusion that China was the number one market for us. There are so many Chinese children learning English, and so many tiger parents keen to invest in education.

We also found that awareness around the negative impact of digital devices is much bigger in China than anywhere else. In addition, there is an existing retail category with several products within the Chinese market similar to our device, although less advanced, so this helps with our product's market positioning. The existence of very big e-commerce brands active in the book market – around four or five compared to just Amazon in the US – also helps us. We'll be working closely with one of those brands, and it is helping us deal with the Chinese book publishers, particularly on copyright issues, as it isn't easy to deal with in China.

You came to Hong Kong to look for investors. How's that going?
We're looking to raise US$6 million to support the launch of the second generation after raising US$3.2 million in Israel for the first-generation model. Ideally, we want to have our lead investors from this area as we see Greater China as our main market. We're very optimistic that we can do so.

The engineers we need to employ to help develop this product are highly specialised. The competition around them is crazy so we need to pay them a lot. We've also been lucky that our investors have opted to convert their loans into shares so we don't have to pay them back.

We may do some crowdfunding projects within China later on, but that's not really about raising money but raising awareness. In China, most of the successful products that use these platforms are delivering their products in a few weeks, so it's more of a marketing tool and that's how we plan to use it. With something like Kickstarter, it can take up to one year to deliver the product.

Are there plans to team up with educational institutions?
In the last year, we've entered into a collaboration with a major publisher and educational brand in Israel, and we've conducted about 20 pilots in kindergartens and primary schools that show how effective Sparkup is as a reading tool, both for young children and older children with special educational needs. Based on those results, we're now pitching educational players to distribute Sparkup directly to schools and kindergartens. We want parents to see Sparkup within their schools, then buy it online for their household.

We'll be reaching out to schools in China too, working with leading distributors within different regions that are already selling to those institutions. But we're not seeing this as our main income, so we'll rely on existing distribution channels.

What's next?
Potentially, we can become a big company just around this platform, but my ambitions don't end with this product, and our vision for Sparkup doesn't end with books and reading. We see ourselves as being the brand that harnesses technology in order to enhance the 3D world of children without using screens. We're researching intuitive user interfaces, which use visual recognition or speech recognition, so children play a physical board game, for example, and get a digital response.
Related Link
Sparkup
Follow HKTDC on Facebook, Google+, LinkedIn, Twitter @hktdc
Education & Training
Technology
Israel
Hong Kong
Middle East