https://hkmb.hktdc.com/en/1X0A38NP
Running an Elderly Care Home: A China Senior Market Case Study
Interview with Liang Yue, Manager of Guangzhou Shouxing Building
"Elderly care is a huge market on the mainland, but making it a success is a challenging task. As a business operator with nearly 20 years of experience in this market, we are still groping along," said Ms Liang Yue, Manager of Guangzhou Shouxing Building. Liang's experience in managing the business and her views on the market environment and operation of elderly care establishments on the mainland provide valuable references for Hong Kong companies interested in this market.
Long Waiting List for Government-run Places
Guangzhou Shouxing Building is a large private-sector elderly care provider offering residential care, temporary care, recreation, rehabilitation and medical services. There are different establishments under the group, including Jinpan elderly care centre, Guangzhou Shouxing Building, Dayuan nursing home, Youhao retirement home, Youhao service centre and Guangzhou Friendship Hospital.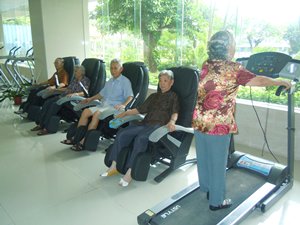 With nearly 10,000 beds in total, the group is Guangzhou's largest elderly care establishment. Nearly two decades of experience also gives it a deeper understanding of the elderly care service market on the mainland. "Demand for elderly care service has been growing as population aging accelerates. In an effort to meet market demand, we have increased our number of beds by nearly 5,000 in the past three years," said Liang. The government has also increased its policy support for and investment in elderly care establishments. The annual increase in the number of beds has been raised to 10,000 from 8,000 as originally planned, bringing the total number to 56,000 by the end of 2015 and to over 72,000 by 2020.
It is clear from available data that both supply and demand are on the rise, but a closer look at the occupancy rates shows that considerable differences exist between government-run and private establishments. Demand for beds in government-run institutions is quite tight and is saturated almost all year round. Private institutions only have an occupancy rate of about 50% on average. Since government-run institutions have a leading edge over private ones in price, consumers tend to favour government ones. On the other hand, the fact that government-run institutions are required to admit pension security recipients, such as the so-called "Three No's" (no working ability, no source of income and no supporter or provider), older people of needy families, and older people entitled to special treatment (army dependents and elderly people who have lost their only child), also result in a relative shortage of beds.
Liang pointed out that while government-run senior care homes are facing the problem of a long waiting list, private-sector service providers have trouble filling their empty beds. Public institutions can provide for the elderly with government subsidies and do not have to worry about the bottom line, which means they can charge much lower fees. For private operators, recurrent expenses like rent, salary, water and electricity bills as well as purchase and maintenance of equipment all add to the operating cost. Their pressure is bound to increase with rising labour cost and rentals.
Taking Care of Elders' Physical and Mental Needs
In Liang's opinion, older people are now more open-minded than before and the majority of them would not think that living in nursing homes means being abandoned by their children. They now think that professional establishments can take better care of their health and that they would feel less lonely and empty living with people their own age. If they know someone their own age who is already living in a nursing home, they are likely to choose that establishment too. However, because moving into a nursing home means moving away from one's familiar environment and social circle, the majority of nursing home residents are older people who need medical attention as well as nursing and daily care. "People in their 70s are called 'young seniors' in nursing homes. Most of our residents are people in their 80s and 90s," she said. It is necessary to understand the physical and mental characteristics of the elderly residents of nursing homes in order to provide services tailored to their needs.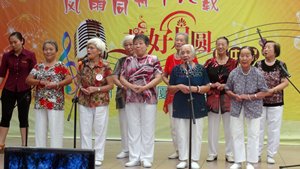 Liang said elderly people usually come with people of the younger generation when choosing elderly care homes. Those with higher educational level and income are usually more demanding about facilities and services. "For hardware, they would consider the location of the establishment: whether it is convenient for their children to visit them, whether transportation is convenient, and whether it is easy to get medical attention. They would look at the furnishing and interior environment. They also look at the outdoor environment and see whether there are places and facilities for outdoor activities," she said. "For software, their main consideration is whether the establishment is well managed, whether it has regular room inspections, whether it has health services and provides good recreational activities," she added.
Given the higher expectations of older people for elderly care service, Guangzhou Shouxing Building has built and expanded many residential operations and upgraded their indoor and outdoor facilities. It has also built a large recreation centre, which has become a favourite hangout for the elders. The centre offers classes for painting, calligraphy, handicraft, singing, dancing and other hobbies and stages all kinds of performances to enrich the leisure life of older people. It even has places of worship for Buddhists and Christians.
The mental needs of elderly people are just as important as medical and daily care. "For example, we fit out our rooms with household furniture and bed and avoid using hospital beds in order to give our elderly residents a feeling of home," said Liang. Guangzhou Shouxing Building also has social workers to help its residents rebuild their social circle and encourages them to go out more. It has also formed its own team of "senior volunteers" to have chats with elderly people with disabilities so they would derive pleasure from helping one another.
Combined Medical and Nursing Care the Future Trend
Many elderly people have chronic diseases and need to see the doctor and get treatment on a regular basis. Thus, medical care is a crucial factor when choosing nursing homes. The fact is, not many nursing homes offer both medical and nursing care and residents have to travel back and forth between their nursing home and the hospital when they fall ill, which is a torture for old people who are already not feeling well. "Nursing homes cannot treat illness and hospitals cannot care for the elderly" has become a dilemma hampering the development of elderly care establishments.
"Combined medical and nursing care will definitely be the way forward," said Liang. The Guangzhou Youhao Hospital run by Guangzhou Shouxing Building provides "seamless" medical care for its residents. "In view of the fact that most residents of nursing homes have needs for medical attention and nursing and daily care, whether these establishments can offer professional medical service and are covered by medical insurance are crucial considerations for elderly people and their families," she said. The government is already taking steps to promote combined medical and nursing care and is formulating supporting policies in this regard.
Staff Recruitment the Biggest Bottleneck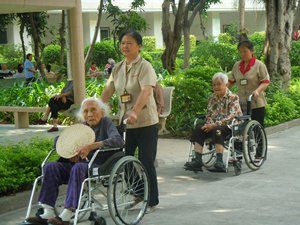 "The biggest problem facing elderly care establishments is staff recruitment. There is a serious shortage of both carers and management personnel," said Liang. "Very few people living in nearby cities are working in this industry. Even out-of-towners are hard to find," she added. The majority of people who are willing to work as carers are women in their 40s and 50s from economically under-developed areas. The fact that they are getting on in age and have low educational level makes it difficult to give them vocational training and effectively improve the quality of their nursing service.
"The shortage of management personnel is also quite serious. Not many people who are trained in this discipline and have sufficient knowledge are willing to stay on," said Liang. "China is vigorously promoting the elderly care industry in recent years and has set up a special discipline for "elderly care service and management" in universities and colleges. We hired more than 60 graduates of this discipline last year, but only three are still with us after a year," she said, adding that further explorations are needed to find out how to train and keep their management personnel.
Hong Kong Elderly Care Service: Meticulous Division of Labour
Liang said she has made several study tours to Hong Kong. In her opinion, the meticulous division of labour and the relatively mature and well regulated management of Hong Kong's elderly care service are worth learning from. "Hong Kong's nursing homes have meticulous division of labour. For example, there are doctors, nurses, therapists, health workers, and assessment and referral personnel in these establishments. They all have their duties and are working with meticulous attention and dedication in their special areas," said Liang. "On the mainland, there is no clear division of labour in most nursing homes, with the result that it is impossible to do a better job at every level," she said.
On the entry of Hong Kong companies into the mainland elderly care market, Liang said she looks forward to cooperation in the areas of technology and management. However, she reminded Hong Kong investors that in spite of the good promise most people see in this industry, building nursing homes requires big investment. Operating cost is high and payback period is long. Sufficient risk analysis and control are necessary before making the move and it is necessary to carefully consider the location, positioning and size of such establishments.
Medical & Healthcare Services
Mainland China
Mainland China