https://hkmb.hktdc.com/en/1X0A3875
Israeli Technology: Targetting the Emerging Markets
Hong Kong is well-placed to play a key role in connecting Israeli technologies with the emerging markets in Asia, facilitating technology transfer and localisation.
Facilitating Technology Transfer to Asia: The Hong Kong Bridge
Accounting for 57% of the world's GDP[1] , developing countries are becoming the new investment and export destinations for many global corporations. In view of the rapid economic growth in developing Asia, many multinationals are progressively expanding into Asia's emerging markets. With its technology-dominated export sector, Israel is looking beyond the developed markets and increasingly targeting emerging markets. In particular, it is focussing on the Chinese mainland and a number of countries in Southeast Asia, looking to provide technologies as well as high-tech products to cater to their needs.
As the premier business and financial hub in Asia – and as a technology marketplace – Hong Kong is the ideal partner and gateway for Israel's technologies and high-tech exports when they come to enter the region's emerging markets, particularly the Chinese mainland. Thanks to its strong intellectual property (IP) rights protection, Hong Kong is in a good position to facilitate technology transfer from Israel to the emerging markets in Asia, while providing full-fledged professional services, including legal and financial services, and assisting in the customisation and localisation of Israeli technologies.
Israeli Technologies – Addressing Global Environmental Issues
In recent years, climate change and abnormal weather conditions have increased the demand for environmental technologies, including renewable energy and water management systems. With developed disaster-proof facilities found to be immature, developing countries are relatively vulnerable to adverse natural conditions. In this regard, Israeli cutting-edge R&D in environmental and clean-tech sectors is in a good position to meet the technological demand in the emerging markets. Israel is a global leader in environmental technologies for water conservation and greenhouse gas reduction, which are important for addressing global environmental issues, such as drought and water treatment.
Israel's Cutting-edge Water Technologies
With its scarcity of water resources, Israel has striven hard to develop water preservation and wastewater treatment technologies. Israel has the world's highest water recycling rate (80%), and it is home to the world's largest seawater reverse osmosis desalination plant[2]. In terms of agriculture, Israel is home to the world's largest company for drip irrigation, a process which sees water and fertilizers delivered directly to the root system, rather than to the entire field surface, thereby saving water and fertilizers. Drip irrigation has been in use in Israel since the mid-1970s, and currently Israel exports more than 80% of its drip irrigation products.
Continued urbanisation of developing countries has driven up water and energy consumption by the household, commercial and industrial sectors. To an extent, such demand has been strengthened by the growing number of infrastructure projects in those developing countries that are supported by official development assistance (ODA). This has induced more government and private sector procurement needs for projects in energy, water, telecommunications and agriculture. In particular, ODA inflow in the East Asia and Pacific region registered double-digit growth in 2012-2013, surpassing that of other regions.
Complementing existing multinational institutions, such as the World Bank and Asian Development Bank, the establishment of the China-led Asian Infrastructure Investment Bank (AIIB), along with the "One Belt, One Road" initiative, is expected to accelerate infrastructure construction in developing Asian countries. In this regard, urbanisation in emerging markets presents great potential for the Israeli technology sector to help establish modern infrastructure in those expanding cities. Hong Kong has a large pool of world-class services providers in engineering, surveying and project management. These, along with the city's legal professionals who can provide comprehensive legal advice on construction, financing and environmental issues, place Hong Kong in the ideal position to connect Israeli technology exporters with those Asian countries that need appropriate technological solutions for infrastructure development.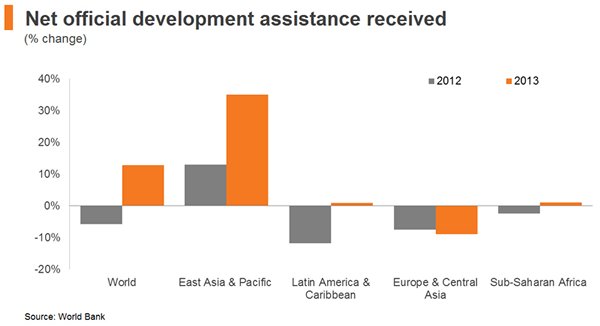 Targeting the Consumer Markets in Developing Countries
The opportunities arising from the fast-expanding consumer markets in developing countries are also being recognised by the Israeli business community. Despite the increased focus on the growing middle-class in the emerging markets over the past decade, Israel has yet to make significant inroads into these consumer markets. Since the 2008 financial crisis that weakened the economic performance in the West, Israeli exporters have started to develop emerging markets in Asia. In 2014, Israeli exports to Asia totalled US$10 billion, accounting for 21% of the country's total exports. The EU market accounts for a 32% share, and the US for 22%. China was Israel's largest export destination in Asia, accounting for about a quarter of Israeli exports to the region. Currently, the bulk of exports to Asia are dominated by industrial inputs - in particular, electronic components shipped to Intel's assembly plants across Asia.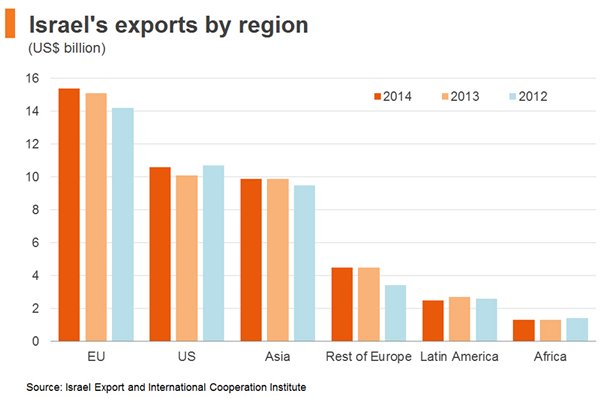 According to a number of Israeli technology industry players interviewed during a recent HKTDC field trip to Israel, many local SMEs and exporters are not familiar with the distribution networks in Asia and are unable to engage in the mass-production of technological products that is necessary in order to be price-competitive in Asia's emerging markets. As a result, they are neither targeting nor developing products for the consumers in this region. In this regard, Hong Kong intermediaries could play a useful role in linking Israeli technology entrepreneurs with those multinationals that have a presence in developing Asia, or to help them partner with local firms in the development of products targeting the emerging markets.
Healthcare Market Gaining Heed
Growing concerns over health and fitness, an aging population and an expanding middle-class in the emerging markets are all driving the demand for more advanced medical devices, pharmaceuticals and healthcare services. In 2014, consumer expenditure on health products and medical services in developing countries reached US$318.7 billion, up by 60% compared to 2009. In particular, the figure for Chinese consumers doubled during the same period. To seize opportunities in the fast growing healthcare markets, Israeli healthcare exporters have become more active in penetrating Asia. For example, Teva Pharmaceutical, the world's largest generic medicines producer, has expanded to China, Japan and Korea over the past decade. Moreover, during that decade, the number of life science companies in Israel has grown fivefold to about 1,000, with about half of them engaged in exports. Many international healthcare and pharmaceutical companies, including GE Healthcare, Siemens and Phillips Healthcare, have established operations in Israel and are developing advanced medical equipment, medications and healthcare IT solutions.
According to industry experts in the Israeli healthcare and medical sector, several challenges are hindering the growth of Israel's health goods exports to the emerging markets, notably China and India. Constantly changing regulations, for example, make it hard for Israeli products to comply with the latest standards and requirements. In addition, there is a lack of well-trained professionals and advanced facilities to perform R&D activities. In this regard, Hong Kong is the ideal platform for the marketing and distribution of Israeli healthcare products in Asia.
Notably, the 2015 edition of the Hong Kong International Medical Devices and Supplies Fair welcomed more than 250 exhibitors from 11 countries and regions, all showcasing a wide range of healthcare equipment and household medical products. With solid market knowledge and strong experience in developing the China market, Hong Kong companies make ideal partners for Israel when it comes to developing healthcare goods to meet local needs and in compliance with the relevant regulations. In addition, Hong Kong companies could find opportunities to collaborate with Israeli counterparts to conduct R&D and develop new healthcare products.
Strengthening R&D Collaboration with Emerging Markets
Israel has been active in fostering technological R&D collaboration with developing countries in recent years. The Israeli government has entered into bilateral Industrial R&D Support Agreements with a number of major emerging markets, such as India and the Chinese mainland. The first Israel-China bilateral R&D co-operation programme was launched in 2009 with Jiangsu Province. Since then, more than 200 applications have been submitted by joint companies from both countries, with total funding of more than US$20 million as of 2014. Israel has signed a Memorandum of Understanding (MoU) with the Chinese mainland and Hong Kong respectively, providing the framework for bilateral programmes to promote joint R&D and innovation activities. The MoU enhances Hong Kong's role as a springboard for those Israeli companies aiming to expand in Asia (more details can be found in "Israel: Technology and R&D Collaboration Opportunities").
Through collaborative research and product development with Israeli companies, Hong Kong could serve as the bridge for Israeli innovations to the technology markets in Asia. Israeli technology firms could leverage the strong production capacity and distribution network of Hong Kong manufacturers on the mainland to establish a foothold in China and the rest of Asia. Notably, Hong Kong is one of world's top five exporters of technological products, including telecoms devices and equipment, electronic integrated circuits, and computer parts and accessories. With well-established global networks and close business ties with the Chinese mainland, Hong Kong companies may partner with Israeli high-tech firms to facilitate the production, sales and distribution of technological products, as well as any necessary customisation and repackaging to cater for local market preferences across Asia. In addition, Hong Kong could be a platform for technology transfer and commercialisation, and act as a springboard for Israeli R&D services providers, including engineers and scientific researchers, to market their technical know-how and expertise in the region.
Useful Contacts
---
[1] According to IMF's estimate for 2014, World Economic Outlook Database (April 2015)
[2] A cost-efficient water purification facility built by Israel's IDE Technologies , producing more than 200 million cubic metre annually and accounting for 20% of the household water consumption.