https://hkmb.hktdc.com/en/1X0A3866
Dedicated Products for the Elderly: A China Senior Market Case Study
Interview with Dr C P Chan, Founder of Senior Care Innovation Limited of Hong Kong
Dr C P Chan sees great potentials for senior products on the Chinese mainland. However, he reckons that not many players are devoting a genuine heart to this market. Some of the so-called senior products are basically designed without addressing the elders' needs in mind. As such, apart from developing and designing more senior-specific products for his own brand, Dr Chan also hopes to introduce some foreign brands to the market, recognising that high quality products are generally able to attract repeat customers.
Founded in 2011, Senior Care Innovation specialises in the silver market. Initially the company sold senior-friendly mobile phones to the European markets. It has plans to develop integrated telecommunications care service for the seniors (tele-care market), including a full support system that facilitates the seniors sending messages to the backend service desk when in need of help.
Brand Building with Quality and Thoughtful Designs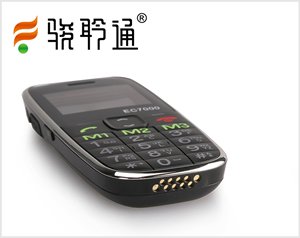 Dr Chan introduced the ElderlyCareChina brand to the mainland market with its senior-friendly mobile phone. The phone claims to be highly reliable in consistently sending out relevant messages when the user asks for help, thus significantly raising the chance of success for rescues. According to Dr Chan, this mechanism has been well tested in the application platform in Europe. The phone also comes with other thoughtful features. For instance, it can auto-start to transmit "help messages" with GPS location, once the user presses the "rescue" button directly even when the phone is off. It will continue to transmit these text messages until the help request is switched off. Another design feature prevents the seniors from inadvertently changing the setting of the rescue request function. All these details are aimed at enhancing the chance of successful rescues should the user encounter any problems. Moreover, the home-use safety alarm complete with a "fall detection" function can proactively send out "call for rescue" messages. Dr Chan acknowledges that the demand for high-end senior-specific mobile phone and services in China is still low at this stage, with price being a major concern. Compared to Europe, the mainland market is less receptive to such high-end products. However, Dr Chan considers that through advertising, promotion and brand building, his products' sophisticated and thoughtful designs would help boost consumer confidence in his company's brand in the long run.
Senior Shopping Mall Concept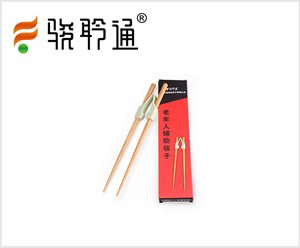 Right now, Dr Chan's company is actively exploring the concept of a senior shopping mall, which will design and launch its own products, as well as import foreign products. At the same time, the mall will provide different categories of senior-specific products, such as tailor-made chopsticks and shoes. These will help the older consumers better cope with their daily life despite reduced activity levels due to aging. Dr Chan remarks that industries of senior-specific products are quite well developed in advanced countries such as Japan. However, such industries are still in the development stages in China.
ElderlyCareChina capitalises on its mobile phone's technical standard to build customer confidence and brand recognition on the one hand, while providing different product ranges on the other. For instance, its senior chopsticks are delivered in different product lines, with some being less costly while others are of better quality. One of the company's future development directions is combining its mobile phone's advanced technology and functions with other daily living products. One of Dr Chan's new research projects in the pipeline, for example, involves embedding the mobile phone GPS function in the elders' shoes. In future development, the data archive functions for the seniors may even be encrypted in clothing and wearable items, through an integration of technology and services.
Moreover, the company also plans to introduce senior products brands from abroad for the mainland market. It is now working on the dealership of an overseas senior clothing brand to gauge market reception in China. Leveraging on imported brands can help build customer confidence more easily and facilitate product range differentiation.
Product Quality and Styles are Essential
As a matter of fact, good product quality can generally attract repeat customers. This is reflected by the estimate that 20% of the wearers of ElderlyCareChina elderly shoes are repeat customers. Dr Chan considers that market potential for senior products in China is huge. However, not many market players are actually putting in a genuine heart. This is reflected by the lack of concerns for the seniors' needs in the designs of the so-called elderly shoes, which are merely in name only. To produce better quality elderly shoes, Dr Chan has plans to look for factories outside of China, such as Southeast Asia, for high standard original equipment manufacturers who are willing to take smaller orders.
To the seniors, particularly the ladies, the styles of shoes are still their utmost concerns, to be followed by the comfort level. As such, ElderlyCareChina places great emphasis on the materials it uses, since greater comfort levels are able to achieve customer loyalty.
In terms of market development, Dr Chan says consumers in China are yet to raise their product knowledge, especially for high-end products. In other words, manufacturers should devote more educational resources in helping customers identify the uniqueness of various products and how cost should be justified by quality. To achieve this, manufacturers may need to disseminate these messages from time to time and with greater creativity.
Sales Channel: Mainly Online
At present, ElderlyCareChina has an online focus as its major distribution channel in China. This is due to the rapid and mature development of online channel on the mainland, coupled by the O2O strategy that facilitates brand promotion via diverse on-site sales promotion outlets. Apart from its e-shops on Taobao and JD.com, ElderlyCareChina also hosts its official website. Additionally, it utilises highly popular social media such as WeChat and QQ for product promotion, particularly before and during trade shows. These platforms help push product news including giveaway incentives and instant updates of trade show information to maximise the O2O impact. ElderlyCareChina will consider setting up experiential shops as well to complement its online sales distribution in due course.
Speaking from his personal experiences, Dr Chan believes that the potential of silver market is significant in China. However, such potentials are not easily attainable unless new and good products are available, new commercial models are explored, and new directions are charted with a new mindset.
Mainland China
Mainland China