https://hkmb.hktdc.com/en/1X0A358D
Quality and Service the Best Strategy: A China Senior Market Case Study
Interview with Li Tianxi, General Manager of Beijing Hemeide Technology Co Ltd
Beijing Hemeide Technology Co Ltd (Hemeide), founded in 2009, is committed to providing daily living as well as family medical and healthcare products to middle agers and the elderly. The company markets its home-grown Hemeide brand as its core product lines, while also forming strategic cooperation alliances with Pride from the United States, Miki from Japan, Karma from Germany and Pihsiang from Taiwan. It is also the distributor for a number of Japanese and Taiwanese brands.
Hemeide's major products include elderly mobility aids such as electric wheelchair, electric mobility scooter, wheelchair, rollator and walking aids. Its product mix also consists of home-use health check devices such as blood pressure meter, blood glucose meter, oxygen generator and pedometer; along with elderly daily commodities and healthcare supplements such as paper diaper, sanitary pad, senior mobile phone and toilet seat.
Brisk Sales of High-end Products Amid Fierce Market Competition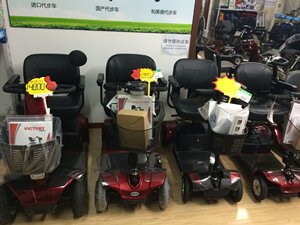 Li Tianxi, Hemeide's general manager, reckons that senior products represent a sunrise industry that has very promising prospects in China. Many industry players are known to have doubled their sales every year over recent years, while different industry sectors are forming "alliance among the giants" to capitalise on the boom. Many senior products manufacturers are also starting to collaborate with nursing homes to expand their own target consumer communities and distribution channels.
In its early years, Hemeide has been recording good results by distributing high quality import products and doing television advertising. "Some of our products' monthly sales even exceeded their total annual turnover in smaller cities," Li said. "However, the situation has changed since the second half of 2014. The entry of more and more senior products manufacturers has hit hard on the market of low-to-middle-range products." With more and more players entering the silver market, competition is expected to hike significantly.
Amid intensifying market competition, consumers' purchase power has also risen tremendously in recent years. Li said: "In the past, consumers would consider an electric mobility scooter with an Rmb10,000 price tag as a luxury item. However, this product has almost turned into an ordinary commodity these days as more and more purchases are being made. Even though not every family in Beijing owns an electric scooter, I believe the product has already secured a 30-40% coverage rate." he added. Along with the constant rise in China's pension fund comes a drastic change in the seniors' consumption concept as well. In the past, the seniors were particularly tight-fisted and reluctant to purchase products that helped raise their living quality. Contrary to this attitude, people nowadays are much more generous towards their purchase decisions, and are very willing to share with their friends about the excellent products they use. "For example, a high-end electric scooter is sold at over Rmb20,000 in our company. Thanks to word-of-mouth publicity, seven more customers from the same neighbourhood came to buy this same scooter after their neighbour has purchased one," Li added.
Based on its sales figures, Hemeide notices that consumers' concepts in first-tier cities such as Beijing, Shanghai and Guangzhou are generally several years ahead of those of the second-tier cities. The integration of electronic products with supplementary functions promises great prospect for the industry's future development. This may be realised soon by equipping the elderly electric scooter with mobile phone, GPS and even navigation functions. Integrating new technology in an "all-in-one" electronic product will be the trend of future development for senior products.
Enhanced After-sales Service, Greater Emphasis on User Experience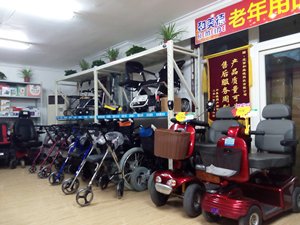 "Our customers are generally grouped into three categories: the first has high expectations for product performance and their own personal experiences. The second focuses more on the products' quality-price ratio, while the last category places greater emphasis on after-sales service," said Li. Several years ago, it was common for children to pick and buy senior products for their parents as presents. Some purchasers even had the mindset similar to that of giving toys to their parents. However, in recent years most of the purchases are made by the older adults themselves. As end-users, the seniors care more about the actual product experiences. On the other hand, the seniors' weaker mobility and unfamiliarity with the electronic products' operation and maintenance have motivated greater consumer preference for more human after-sales service. "Some seniors have conveyed to us their concern that their electric scooter may have worn out after three to four years' use, even though no technical problem has actually occurred. The seniors are in need of door-to-door product inspection service from expert technicians, and are even willing to pay for it at their own expenses," Li added.
Compared with the physical store customers, online consumers are more concerned about the products' quality-price ratio. This is due to the online channel's greater price transparency on the one hand, and the lack of consumers' user experience and quality comparison knowledge about product workmanship and materials on the other. In actual fact, senior-specific products have more or less the same functions. Yet an upgrade in workmanship and materials would definitely enhance the senior users' feel-good experience in using the products.
Li said that even though product origin affects the senior products' quality in certain ways, the elderly users are actually paying more attention to their own personal experience and how the enterprises deliver the service. This is especially so when children of the senior customers are too busy at work and cannot be involved in the process. As such, senior products should be supported by more human and all-round before, during and after-sales services in order to win customers' recognition and appreciation.
Online-offline Efforts to Build Product Acclaims and Brand Publicity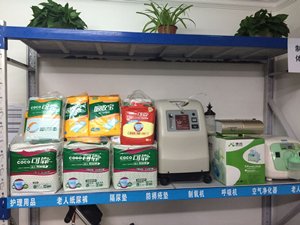 Hemeide's current sales network covers the whole of China, while its sales channels consist mainly of online and offline platforms. Its offline channel is formed mostly by self-run physical stores and multi-level distributors' network. This bricks-and-mortar channel has been playing a very essential part in Hemeide's early years. However, such role is gradually on the decline these days. Since elderly people and persons with reduced abilities constitute the company's core consumer communities, its self-run physical stores are particularly important in offering on-site user experience and after-sales service. "The majority of our customers who try out the products on-site are highly aware of the variations among products of different price ranges. And they are very willing to spend more on better quality products," said Li. "Excellent on-site user experience is essential to considerably increasing our products' price premium; while comprehensive after-sales service can raise the chance of customers' repeat purchases."
China's online sales business has expanded exponentially over recent years. Since its inception, Hemeide has been well prepared in setting up the Hemeide senior products online mall. "We have already entered all online platforms including Tmall, JD.com, dangdang.com and Suning.com at this stage," Li said, "Even though online sales are trending towards increasing overheads, the sales results are highly effective indeed. To me, online sales will continue to promise huge potentials." According to Hemeide's sales data, online sales have grown in recent years at an "explosive" rate and have surpassed that of offline sales. "One of the advantages of online sales is its extensive reach. Another edge is that this platform enables the mobilisation of just a few signature products to push the sales of all product lines across different platforms," said Li.
Amid constantly intensifying market competition and buoyed by its own sales channels' progressive self-enhancements, the company has launched its own Hemeide brand. "Consumers are beginning to cultivate brand awareness in the consumption of senior products. Owning a good home-grown brand ensures we are not easily replaceable in the market," Li remarked. As such, joint promotions via online and offline channels are indispensable. The promotional tactics include physical store posters and sales pamphlets for offline channel; as well as product photos, function specifications, and promotional and bundled sales for online channel. All these are aimed at giving offline consumers better, more comprehensive understanding of the products once they are viewed online. Meanwhile, online consumers can visit the physical stores to find out more about the respective promotions and personally experience the products after browsing online.
Attention to Different Local Market Preferences
Li said currently there are three major cooperation models between manufacturers and distributors:
For more mature products, both parties would generally settle the transactions according to factory price. This model, which is currently the most widely adopted by industry players, allows distributors to earn the price difference between selling and factory prices.

For new products and new product categories, manufacturers would generally agree with distributors on a profit-sharing ratio. This higher profit incentive would motivate distributors to actively promote new product sales.

Through the original equipment manufacturing model, the distributors would commission the manufacturers to produce products using the distributors' own brands.
Upon confirming their cooperation relationship, manufacturers and distributors would usually draft a sales plan. To achieve sales targets, manufacturers and distributors need to maintain close communications. The distributors would generally propose recommendations for product pricing and output volumes. The manufacturers, on the other hand, should have a better understanding of the market to ensure the distributors' proposed recommendations match their own development and branding positioning. Especially for overseas manufacturers, product localisation is a task that requires gradual adjustments as well as respective market researches to better understand local consumers' usage habits and attitudes.
Li acknowledged that despite Hemeide's considerable cooperation experiences with various import brands, his team is still particularly prudent in the choice of brand partners. This is because of complicated procedural flows for import products as well as insufficient follow-up for imported parts. Li and his team will continue to attend trade fairs in search of quality products that complement their own branding. "Generally speaking, we would like our production partners to possess not only the basic business qualifications and quality control systems, but also high prerequisites in after-sales service, performance ratio and style varieties, etc," he added.
Lastly, Li suggested Hong Kong companies that are contemplating entry to the mainland market should first conduct market research and planning to identify their own brand positioning and target sales territory. It is best for them to initially choose certain highly representative cities as the bridgehead for adapting to the mainland market preferences, before expanding their sales territory subsequently in phases.
Health & Beauty
Household Products
Mainland China
Mainland China