China's E-commerce Agencies (2): Helping Companies Expand Online Sales
An Interview with Li Junwei, Vice-president, Flying Fish Electronic Commerce Co Ltd
While online shopping is becoming increasingly popular among mainland consumers, a number of companies and brand owners lack any real understanding of e-commerce sales, making it difficult for them to develop an online sales proposition. In order to meet the needs of such companies, several specialist e-commerce agencies, such as Flying Fish Electronic Commerce Co Ltd, have emerged. They offer e-commerce and digital marketing services in full solution packages or by item, as well as also providing online sales services. Li Junwei, Flying Fish's Vice-president, said: "From brand design agency to e-commerce agency, our company has witnessed the growth of China's internet economy." Li talked at length about how his company has grown and the development trends and operational procedures of e-commerce agencies. He also had some valuable advice for those Hong Kong companies interested in entering the mainland online sales market.
Riding the E-commerce Boom
Flying Fish was established in 2006, initially as a brand design company. At the time, its core business was in helping companies build their brand image, while planning and producing professional designs. Li said: "The period from 2008 to 2010 marked a watershed in the mainland's e-commerce market. Everyone was exploring and searching for ways to launch into e-commerce, and we entered the market right at this critical moment."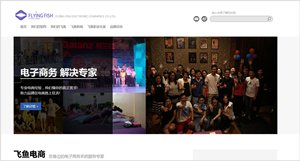 With China's e-commerce market developing rapidly throughout 2010, Flying Fish soon realised that online shops were essentially a form of visual marketing. Consumers were making buying decisions based on the products they saw while browsing websites. This trend tallied with the visual design work at which the company excelled. So, in 2010, Flying Fish successfully transformed itself into a fully-fledged e-commerce company. In the same year, the company built online flagship stores for two brands - Deerma Electric and TakeFans Digital - which subsequently achieved monthly sales of more than Rmb10 million within little more than a year. This spectacular result attracted the attention of many electrical appliances companies, with a number of them quick to commission Flying Fish to operate the online sales of their branded products. From 2010 to 2014, total sales of Flying Fish's own brands and the brands it represented jumped from Rmb20 million to Rmb2 billion, a business success that understandably attracted considerable attention.
Flying Fish offers one-stop solutions for companies. Its services include front-end visual marketing, brand packaging; operation and promotion; channel expansion in the middle; back-end order processing; warehousing; logistics; and customer management. It provides e-commerce agency services to well-known brands, both domestic and foreign, ranging from household appliance and digital products to home furniture and electrical purifier systems.
Three Regional Clusters
According to Li, clusters of e-commerce agencies have taken shape in three major regions:
Hangzhou and the neighbouring Jiangsu and Zhejiang regions

Hangzhou is home to Alibaba's headquarters. A great number of e-commerce agencies have gathered in this region in order to handle such products as garments and mass merchandise for daily use.

Guangdong is a leading manufacturing base. Most of the local e-commerce agencies are closely related to industries in the vicinity. Shunde, a division of Foshan city, is a prime example here. A large number of household appliances manufacturing enterprises are clustered in Beijiao and Ronggui, two of Shunde's sub-districts, while many furniture manufacturers are concentrated in nearby Lecong town. As such, e-commerce agencies in Shunde understandably specialise in these two product categories.

These two municipalities are home to large numbers of the China headquarters of foreign firms. Most of the e-commerce agencies operating in these two municipalities have evolved from the media sector, with the brands they handle being mainly foreign-owned.
Looking to the future, Li said: "Online shopping growth is likely to slow somewhat, although the upward trend is expected to continue. In particular, as the popularity of mobile devices grows rapidly, online shopping will become more and more convenient, making shopping anytime, anywhere a reality."
In 2014, the transaction value of online shopping accounted for about 10% of the total retail sales of consumer goods on the mainland. In other words, the ratio of online to offline shopping was about 1:9. Compared with offline sales, the share of online sales is still small, indicating that both the growth potential and the room for expansion are huge.
Bespoke E-commerce Agency Services
Unlike offline agents, e-commerce agencies typically offer the following:
This acts to increase the attractiveness of the online shop and the products of the brand owner.

This helps brand owners communicate and negotiate with e-commerce platforms, bringing about a seamless connection.

This team comprises professional before- and after-sales customer service staff. Typically, they are responsible for sales and follow-up services, such as exchanges, repairs and maintenance.
Li said: "E-commerce agencies not only act as agents, they also help brand owners expand online sales. From branding to marketing solutions, everything has to be carried out according to the specific nature of the client's brand and products."
In view of this, Flying Fish offers individually customised online operation solutions to every client. It also allocates a dedicated project team to each client, ensuring independent operations for products under the same category. The Flying Fish Visual Factory, built in 2014 with an area of 7,000 square metres, has more than 100 designers, all providing clients with integrated visual services embracing industrial and visual design, marketing planning, and photo and video shooting. Li said: "The visual design of online shops is very important. The advantage of Flying Fish is that we have the ability to highlight the merits of a product by using graphics and a language that readily appeals to consumers."
Client Considerations
As an e-commerce agent, Li hopes that the brand owners he works with understand that mutual trust is the key to achieving win-win results. He said: "Trusting and supporting each other is the foundation on which any successful co-operation is built." He said he takes two main factors into account when it comes to choosing a client and a product to work with.
First - is the product is eye-catching and markedly different to similar products and is it right for the mainland consumer market? Second – does the client have the ability to continually conduct R&D and raise product quality? Li believes only a brand or product with a sustained R&D ability will be able to achieve sustainable development. Prospective clients are run through their paces by Flying Fish's dedicated internal testing team. Team members and their relatives and friends act as product testers to find out whether the product is suitable for the mainland market and whether the user experience is satisfactory.
Flying Fish mainly works with clients in two ways. In the first model, the brand owner and Flying Fish jointly invest in establishing an independent e-commerce company for the brand, bringing together their interests and operations. In the second model, which is more typical, the brand owner and the e-commerce agency sign an agency agreement making the agency responsible for the online sales of the brand. This arrangement is somewhat different to the regional agency system commonly used in offline sales. According to Li, owing to the comprehensive coverage of online sales, usually e-commerce agencies will sign an agreement with the brand owner for the exclusive rights to conduct online sales.
Charging Mode
With regard to fees, Flying Fish adopts the "visual service fee + sales commission" model and does not charge extra fees for the dedicated project team. The brand owner, apart from paying the agency visual service fee and sales commission, also has to pay the e-commerce platform entry fee, provide discounts on the product price and cover publicity and promotion fees. The visual service and e-commerce platform entry fees are one-off payments, while the remainder are discounts and commissions related to sales and marketing fees. Generally speaking, sales commission is fixed according to the product category and the popularity of the brand. Normally, incentive measures based on the annual sales volume of the product would be established early on.
Logistics, Delivery and After-sales Service
At present, Flying Fish mainly adopts the "orders only, no goods changing hands" format when acting as an e-commerce agency for domestic brands. In other words, once orders have been received from consumers, the information is passed on to the brand owner, who is then responsible for delivery. As for imported foreign brands, as time is required for customs clearance, the "change hands" format is usually adopted. Under this model, the goods will be delivered to the agency's warehouse first and then, after an order is received, the agency is responsible for delivery. Where after-sales warranty and repair is concerned, the current standard trade practice is that, within the warranty period, goods can only be replaced but not repaired, and consumers should contact the manufacturer directly. After the warranty period, repairs are handled by repair points set up by the manufacturer.
The "2+1" E-commerce Platform Option
Li said: "As more and more business operators seek to expand online sales, their costs for gaining customer traffic is becoming higher and higher. E-commerce agencies have to move towards specialisation and segmentation." He noted that, in the past, not many well-known brands had any presence on e-commerce platforms. Back then, competition between business operators was not fierce, providing opportunities for lesser-known brands to stand out from the crowd. Addressing the changes in the market, he said: "Now, e-commerce platforms have no shortage of brands. Domestic, foreign and other branded products channelled via overseas purchase agents are all available. As such, e-commerce platforms will not lower entry fees or commission rates just because a brand is strong."
Taking into consideration the variety of e-commerce platforms available on the mainland today, Li would normally suggest to his clients that they choose the "2+1" platform option. The "2" refers to the two leading platforms of Tmall.com and jd.com. Together they account for almost 80%-90% of the online sales of electrical appliances, garments and daily consumer goods, making them indispensable platforms. The "1" refers to the choice of an extra e-commerce platform based on the features of the product. The choices here include vip.com (for brands which are already quite well-known), yhd.com (suitable for fast-moving goods such as food products and daily consumer goods), and suning.com (for electrical appliances).
Online-offline Pricing Strategy
Where pricing is concerned, Li said: "The massive amount of information available on the internet means consumers are absolutely clear about the selling price of the same brand on both the domestic and foreign markets. The days of exorbitant profits are over." Today, brand owners that sell through both physical stores and online shops usually adopt two means of balancing online and offline sales. One is a strategy of differentiation, whereby different sub-brands, models and styles are offered online and offline in order to avoid direct price comparison. The other is offering the same price for online and offline sales, with no differentiation.
Compared with physical stores, customer management is easier online as all the browsing and shopping data of online shoppers is tracked. The information collected can then help e-commerce agencies interact more effectively with their customers, enhancing their brand loyalty and carrying out targeted marketing campaigns, thus promoting the sales of the brand still further.
Capitalising on the Opportunity
According to Li, Hong Kong companies are known for their good reputation and professionalism. Manufacturers with an established presence on the mainland or traders who handle foreign brands, however, need to make an effort to get to know more about the mainland's online sales market. Only if they communicate more with industry players and pursue long-term development can they be certain to gain a share of the online sales market.
Mainland China
Mainland China