https://hkmb.hktdc.com/en/1X0A2R8J
Hong Kong's Advertising Industry: Digital Evolution
The increasing popularity of digital and online advertising is fast reshaping an industry renowned for both creativity and its ability to adapt.
Information and communication technology (ICT) and new media are reshaping the advertising industry and altering the ways in which marketing messages are delivered to target customers. One of the regional advertising strongholds, Hong Kong is witnessing rapid changes in the sector. Both marketers and advertisers [1] are placing greater focus on digital/online advertising, capitalising on increased internet penetration and higher levels of mobile browsing.
Digital Advertising: A Global Trend
According to data compiled by eMarketer, global digital advertising revenue has grown by more than 16% annually, rising from US$32 billion in 2011 to US$51 billion in 2014. The annual growth of other platforms has registered comparatively poor growth (less than 1%), edging up marginally from US$126 billion in 2011 to US$129 billion in 2014. The share of digital advertising as a proportion of total advertising revenue has grown from 20.25% in 2011 to 27.12% in 2014. The global outlook for online advertising remains distinctly positive. Zenith Optimedia, a global media services network, forecasts an annual growth of 14% from 2014 to 2017, outpacing a number of traditional mediums, such as television and print.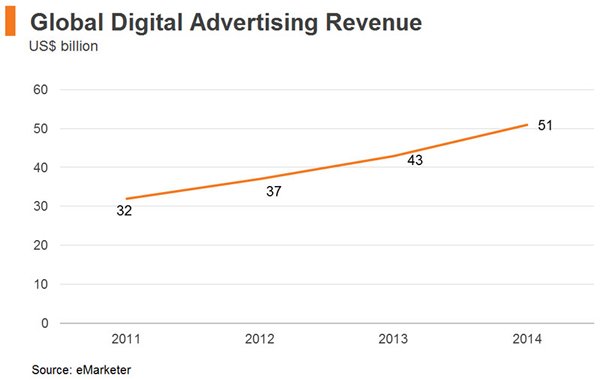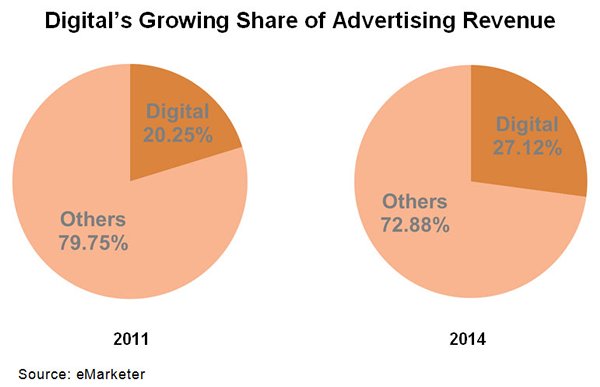 Undoubtedly, the rapid growth of online advertising has been largely driven by increased internet penetration. Currently, it is estimated that more than three billion people worldwide access the internet, three time the one billion users in 2005. Hong Kong ranks among the highest-internet using economies in Asia. About 75.5% of Hong Kong people were internet users in 2014, compared to about 88% in Japan and 74% in Singapore, according to data compiled by Euromonitor. The internet penetration rate in Hong Kong is expected to continue to grow steadily up until 2020, offering an ever-expanding market for online advertising.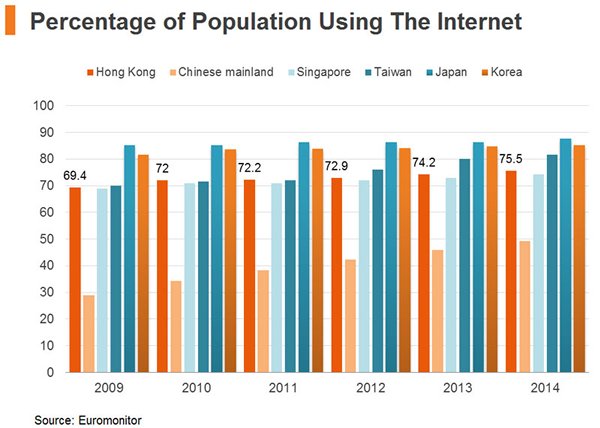 A big advantage of online advertising over traditional mediums is that digital platforms have the technological facility to allow a far higher level of interaction with target customers. In devising their advertising or marketing campaigns, marketers aim for strategies that will garner the attention of as many people as possible. They aim for the maximum number of "eyeballs", with the hope of raising impression rates and turning prospects into consumers. Technological advances also allow advertisers to buy the most effective media space on online platforms and directly reach their target customers. Marketers and advertisers can now cherry-pick those cyberspace slots likely to yield the highest number of eyeballs for their campaigns. Among other online options, these slots include websites, landing pages, email newsletters, banners and/or video advertisements.
This plethora of online advertising options and the increased effectiveness of marketing campaigns have led to an increased willingness by advertisers to allocate more resources to digital marketing campaigns. Television currently remains the global leader in terms of advertising spend. Its share of total advertising spending (adspend) is expected (by Zenith Optimedia) to keep trending downward – decreasing from about 40% in 2014 to 37% in 2017. Meanwhile, online video is expected to account for an increasing portion of advertisers' budgets, almost doubling from a global adspend share of 2.1% in 2014 to 3.9% in 2017.
Impact on Hong Kong Advertising
In Hong Kong, a similar trend favouring online advertising has also been noted. According to data released by media-monitoring firm admanGo, online and mobile media posted the highest growth in 2014 (12% and 105% respectively), with their combined market share increasing from 8% in 2013 to 10% in 2014.
Digital advertising requires a skill set quite different to traditional offline advertising. With the advertising ecology experiencing radical change, Hong Kong advertising agencies and marketers are keen to adapt to these shifting advertiser/client requirements. Large-scale advertising agencies in Hong Kong, such as the 4As firms [2] are able to set up their own technical teams in order to focus on online advertising business development. SME agencies, meanwhile, have to rely on outsourcing to other ICT firms as a more practical and cost-effective option.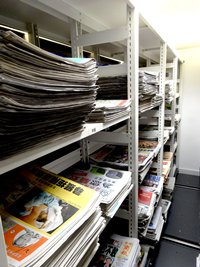 In turn, there is a growing trend for convergence between advertising agencies and ICT firms. An increasing number of companies now specialise solely in digital and online advertising. Some ICT firms previously engaged in devising applications for both advertisers and marketers have transformed themselves from pure ICT service suppliers into a new option within the advertising industry.
This change in Hong Kong's advertising industry, triggered by the growing prevalence of online and mobile advertisements, is posing a challenge to a number of advertising agencies that have traditionally focussed on strategic planning and creative services. During recent visits to a number of Hong Kong advertising agencies, HKTDC Research witnessed the way that the business environment is rapidly changing. Today's clients or advertisers are more pragmatic and are less willing to spend their advertising budget on creativity alone. The impact of strategic concepts on sales performance is, they believe, difficult to quantify until they have been converted into tangible advertising collateral in a marketing campaign.
The rise of social media and the increased accessibility of the internet via mobile and devices, however, is something of a double-edged sword. While online platforms and social media have become new vehicles for marketing collateral, many prospective advertisers are now able to draw on an increasing supply of advertising resources on the internet to formulate draft marketing messages. Evidently, an increasing number of independent creative services providers, including Bloggers and "Youtubers", are gaining traction among internet users. This trend may somewhat lessen the dependence of advertisers on advertising agencies that are primarily engaged in strategic development and implementation.
SME Advertising Agencies and the Transformative Eco-System
A number of SME advertising agencies that HKTDC interviewed have sensed a transformative change in the industry's ecosystem over recent years, a consequence of the growing prevalence of digital advertising. According to these agencies, Hong Kong's advertising industry has become more diverse and scattered. It appears that more SME agencies have entered the industry, focussing on or specialising in certain segments of the advertising value chain. There is, however, a lack of official data showing the precise number of advertising agencies or marketers in Hong Kong (as they are subsumed under the broader grouping of advertising and market research).
They suggested that the average firm size is now smaller in terms of the number of people employed, though their skill sets and specialisations allow them to more readily take advantage of new business opportunities brought about by online advertising. This has occurred against a background where advertising revenue has continued to grow in Hong Kong, though average project size and adspend has declined.
Despite this, downstream segments of the advertising industry's value chain have seen increased activity lately. Demand is robust for ad production and for execution related to digital advertising, including online video-making and digital graphic design. Motion graphics production, for example, is one rapidly rising segment in Hong Kong. The event management segment is also playing a more important role, a move driven by growing demand for mall promotions and exhibitions and an increased emphasis on online-to-offline (O2O) interactions.
Advertisers are also placing greater emphasis on obtaining maximum return on their investment in ad campaigns, particularly in areas relating to advertisement production, execution and roadshows. As a result, advertising agencies have had to be more adaptive in order to meet their clients' more rigorous demands with regard to the creative and operational areas of any ad campaign. With profit margins being squeezed, a number of agencies have suggested that new business models for advertising companies might be needed, as well as further exploration of those areas that may add value for advertisers.
In view of stronger demand for roadshows and mall promotions, advertising agencies could be well positioned to offer expertise on the presentational pitch and emphasis of such in situ activity, thus providing staff training to the advertiser's promotional and sales teams.
Looking forward, some feel that the pricing model of advertising agencies may have to be altered, becoming more related to an advertiser's actual sales or business performance after the roll-out of any promotional campaign. This could prove a win-win situation for both the advertiser and marketer. The latter could be further incentivised by the prospects of a successful advertising campaign, despite the increased scrutiny of the advertiser on return of campaign investment. Marketers, however, acknowledge that this new thinking about co-investment in ad campaigns may take quite some time to materialise.
Mobile Advertising: A Key Future Driver
As one of the fastest growing segments in digital advertising, mobile advertising allows advertisers to more closely connect with their target customers, no matter where they are. According to data released by eMarketer, global mobile advertising revenue has expanded by more than 100% annually, rising from US$1 billion in 2010 to US$19 billion in 2014. This rapid growth has resulted in a drastically increased proportion of mobile ads within digital advertising as a whole.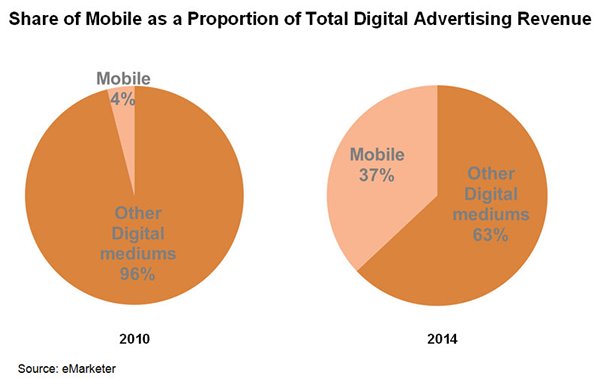 It is expected that the penetration of mobile devices will further enlarge the share of online advertising when compared to traditional mediums. According to Euromonitor, the proportion of mobile internet users to mobile telephone subscribers in Hong Kong increased dramatically from 18.8% in 2009 to 50.6% in 2014 and is expected to exceed 90% by 2020. This represents a huge opportunity in the mobile advertising segment.
The number of mobile internet users (i.e. those using mobile devices including smartphones and tablets) overtook those going online with personal computers on the Chinese mainland as of July 2014, according to the China Internet Network Information Centre (CNNIC). This provides a much larger mobile advertising market for Hong Kong ad agencies. An upcoming article will further examine the market potential and business environment of the advertising industry on the mainland.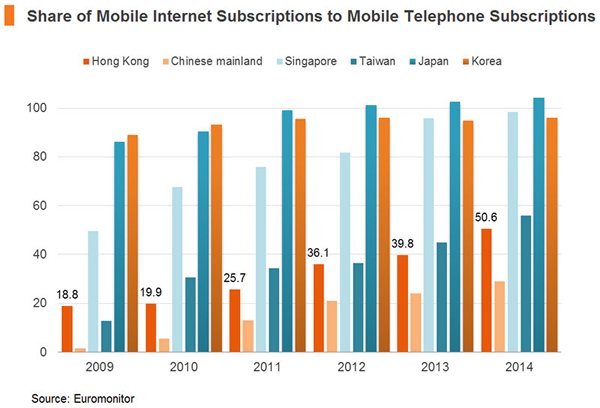 Useful contacts
---
[1] Marketer generally refers to a person or a company that provides services to promote or sell a product or service, while an advertiser is the one that places advertisements and is usually the client of marketers.
[2] There are currently 30 full members in the Association of Accredited Advertising Agencies of Hong Kong (HK4As), mainly multinational advertising and media agencies.
Advertising Services
Event Organisation