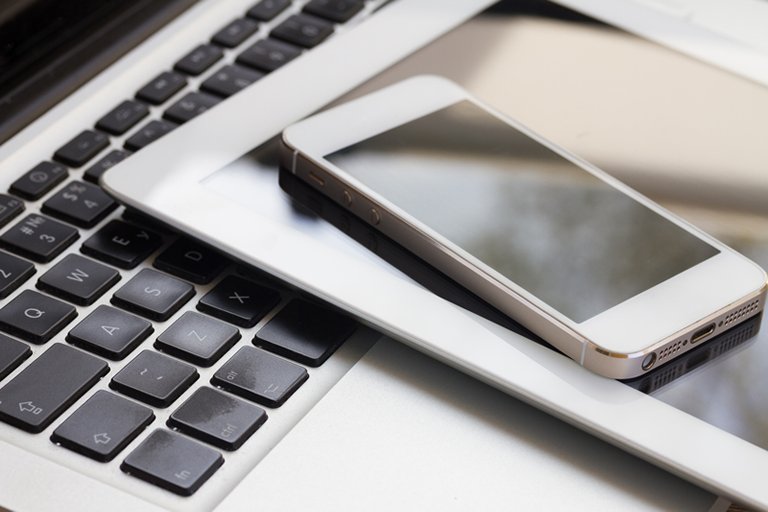 https://hkmb.hktdc.com/en/1X0A2MUC
2015 Mid-year Export Assessment: Divergent Industry Performances
With a modest 2.3% year-on-year increase, Hong Kong exports were below par in the first four months of 2015, while sales results varied considerably across different industries. On a positive note, electronics, the largest export sector, continued to expand remarkably, providing the major stimulus to growth, while jewellery showed steady progress in spite of the fluctuating prices of raw materials. Toys, on the back of the good showing of electronic and video games, advanced at a sturdy pace. Clothing exports, though, were hindered by competition from other production bases and timepieces, meanwhile, suffered from the rising challenge of electronic gadgets. In all likelihood, the sales outlook for these products should improve, with the world trade environment expected to brighten somewhat over the medium term.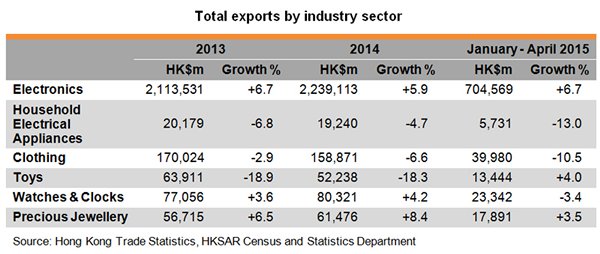 Electronics: The Main Driver of Growth

Hong Kong's electronics exports rose by 6.7% year-on-year, constituting some 62% of total overseas sales during the first four months of 2015. This followed a 5.9% increase in the sector in 2014. By and large, this is a consequence of the global electronics market continuing to expand at a robust pace. In the traditional markets, for instance, sales to the US surged by 14%, while exports to the EU and Japan crept up by 3.7% and 1.1%, respectively. In this context, exports to the Chinese mainland, comprising mainly electronic inputs for export production, remained robust. Demand for parts and components from ASEAN, largely required for the processing of intermediate goods for assembly on the mainland, rose even more rapidly.

Over the medium term, Hong Kong's electronics exports should remain steady. According to the Buyers' and Exhibitors' Survey for the 2015 Hong Kong Electronics Fair (Spring Edition), about half of the respondents (including 53% of exhibitors), expected that their sales would increase in 2015. This figure was higher than the survey response for the 2014 Hong Kong Electronics Fair (Autumn Edition), where only 45% of exhibitors indicated the same level of optimism with regard to market prospects.

The 2015 survey further showed a generally positive sentiment across the board. In line with the 2014 survey, China continued to be rated the market with the highest potential for the next two years, while the sales outlook for ASEAN was also modestly upbeat. In terms of the traditional markets, both North America and Western Europe were described as being "promising" or "very promising".

Thanks to the continuing influx of new smartphones and tablets into the global market, mobile devices and accessories continued to be seen (by 17% of all respondents) as the category likely to experience the greatest growth in 2015. The products considered to have the highest potential for sales growth were electronic/electrical accessories (15%), audiovisual products (11%), home appliances (11%) and wearable electronics (10%). In the longer-term, technological advancements, many of which are turning conceptual products into commercial realities, were pinpointed as an area set to become a huge market. A case in point here is the future home, something that will be far 'smarter' thanks to the wider uptake of Internet-of-Things (IoT) applications.

As to household electrical appliances, Hong Kong exports declined by 13% year-on-year during January-April 2015, after a 4.7% fall in 2014. Although exports to the US have remained steady, exports to other major markets, notably Japan, the EU, ASEAN and the Chinese mainland, have fared less well.

Looking ahead, exports of household electrical appliances will likely remain uninspiring, as the popularity of trendy IT and telecom products will continue to spoil the appetite for conventional appliances. Sales of lighting products, however, will perform better. With sustained demand for energy-saving lighting apparatus and a proliferation of LED applications, it is expected that the global market for lighting products will remain steady. In particular, the development of smart appliances by leading technology players, especially those related to the household systems, should benefit the lighting industry over the medium term. In the Buyers' and Exhibitors' Survey for the 2015 Hong Kong International Lighting Fair (Spring Edition), 86% of respondents said the development of smart city and smart home technology and related applications will benefit the lighting industry.

Clothing: Murky Outlook in View of Intensifying Competition

Following a 6.6% slide last year, Hong Kong's clothing exports continued to drop in early 2015. In spite of the uneven recoveries in progress in the US, the EU and Japan, continued belt-tightening in mature markets, albeit less dramatic, coupled with intensifying competition from other production bases, has had a negative impact on Hong Kong's clothing exports. Sales to the US, the EU and Japan – the three largest markets and accounting for nearly 70% of the total – saw declines, respectively, of 9.8%, 15% and 9.1% in the first four months of 2015. Meanwhile, exports to the mainland, Hong Kong's fourth largest clothing market, posted an 11% decrease in line with the slower Chinese economy. Taken together, Hong Kong's clothing exports saw a drop of a further 11% year-on-year in the first four months of 2015.

The currency factor has also come into play here. Consumers have been experiencing sharp currency depreciation, especially in the eurozone and Japan. Compared with their US counterparts, European and Japanese consumers have remained noticeably cautious about spending, paying little interest to flashy, luxury fashion items. To adapt to these conservative buying habits, retailers have continued to look for competitive items that offer good design, high quality, product safety and environmental friendliness. Meanwhile, the general trend among fashion buyers to seek out less expensive sourcing opportunities has bolstered the shift away from the more costly production bases, including China.

For their part, most of the emerging economies have lost growth momentum to varying degrees. Of particular interest to Hong Kong exporters, the Chinese mainland, an increasingly important consumer market in its own right, failed to yield positive results, thanks to its slowing economy and a cutback in conspicuous spending. Elsewhere, although the overall market share of the emerging economies is comparatively small, demand from the Middle East (particularly the UAE and Saudi Arabia) and ASEAN countries, such as Thailand, Indonesia and Vietnam, is rising in tandem with their expanding consumer power.

In terms of future prospects, with the economic landscape of traditional markets becoming more stable, Hong Kong's clothing exports should regain momentum over the medium term. It is hoped that the overall performance in 2015 and 2016 will be better than the past three years, all of which have been characterised by decline. Provided the monetary stimuli in both Europe and Japan takes deeper root and consumers continue to spend with more confidence, the level of Hong Kong's clothing exports to the developed markets will likely improve. Furthermore, when the current economic slowdown ends in the emerging markets, pent-up demand from the growing segment of middle-class consumers is expected to provide renewed business opportunities for Hong Kong's apparel sector.

While consumers are gradually resuming spending on fashion and accessories, they still opt for more practical, thoughtful and socially conscious choices. The children's wear and menswear segments look set to continue as the major driving forces of the clothing market, particularly in the traditional markets and online marketplace. As economic recovery gains a firmer footing, parents are becoming more willing and able to pamper their children with more upmarket and luxurious clothing. At the same time, men, it seems, are becoming increasingly fashion conscious and emerging as regular online clothing buyers.

In terms of sourcing and production, the trend of revamping supply chains in China (to reduce operating costs and increase efficiency) and relocating manufacturing to production bases outside the mainland will continue to reshape the global clothing trade and the associated logistics sectors. Meanwhile, there is an emerging trend among clothing companies from the US and Europe to move some manufacturing back from overseas to near-shore locations in order to secure better stock and delivery management. Overseas buyers are expected to follow these industry trends, and look to accommodate this changing global apparel sourcing landscape.

Toys: Resurgence of Electronic and Video Games

In the first four months of 2015, Hong Kong's toy exports expanded by 4% year-on-year. This is mainly attributable to the strong performance of electronic and video games, which increased by 17% to make up 38% of total exports. Traditional toys and games – including dolls, construction sets and wheeled toys, a group representing 62% of all Hong Kong's toy exports – registered a small 2.7% year-on-year decline. In terms of the major markets, exports to China, the EU and the US showed increases of 11%, 6.1% and 30% respectively – accounting for a combined 68% share of total exports.

It should be noted, however, that these export statistics do not fully reflect the size of Hong Kong's toy business. According to an HKTDC survey, at least 69% of Hong Kong's toy companies manufacture their products in Guangdong province. The traditional toys usually handled by Hong Kong companies, such as dolls, are bulky items, and they are mostly shipped directly from Guangdong to overseas markets. Non-traditional toys, however, are mainly electronic video games and higher value items that are usually shipped via Hong Kong to overseas markets by air. These shipments, which are more volatile and subject to the product cycle of video game consoles, may be recorded as re-exports through Hong Kong.

For the rest of 2015 and 2016, it is expected that sales of traditional toys will remain stable amid improving economic conditions. As well as licensed products from popular children's TV shows, cartoons and movies, the key trends will be increased demand for educational toys and youth-focussed electronics. These include the so-called STEAM toys that reinforce science, technology, engineering, arts and math learning, as well as smart tablets for toddlers. To a certain extent, however, the video game market will be disrupted by a number of new technologies and business models, such as smartphones, tablets and cloud gaming.

Overall, the traditional markets are somewhat saturated, with business prospects appearing more promising in the emerging markets, particularly China, India and ASEAN, regions where the middle-income class is expanding and the birth rate is rising. According to data from the China Population Association, around 16.9 million births were registered in China in 2014. This is an increase of 470,000 on the previous year. Following the relaxation of the one-child policy in late 2013, that figure is expected to rise by another million this year. In addition, China lifted its 13-year ban on video game consoles last year. This re-opened a potentially lucrative market for a number of manufacturers, including PlayStation maker Sony and Xbox creator Microsoft.

Toy safety remains a major concern in all markets. In addition to meeting the regulatory requirements, Hong Kong toy manufacturers are advised to focus on the quality and design of their products in order to ensure they can command premium prices. They are further advised to explore new distribution channels, particularly selling on electronic trading platforms. Parents now increasingly buy toys online as this allows for greater price comparison and increased consumer interaction.

Watches and Clocks: The Rising Challenges from Electronic Gadgets

Reversing the 4.2% rise in 2014, Hong Kong's watch and clock exports dropped by 3.4% year-on-year during the first four months of 2015. During January-April 2015, exports to the US contracted by 5.1%, while those to the EU fell by 11%, with the UK and Germany witnessing declines of 0.4% and 15%, respectively. Despite this, Switzerland, a major European market and a traditional re-export hub for timepieces, recorded a moderate increase of 4.1%. In Asia, the mainland and Japan showed respective increases of 5.6% and 6%, although exports to ASEAN were down by 0.4%.

Over the medium term, Hong Kong's exports of timepieces will likely settle down. This is despite the rising challenge from electronic gadgets, especially wearables, such as smartwatches that can link to a smartphone, track a person's movements and measure vital signs. With the prevalence of electronic gadgets, consumers no longer purchase watches simply for telling the time. In response, Hong Kong manufacturers are turning timepieces into fashion accessories, with some adopting a crossover strategy with fashion designers and celebrities in order to boost sales.

In the US, sales of timepieces have been propped up by a recovery in the labour market and improved consumer sentiment. While the appetite for mid-range items, especially fashion watches, is expected to hold up well (due to the popularity of electronic gadgets and a continued emphasis on value-for-money purchases), demand for high-end items will be somewhat bolstered by the improving finances of US shoppers.

Compared to their counterparts in the US, EU shoppers are more timid, a consequence of the weak euro and continued economic headwinds. Sales prospects for mid-to-lower ranged items are therefore likely to be brighter. As a fairly mature market, the EU is characterised by a penchant for watches with fashionable, elegant designs. In light of this, demand for vintage looks and fashion watches at reasonable prices is expected to remain steady.

In Asia, Hong Kong's exports of watches and clocks to Japan have performed well to date. The weak yen, however, will continue to weaken its absorption power of imports. To complicate matters, the second round of Japanese sales tax increases, though deferred from October 2015 to April 2017, may be a hindrance to import demand for watches and clocks over the longer term. Not surprisingly, Japanese consumers are likely to remain conservative. With value and caution being their tenets, they will be inclined to be selective. This development should bode well for the sales outlook for those fashion watches featuring innovative designs at competitive prices.

Elsewhere in the region, the mainland market is likely to witness stable expansion. Mainland consumers are still looking for quality items at a time when there is economic growth and rising incomes. Their demand for Hong Kong's mid- to high-end timepieces is likely to remain firm. Hampered by the Chinese government's anti-graft campaign, demand for luxury watches, however, may be slow. In the meantime, exports to ASEAN are also expected to improve across the remainder of 2015 and beyond, given an improving economic outlook over the medium term.

Jewellery: Progress Despite Vagaries in Raw Material Prices

Hong Kong's jewellery exports saw a 3.5% rise in the first four months of 2015 when compared to the same period last year. Exports to the US, the biggest market for Hong Kong jewellery, displayed a commendable year-on-year growth of almost 19%. In the meantime, sales to the EU and Switzerland, the second and third largest markets, increased by 3.5% and 8.3% year-on-year, respectively. These markets together accounted for almost 60% of Hong Kong's total jewellery exports.

In light of the mild recovery of the global economy, sales to these developed economies are expected to remain largely positive for the rest of this year and the next. In the developed economies, notably the EU, the high-end luxury market is expected to remain buoyant as the growing number of affluent consumers and tourists keep demand high. For more accessible items that feature good design, quality and craftsmanship, demand will be increasingly robust as the purchasing power of consumers further recovers. To be sure, a more noticeable improvement is expected for the US market. Demand from European countries, albeit strengthening, will likely be curbed due to the mild pace of the EU's economic recovery.

Turning to the emerging world, demand for precious jewellery has remained strong in a number of markets. In the first four months of 2015, for example, Hong Kong's jewellery exports to the UAE (with Dubai increasingly important as a business and tourist hub in the region) and China jumped 52% and 40% year-on-year, respectively. In China, despite the government's anti-graft campaign, demand for precious jewellery has been sustained by subtle changes in consumers' purchasing habits. According to a recent HKTDC survey of Chinese jewellery shoppers, jewellery has increasingly become an everyday accessory. Mainland consumers tend to buy jewellery to match their ensembles and look trendy. While the current jewellery styles are able to meet expectations, consumers still; have an appetite for new product designs and greater variety.

Overall, the Buyers and Exhibitors' Survey for the 2015 Hong Kong International Jewellery Show indicated that industry players remain largely optimistic about their overall sales for 2015. Some 85% of buyers and 70% of exhibitors expected their sales to be maintained or to increase. International buyers expected Asia to stay as the most promising region in 2015, with the top three markets being the Chinese mainland, other nations in Asia and ASEAN. As for retail channels, e-tailing and TV shopping were seen as growing in popularity.

On the supply side, precious metal prices are expected to remain volatile in the medium term, largely due to the diverse monetary policies of the major central banks worldwide. In addition, competition is intensifying from suppliers on the Chinese mainland and in other countries, in particular India and Thailand. Therefore, Hong Kong suppliers are advised to explore new markets, make better use of alternative materials (such as karat gold and gemstones), focus on craftsmanship, adjust product designs, increase product variety and provide better services to stay competitive.
Electronics & Electrical Appliances
Garments, Textiles & Accessories
Toys & Games
Watches & Clocks
Jewellery