https://hkmb.hktdc.com/en/1X0A2L09
Asian Design Hub
Exponential growth in the region led Canada's B+H Architects to open in Hong Kong.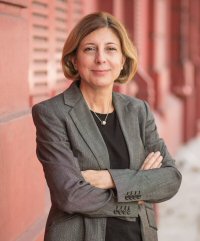 Founded in 1953 by Sid Bregmann and George Hamann, Toronto-based B+H Architects provides architectural, interior and landscape design services, as well as master planning. Today, with a staff of more than 450 professionals across a global network of 12 offices, B+H Architects focuses on the mixed use, commercial, hospitality, retail, healthcare, residential, education and transportation sectors.

B+H entered the Chinese mainland market in 1992 after winning a competition to design the Xiamen Gaoqi Airport. "We established an office in Shanghai that year and expanded our operations to design throughout China," explained Karen Cvornyek, B+H Architects' President and Regional Managing Principal Asia.

To date, the firm has completed more than 23 million square metres of built work in the mainland. The Hong Kong office was established in 2013 "to better serve our Hong Kong clients and the regions of Hong Kong, Macau and South China," said Ms Cvornyek.
Innovation Hub
B+H now has offices in Toronto, Vancouver and Calgary in Canada; Seattle in the United States; Hong Kong; Shanghai and Beijing in the Chinese mainland; Singapore; Ho Chi Minh City, Vietnam; Delhi, India; and Dubai and Jeddah in the Middle East. But it is Hong Kong – the latest addition to the firm's growing presence – that is producing much of its innovative work.

"This office has become a design hub for the region due to the talent availability and a high level of engagement with the international design community," Ms Cvornyek explained. "As Hong Kong is a thought leader among the world's cities, our Hong Kong studio reflects this within our global structure."
As Hong Kong is a thought leader among the world's cities, our Hong Kong studio reflects this within our global structure."
The B+H footprint in Asia has doubled in the last four years, she continued, representing the fastest-growing region for the firm, and half of its global revenue. "It is a major focus for the company and we are currently undertaking several exciting projects in the retail, commercial, hospitality and healthcare sectors," Ms Cvornyek said.

"The growth of our business in Asia was reflected in our network expanding: after Shanghai in 1992 came Delhi in 2006, and we have established three more offices in the past five years; namely Singapore and Ho Chi Minh City (2010), Beijing (2012), and Hong Kong (2013)."
Local Partnerships
B+H in Asia is leaving its mark not just in terms of the buildings and infrastructure it helps develop, but by contributing innovative, sustainable and cutting-edge solutions for the urban environment, she said.

"Our strategy is to collaborate with locally based developers and designers to positively influence the way cities are developed. Over the past 22 years, we've been able to play a significant role in developing and establishing standards, processes and techniques for urban planning and architectural design that are still being used in Asia today."

From Hong Kong, B+H is the executive interior design consultant for the upcoming 6-star Karl Lagerfeld Hotel, Macau. "We are creating a new, exciting environment for this landmark hotel, which is going to be revealed in 2017," Ms Cvornyek said.

Under the direction of Catherine Siu, Managing Director, Hong Kong, the local team has been involved in other 6-star resort hotel projects for leading mainland developer Wanda, encompassing both architectural and landscape design in Hefei, Nanning and Guangzhou. It was also responsible for developing a standardised design approach to the Holiday Inn and Holiday Inn Express for the India, Middle East, Australia and Southeast Asian markets, which Ms Cvornyek said will deliver an innovatively designed prototype for new hotel developments.
Award-Winning Projects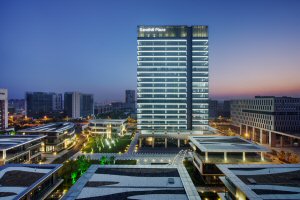 One of B+H's senior Hong Kong-based designers was responsible for the prominent Shanghai Sandhill Plaza, winner of the prestigious 2014 Award for Excellence in Architecture by the Shanghai Exploration & Design Trade Association. Completed in 2012 for Sandhill Equity Ltd Co, the design includes a 20-storey tower and additional R+D offices, supported by an indoor/outdoor retail environment. Reflecting the firm's commitment to sustainable design, the project received a Certificate of Green Building Design (One Star) by China's Ministry of Housing and Urban-Rural Development.

In the area of retail interiors, B+H Hong Kong reinvented the Paul + Shark brand to target younger consumers through the design of its Hong Kong flagship store. The iconic design concept of the façade and interior, which is a modern take on classic Italian elegance, has been rolled out in cities across Asia.

Hong Kong is home to many of B+H's clients; developers that are building projects throughout Asia, for whom it is important to be able to meet regularly and have good communication throughout the design process, Ms Cvornyek added.
Committed to Hong Kong
"B+H's success in Asia is based on bringing our international experience and expertise to our clients locally. We don't fly in and fly out. Our studios in the region have experienced professionals and design leadership on the ground to work directly with our clients to realise the success of their projects."

In a region that accounts for half of B+H's global workforce, "our Hong Kong studio is leading the design innovation and working as a major driver on regional collaboration within the firm."
Related Link
B+H Architects
Follow HKTDC on Facebook, Google+, LinkedIn, Twitter @hktdc
Canada
Hong Kong
North America