https://hkmb.hktdc.com/en/1X0A2I2G
Impacts of China's Import Tariffs Reduction on Consumer Goods
Expanding Domestic Demand a Policy Priority
In recent years China has been placing emphasis on changing its growth model. One of the development priorities is to drive economic growth by boosting domestic demand, especially personal consumption. Meanwhile, both the number of mainlanders travelling abroad and the value of their offshore purchases have been climbing significantly in the past years. In 2014, the number of Chinese outbound tourists exceeded 100 million and their overseas spending was estimated at more than Rmb1 trillion. During the National People's Congress in 2015, the minister of commerce pointed out at a press conference that measures would be taken to divert offshore spending back to the mainland.
Since expanding domestic consumer demand is an important move in achieving stable economic growth and economic restructuring, it was decided at the State Council Executive Meeting held on 28 April 2015 that steps would be taken to improve policies on the import and export of consumer goods. A number of decisions were made and these include: before the end of June this year, import tariffs on certain foreign daily consumer goods which are in great demand on the mainland will be lowered on a pilot basis, while steps will be taken to gradually expand the scope of products eligible for lower tariffs. Also, action will be taken to combine this move with tax reform in a bid to improve consumption tax policy on mass consumer goods, as well as adjust the product scope, tax rates and stage of levy.
Lower Tariffs on Selected Daily Consumer Goods
Against this backdrop, the Customs Tariff Commission of the State Council announced lately that starting from 1 June 2015 the import tariff rate on daily consumer products including certain garments, footwear, skincare products, and paper diapers will be slashed, at a rate averaging 50%. In this round of adjustment, the import tariff on suits and furskin apparels will be lowered from 14-23% to 7-10%; import tariff on short boots and sports shoes will go down from 22-24% to 12%; import tariff on paper diapers will drop from 7.5% to 2%; while that on skincare products from 5% to 2%.
Consumer Goods Imports Continue to Rise
Not only Chinese consumers' spending abroad is on the rise, but their demand for imported goods is also increasing rapidly. According to statistics, while the growth of China's consumer goods imports slowed down in 2014, the average annual growth between 2010 and 2014 was still as high as 24.7%. A consumer survey conducted by HKTDC in China also found that mainland middle-class consumers tend to buy more imported brands, with 52% of the respondents saying that "I tend to use well-known branded products, even if the price is higher"[1]. Among the 14 tariff items which are subject to lower taxes starting from 1 June, the import demand of some of the products has expanded markedly in recent years. For example, the average annual growths of skincare products and paper diapers (which had higher import volumes) in 2013 and 2014 were 38.6% and 60.1% respectively.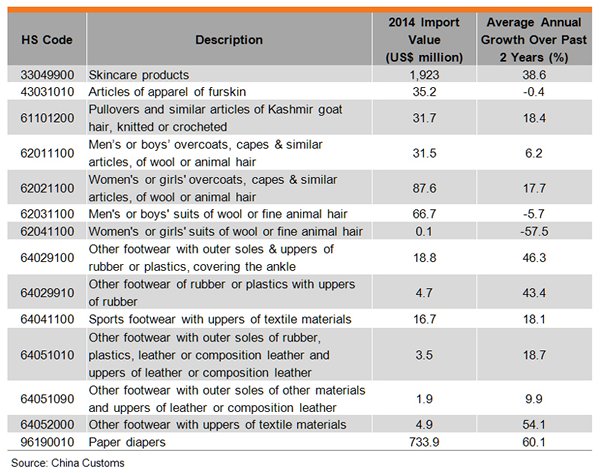 Tariff Cuts Help Narrow Price Gap
Theoretically, the tariff cuts can help narrow the price gap of foreign products in China and foreign markets. Hence, if the prices of imported goods go down, it can lure consumers to buy them on the domestic market, especially products which they need in large quantities but cannot go overseas to buy all the time. However, the overall impact of the tariff cuts still hinges on a number of factors, including VAT and consumption tax (levied on certain products) in the mainland. Moreover, market supply and demand, the characteristics of the product concerned, distribution channels, and circulation cost can also affect the final selling price of the product.
Take for example mainland consumers' consideration factors for shopping in Hong Kong. Apart from exchange rate which affects prices in the two places, consumers' confidence in quality assurance is another important consideration. Besides, retailers in Hong Kong typically offer wide choice of products under one roof, which has a certain attraction for mainland shoppers. In view of this, the present round of tax cuts may not have a great impact on Hong Kong's retail sector.
Tariff Cuts a Boon to Imports
To mainland consumers who may not be able to travel to Hong Kong frequently to shop, if lower tariffs lead to lower prices of imported goods in the mainland market, they will likely buy more imported goods at home, especially certain mid-range products. It can be expected that the price points of imported goods will become more acceptable to consumers after the tariff cuts, thus creating more market opportunities for such imported products. Take food products as an example. According to a consumer survey conducted by HKTDC, in the past mainland consumers mainly purchased imported food products as gifts. But today, as mainland consumers tend to have little confidence in domestic food products, they are increasingly buying imported foods for their own consumption. This development has created opportunities for imported food products of different grades and brands to enter the mainland market. In particular, some food products from Southeast Asia which are reasonable in price and appeal to the taste buds of Chinese consumers stand to benefit from this development[2].
As such, if the prices of imported products gradually go down following tariff reduction, the scale of China's imported consumer goods market is bound to further expand. In view of this, Hong Kong traders or agents should take advantage of this development trend to introduce more consumer goods of different types and grades to the mainland market, strengthening the role of Hong Kong as an international trading platform and a trendsetter in consumption.
Possible Longer-term Impact on Mainland Brands
According to the State Council plan, the tariff reduction exercise starting on 1 June is a pilot project and a starting point, and steps will be taken in the future to gradually enlarge the scope of products subject to lower tariffs. Moreover, efforts will be made to combine this move with tax reform in a bid to improve consumption tax policy on mass consumer goods, as well as adjust the product scope, tax rates and stage of levy. It can be expected that in future the prices of imported mass consumer products will be more competitive, which is good news for the imported consumer goods market. However, at the same time this will also bring about greater competitive pressure on domestic brands, which will in turn force them to speed up their transformation and upgrade process, improve product quality, and foster brands. To Hong Kong's retailers, in the long run, if they wish to maintain the attraction of shopping in Hong Kong to mainland visitors, they must continue to make efforts to raise their quality assurance, product diversity and service standard.
---
[1] See Survey on China's middle-class consumers, HKTDC Research
[2] See China's packaged food market: consumer preference and spending patterns, HKTDC Research
Mainland China
Mainland China