https://hkmb.hktdc.com/en/1X0A2GXR
HKTDC Hong Kong Gifts and Premium Fair 2015: Buyers' and Exhibitors' Survey
Promotional gifts and premiums continue to have the greatest potential for growth in 2015, according to exhibitors and buyers at this year's HKTDC Hong Kong Gifts & Premium Fair. Thanks to the increased use of electronic personal devices, items such as power banks, selfie sticks and mobile stands have become increasingly popular as promotional gifts.

The findings came from a survey of 981 exhibitors and buyers conducted during the 27-30 April event. Overall, both groups were largely positive with regard to 2015 sales prospects, with international buyers seeing Asia – and, in particular, the Chinese mainland – as their most promising market over the next two years. Aside from Asia, buyers also showed considerable faith in the North American market.

In addition to the headline trends, a number of developments were seen as likely to reshape the market. For one, consumers are increasingly relying on online channels for product information, price comparison and purchasing. These consumers are concerned about aesthetics, quality and the practicability of the products, with those from the developed economies particularly concerned as to whether a product is environmentally-friendly or not. Reassuringly, overall, buyers considered themselves satisfied with Hong Kong giftware suppliers, especially in terms of product quality and safety standards.
 
2015: A Positive Outlook Led by the Asian and North American Markets

The majority of respondents indicated they were optimistic with regard to their sales outlook for 2015, with 88% of buyers and 78% of exhibitors expecting their overall sales to increase or be maintained at the same levels as last year. Among those expecting an increase, the median rate of increase was seen as 10% in both groups.
Virtually all the exhibitors expect their 2015 production or sourcing costs to increase or be maintained at the same levels as last year, with 55% expecting an increase at a median rate of 10%. Only 24% said their FOB prices would increase, while here the media rate was lower at 5%. This indicates that 31% of the surveyed exhibitors may not pass on their increased costs to buyers this year.

Some 56% of the buyers surveyed, however, expect their sourcing costs to increase, while 39% predict higher prices at the retail level. The median rate of increase was 10% for both buyers' sourcing costs and for expected retail prices.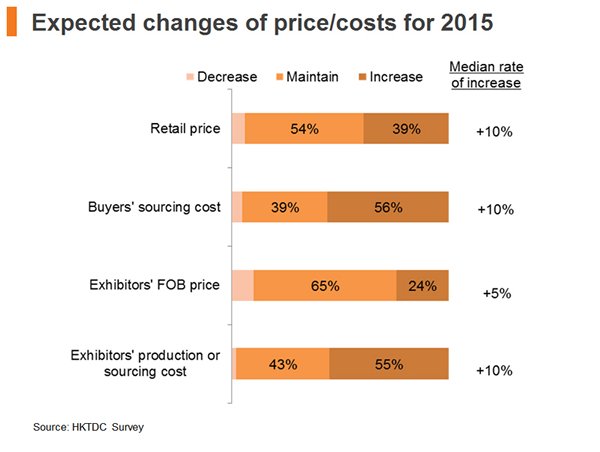 With regard to market prospects over the next two years, buyers are most positive about Asia. Six out of the top seven promising markets are seen as being in Asia, including the Chinese mainland (3.67), other countries in Asia (3.42), ASEAN members (3.38), South Korea (3.37), Taiwan (3.34) and India (3.34). Asia aside, buyers have most faith in North America (3.48). Compared to last year, however, most buyers were less optimistic about most markets, with the exceptions of North America, other countries in Asia and India.

According to a significant number of buyers, the US gift market is expected to revive this year. As ever, Thanksgiving and Christmas, as the top gift-giving occasions, are expected to account for some 40% of the total household spending during the major holidays. Greeting cards are expected to be the most sought-after items during these periods.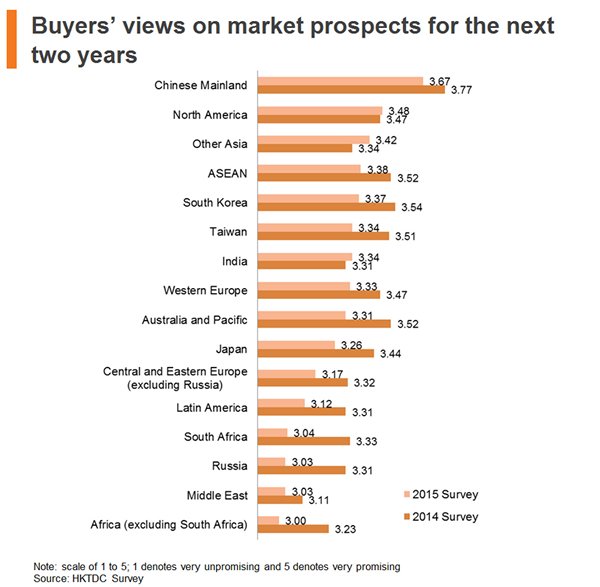 Demand for Promotional Gifts

In terms of category-specific expectations, as with last year, most respondents saw promotional gifts and premiums (17%) as offering the greatest potential for growth in 2015. This was followed by tech gifts (12%), and figurines and decorations (9%).

According to a number of buyers, items such as power banks, selfie sticks and mobile stands have become increasingly popular and are starting to replace USB flash drives as the promotional gifts of choice, largely thanks to the increased use of electronic personal devices. A number of lower-priced items, such as luggage tags, passport holders, key chains, pens and coasters, however, are also still showing stable demand in the promotional sector. There were also indications that suppliers could ride on the smartwatch wave and offer related accessories, notably cables and screen protectors. Advertising gifts aside, sunglasses, mugs, umbrella, greeting cards, T-shirts, trophies, flowerpots, bags, photo frames, storage baskets and wall-hanging décor items also numbered among the most in-demand items.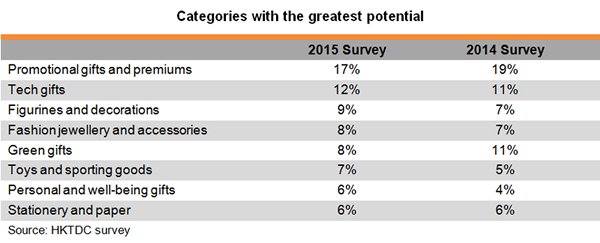 Sourcing Gift Ideas Online

Buyers were asked to rate, on a scale of 1 to 5, what they saw as the major concerns of consumers in their markets, with '1' denoting "completely disagree" and '5' denoting "completely agree". The results showed that users of gift items are increasingly concerned about the aesthetic design (3.98), quality (3.97) and practicability (3.92) of products.

Consumers from the developed economies were seen as especially concerned about whether products were environmentally-friendly. It was for this reason that buyers were particularly interested in gift items made of natural and eco-friendly materials, while favouring simple but stylish packaging that can reduce transportation and overall packaging costs. By comparison, the branding and origin of products was considered to be the least important aspect.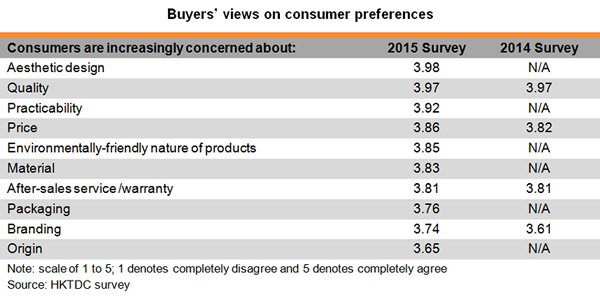 As in other product sectors, consumers were seen as increasingly likely to shop online for gift items. According to the buyers surveyed, consumers increasingly rely on online reviews/social media for product information (3.97), conduct more price comparisons (3.96) and make more online purchases (3.87).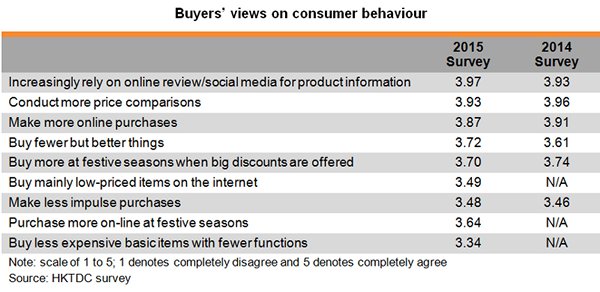 Despite the rise of online shopping, only 23% of respondents are currently engaged in e-tailing business. For those who have not engaged in e-tailing business, 12% said they planned to introduce e-tailing within the next two years.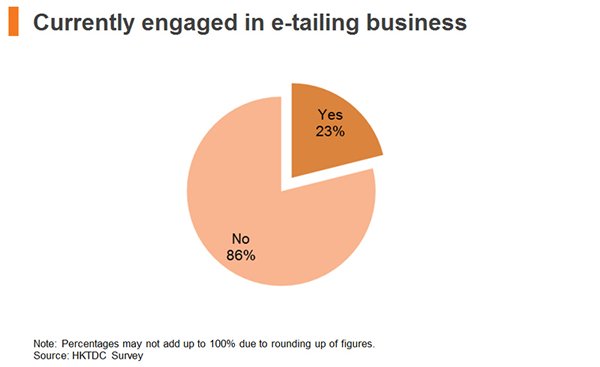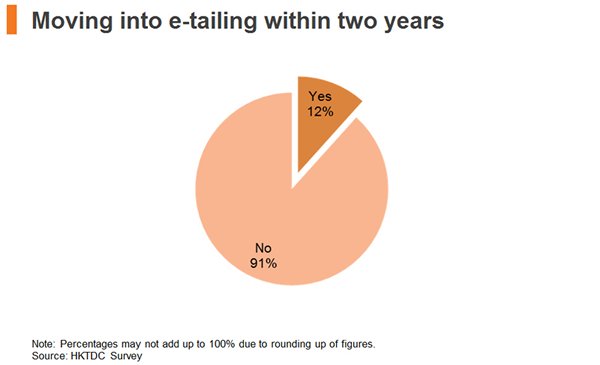 Among those who either engage in or are going to engage in e-tailing, the majority said they sell/will sell advertising gifts and premiums (25%) through this platform, followed by stationery and paper items (15%), and figurines and decorations (14%).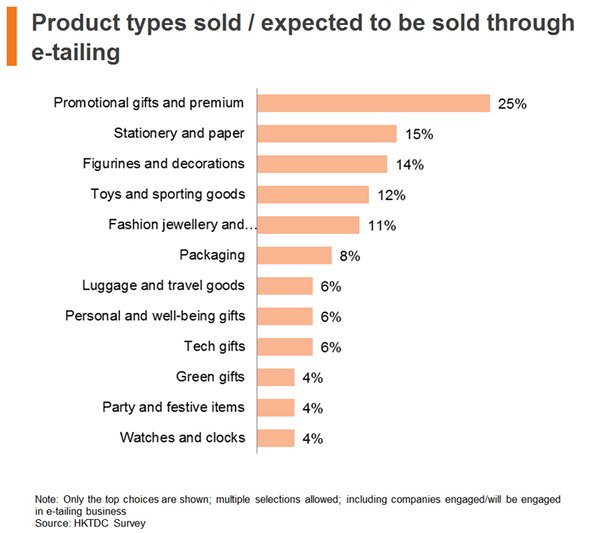 Hong Kong Suppliers: Good Product Quality and High Safety Standards

Hong Kong's giftware suppliers are rated highly by overseas buyers. On a scale ranging from "very unsatisfied" ('1') to "very satisfied" ('5'), buyers gave, on average, ratings between 3.58 and 3.92 in the nine areas of evaluation, compared with 3.41 to 3.85 in the 2014 survey. In particular, buyers were mostly satisfied in terms of product quality (3.92), compliance with safety regulations/standards (3.85) and service levels (3.82). Compared with the 2014 survey, a more significant improvement was observed with regard to brand, price and innovation.

The survey results were further reinforced by comments from a number of buyers. A case in point was the strong appreciation for the multifunctional features of a bag that can convert into an auto sunshade, table mat, picnic mat and an extendable beach mat. Others found strong appeal in the unique designs and high quality of the IT and electronic gifts supplied by Hong Kong companies.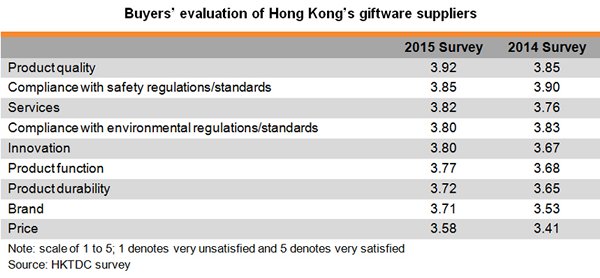 Profile of Respondents
454 exhibitors – 49% from Hong Kong, 47% based in Asia (excluding Hong Kong), 4% from the rest of the world.
527 buyers – major markets in Asia (78%), Europe (11%) and North America (4%).
The HKTDC Hong Kong Gifts & Premium Fair took place from 27-30 April 2015 at the Hong Kong Convention and Exhibition Centre.
Gifts & Premiums
Household Products