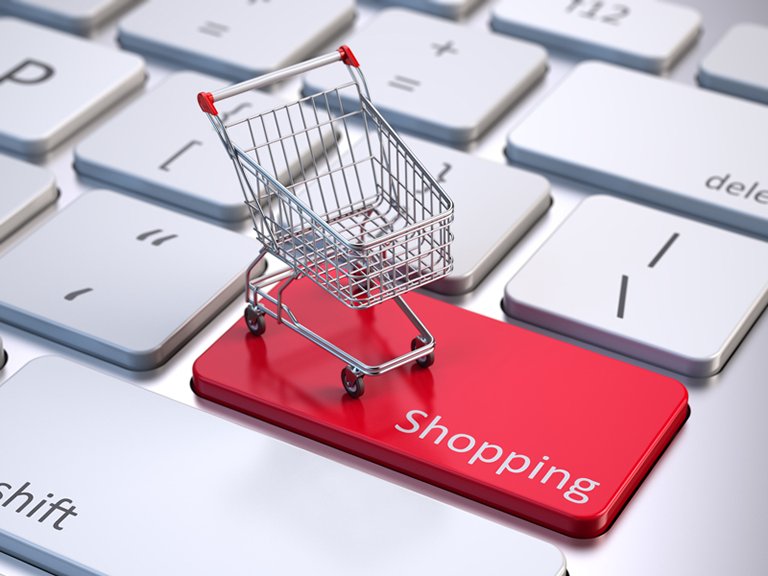 https://hkmb.hktdc.com/en/1X0A2EJB
E-commerce: Recent Developments and Opportunities for Hong Kong Businesses
Overview

The past two decades saw major advancements in the commercial use of the internet which has contributed to the growth of e-commerce. At the beginning, the development of e-commerce focussed on facilitating B2B transactions. Later, following the proliferation of personal computers, growing household broadband penetration and better online security assurance, B2C e-commerce has started to take off.

In recent years, apparently after the 2008 recession, online shopping has become a major trend in every market around the world. Consumers have increased the use of online shopping for price comparisons, searching for products which are not locally available and enjoying the convenience of home-delivery.

The boom in global B2C e-commerce has created enormous opportunities for entrepreneurs to start new businesses, for small businesses to grow, and for all businesses to increase productivity. It also poses a threat to traditional businesses. In particular, it brought about revolutionary changes to the retail sector, distributional channels, retail logistics, and subsequently affecting brick-and-mortar retailers, importers and suppliers.

The development of e-commerce in China is a very important trend and of particular relevance to Hong Kong. Businesses should also pay attention to the development of new forms of e-commerce such as m-commerce, s-commerce and O2O e-commerce.

Recent Developments

The Rise of Global B2C E-commerce

Throughout the world, online shopping has grown rapidly in recent years. According to Euromonitor International, the sales value of internet retailing (excluding tax) totalled US$840 billion in 2014, more than double compared to five years ago, and a compounded growth of 15% is forecast for the next five years. Internet retailing's share of total retail sales increased from 2.7% in 2009 to 5.8% in 2014, and is expected to continue inching up to 8.9% in 2019.

Driven by the strong growth of China, Asia has surpassed North America and Western Europe to be the largest region by sales value of internet retailing (excluding tax) in the past five years. After years of rapid expansion, growth of all regions, except for the Middle East and Africa, is expected to moderate in the next five years. Yet Asia will maintain a compound growth of 18%, led by China, India and ASEAN.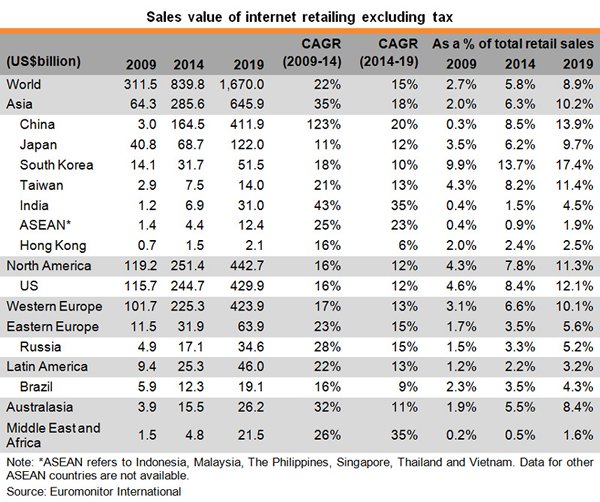 Cross-border Transactions to Dominate

According to a study conducted by Forrester Consulting in 2014, which interviewed more than 9,000 respondents in 17 economies, as well as small to medium businesses with cross-border operations, a considerable share of online transactions is cross-border, with 82% of global respondents reporting making an online purchase from a merchant outside their home country. These rates vary minimally across regions, from a high of 90% of Canadians reporting purchasing cross-border compared to a low of 59% of Japanese. On average, customers reported spending about US$300 on cross-border items a year. Primary online shopping destinations are the US, China and the UK. While shoppers indicated they were purchasing cross-border from all 17 international markets included in the study, the US, China and the UK were the top three exporters of online purchases.

Popular Categories

Entertainment-based categories are apparently the most popular for online consumption. According to Nielsen's survey of more than 30,000 internet users in 60 countries in 2014, airline tickets and reservations (48% of surveyed respondents intended to buy online in the next six months), tours and hotel reservations (44%) and event tickets (41%) are the most popular items to be purchased online. For consumer goods, the buying intention is highest for clothing, accessories and shoes (46%), followed by hard copy books (39%), and electronic equipment (34%).

Compared with the global average, internet users in Asia Pacific have a higher intention to buy online in all categories. In particular, more than half of the surveyed respondents would buy clothing, accessories and shoes (59%), and electronic equipment (57%), and make tours and hotel reservations (53%) online.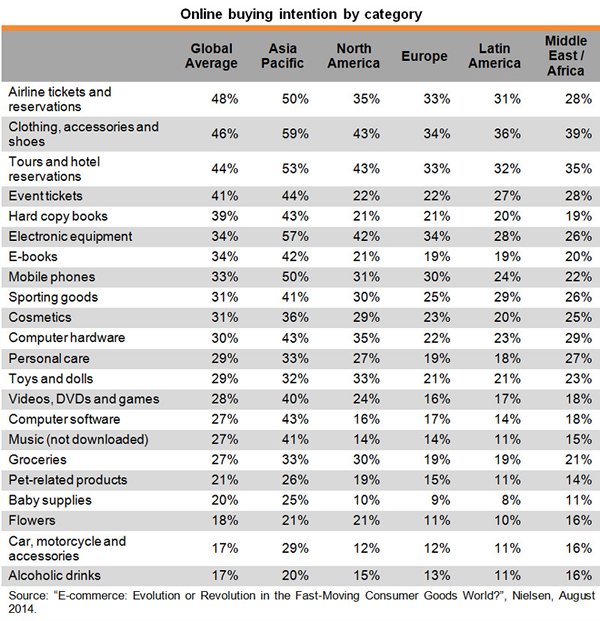 Channels/Platforms for Online Shopping

Broadly speaking, there are two types of channels/platforms for online shopping: vendor-specific online retail stores or online marketplaces. A vendor-specific online retail store is solely owned and operated by one seller, of which quite a number are the web storefronts of traditional brick-and-mortar retail establishments. Examples include groceries such as Walmart and Tesco, and fashion brands such as Armani and Zara. There are also pure-play online retailers, such as Dell, which does not operate any physical stores. However, some companies started as pure-play online, such as Apple, but later set up their physical stores to create multisensory consumer experiences, better logistics and consumer service offerings, and build brand relationships. Retail stores which operate both online and offline have increasingly adopted the concept of O2O e-commerce to maximise the synergy between the two channels.
An online marketplace is more like a supermarket that aggregates products or services from multiple third-party sellers. Some prominent examples of online marketplaces are Amazon, eBay, Taobao and Groupon. Participating sellers typically perform customer services and the delivery on their own, while the marketplace operators manage the platform, organise sales and promotion, and process transactions and payments. They usually require sellers to place a security deposit and charge a fixed fee plus commission based on actual transactions. However, marketplace operators have increasingly branched out into other areas, for example, to source and sell their own products or services, handle the delivery/fulfilment for the participating sellers, and even provide financial services to customers and participating sellers.

Established brands and companies tend to run the online stores on their own for better control and brand identity, despite the higher investment involved. Small and obscure manufacturers and retailers, on the other hand, usually lack the resources and the reputation to effectively create and manage their own e-platforms. Joining the well-known online marketplaces is therefore a much more effective way for them to enter the global arena. Yet, in China, it is common for established brands to operate both their own online stores and on Tmall as well, in order to exploit its popularity. With a huge customer base, Tmall is China's biggest B2C platform running the Singles' Day promotion that has become the largest 24-hour online shopping binge in the world.


Online shopping is convenient, but not completely free of geographical constraints. Some e-commerce sites, such as many of those in Japan and South Korea, are only available in their local languages and do not ship outside of their countries. Foreign consumers may circumvent these limitations by buying through a local proxy. The "proxy" services typically include the purchase, the consolidation of purchases from different suppliers and the delivery to the door. There are also sites that offer only the consolidation services, particularly in the US and China, where suppliers are scattered around different regions. In many cases, the shipping costs would be much lower if purchases from different regions were consolidated at one point within the country before shipping overseas.
Payment and Payment Systems

Consumers in developed economies usually use credit or debit cards to pay for their online purchases, while in some emerging economies, where the electronic banking system is underdeveloped, cash payment upon delivery is more common.

Many transactions online are processed through third-party payment platforms, which allow payments and money transfers to be made through the internet as alternatives to traditional paper methods, such as cheques and money orders. Third-party payment platforms typically accept different payment methods by consumers such as credit cards, debit cards or bank transfers. They also provide escrow services, in which consumers can verify whether they are happy with the goods they have bought before releasing money to the seller.

Globally, PayPal is one of the most popular online payment platforms. In China, Alipay is the most widely used platform owned by the Alibaba Group. Alipay operates with more than 65 financial institutions, including Visa and Mastercard to provide payment services for Taobao and Tmall, as well as more than 460,000 Chinese businesses. Internationally, more than 300 worldwide merchants use Alipay to sell directly to consumers in China. It currently supports transactions in 14 major foreign currencies. There are also other third-party payment platforms in China, such as TenPay, ChinaPay and 99Bill.

Delivery, Fulfilment and the "Last Mile" Problem

While digital items or tickets can be obtained online, delivery of physical products typically takes place in the following ways:
Shipping: The product is shipped to a customer-designated address. Retail package delivery is typically done by the public postal system or a retail courier such as FedEx, UPS or DHL, and in China, SF Express, YT Express or STO Express.
Drop shipping: The order is passed to the manufacturer or third-party distributor, which then ships the item directly to the consumer, bypassing the retailer's physical location to save time, money, and storage space.
Pick-up: The customer picks up the delivered product at a designated location. For brick-and-clicks retailers, the pick-up points are naturally their physical stores.
Transporting goods via freight rail networks and container ships is often efficient and cost-effective. However, the last leg of delivery, from the port or warehouse to the consumer's home or business, is expensive and challenging. It can comprise up to one-third of the total shipping cost. Also, since consumers are often away from home when deliveries are made, unattended delivery has become a significant issue among couriers. These problems are referred to as the "last mile" problem.

E-tailers and couriers have been looking for lower-cost solutions to the "last mile" problem. For example, Amazon has introduced Amazon Lockers, where customers can collect their parcels by entering a unique pick-up code on the Locker touch screen, and has also set up some urban centres as a way of consolidating packages. Besides, it is reported that Amazon, Alibaba and SF Express have been testing the use of drones for the last leg of delivery. In January 2015, the International Consumer Electronics Show in the US featured one company, TrackPIN, which has developed a cloud-based garage keypad that can connect a garage to UPS or FedEx to have it automatically generate a unique, one-time use code so that a package can be delivered under the garage door.

The rise of e-commerce has also revolutionised traditional retail logistics. Traditionally, retailers replenish their inventory from a regional distribution centre, which stores goods from a wide range of suppliers. For web orders, however, a vast number of small parcels are shipped from the warehouses via vans and trucks to individual online buyers. This has spatially disaggregated retailing distribution and brought challenges to the warehouse and logistics management. Apparently, web orders require the more sophisticated application of electronic and information technologies for precise control of inventory, optimised pick, pack and ship, and parcel tracking.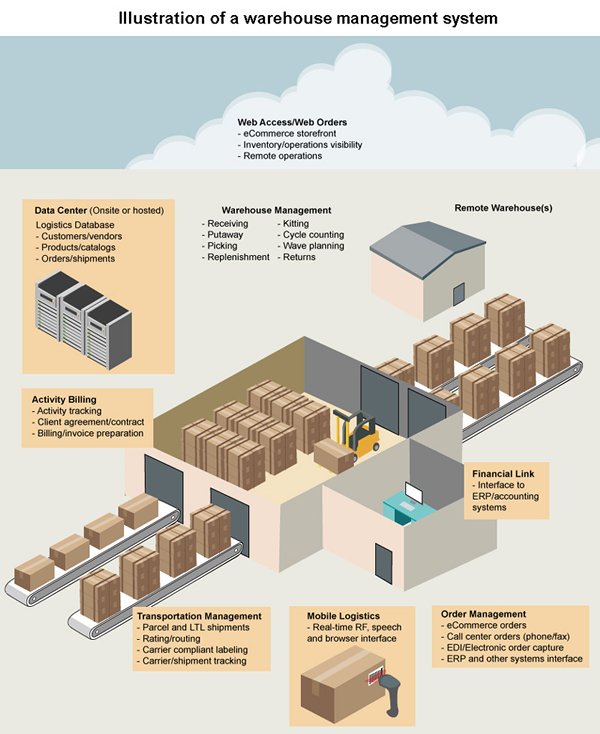 In China, speedy delivery can be expected in the big first-tier cities like Beijing and Guangzhou, but efficient, safe and secure product delivery across the entire country remains a monumental challenge. According to Alibaba's statistics, less than half the parcels dispatched in China are delivered within three days. In the coming years, there will be continued investment in the logistics infrastructure and growing demand for quality delivery services in China. This will involve the building of fulfilment infrastructure and the deployment of sophisticated planning and execution systems. Cainiao, the consortium initiated by Alibaba, plans to invest RMB100 billion over the next five to eight years to develop and manage the China Smart Logistics Network that can help deliver online shopping in all cities across China within 24 hours. As of 31 December 2014, Cainiao had commenced construction for nine projects with a total area of approximately 1.1 million square metres and had completed three projects in Tianjin, Jinyi (Zhejiang) and Haining (Zhejiang). In addition, eight projects have been launched in Guangdong, Jiangsu, Hubei, Shaanxi and Sichuan.

Big Data Analytics, Cloud Computing and Other Services Relating to E-commerce

Online retailers increasingly rely on the use of Big Data analytics. Big data analytics is the process of examining large data sets to uncover hidden patterns, unknown correlations, market trends, customer preferences and other useful business information. The analytical findings can lead to more effective marketing, new revenue opportunities, better customer service, improved operational efficiency, competitive advantages over rival organisations and other business benefits.

Cloud computing is getting more popular too. It refers to the outsourcing of data centres and application services to a remote provider under a pay-as-you-go contract. This "metered" approach lowers costs and reduces complexity, and simultaneously allows the business to consume additional services "on-demand". It saves companies the cost of IT infrastructure so that, for instance, start-ups can skip the hardware procurement and capital expenditure phase. Most of the cloud providers will constantly update their software offerings and add new features.

Besides, the e-commerce boom has created the demand for other related services, such as e-commerce platforms solutions, email marketing, online advertising, online security, and search engine marketing and optimisation.

E-commerce in All Industries

The application of e-commerce is not confined to the sales of goods but is being increasingly extended to various industries. In recent years, companies are particularly keen on developing mobile apps, which include games, as well as electronic platforms for personal and business services, such as car rentals and restaurant bookings. According to VisionMobile, global app sales were estimated at US$67.1 billion in 2013, where Asia accounted for some 19% of the total. However, Asia is expected to overtake Europe to be the second largest consumer of apps and related services in 2016. Asia had the biggest number of developers of 751,000 in 2013.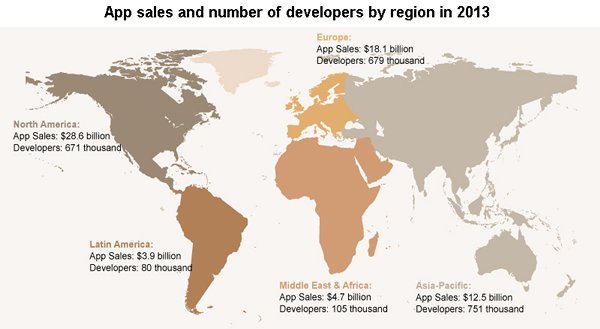 E-commerce is changing traditionally accepted economic practices and making competition fiercer than it has ever been in the past. Traditional businesses, willingly or unwillingly, have started to move towards "multi-channel" or "omni-channel" models. Also, m-commerce and s-commerce are rapidly exploding, offering opportunities for businesses to reach out to a variety of individuals and to establish connections with groups that have shared interests.

Business Adoption of e-commerce in Hong Kong

According to the HKSAR Census and Statistics Department, the total number of establishments adopting e-commerce sales was estimated at 12,852 in 2013, while the value of e-commerce sales in 2012 was estimated at HK$285 billion, equivalent to 3.7% of total business receipt. There is no comparable data for earlier years.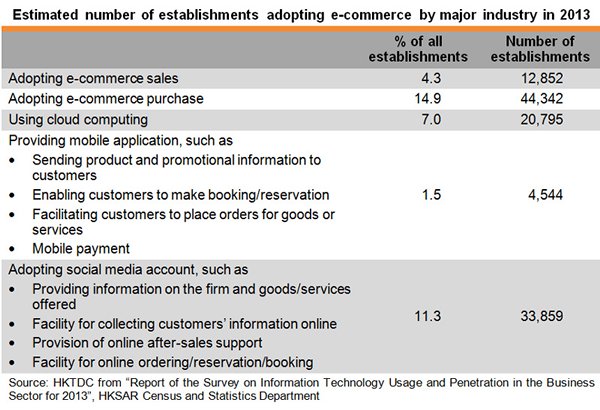 By major industry group, Information and Communications has the highest percentage of companies adopting e-commerce sales (18.2%). This is followed by Import/Export, Wholesale and Retail Trades, and Accommodation and Food Services (6.2%). Given the low levels of adoption, there is much room for Hong Kong companies to further integrate e-commerce in their businesses.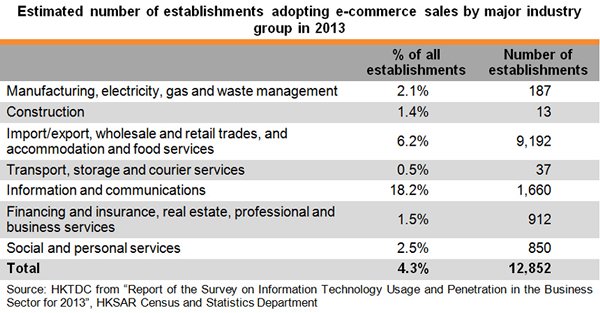 Opportunities and Challenges for Hong Kong Businesses

1. Market expansion for exporters

Opportunities: The online channel offers an easy and cost-effective way for Hong Kong exporters to explore emerging markets like the Chinese mainland, India and ASEAN. The cost of setting up and maintaining an online store, for example, on online marketplaces such as Tmall, is much lower compared to establishing a physical presence. Exporters may also use the online platform to test the market before making further commitment and investment. Sometimes, popular items sold online can draw importers' attention too. The reach and cost-effectiveness which e-commerce can provide is especially attractive to small businesses.
Nexus Industrial Designs Ltd

Established in 2003, Nexus is a Hong Kong-based company specialising in product design and product development of consumer electronics, with its major customers coming from Japan, Europe and the US. The company also has its own branded products.

Facing a fragile external environment overseas, the company started to explore the mainland market in 2010. Attracted by the low set-up costs, the company first established an online presence on Amazon China and later joined Tmall. Alfred Ho, Business Development Director of Nexus said: "Even though the business volume is small, we think it's a good learning process." Ho is fascinated by the sophisticated marketing programmes offered by Tmall. However, he admitted that the company did not put in enough resources and effort to fully utilise it.

While Nexus's products are targeted at the middle class, Ho believes the Asian market will offer good potential in the next 5-10 years. Yet, Nexus would focus only on China's online market for the moment due to limited resources.

Challenges: The online competition is keen. Without dedicated marketing efforts and strategies, it is hard to stand out from the crowd. Besides, online consumers in different markets have their own, and different, culture and practice. Acquiring such knowledge through experience takes time. Besides, there are often problems related to payment, logistics, customers' enquiries, complaints and returns, and costs and tax issues. Hong Kong exporters generally show interest in developing an online business, but lack the resources, drive, patience and know-how to tackle the difficulties and challenges.

2. New business models to be unleashed

Opportunities: The internet and mobile technology have created enormous opportunities for entrepreneurs to develop new ideas. Hong Kong's well-developed infrastructure, free flow of information and the increasing entrepreneurial spirit among the younger generation provide an ideal environment for new business models and concepts to be unleashed.
BaoBae (www.baobae.com)

Founded in 2014, Baobae is an online shop which connects boutique retailers and local designers to offer gifts from the age range of newborns to 10+ years including stroller toys, books and even furniture. Its hamper generator allows users to tailor unique gifts from independent local designers and brands by age, gender and budget. Customers can mix and match from dozens of different brands or use the "Let Us Do The Work" option to generate a tailor-made hamper.

iDecorateweddings.com

iDecorateweddings.com was established in 2012 to offer an e-platform that simplifies the wedding planning process. This one-stop-shop sources high-quality, on-trend products from all over the world and offers pre-styled packages that let brides- and grooms-to-be to custom-build their own décor story, upload pictures of their chosen venue, and view all their selections on one page. After décor is selected and purchased, goods will be delivered directly to the customer's home or venue.

Spoilt (www.spoilt.com.hk)

Spoilt is a web shopping platform founded in 2010 that sells vouchers for more than 100 experience-focussed activities including water, flying, driving, gourmet, creative, outdoor and pampered. Besides having a wide variety of Hong Kong experiences to choose from, Spoilt also offers a price guarantee and delivers gifts directly to the customer's door. Spoilt also works with corporate clients to provide experiences for loyalty reward programmes including sales incentives, employee reward programmes, year-end awards, team-building events, loyalty programmes and corporate entertainment events.

Shopline (www.shoplineapp.com)

Established in 2010, Shopline is a DIY e-commerce platform for creating online shops for merchants in Asia. Its differentiation lies in its simplistic set-up process, native language support, regional payment methods and the fact that the entire experience is optimised for mobile devices. All shops are completely responsive and it adapts to all screen sizes so that the customer experience is consistent on every device. From set-up to customisation and management, the merchant can also do everything using only a mobile phone. The company has a goal to empower small businesses in Asia with simple-to-use tools. The long term vision is to build a complete, cross-border, e-commerce platform that drives value to both merchants and consumers.

Source: http://www.startupshk.com/

Challenges: Hong Kong is only a small market with some seven million people. Unlike huge markets like the US and China, where businesses can grow big by just focussing on local sales, entrepreneurs in Hong Kong have to expand into overseas markets at a much earlier stage. This is not only quite a challenge as some business models are hard to replicate in other markets, but it also requires extra resources and efforts.

3. As a "proxy" for mainland consumers

Opportunities: Boosted by a more affluent middle class and government support, China has an increasing demand for imported products, ranging from luxury handbags and clothes to seafood. This presents Hong Kong companies with an opportunity to provide proxy buying services for them, which include customs clearance, packaging, and international and domestic shipping.

Challenges: Hong Kong companies are faced with fierce competition from their counterparts on the mainland. Profit margin is thin as the quoted prices are very transparent. Yet to stay competitive, considerable resources have to be put on supply chain management, process automation, building global connections and searching for niche products.

4. Providing e-commerce-related services

Opportunities: Hong Kong has a pool of experienced IT professionals who can provide e-commerce related services such as e-commerce platform solutions, email marketing, online advertising, online security, and search engine marketing and optimisation to meet the strong demand from Hong Kong as well as the mainland. Compared with their counterparts in Taiwan and the mainland, IT professionals in Hong Kong have a better commercial sense, and are particularly apt to integrate information and expertise from various sources in a project environment.


Play More Limited

The company was established in 2009, by two local university graduates Andy Chan and Alex Lau. The two co-founders possess great passion, belief and aspirations towards the world of mobile programming and gaming. With good vision and creativity, they have created a couple of well-known mobile games "Chinese Checkers", "Funny Slap" and "M-Pad", which achieved the top rankings in the App Store. Their story has also been widely reported in the media.

Recognising the trend where many corporations and organisations are willing to invest and adopt mobile technologies in order to enhance their sales, production or marketing capacity, Play More started to explore enterprise solutions. After three years of hard work and dedication, Play More has successfully transformed into an avant-garde mobile app/game, web design, and digital marketing solutions provider. Its client portfolio includes Dah Chong Hong, AIA, Targus, MAGin Fashion Group, PolyU and many others.
 
Challenges: According to the industry, there is a shortage of skilled professionals for digital marketing in Hong Kong. Today, technology and marketing are inextricably tied. Marketing professionals are increasingly required to understand how to segment data, utilise big data, back-end technology and databases to better analyse customer data sets and calculate the return of marketing activities. Even small businesses are fighting for personnel who can do this, as well as to manage accounts, run campaigns, and build content and social media marketing strategies.

5. As a logistics hub for Chinese online orders

Opportunities: Online orders placed by Chinese mainland consumers are mostly shipped by air from overseas to Shanghai, Shenzhen, Guangzhou or Hong Kong, and then delivered by truck to the cities where they live. Strategically located at the doorstep of China and with a highly efficient logistics sector, Hong Kong is well positioned to be the transportation hub for the demand from the southern part of China. Moreover, when the Hong Kong-Zhuhai-Macau Bridge is completed, taking the route through Hong Kong will become even more efficient for consumers from the western part of the Pearl River Delta (PRD).

Challenges: Hong Kong's strategic role could be eroded by the development of Free Trade Zones (FTZs) and cross-border e-commerce pilot zones in different parts of China, where customs clearance is handled more efficiently, while the import duties are levied at the rates applicable to personal items, which are usually lower than the tax rates for general trade, and can be deferred until the item is ordered. On the other hand, as reflected by a number of local logistics players, Hong Kong lacks the space to build facilities for handling the pick and pack of online orders.
 
6. Meeting the financial needs of e-commerce companies

Opportunities: The boom in the e-commerce sector in the region has created immense business opportunities for internet companies, mobile app developers and logistics companies which require huge capital investment to keep up with the growing pace. Hong Kong could serve as a fundraising platform for these companies.

Challenges: Hong Kong has rejected Alibaba's dual-class IPO plan, which is a common shareholding structure for tech companies. If Hong Kong does not relax the listing rules, it may lose out on other high potential deals in the future. On the other hand, Hong Kong does not have the crowd-funding laws that allow for the raising of money in return for shares, debt instruments or interests in collective investment schemes. This is considered to be "underdeveloped" compared with the US and China, and may have discouraged some innovative ideas.