https://hkmb.hktdc.com/en/1X0A2DX0
Carnival of Colour
Truly a bridge between East and West, Hong Kong has embraced an age-old Chinese sporting tradition, and taken it to the world.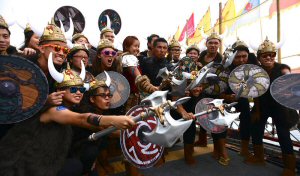 Dragon boat racing has been practised in China for 2,000 years, but since Hong Kong hosted the first international dragon boat carnival – a Hong Kong Tourism Board initiative in 1976 – the sport has gained prominence abroad.

According to the International Dragon Boat Federation archives, modern dragon boat racing stems from the enormous success of the first and subsequent annual carnivals in Hong Kong, during which "impressive pictures of the Hong Kong races went around the world."

Today, dragon boat races are held in more than 60 countries, overseen by three governing bodies: the International Dragon Boat Federation, European Dragon Boat Federation and the Asian Dragon Boat Federation. And while many countries now hold events of their own, it is the original Hong Kong Dragon Boat Carnival – to be held this year on 3-5 July – which remains the most iconic, drawing hundreds of thousands of competitors and spectators to the thrilling action on Victoria Harbour.
Cultural Significance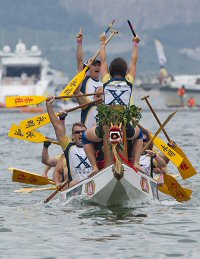 As the symbol of water in Chinese culture, the dragon has great significance: it is said to rule the waterways and dominate rain-making. One theory has it that dragon boat racing began on the rivers of southern China as a fertility rite, to ensure plentiful crops.

Dragon boats are rigged with decorative Chinese dragon heads and tails, and racing is accompanied by the beating of a large drum carried aboard. At least 20 people are required to propel a boat, so it's very much a team sport in which the corporate sector is strongly represented.

IT manager Gianni Aprea, who captains the Royal Hong Kong Yacht Club (RHKYC) dragon boat programme, said the camaraderie that comes with the sport is probably its best attribute. "When you get 22 [or more] people in a boat all working in harmony toward a common goal, it is breathtaking. There is nothing like it," he said.

Originally from the United States, Mr Aprea had never heard of dragon boating until he moved to Hong Kong nearly eight years ago, and has "clearly grown to love it."
A Sport for All
Mr Aprea views dragon boating as "the unofficial national sport." At a macro level, the Hong Kong Government and Hong Kong China Dragon Boat Association, he said, "fully support the sport and organise some of the best events in the world. Then clubs across the city, such as ours, are fully engaged in the sport. It is actually difficult to find someone here who has never paddled in their life."
"It is a cultural experience as much as athletic and is interwoven into the fabric of Hong Kong."
Mr Aprea noted that teams are very accessible, with the local weather allowing for year-round paddling. The sport, he noted, is affordable and people of all skill levels can compete. "It is a cultural experience as much as athletic and is interwoven into the fabric of Hong Kong."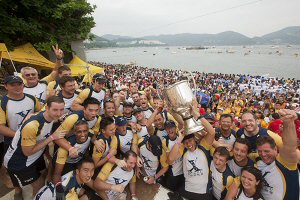 Business-wise, the sport is a great vehicle for team-building and networking, he said. "Both of these are critical activities for large companies. Then there is the marketing aspect. Even small events can have a thousand people or more in attendance. Larger events will have many thousands and often be televised. This is very cost-effective advertising for many firms and can be viewed as a perk by employees."

RHKYC's 90-strong team comprises a broad set of cultural and professional backgrounds – men and women aged from their early 20s to 70. "All of this makes for ample networking opportunities, very entertaining social events, and the forming of longstanding friendships," Mr Aprea said, adding that "some of my dearest friends have come from this sport."

"Our club also places a high emphasis on charity fundraising as a part of our annual programme. Thus, we benefit greatly from the diversity in the team in this regard."
Business Spin-offs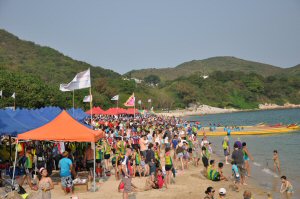 Lister Woo, who coaches various dragon boat teams in the city, has built a thriving business around the sport. Noticing a market niche for related equipment, such as paddles, bags and apparel, the avid paddler co-founded Typhoon8 more than 10 years ago. Today, the company exports to countries worldwide, with the main markets being the United States, Europe, Canada, Australia, New Zealand, Singapore and Japan. Through its affiliate in Australia – where according to governing body Dragon Boats NSW Inc, dragon boating is the fastest-growing water sport – the company is about to start supplying paddles to the national team.
Competitions are held in various Hong Kong locations during much of the year, leading up to the main events mid-summer: the Tuen Ng Festival, which takes place at Stanley Main Beach, as tradition dictates, on the fifth day of the fifth month of the lunar calendar (20 June 2015); and the Hong Kong Dragon Boat Carnival in Victoria Harbour along the Tsim Sha Tsui waterfront over the first weekend of July.
While the inclusiveness of these events means that everyone from fishermen and firemen to office workers and students compete, Mr Woo notes a special friendly rivalry among local banks, accounting and law firms, insurance and IT companies, which compete as a matter of professional honour. "The carnival atmosphere attracts everybody," he said.
Bumper Festival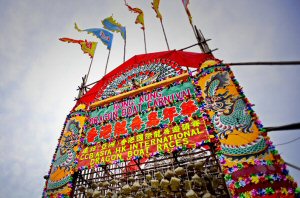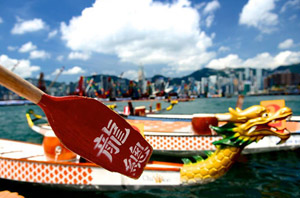 At the inaugural Hong Kong Dragon Boat Carnival in 1976, local fishermen competed against each other and just one foreign team, from Japan. This year, thousands of athletes from around the world will gather for the spectacle on Victoria Harbour, with Hong Kong's iconic skyline as the backdrop. And as always, it promises to be a thrilling event in the home of modern dragon boat racing.
Related Links
Hong Kong Tourism Board
International Dragon Boat Federation (IDBF)
Royal Hong Kong Yacht Club (RHKYC)
Typhoon8