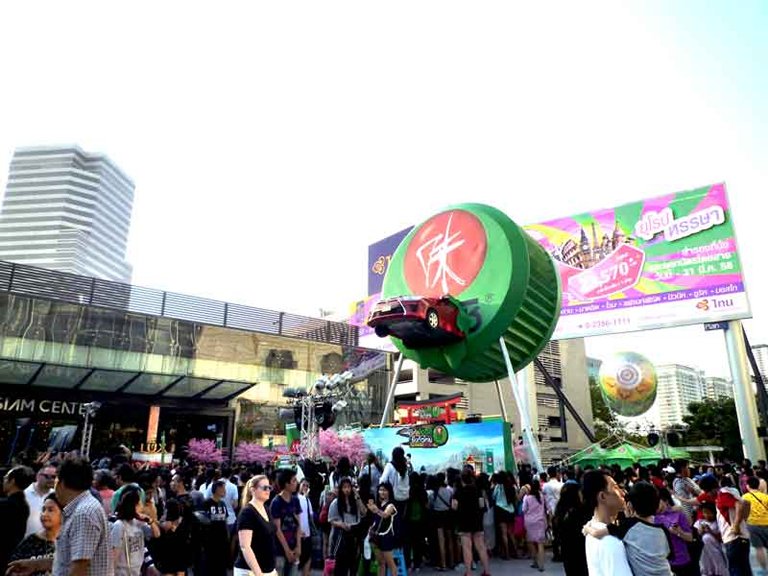 https://hkmb.hktdc.com/en/1X0A2CDN
New Trends in Thailand's Retail Market
Changing consumer lifestyles and regional integration are catalysts for the fast track transformation of Thailand's retail sector.
Thailand is the second-largest economy in Southeast Asia after Indonesia. Its capital, Bangkok – also the country's most populous city – is a commercial hub in Asia with a thriving retail market for Thai residents and overseas visitors. As such, Thailand has attracted many multinational retailers alongside a high penetration of local brands. Its retail market has evolved quickly to suit the changing lifestyles of consumers, who are increasingly influenced by the internet. Aside from metropolitan Bangkok, the Thai retail landscape is seeing a stronger consumer market emerging from the upcountry provinces. Hong Kong exporters and retailers of consumer goods should take note of these latest trends in the Thai retail market.
Urban Shoppers Look for Quality and Convenience
In Thailand, rural-urban migration is a well-established trend as people from the villages aspire for better jobs and living conditions in the cities. In addition, many young city dwellers have moved out of the parental home and into condominiums closer to the central business district. In this context, the bigger Thai cities[1] have witnessed shrinking households composed mostly of working adults and middle-class consumers, with family sizes continuing to shrink in recent years. Given their hectic lifestyles, urban consumers prefer visiting convenience stores and supermarkets near their workplaces or along the mass transit lines, for daily necessities and meals. While valuing convenience, these urban consumers, especially in large cities like Bangkok, place a strong emphasis on quality, thereby boosting the demand for branded groceries and ready-to-eat food products. They are more receptive to foreign cultures and are willing to pay a premium for branded household products and imported foods.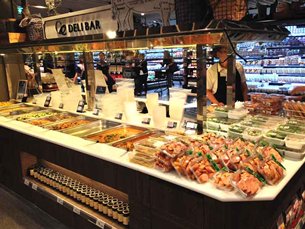 In view of the strong demand from young urban consumers, international convenience store chains, including 7-Eleven, UK-based Tesco Lotus and Japan's Family Mart, are expanding in Thailand. For example, 7-Eleven has 7,200-plus stores in Thailand, which is home to the world's fourth-largest 7-Eleven network. Meanwhile, the total number of convenience stores in Thailand has surpassed 10,000 outlets. In addition, retail sales for convenience stores expanded at a compound annual growth (CAGR) of 13% during 2008-2013, faster than the growth of other grocery retailers such as supermarkets and hypermarkets. To cater for the busy lifestyles of urban consumers, convenience stores such as 7-Eleven and Family Mart have also started to offer extra value-added services, including bill payment and free Wi-Fi.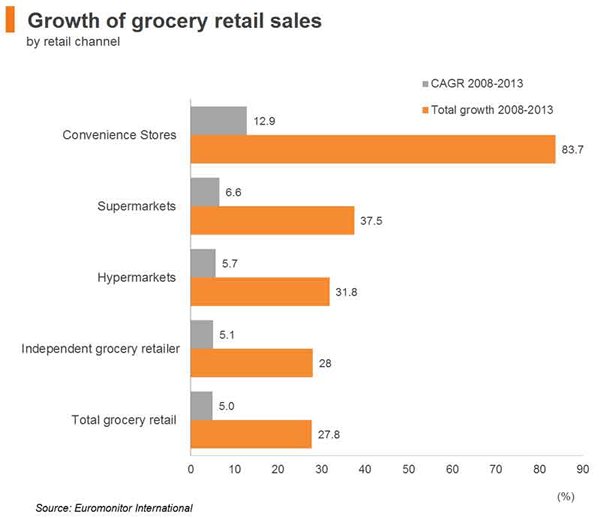 Strong Influence of Social Media and E-tailing Platforms
With the improved internet infrastructure, particularly after the launch of 3G in 2013, online shopping and marketing is playing a more significant role in Thailand's retail market. Social media platforms such as Facebook, Twitter and YouTube have emerged as important advertising tools for retailers. Thailand had about 30 million Facebook users in 2014, with most of them logging in via mobile devices.[2] Apart from social media, more retailers are setting up their own websites for online promotion and shopping. In addition, the wider use of credit and debit cards has facilitated online payments. During 2009-2014, the number of credit and debit cards in circulation increased by about 22 million to 67 million, with total transactions surging from less than 450 million to about 600 million. Online retail sales expanded at a CAGR of 21% during 2009-2014, increasing much faster than the growth of store-based retailing.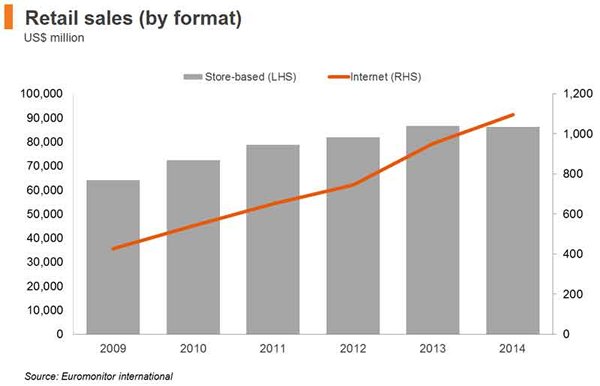 The higher penetration of smartphones and tablets has boosted the emergence of mobile internet retailing, as consumers can check out product reviews and new arrivals instantly. According to the Thailand Digital Advertising Association, as of June 2014, about one-third of the 94 million mobile phone subscribers used smartphones. More retailers have launched their own mobile applications ("apps"), primarily for marketing purposes, promoting products and directly communicating with consumers. For instance, some Thai retailers such as the Central Group and The Mall Group have launched mobile apps that include their latest products and promotion activities. Apart from offering shopping services on its website, leading Thai hypermarket chain Big C introduced its online shopping mobile app in 2012.
While e-commerce is fast gaining ground along with the surge in the use of mobile internet, mobile retailing is still a very new concept in Thailand, with not much market share at present. However, Hong Kong companies targeting the Thai retail market should take note of the rising influence of e-commerce, particularly the growing use of social media and to an extent, mobile apps, on marketing in Thailand.
Lazada – one-stop online retail gateway to selling into Thailand and beyond
Launched in March 2012 by Lazada Group with presence in Thailand and five other countries in Southeast Asia, Lazada has emerged to be a leading online gateway for local and international brands to offer consumer electronics, household goods, fashion, toys and sports equipment, etc. In 2013, Lazada Group set up its sourcing office in Hong Kong, also making it the company's headquarters and cross-border marketplace to secure international suppliers targeting the Southeast Asian markets on its online platform.
There have been more than 11 million downloads since Lazada's first mobile app launch in 2013. With its strong focus on mobile, Lazada launched LINE in September 2014 and has since gained over millions of followers, alongside a big Facebook following. In Thailand, mobile visits accounted for 45% of Lazada's total traffic, with more than 65% of Thai sales generated between November 2014 and March 2015 due to places outside Bangkok, where modern or organised retail is relatively less developed.
Upcountry Consumer Market – the New Growth Driver in Thai Retailing
Home to about half of Thailand's 68 million people, the North and Northeast regions (also known as "upcountry" areas) have attracted many of the country's leading retailers in recent years. During 2007-2012, the economy of the Northeast region expanded by 25%, higher than the 16% growth of Bangkok and its vicinity. Robust growth was mainly driven by the expansion in manufacturing activities, such as food processing, electronics and rubber products. Eyeing the emerging consumer markets that have lower penetration of modern retail and higher growth potential than Bangkok, retailers have extended their operations to the upcountry provinces. For example, the Central Group has established its Robinson Department Stores in Chiang Mai, Udon Thani and Mukdahan.
The formation of the ASEAN Economic Community (AEC) by the end of 2015 is creating a regional integration endeavour that facilitates the free flow of goods, capital and labour across ASEAN. As a result, Thailand's border provinces, particularly the Northeast region, are becoming popular destinations for both Thai and foreign investors. During 2009-2014, the inflow of foreign direct investment (FDI) into the Northeast region surged at a CAGR of 49%, more than double the overall FDI growth of the entire country in the same period.
Experiencing its own robust economic growth, neighbouring Laos's demand for Thai imports, and hence bilateral border trade, has grown significantly along with the accelerated infrastructure development. Since the launch of the Second Thai-Laos Friendship Bridge[3] in 2006, bilateral trade grew by more than threefold to total US$5.4 billion in 2014. Thailand's exports to Laos grew at a CAGR of 17% during 2007-2014 to reach US$4 billion, making it Laos's largest import source. Growing investment and trade activities in the border areas have also attracted Thai companies that are seeking to capitalise on the opportunities to serve the locals, tourists and consumers from neighbouring countries. Targeting wholesalers, retailers and catering operators in the surrounding areas, cash-and-carry chain Makro is actively strengthening its presence in the border areas, with six megastores launched in the North and Northeast regions just over the past two years.
Due to their favourable location – connecting Thailand with Laos – cities in the Northeast region are considered the fastest growing consumer markets in the country. For example, Udon Thani and Nong Khai have become popular transit hubs and tourist destinations for Thai visitors, as well as for foreign visitors who travel in Thailand and make trips to Laos. Leading retailers such as Central Plaza and hypermarket chains, Tesco Lotus and Big C, have already established a presence there.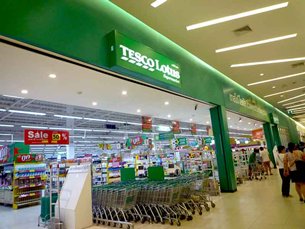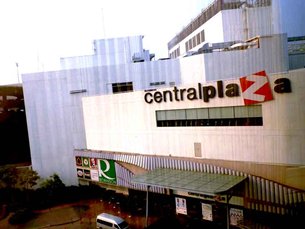 While the North and the Northeast regions offer plenty of opportunities for foreign companies targeting the Thai retail market, they should also take note of the variations in consumer preferences among different regions. According to a leading Thai department store operator that HKTDC Research interviewed, customers in the upcountry areas are more conservative, with lower brand-awareness than shoppers in Greater Bangkok. In general, the purchasing power of upcountry consumers is not as strong as those in Bangkok. Companies selling to local consumers there are advised to target the mid-end segment or the mass market in terms of pricing and marketing.
Regulations on foreign investment in the retail or wholesale sector
The Foreign Business Act (FBA) of 1999 specifies the administration of foreign investment in Thailand. A foreign investor in the retail or wholesale sector is required to obtain a Foreign Business Licence from the Director General of the Commercial Registration Department of the Ministry of Commerce, and gain approval from the Foreign Business Committee. Exceptions to the Foreign Business Licence requirement are given to foreign investment in the retail sector, for total capital of more than THB 100 million or THB 20 million of each retail store; or THB 100 million per location for the wholesale sector.
Apart from setting up a physical presence, Hong Kong exporters and retailers may find alternative ways to sell to the Thai market. For example, it is common to appoint Thai distributors or importers, who sell to local retailers such as supermarkets and convenience stores. Suppliers of durable consumer goods may co-operate with department stores, which often look for new overseas brands to enrich their product portfolios.
Useful contacts
---
[1] The top three most-populous cities in Thailand are Bangkok, Nakhon Ratchasima (Northeast) and Ubon Ratchathani (Northeast).
[2] Source: Digital Advertising Association (Thailand)
[3] The Second Thai-Laos Friendship Bridge across the Mekong River connects Mukdahan Province in Northeastern Thailand with Savannakhet in Laos.
Electronics & Electrical Appliances
Food & Beverages
Gifts & Premiums
Advertising Services
Telecommunications
Business Management & Consultancy
Design Services
Information Technology
Technology
Telecommunications
Tourism & Hospitality
Thailand
Southeast Asia
ASEAN