https://hkmb.hktdc.com/en/1X0A22P5
China's Children's Clothing: An Online-to-Offline Case Study
An Interview with Larry Kung, Co-founder & COO, Leyou (China) Chain Store Co Ltd
Having operated a maternity and baby products retailing business for 16 years, Leyou (China) Chain Store Co Ltd (Leyou) now adopts a comprehensive online-to-offline (O2O) business model of "chain store + online mall + app". Moreover, it is one of the industry's first players to establish its own quality assurance (QA) system.
Larry Kung, co-founder and chief operating officer (COO) of Leyou, says: "Our mission is to help children grow up healthy. We hope to co-operate with domestic and foreign renowned brands under a direct procurement model to reduce intermediate links. Meanwhile, we have set up a professional quality inspection system to ensure product safety and quality through stringent product checks. Besides, we have adopted an online-offline business model to offer consumers one-stop services as well as convenient and pleasant shopping experiences."
Kung outlined Leyou's O2O business model and shared his insights and experiences in developing the mother and baby products industry on the Chinese mainland, providing valuable information for Hong Kong companies interested in entering the mainland market.
Helping Consumers and Ensuring Brand Reputation
At present Leyou co-operates with more than 530 suppliers from 21 countries, working as an agent for more than 200 brands. It is the sole agent for 14 international brands and the owner of 11 original brands. It sells more than 30,000 products under 16 categories, including children's clothing, maternity clothing, toys, prams, milk powder, baby food supplements, children's tableware, personal care products, and diapers. Leyou has about 400 stores in more than 30 cities such as Beijing, Shanghai, Tianjin, Shenyang, Xi'an, Wuhan and Chengdu. Its online shopping mall now boasts more than six million registered members.
Kung says that, with the rapid updating of baby products, new-generation mothers tend to be more receptive to new childcare concepts and are happy to try new baby products. When it comes to unfamiliar territory such as baby food supplements and daily use articles, mothers will usually obtain product information and usage instructions from either the internet or physical stores. This creates an opportunity for merchants to forge a close relationship with consumers, by interacting with them at different levels. At this point, the baby products industry as a whole holds much promise and potential for development.
A wide array of baby products is currently available on the mainland, and the market is flooded with brands of varying grades and quality. Facing the overwhelming amount of market information, consumers often find it difficult to select products that best meet their needs. Kung says: "Mums will try to learn about milk powder and diapers at most, but they won't have that much energy to study all baby products." Kung adds that Leyou hopes to learn from the experience of western countries and act as the gatekeeper of product quality and safety, a role usually played by major retail chains.
Since its early days, Leyou has maintained a customer relationship management (CRM) system to collect the data and consumption preferences of its six million members. Consumers can rely on Leyou's extensive market experience for advice when choosing products. An experienced salesperson can explain the pros and cons of plastic feeding bottles versus glass baby bottles, for example, and offer useful tips. For instance, food-grade plastics such as PP, PPSM or PES, which are free from bisphenol-A (BPA), are all safe for children to use. Glass bottles are more suitable for babies as adults feed them. For older children, using plastic bottles can help prevent accidental breakages. Such all-round, maternity-baby product experts will better meet customers' needs and having expert advisors is in keeping with market trends.
Kung reckons that the brand is a "stamp of quality that underscores consumers' continuous awareness". As a result, Leyou pays a great deal of attention to maintaining a brand image of being a provider of quality products at both its physical stores and online shopping mall. Leyou is said to be the first company in the mainland baby products industry to establish its own QA department to oversee the quality of its purchased brands and products. There are no effective measures as yet to stop online sales of counterfeit goods, and creating a brand image of being a seller of genuine and reliable products will undoubtedly find favour with consumers, especially cautious mothers.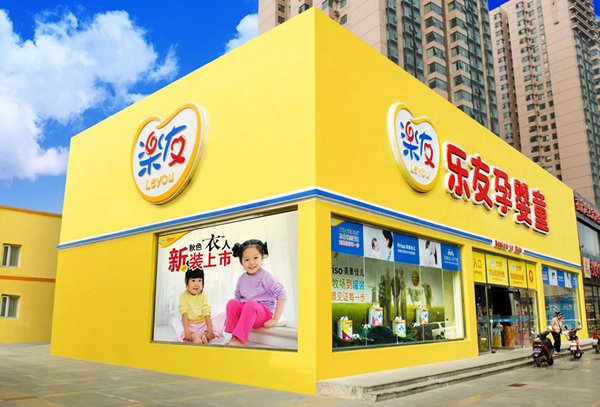 Using Big Data to Grow Business
Prior to starting his baby clothing business, Kung worked for Cisco and Microsoft, so he has had extensive experience in running an online business. Based on his knowledge and experience of the internet, Kung co-founded the first vertical e-business for mother and baby products – the Leyou online mall. However, under the then prevailing market circumstances for baby products, the online experience alone would not meet mothers' desires to "see, touch and smell" the real products. Thus an O2O model for both online stores and physical retail stores was developed in tandem.
Today, with the great impact of the internet on traditional retail in evidence, Leyou can adapt to market changes quickly and achieve integration and collaboration of its online and offline operations. Thanks to the enterprise resource planning (ERP) and CRM systems set up 16 years ago, Leyou can swiftly adopt the "chain store + online mall + app" model, bringing user accounts, goods, services and brands under unified management.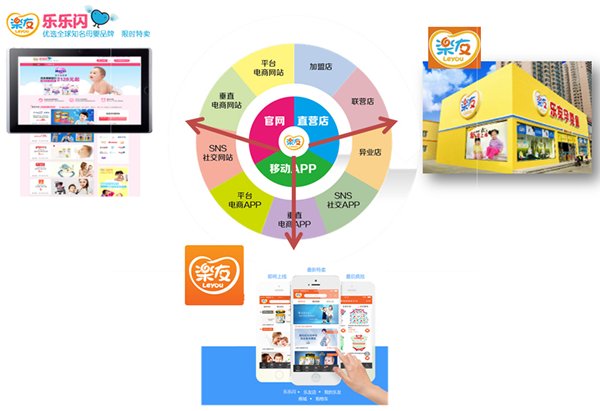 The customer database it has built up over the years makes it easier for Leyou to identify new niche markets or market gaps when developing new products or new brands. Kung explains: "Through analysing the sales data, we can easily identify where the new market opportunities lie. The first category is products which consumers need but are not being well catered for by the market in terms of value-for-money. The second category is products that consumers need but which have yet to be met."
Leyou is collaborating with the likes of IBM to further utilise its ERP and CRM data to devise targeted marketing according to the member profile. For example, based on members' spending records and their purchase cycles, Leyou can send re-order reminders at appropriate times. The systems can even estimate the ages of children based upon the purchase records so as to recommend relevant childcare tips and baby products.
Integrative Sales Strategies According to Product Positioning
Different sales channels target different consumer groups and have different methods of displaying products. Among traditional channels, department stores mainly target high-end consumer groups; maternity and baby products chain stores cater to the mid- to high-end groups; and supermarkets fulfil the needs of mid- to low-end consumers. Therefore, Hong Kong companies planning to enter the mainland market need to clearly position their products and brands before they can select the appropriate sales channel.
Apart from operating its own online mall, Leyou collaborates with other comprehensive e-commerce platforms for online sales, but retains control over logistics and distribution. In terms of management, Leyou will work with online channel agents so as to better comply with the requirements of e-commerce operators which have fast-changing co-operation terms, such as sales promotion frequency and policy. For instance, Leyou's children's clothing sales in the Tmall are entrusted to a specialised online channel agent. In this way, in accordance with the marketing plans of different e-commerce platforms, Leyou is able to quickly devise customised sales promotions by co-ordinating activities between its product and e-commerce departments. It can also effectively leverage the different promotional initiatives of different e-commerce platforms.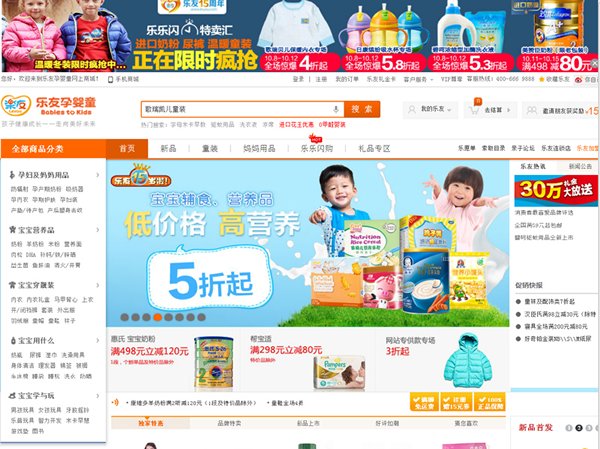 Online and offline channels also differ significantly in sales strategies. When sales staff at traditional retail outlets make product recommendations to consumers, they usually highlight the functions and selling points of the products. In online retailing, consumers rely on detailed product information, photos, and even videos. Moreover, consumers surf the internet more frequently via mobile devices than with desktop computers and may browse online stores many times a day. The systems can even push targeted ads to consumers based on their known preferences.
Generally speaking, the different characteristics of online and offline sales mean companies have to adopt different strategies. Take sales promotion as an example. Offline sales promotion activities are mostly held at weekends and on public holidays to make it convenient for working mothers to participate. Online promotion activities usually end on a Monday so that mothers who are at work can still participate. Leyou offers the same prices for in-store and online products so as to avoid conflicts between physical and online stores.
Flexible Use of O2O Strategies
Capitalising on the advantages of internet retailing, such as efficiency, convenience and easy price comparisons, Leyou offers daily flash sales via its mobile app. Flash sales refer to offering a limited number of discounted products at fixed hours every day to woo "bargain-hunting" mums. Special services like "order online, collect in-store" and "online pre-sale" help create the impact of "small store, big selection". These tactics have not only brought consumers great shopping convenience, but also resulted in higher turnover for the stores. For example, consumers ordering online can collect their purchases from any Leyou store nearby or they can opt for two-hour home delivery.
In sales and marketing, Leyou places great value in connecting with and engaging its customers online and offline. Among the various activities offered to consumers, parent-child activities are the most effective. Some stores have the space to house a children's activity zone to attract mothers to come with their children, thus increasing the chances of these mothers browsing for products in the physical stores. Leyou's dozen or so branches around the country run prenatal classes and parent-child activities of differing scale almost every week to enhance mothers' brand loyalty. If a member shares Leyou's app through social media and their friends become a member, the original member will receive a cash coupon for every in-app purchase made by their friends. By combining online and offline resources, Leyou is able to offer consumers greater convenience and a unique experience.
Kung says: "Given the current market environment, it certainly would not work to depend solely on a physical store." Through its online mall, Leyou is able to carry a variety of products that cannot be accommodated at bricks-and-mortar stores. Product display is no longer limited by the shelf space available. Meanwhile, the 400-plus offline stores also serve as "temporary storage" for the online mall. If there is enough stock at a physical store, products can be distributed directly from there to nearby destinations to enhance delivery speed. If there is insufficient stock, then some of the goods will be delivered from nearby stores and the rest will be distributed from a central warehouse. In doing so, the advantages of the physical stores can be maximised and competitiveness is raised.
All Leyou's physical stores offer Wi-Fi connectivity to allow consumers to download Leyou's app instantly. Leyou's app has a scanning function so that more detailed product information can be obtained by scanning barcodes displayed in the physical stores. Consumers can also select other product styles or categories from Leyou's online mall. They can make enquiries, order products and pay online. Furthermore, consumers can purchase products online in the physical stores and choose to either collect orders on the spot or wait for home delivery.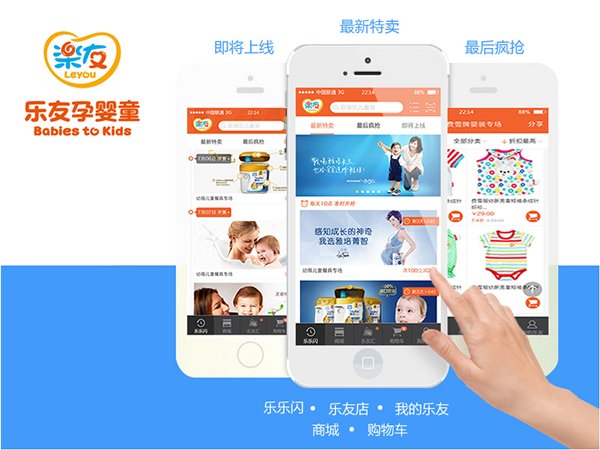 Leveraging Hong Kong Companies' Advantages: Quality and Good Word of Mouth
Parents have increased expectations on the quality of life for their children and hope to give them a greater variety of experiences. They are very interested in quality products from overseas and are willing to pay a premium for them. Kung has come into contact with many quality Hong Kong products and believes that Hong Kong companies have a definite edge in the baby and children's products industry. As Hong Kong is an international city, Hong Kong businesspeople have a broader vision and easier access to advanced childcare concepts and related products from overseas.
If Hong Kong companies want to get a share of the mainland market, they must think long-term and strictly control product quality. In particular, with mid- to low-end products flooding the baby and children's products market on the mainland, only quality products can excel in this highly competitive market. In addition, consumers place a lot of stock on word of mouth. The key to building word of mouth is to maintain a positive relationship with consumers and give them a good brand experience, so that they are willing to share their experiences with their friends.
When exploring business opportunities, a company should look for a partner that possesses diverse strengths. These include sharing common beliefs, possessing efficient sales channels, having computerised marketing management systems as well as the capability to help brands connect with, and engage, their members. Kung says the Leyou team has the language capabilities, culture and management philosophy to cater to the operating modes of international enterprises and the ability to build rapport. With its online sales experience and 16 years of operating chain stores, Leyou is confident it can help brands to expand into the mainland maternity and baby products market.
Baby Products
Garments, Textiles & Accessories
Mainland China
Mainland China