https://hkmb.hktdc.com/en/1X0A1QXX
2015 Chinese New Year Sales: Chengdu
During the 2015 Spring Festival, a survey of 12 of the leading retail enterprises in Chengdu showed a year-on-year growth of 5.6%. A review of 11 catering enterprises, carried out over the same period, indicated year-on-year growth of 6.4%. Overall, market conditions and spending during the festive period were seen as stable.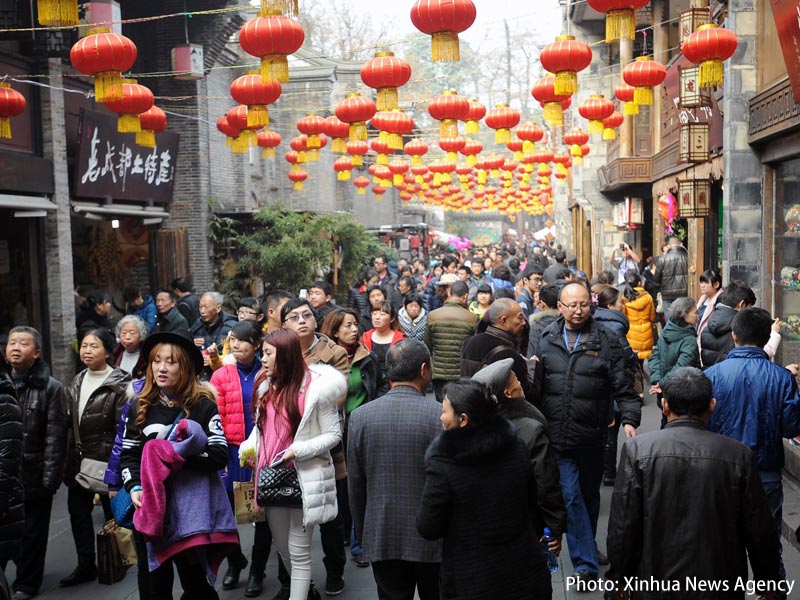 Figures from the Ministry of Commerce show that, from New Year's Eve to the sixth day of the Chinese New Year, the total sales of retail and catering enterprises nationwide amounted to Rmb678 billion, up 11% over the Spring Festival golden week last year. At the same time, year-on-year growth dropped 2.3 percentage points. HKTDC's mainland offices in Beijing, Dalian, Qingdao, Xi'an, Shanghai, Hangzhou, Nanjing, Wuhan, Chongqing, Chengdu, Guangzhou, Fuzhou and Shenzhen, made market visits to a number of high-end, mid-high end and mid-range shopping centres in their respective cities a week after the Chinese New Year (19-25 February 2015) in order to establish just how holiday sales fared this year.
According to Chengdu's Municipal Commission of Commerce, the focus of festive spending has gradually diversified over recent years, now extending to areas such as leisure and vacations, overseas trips, dining and socialising, as well as cultural entertainment.
Official statistics show many of the city's convenience store chains, supermarkets and fresh produce operators enjoyed comparatively rapid growth, while sales were lacklustre at a number of the more high-end retailers, such as the Renhe Spring Department Store and Ai Xin Jewellery. Sales at mid-to-high-range department stores – such as Wangfujing, Maoye, Far Eastern, New World and Chicony Plaza - were basically at the same level as last year, while the large commercial complexes, such as Galleria and Lotte, reported 7.8% year-on-year growth. Two of the large-scale supermarket chains, Auchan and Carrefour, recorded 3.2% year-on-year sales growth. In the catering sector, a number of mass market restaurants, including Daronghe, Honggaoliang, Wenxing and Hongxing, recorded overall growth of 11.2% year-on-year.
Spending on New Year food, fashion and accessories, cosmetics, digital communication products, mass catering, cultural entertainment, as well as leisure and travelling remained strong through this year's Spring Festival period.
According to the Wangfujing department store, 2015 New Year spending was slightly down over the same period last year. The major cause of this was seen as significant drop in the purchase of luxury watches, diamond, gold and a number of supermarket items. Many units also cancelled group purchases. However, overall spending on clothing was still impressive, particularly in the sports and leisure sector, which recorded significant year-on-year growth. This was mainly due to a greater inclination to spend time on leisure activities and travel during the holiday period.
Eve Hou, Chengdu Office
Mainland China
Mainland China