https://hkmb.hktdc.com/en/1X0A1N12
2015 Chinese New Year Sales: Nanjing
According to data from Nanjing's Bureau of Commerce, Nanjing's urban and rural residents spent a total of Rmb2.176 billion during the 2015 seven-day Spring Festival holiday, representing a year-on-year growth of 13.7%.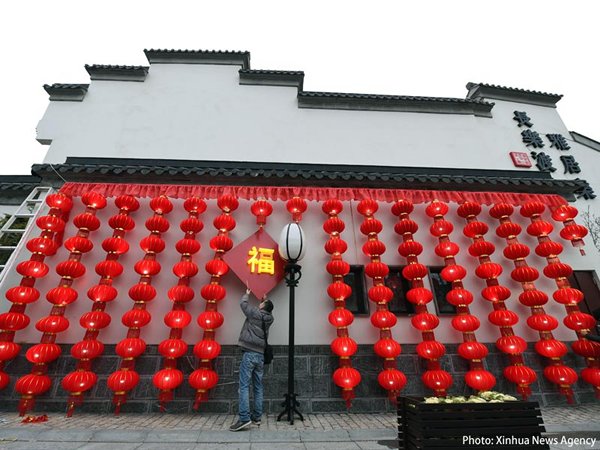 Figures from the Ministry of Commerce show that, from New Year's Eve to the sixth day of the Chinese New Year, the total sales of retail and catering enterprises nationwide amounted to Rmb678 billion, up 11% over the Spring Festival golden week last year. At the same time, year-on-year growth dropped 2.3 percentage points. HKTDC's mainland offices in Beijing, Dalian, Qingdao, Xi'an, Shanghai, Hangzhou, Nanjing, Wuhan, Chongqing, Chengdu, Guangzhou, Fuzhou and Shenzhen, made market visits to a number of high-end, mid-high end and mid-range shopping centres in their respective cities a week after the Chinese New Year (19-25 February 2015) in order to establish just how holiday sales fared this year.
Based on the Spring Festival consumption data released by Nanjing's Commerce Bureau, it is apparent that the commercial complexes located in the city's various districts and counties (such as Nanjing West Wanda Plaza and the Central Emporium) are now shaping Nanjing's overall commercial environment and impacting upon the habits of its consumers. Located on the outskirts of the city, these commercial complexes have not only attracted customers away from the Xinjiekou and Hunan Road commercial districts, but also acted to nurture local consumption.
During the Spring Festival period, many shopping malls turned to mobile phone apps and WeChat as marketing platforms. This seems to have enhanced the overall customer experience and driven traffic to physical stores. The Wonder City shopping mall, for example, has some 8,000 mobile phone users on its database. The Jiangning Wanda Plaza also took the digital marketing route, offering WeChat Red Packets worth Rmb5 million to enthusiastic consumers. Similarly, the mobile internet boom spurred the sales of handsets, with 4G models from Samsung and iPhones proving New Year bestsellers, as well as ideal back-to-school gifts. During the seven-day festival period, Suning Appliance and the PC Mall sold, respectively, some Rmb72.99 million and Rmb20.5 million worth of handsets.
Nanjing's home appliance retailers in Nanjing also prospered on the back of their e-commerce platforms. The three giants of the sector - Suning, Five Star and Gome - all performed well this year, recording a combined turnover of Rmb130 million during the seven-day period. Suning, Five Star and Jin Tai Yang reportedly took Rmb7 million, Rmb5 million and Rmb11 million respectively via their B2C online platforms during the golden week holiday. There was also continued growth in demand for stylish home appliances, such as communication products, computers and mini-hifis, which now account for half of all e-commerce sales.
The following is summary of the sales situation of three leading Nanjing stores:
| | | | |
| --- | --- | --- | --- |
| Store | Deji Plaza | Wanda Plaza | Suning Plaza |
| Grade | High-end | Mid-range | Mid- to low-range |
| Top-selling Items | Luggage | Clothing | Mobile phones |
| Year-on-year Sales Growth | 14% | 20% | 8% |
| Average Spend per Customer (Rmb) | 2,800 | 500 | 150 |
| Promotional Tactics | (1) Big discounts for luxury brands (2) Rapid expansion of the catering area to attract consumers (3) New Year blockbusters attracted large audiences; complimentary movie tickets offered to shoppers; group purchase promotions | (1) Discount upon specified purchase amount (2) Cosmetics brands offered "earn points faster" promotion to members, plus New Year gift sets (3) Supermarkets promoted imported food items: buy 2 get 1 free; New Year gift packs offered at attractive prices | (1) Value-added services, such as extended warranty period for handsets purchased (2) Wide variety of small home appliances at big discounts (3) Integration of online and offline channels; products sold at same price via Suning's online platform and in physical stores |
| Sales Highlights | The New Year's Eve dinners offered across the two dining floors of the Deji Plaza were all fully booked in advance of the festival. Nanjing Daipaidang, an established and popular dining spot in Nanjing, registered an 11% year-on-year growth in turnover during the 2015 Spring Festival period, with restaurant obliged to turn away a number of would-be diners. | Wanda Plaza's mid-range positioning is in line with the living standard of its local customers. Supermarket Walmart offered greater discounts during the Spring Festival period, carrying out a number of "discount upon specified purchase amount", "special discounts" and "lucky draw" promotions. Sales peaked during the few days before the New Year's Eve. Customer flows returned to normal after the third day of New Year. Turnover during this Spring Festival was about the same as last year. | The golden week offered good business opportunities for both shopping centres and e-commerce operators. As Suning had pledged business as usual during the New Year period, pre-holiday sales of home appliances, both online and offline, were robust. Refrigerators and air-conditioners alike were delivered to homes even on New Year's Eve. This further enhanced Suning's competitiveness in the industry. |
Charlotte Zhang, Nanjing Office
Mainland China
Mainland China