https://hkmb.hktdc.com/en/1X0A1MSE
2015 Chinese New Year Sales: Shanghai
Sales in Shanghai over the Chinese New Year period 2015 were up some 12.6% compared to last year. The findings come in a survey of 412 large and medium-sized commercial enterprises in the city, which together achieved a total turnover of Rmb14.978 billion during the week of the Chinese New Year and the week immediately before the festival (11-24 February 2015).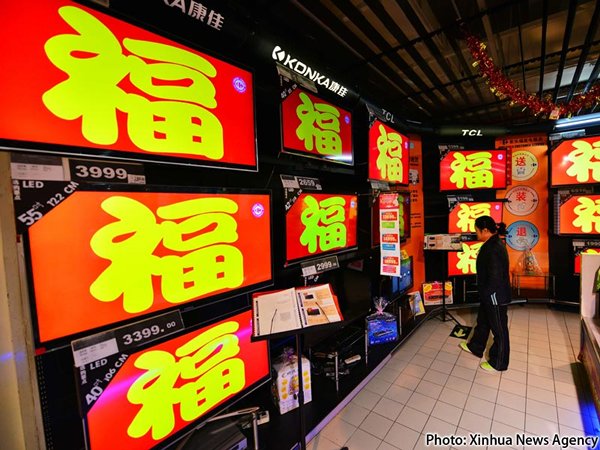 The survey was conducted by the Shanghai Municipal Commission of Commerce and took into account findings from the commerce authorities of Shanghai's 17 districts and counties, as well as four business groups operating within the city - Bailian, Liangyou, Yantang and Nonggongshang.
Figures from the Ministry of Commerce show that, from New Year's Eve to the sixth day of the Chinese New Year, the total sales of retail and catering enterprises nationwide amounted to Rmb678 billion, up 11% over the Spring Festival golden week last year. At the same time, year-on-year growth dropped 2.3 percentage points. HKTDC's mainland offices in Beijing, Dalian, Qingdao, Xi'an, Shanghai, Hangzhou, Nanjing, Wuhan, Chongqing, Chengdu, Guangzhou, Fuzhou and Shenzhen, made market visits to a number of high-end, mid-high end and mid-range shopping centres in their respective cities a week after the Chinese New Year (19-25 February 2015) in order to establish just how holiday sales fared this year.
An analysis of the sales performance of the Shanghai market by business format shows that specialty stores, online stores, shopping centres and hypermarkets all recorded significant sales growth during the festive period. The figures for convenience stores and chain supermarkets, however, were less impressive and saw a moderate drop in sales.
1. Clear Sales Trends
The four leading domestic businesses in Shanghai's commercial sector - Bailian, Nonggongshang, Yantang and Liangyou - achieved a combined turnover of Rmb6.176 billion during the surveyed period. The Bailiang Group, alone, enjoyed a sales volume of Rmb5.275 billion, some 35.2% of the total festival sales recorded during the survey. Nonggongshang (part of the Bright Food Group), the Yantang Group and the Shanghai Liangyou Group posted operating revenues of Rmb684 million, Rmb177 million and Rmb40 million respectively.
Back in 2014, the commerce bureaus of Shanghai's 17 districts and counties, as well as Bailian, Bright Food, Liangyou and Jin Jiang International, jointly conducted a survey of 438 large and medium-sized commercial enterprises in the city. The previous survey found that the businesses concerned had recorded a total turnover of Rmb11.68 billion during the week of the Chinese New Year and the preceding week (24 January to 6 February 2014), up 8.8% from the comparable 14-day period a year earlier.
2. Best Performing Product Sectors and Promotions
Overall, the Shanghai market flourished during the New Year festival period, with gold ornaments, clothing and accessories, digital information products and food selling particularly well. By contrast, sales of premium tobacco, wines and gift boxes were decidedly lacklustre.
As the Spring Festival took place relatively late this year, a number of major commercial districts of Shanghai took the opportunity to stage a prolonged series of promotions. These highlighted experience-based and offline consumption and showcased a considerable range of products and activities, all designed to meet consumers' New Year requirements.
Gold ornaments have always been top-selling items during the Chinese New Year period. In line with this, the average daily takings of several of the long established jewellery shops in the New World Department Store (Laomiao, Chow Tai Fook and Laofengxiang) were around Rmb200,000 to Rmb300,000.
In terms of promotions, the No.1 Yahoan Department Store launched an interactive online-offline marketing initiative, offering customers the chance to win gifts via their smartphones. The promotion was successful in attracting many young consumers to take part. Overall, from New Year's Eve to the second day of the Chinese New Year, the total sales of No. 1 Yaohan amounted to Rmb53 million.
Many of Shanghai's home appliance giants also took the opportunity to launch a range of sales initiatives. During the New Year period, Shanghai Sunning registered a sales growth of close to 20% year-on-year, with "3C" products, such as smartphones, computers and tablets as well as compact home appliances, proving the best-selling items. During the same period, Shanghai Gome saw a three-fold increase in its customer flow, resulting in year-on-year growth in turnover of more than 120%, a result driven by daily sales of more than 10,000 small home appliances and "3C" products.
3. New Year's Eve Dinners: Good Value for Money
An affordable dining experience with festive trimmings seemed most in demand by this year's New Year's diners, with set dinners priced around Rmb2,000 said to be among the most popular. In total, 101 catering enterprises based in the 17 Shanghai districts and counties covered by the survey reported a collective turnover of Rmb29.45 million for New Year's Eve eat-in dinners, a year-on-year growth of 12%. A total of 9,595 tables were booked, a 9.2% rise year-on-year. The average dining price was Rmb3,069 per table, representing a slight increase of 2.6% over last year's average of Rmb2,992. This, however, was lower than Shanghai's CPI 2014 increase of 2.7%. Additionally, 9,420 sets of partially-prepared dinners were sold, a year-on-year growth of 13.7%. The average price of these partially-prepared meals was only Rmb465 per set, a drop of 53.7% year-on-year.
4. Increased Spending on Services
The survey also showed that the spending of Shanghai consumers during the festival period has become notably more diversified. Apart from shopping for goods, spending on services now accounts for an increasingly significant share of Chinese New Year expenditure. Throughout the festive period, hairdressing, beauty and skin care, entertainment, fitness and other service operators posted total operating revenues of Rmb49.92 million, a year-on-year growth of 56.1%. This far exceeded the average sales growth of 12.6% of all service operators covered by the survey.
The movies showing over the festival period were highly varied, appealing to audiences of all age groups, and included big-budget Hollywood productions, dramas, classics, comedies, sentimental and inspirational movies. This saw the box office of the four cinemas polled amount to Rmb11.32 million, a year-on-year growth of 24.8%. This accounted for 22.7% of the gross turnover of the service operators covered by the survey.
5. Online Purchasing Booms
According to Tmall, some 60% of its orders over the New Year period were made via mobile devices. The items most frequently ordered were baby products, including training pants and milk powder
With overseas suppliers running their delivery service as usual during the holidays, imported chocolate, health products, cosmetics and similar items sold particularly well via the global.tmall.com platform. During the week from New Year's Eve to the sixth day of the Chinese New Year, the sales of major home appliances enjoyed a year-on-year growth of 265%. By comparison, the volume of daily articles sold at 11 cities through chaoshi.tmall.com (Tmall Supermarket) witnessed a massive 42-fold year-on-year growth. The top three cities for online sales during the festival period were Shanghai, Hangzhou and Beijing.
Among the online purchases of New Year goods, baby products (especially training pants and milk powder) ranked number one in terms of transaction volume. This was thought to be on account of the needs of consumers to stock up on necessities and prepare gifts for home visits to friends and relatives. Other top-selling items included facial tissues, wines, fresh fruits and imported dairy products, all of which are regarded as necessities for receiving visiting friends and relatives during the Chinese New Year.
In terms of overseas suppliers' performance at global.tmall.com, cosmetics from two Korean companies, Whoo and 3 Concept Eyes (3CE), sold particularly well. Bird's nest products from Hong Kong's JEBN, dried durians from Thailand's King Power, chocolates from all corners of the world, as well as the health products of a number of international brands, notably Doppelherz, Blackmores and Nature's Bounty, were the most popular "foreign New Year goods" bought by consumer in China.
6 New Forms of Business
According to 'Yuanmai', on online merchant on JD.com, the company enjoyed a year-on-year sales growth of more than 70% during the festival period. The four branches of Shangshu Yonghui (part of Yonghui Superstores and mainly focused on farm-to-market operations) achieved a new sales record in excess of Rmb16 million over the Chinese New Year period. Meanwhile, the 13 outlets of the Direct Imported Goods (DIG) shopping centre (set up by the Waigaoqiao Group) reported total sales of close to Rmb70 million. Sales at the outlet mall in Zhuqiao town in Pudong, which opened for business immediately before the Chinese New Year, also exceeded the Rmb50 million mark.
7. Red Packet App a Big Hit
In another innovation, the WeChat Red Packet proved the most popular way to send New Year greetings this year. It was even considered a festive season "must-have" by many. During the six days between New Year's Eve and the fifth day of the Chinese New Year, a total of 3.27 billion WeChat Red Packets were said to have been exchanged, with a record high of 1.01 billion packets recorded on New Year's Eve. According to Alipay data, its Red Packet game was played 680 million times on New Year's Eve (within a 24 hour period from 1:00 a.m. on 18 February to 1:00 a.m. on 19 February), while its Alipay Red Packets were exchanged more than 240 million times, representing a total value of Rmb4 billion in cash and cash coupons. By the third day of the Chinese New Year, more than 100 million people were said to have played Alipay's Red Packet game.
Lesley Wong, Shanghai Office
Mainland China
Mainland China