https://hkmb.hktdc.com/en/1X0A1LYB
2015 Chinese New Year Sales: Dalian
During the week preceding and the first six days of the Chinese New Year (12-24 February 2015), the combined total sales of the 10 leading department stores and supermarkets in Dalian - including the Dalian Market, New Mart, Mykal, Wal-Mart, Carrefour and Tesco – amounted to some Rmb403 million. Product sales during the Spring Festival period grew steadily, with festival goods, such as value-for-money gift sets, being the most sought after.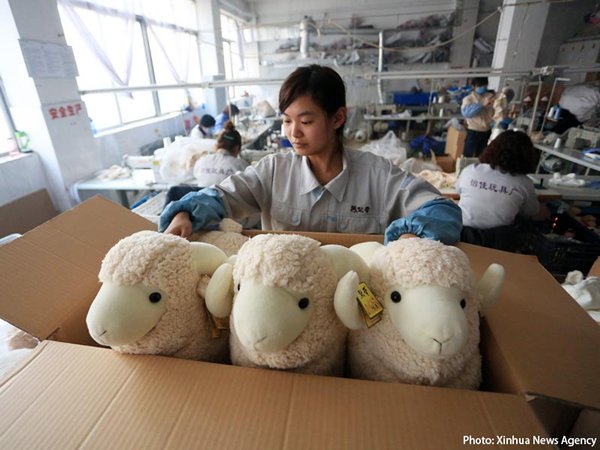 According to figures from the Ministry of Commerce, from New Year's Eve to the sixth day of the Chinese New Year, the total sales of retail and catering enterprises nationwide amounted to Rmb678 billion, up 11% over the Spring Festival golden week last year. At the same time, year-on-year growth dropped 2.3 percentage points. HKTDC's mainland offices in Beijing, Dalian, Qingdao, Xi'an, Shanghai, Hangzhou, Nanjing, Wuhan, Chongqing, Chengdu, Guangzhou, Fuzhou and Shenzhen, made market visits to a number of high-end, mid-high end and mid-range shopping centres in their respective cities a week after the Chinese New Year (19-25 February 2015) in order to establish just how holiday sales fared this year.
In order to get an overview of the level of sales in Dalian's shopping malls during Spring Festival, HKTDC's Dalian Office monitored three shopping centres, each with a different positioning – the Peace Plaza (high end), Dalian Market (mid-market) and Wenzhoucheng (low end). The findings of the survey are summarised below.
Peace Plaza
Dalian Peace Plaza is the largest American mall-style shopping centre in China's northeastern region. Benefiting from its unique location and transportation advantages, while offering shopping, entertainment, catering and leisure facilities all under one roof, the plaza holds an important position in Dalian's shopping and commercial arena. Its target customers are generally middle- to high-end consumers.
During the Spring Festival period, sales at the Peace Plaza were focused on upmarket products, including imported red wine, imported kitchenware and imported food, as well as branded clothing and accessories. Overall, business at the food court and the plaza's cinemas was so brisk that it was almost impossible to get a movie ticket during peak hours. At present, official statistics as to the final level of customer flow and sales at the plaza are yet to be released. Initial figures provided by a number of the businesses based in the plaza, however, indicated that 2015 sales showed a marked drop compared to previous years. Much of this decline has been attributed to the rise of e-commerce operators. Currently, the plaza management is working with the onsite outlets to develop strategies to counter this challenge.
Dalian Market
Dalian Market is the flagship store of the Dashang Group, a listed retail business. Regarded as Dalian's, Liaoning's and the Northeast's number one store, Dalian Market is one of the city's largest, most comprehensive, and most influential retail enterprises. Thanks to its favourable geographical location and extensive product range, the store attracts a wide range of consumers.
As this year's Spring Festival came soon after Valentine's Day, gold and platinum jewellery items sold particularly well, proving the trump card for sales in the current season. Apart from jewellery, a number of traditional product lines, such as clothing (especially young women's fashion) and footwear, continued to be the leading sales items, while demand for children's wear, toys and small household appliances also proved satisfactory.
As many local residents prefer to stock up with New Year foods prior to the Spring Festival, there was a heavy customer flow at the first floor food section. Although the spending power of customers varied greatly, their average spend was around Rmb500. During the festival period, in order to win over consumers, the department store launched a series of promotions, including a "New Year lucky bag" and a "New Year gift", as well as large-scale special offers on branded products.
In terms of overall sales volume, however, the figure dropped in comparison to both last year and to previous years. The fall was attributed to the rise of e-commerce operators. As a number of consumers were unwilling to join the queues at department stores during the busy Spring Festival period, many of them opted to stay at home and shop online, finding it more convenient and faster. In light of this, the Dalian Market has been obliged to launch its own online shopping platform - 51tiangou.com – in order to complement sales at its physical store. This platform, however, is in an early stage of its development and only offers a limited range of goods. As a result, the store is currently looking to upgrade its online offering.
Wenzhoucheng
Wenzhoucheng (literally "Wenzhou City") is a comprehensive shopping centre in Erqi Square, Dalian. Sizable and popular, it mainly sells clothing, footwear, headgear, leather goods, luggage, daily necessities, curtains, upholstery and bedding with Wenzhou characteristics. Its target customers are mostly salaried workers.
During the period prior to New Year's Day, the products most in demand at Wenzhoucheng were bedding, curtains, underwear, clothing and small household goods. No new products were launched and goods similar to those on offer during the previous year dominated the scene. As Wenzhoucheng primarily targets salaried workers and its sales format combines wholesale and retail, its product prices are relatively low, with the average spending of its customers in the region of Rmb200-300.
Again hit by the immense challenge coming from e-commerce operators, sales at Wenzhoucheng during the surveyed period plunged significantly when compared to the same period last year. At the same time, customer flow also dropped, down almost 30% over previous years. As a result, a number of counters at the shopping centre were left vacant, a new phenomenon for the store.
In terms of promotional strategies, Wenzhoucheng did not adopt any unified approach, with individual shop owners initiating their own marketing activities. Additionally, according to the head of the centre, Wenzhoucheng is now proactively seeking ways to counter the threat posed by e-commerce operators.
Kelly Wang, Dalian Office
Mainland China
Mainland China