https://hkmb.hktdc.com/en/1X0A1KSK
2015 Chinese New Year Sales: Beijing
According to figures released by the Beijing Municipal Commission of Commerce, the combined total sales of the 120 leading commercial enterprises in the city during this year's seven-day Spring Festival period reached Rmb4.91 billion, an increase of 8.5%. While retailers strengthened their marketing strategies to bolster sales, e-commerce operators also went all-out to win over customers, with many industry players offering normal delivery service during the holiday period.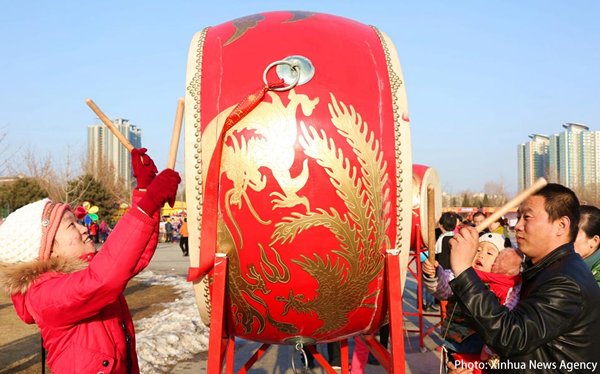 Figures from the Ministry of Commerce show that, from New Year's Eve to the sixth day of the Chinese New Year, the total sales of retail and catering enterprises nationwide amounted to Rmb678 billion, up 11% over the Spring Festival golden week last year. At the same time, year-on-year growth dropped 2.3 percentage points. HKTDC's mainland offices in Beijing, Dalian, Qingdao, Xi'an, Shanghai, Hangzhou, Nanjing, Wuhan, Chongqing, Chengdu, Guangzhou, Fuzhou and Shenzhen, made market visits to a number of high-end, mid-high end and mid-range shopping centres in their respective cities a week after the Chinese New Year (19-25 February 2015) in order to establish just how holiday sales fared this year.
All three department stores visited by HKTDC's Beijing Office registered lower sales when compared with last year. This was seen as largely down to two factors - reduced spending power and an increased challenge from e-commerce operations.
It is clear that the fast growing market share of e-commerce operators has had a real impact on the sales of physical stores. According to the head of the Yansha Youyi Shopping City on Liangmaqiao Road, over the last three years, e-commerce has enjoyed exponential growth. While online shopping offers great convenience to consumer, it is also seen as having a number of particular weaknesses, notably in terms of product quality. In terms of future prospects, it is thought that an operation mode that combines online and offline option is likely to become the norm for many physical stores.
According to senior staff at the Beijing Capital Retailing Group's Xidan Department Store, e-commerce is still evolving and will need to undergo further restructuring and regulation. They believe it will not entirely supplant sales at street-level shops, seeing it as, ideally, complementing the high street and forming part of a rationally structured marketplace.
In other developments, the head of Chongwenmen's Beijing New World Department Store advocated the offer of red packets during the Spring Festival period as a worthwhile promotional initiative. This practice, a good example of experiential marketing, not only attracts customers, but also incentivises consumers to shop during the festive period.
The following is summary of the sales situation of three leading Beijing stores:
Store
Yansha Youyi Shopping City (Liangmaqiao Store)
New World Department Store (Chongwenmen Store)
Beijing Capital Retailing Group
Xidan Department Store
Grade
High-end
Mid- to high-end
Mid- to low-end
Top-selling Items
(up to 10 categories)
Menswear, ladies' wear, footwear, tonic health supplements, cosmetics, watches, domestic kitchenware, household beddings, jewellery, food (cigarettes, liquor, tea)
Young ladies' fashion, clothing for mature women, gold jewellery, cosmetics, sporting goods, children's wear, menswear
Sporting goods, jewellery, watches, cashmere, ladies' wear, young fashion, products for the middle-aged and elderly, footwear, down garments
Price Range
Rmb200-650,000
Rmb780-3,000
Sporting goods: Rmb200 - 3,000
Jewellery: Rmb200 - several hundred thousand yuan
Watches: Rmb200 - several hundred thousand yuan
Cashmere: Rmb200 - 3,000
Ladies' wear: Rmb800 - 20,000
Young fashion: Rmb500 - 2,000
Products for the middle-aged and elderly: Rmb200 - 1,000
Footwear: Rmb500 - 1,500
Down garments: Rmb200 - 2,000
Average Spending per Customer
Rmb2,600
Rmb864 (average transaction value)
Sporting goods: Rmb500
Jewellery: Rmb1,000 - 20,000
Watches: Rmb700 - 30,000
Cashmere: Rmb1,000
Ladies' wear: Rmb1,200
Young fashion: Rmb800
Products for the middle-aged and elderly: Rmb400
Footwear: Rmb700
Down garments: Rmb800
Year-on-year Sales Growth
-30%
-6.4%
Sporting goods: 39.01%
Jewellery: 7.33%
Watches: -14.13%
Cashmere: -11.69%
Ladies' wear: 20.4%
Young fashion: -12.68%
Products for the middle-aged and elderly: 17.98%
Footwear: 0.32%
Down garments: -14.37%
Promotional Tactics
Mainly gifts with purchase
30% discount on spring fashion (selected items) and clearance sale of winter collection
Sporting goods: Offering latest styles to attract young customers, and "weekend only" promotions of brands (Adidas, Nike)
Jewellery: Main attractions include discounts on gold and special priced jewellery sets
Watches: Special prices and discounts on domestic brands, but no big discounts on imported brands
Cashmere: Bundled promotion of a large number of cashmere brands, big discounts and special prices are becoming the trend
Ladies' wear: Sales promotion by way of discounts on new styles and special offers
Young fashion: Promotion of winter collection and new arrivals of spring fashion, clearance sale of outdated styles at special prices
Products for the middle-aged and elderly: Promotional activities for a whole range of products for the middle-aged and elderly, offer of clothing at special prices
Footwear: Female customers are the main consumer group, offer of discounts during weekends
Down garments: Offer of big discounts to promote a whole range of down garments, offer of gift with purchase
Effective Sales Outcome
As a high-end store and part of the Beijing Capital Retailing Group, this shopping centre has the trust of customers. In the two weeks before the Spring Festival and during the festival period, goods supply was sufficient to meet the purchasing needs of customers
Promotional activity of offering discounts on goods as well as gift redemption with reward points secured additional customer flow
Sporting goods: Attracting young buyers, the main target customers, with product styles and diversity
Jewellery: Gift with purchase
Watches: Promoting sale of high-end watches
Cashmere: High quality at low prices
Ladies' wear: Price factor and bundle promotions
Young fashion: Attracting young consumers and bundle promotions
Products for the middle-aged and elderly: As middle-aged and elderly customers are price-conscious, big discounts attract this customer group
Footwear: Attracting customers by offering big discounts and specially priced items
Down garments: Sales of down garments hinge to a large extent on the weather, complemented by promotional activities
Vivian Yu, Beijing Office
Mainland China
Mainland China