https://hkmb.hktdc.com/en/1X0A1JHY
Targetting China's Children's Clothing Market
An Interview with Will Tse, General Manager of Guangzhou Minipink Garment Co Ltd
Guangzhou Minipink Garment Co Ltd specialises in clothing and accessories for boys and girls in the two-to-12 years age bracket, with a particular focus on three-to-seven year-olds. Founded in 2001 as an Original Design Manufacturer (ODM), the company created its "MiniPink" brand around 2005. In less than a decade, its operations have expanded across the Chinese mainland, with it now operating more than 600 retail outlets and counters. Will Tse is Guangzhou Minipink's General Manager. Here he shares his insights into China's childrenswear business, as well as giving his thoughts on the market prospects for Hong Kong companies interested in the sector.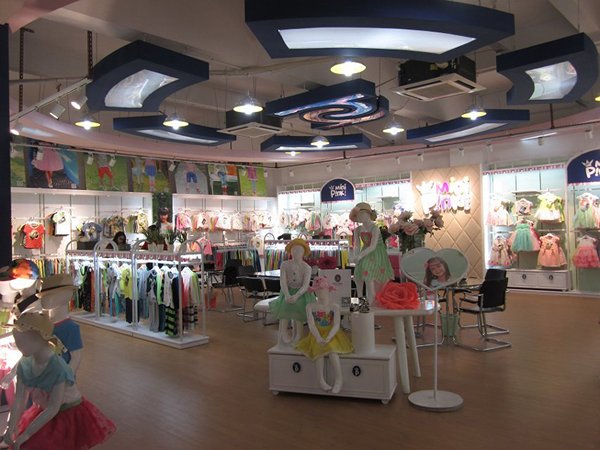 Rising Competition
A decade or so ago, there were only a handful of well-known childrenswear brands in China, with industry players operating on a similar scale and competing on an even footing. In recent years, though, more and more large companies have entered the sector, with some investing substantially in expanding their store network and grabbing a larger market share. This has obviously squeezed the business of the small- to medium-sized enterprises. Tse, though, believes opportunities still exist. He says: "With the gradual introduction of the two-child policy, China's babies and children's clothing market has immense potential. Although market competition is increasingly intense, industry players can keep abreast of the times and adjust their operations in line with the latest innovations in order to establish themselves in the market."
Market Classification
Childrenswear industry players on the Chinese mainland usually classify the market or position their brands by "age" and "price", such as infant wear for children under-three, little kids' wear for those aged three-to-seven, and big kids' wear for those aged seven and above. In general, the younger the child, the more parents tend to spend. Classification by price range is generally related to the sales channels and the purchasing power of individual cities. Medium-to-high end products, for example, are mainly marketed via retail outlets in first- and second-tier cities. By contrast, low-to-medium end products are mainly targeted at wholesale markets and third- or fourth-tier cities.
Market Segmentation for an Enhanced Competitive Edge
The childrenswear market on the Chinese mainland requires industry players to segment their approach according to the specific features and demands of their target consumers. They should also seek to establish a distinct brand positioning, one that capitalises on their business strengths, in order to distinguish themselves from their competitors.
MiniPink is a prime example here. In its earliest days, the company focused on ODM work for the European and US markets, with its product designs and styles dominated by European and US characteristics, notably current fashions and bright colours. While such product styles appeal to consumers in the large cities and regions south of the Yangtze River, they are not well received by consumers in the third- and fourth-tier cities north of the Yangtze River. Tse says: "Our trendy skinny pants sell very well in large cities. Consumers north of the Yangtze River, though, are more used to traditional relaxed-fit pants and find pants in bright colours less dirt-proof."
This shows that the childrenswear market on the mainland has distinct regional differences, making it difficult to establish a nationwide market through a single product variant. It is thought appropriate that those enterprises with sufficient financial resource should choose to set up a number of brands, each targeting specific market segments, in order to meet the respective demands of the different markets and consumer groups.
Promoting Brand Awareness and Customer Loyalty
The acceleration in economic development and information dissemination has led to a growth in consumer brand awareness. Given the rising number of childrenswear brands and the increasing variety of shopping channels, it is a challenge for companies to achieve stand out and to retain consumers' brand loyalty amid the numerous brands available in the market. According to Tse, MiniPink adopted a clear strategy for tackling this problem.
Firstly, the product was deemed the most important ambassador for the brand, with consumer confidence only likely to be built up through quality products. As parents attach great importance to the safety aspect of children's clothing, MiniPink only uses 100% cotton textiles and its fabrics employ reactive dyeing, enhancing product quality. In terms of design, the brand upholds its longstanding tradition of adopting current European and US styles, supplemented by elaborate and meticulous workmanship, in order to further enhance the competitiveness of its products.
Secondly, MiniPink has looked to actively develop online sales over recent years in order to keep abreast of the shopping habits of consumers. Physical stores, though, remain its main sales channel, including the firm's directly managed stores in Guangdong, as well as stores operated by provincial dealers and franchisees in provinces across the country. The brand has also set up a diversified chain of retail outlets, comprising street-level brand stores and operations within various mother-and-baby chain stores, shopping malls and department stores, including the Eya Mother and Baby Store, Wanda Plaza, Nanhai Plaza, Huilong Plaza, Mopark Department Store, Haiya Department Store and the Rainbow Department Store. In terms of online sales, the brand set up its first online store on the Taobao platform, followed by a flagship store at Tmall. It is now gradually expanding online and looking to work with other major e-commerce platforms.
In shaping the brand's image and securing customer loyalty, MiniPink makes use of regular brand promotion vehicles, such as adopting a uniform store layout and the periodic release of metro TV commercials. It has also participated in the on-air charitable activities of the Guangzhou TV Station, and has apportioned a fixed ratio of turnover as financial aid for local needy families. This has helped it build a positive brand image through a commitment to corporate social responsibility.
To reinforce customer loyalty, MiniPink has also set up a membership system to enhance customers' brand awareness through reward point redemptions, birthday gifts and new product promotions. The brand stays in close contact with its members by a variety of means, including mobile phone text messages, regular follow-up phone calls and WeChat service alerts. At present, 60% of MiniPink's sales come from its members, reflecting the prime importance of good customer relations.
Online and Offline Operations
According to Tse, there is a very real difference between how MiniPink runs its online and offline sales, with it all conducted according to the differing consumer profile of the two platforms. Online consumers generally have a higher price sensitivity, but a lower brand loyalty. In view of this, the brand has adopted differential sales strategy with respect to the product mix for online and offline sales channels. Some 80% of the stock carried by MiniPink's online store is only offered on an e-tail basis, while the remaining 20% is out-of-season products from its physical stores. As offline consumers attach greater importance to their shopping experience, the brand has paid particular attention to store layout, product display and staff training at its physical stores. Other industry players have also adopted similar sales strategies.
In terms of the revenue sharing ratio, the rate for the physical stores is higher than that of online stores (20%-30% for shopping mall versus about 5% for Tmall). According to Tse, though, the operating costs of online stores are no less than that of physical stores. To draw visitors to their websites, online stores need to invest heavily in buying keywords and participating in the discount deals and group-buying activities organised by e-commerce platforms. Participation in these promotions requires registration in advance for approval by the e-commerce platforms. This is all governed on the basis of the estimated individual customers' purchases and overall sales of the brand. The online stores recording the top 100 sales in any given product category have greater access to these promotions. As participation usually requires the store to provide deeper discounts, it therefore does not substantially raise actual profits. It does, however, help to promote the image of the brand and draw in new customers - the reason why active participation is quite so common among online stores.
At present, MiniPink's sales still rely chiefly on its physical stores, with those from online channels only constituting 5% of overall sales. In the long run, however, online sales have immense potential and will help in promoting the brand's image and, thus, cannot be ignored. According to Tse, the company will develop online-to-offline (O2O) sales by incorporating the shopping experience of both online stores and physical stores through the concept of "paying online and shopping offline".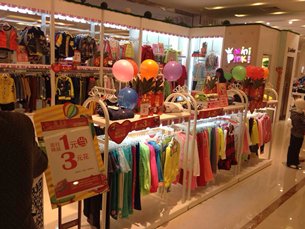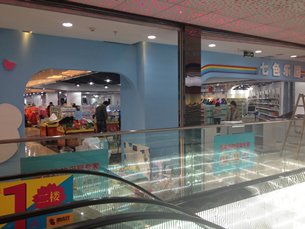 Promising Industry Outlook
With its optimistic outlook on the future of the babies and children's clothing industry on the mainland, three years ago, Guangzhou Minipink decided to expand beyond children's clothing items. With this in mind, it set up a one-stop chain of babies and children's department stores - allforbaby - in the second half of 2012. Catering to babies and children from ten-months-to-seven-years old, allforbaby sells general maternity, babies' and children's products, while also offering paddling pool facilities, a DIY children's craft workshop and similar services. These are all offered in well-equipped premises and are intended to cater for all the basic food, clothing, bedding, footwear and recreational needs of babies and children. At present, all of the allforbaby stores in Guangdong are directly managed by Guangzhou Minipink. It does, however, plan to start recruiting franchisees on a nationwide basis in 2015.
Dealership Arrangements
As with other industry players, Guangzhou Minipink mainly relies on provincial dealers for its nationwide distribution and sales network. It also organises new product launches-cum-ordering sessions and nationwide roadshows twice a year so as to facilitate the early planning of product designs and production volume for the following spring/summer and fall/winter collections. This is a common practice for the clothing industry on the Chinese mainland.
According to Tse, choosing which dealers to work with is a process of mutual growth and takes place via adaptation and co-operation. The dealers that maintain a long term, mutually beneficial relationship with the brand are, typically, those that share the company's aspirations and vision for growth. Relationships with those dealers who cannot respond quickly to market changes (such as those passively waiting for customers to show up or those not aggressive enough when it comes to expanding sales channels or clientele) tend not to last the course.
In China, the payment, settlement systems and dealership arrangements in the sector are also evolving. They have graduated from the earliest practice of "pay as you go" (make payment upon goods delivery) to the subsequent consignment system (monthly settlement based on sales volume), and now to client credit line system. (The latter is a common industry practice which sees a specific payment and settlement system set up for each dealer on the basis of its financial strength, order size and credit standing).
Brands relying on dealership sales have to pay attention to the issue of goods migrating to other regions, something which will disrupt product price and market order. To tackle this problem, many industry players now adopt an invisible marking system, adding distinctive – but hidden - markings on product tags for each dealer so as to track down those responsible for any territorial violations. The company also directly manages the online sales of MiniPink products, and, in principle, dealers are restricted from making online sales. In particular, new products launched in the market less than six months previously are strictly prohibited from being offered online in order protect the interests of dealers across the country.
Broadening Market Knowledge to Sharpen Competitiveness
While brands from Hong Kong may have a competitive edge, Tse believes that such advantages are diminishing as mainland consumers become better informed. In his opinion, Hong Kong companies need to work hard and equip themselves with a good understanding of the consumer preferences of the different market segments on the mainland, as well as the strengths and weaknesses of rival products. Only with such knowledge, will they be able to create products that truly appeal to consumers and stand out from other brands. This, he says, will eventually lead to their success in the mainland market.
Baby Products
Garments, Textiles & Accessories
Mainland China
Mainland China