https://hkmb.hktdc.com/en/1X0A13UX
Can China Become the Heart of the Global Economy?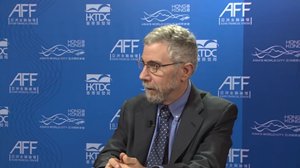 Comparative advantages around the world are changing, with Asia set to fully realise its potential and become the heart of the global economy, according to Paul Krugman, Professor of Economics and International Affairs at Princeton University.
As part of his presentation to the Asian Financial Forum 2015, Krugman told attendees that the "great era of hyper-globalization" - the explosion of international trade based on subdividing the value chain to produce and ship to different countries - may have run its course. Looking forward, he said, international trade may not grow at the same rapid pace as once it did.
Turning his attention to China, he said it was very much a country in transition, indicating that it was now clearly no longer a low-waged production centre, while its labour force is shrinking in line with its shifting demographics. As a result, he believes, low labour cost production is set to migrate from the country, with Bangladesh emerging as one of the likely beneficiaries of the shift, particularly on the textile front.
He also indicated his concern over the magnitude of the economic restructuring required in China, believing the move from an investment-led to a consumption-led model may be too huge to be undertaken successfully. He maintains that restructuring is necessary as China's current economic structure - 50% investment and 30% consumption - is sustainable only if an annual GDP growth of 9% can be sustained.
He currently sees China as lacking in both investment and consumption, maintaining not enough has been done to ensure the benefits of economic growth trickle down to the general population and stimulate consumption. Overall, he argues it is now difficult for the Chinese government to shift around 20% of its GDP from investment to consumption. Inevitably, this would see growth in the Chinese economy drop below the 9% annual rate and fall more in line with the typical global pace.
Despite his concerns, Krugman was not entirely pessimistic over the prospects for both China and Asia as a whole, especially in light of the huge size of the population involved. He also took some comfort from China's demonstrated ability to rapidly close any technological gap with its western counterparts, as well as the hugely entrepreneurial nature of its people. In the long-run – with a few caveats – he still sees China and Asia as poised to sustain growth and play ever more central roles in the global economy.
Mainland China
Mainland China