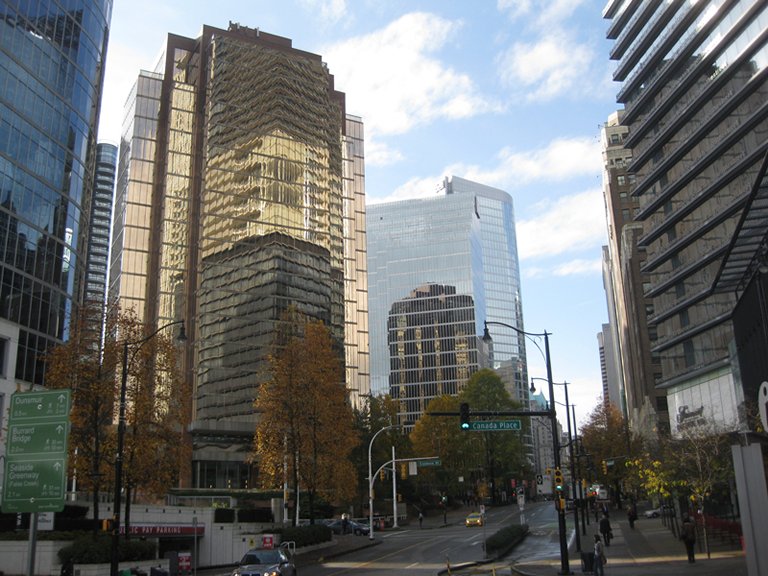 https://hkmb.hktdc.com/en/1X0A0XXC
Canada's Asian Push: The Hong Kong Connection
Home to the largest Canadian expat community after the US, Hong Kong is a logical starting point for those Canadian firms interested in getting a foothold in Asia. The city's pivotal role was recognised by the Government of Canada in its Global Markets Action Plan published on 27 November 2013. It highlighted Hong Kong as one of the emerging markets in Asia Pacific with broad Canadian interests, as well as referring to the tax treaty concluded between two economies that avoids double taxation.

Close ties grow closer

Hong Kong and Canada have a solid commercial relationship dating back to 1927, when Canada first established its trade commission in Hong Kong, just one year after Canada set up its embassy in Washington, DC. Today, with some 300,000 Canadians calling it home, Hong Kong is second only to the US in terms of the size of its Canadian community. It also has the largest, most active overseas Canadian Chamber of Commerce.

These close ties, together with Hong Kong's role as a regional business centre, have attracted a wealth of Canadian enterprises to set up regional representation in the city. As of June 2014, there were 16 regional headquarters, 29 regional offices and 52 local offices in Hong Kong, all representing extensive Canadian commercial interests in Asia, spanning from banking and finance to logistics and technology.

As a trading nation from its earliest days, 60% of Canada's GDP comes from international trade, while one-fifth of its total employment depends on exports. In light of the Asian trade and economic boom, many Canadian manufacturers and traders have chosen Hong Kong as their first port of call for the Asian markets. This explains why Hong Kong was ranked Canada's sixth-largest export market in 2013, among the nation's key export destinations, and boasted the fastest export growth at a compound annual growth rate (CAGR) of 15.1% between 2004 and 2013.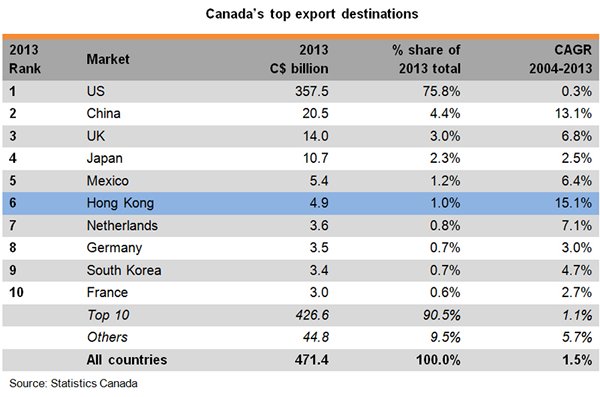 The strong development of the Chinese mainland and the rebalancing of global growth from mature Western economies towards Asia have not only sharpened Hong Kong's strategic role in facilitating Canadian entrepreneurs in their exploration of emerging opportunities, but have also gained the attention of those Canadian manufacturers and exporters who have been used to focusing only on the US market. While the US market remains dominant, Canada's SMEs have been gradually diversifying into other export markets. In 2000, 89% of Canadian SMEs exporters were active in the US, but this share fell 12 percentage points to 77% in 2011 (the latest available figure), reflecting Canadian traders' ongoing trade tilt towards markets outside of their traditional comfort zone.

In the process of export market diversification, Hong Kong – despite a dip after the peak in 2011 – serves as a steadfast re-export hub for Canada-origin goods, posting a 102% growth (a CAGR of 8%) in the 10 years to 2013. Thanks to the expanding trade between Canada and Asia (and Hong Kong's gateway role in facilitating trade with the Chinese mainland) more than 90% of Hong Kong's re-exports of Canadian origin are destined for Asia, with the Chinese mainland accounting for 85% of these Asia-bound shipments.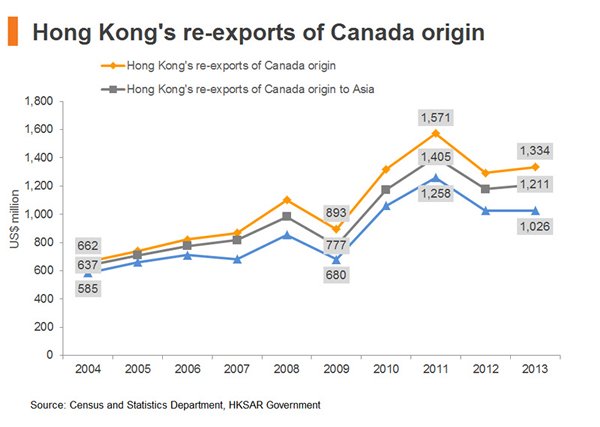 China, absorbing 4.4% of Canada's exports (a share second only to the US) and supplying 11.1% of the country's imports (a share, again, second to the US), was Canada's second-largest trading partner in 2013. The CAGRs of Sino-Canadian trade over the past decade look encouraging, especially when they are compared with those with the US. Also noteworthy is the fact that this fast bilateral trade growth shows no signs of a slowdown, with continued strengthening following the recent establishment of an offshore renminbi (RMB) trading hub in Canada.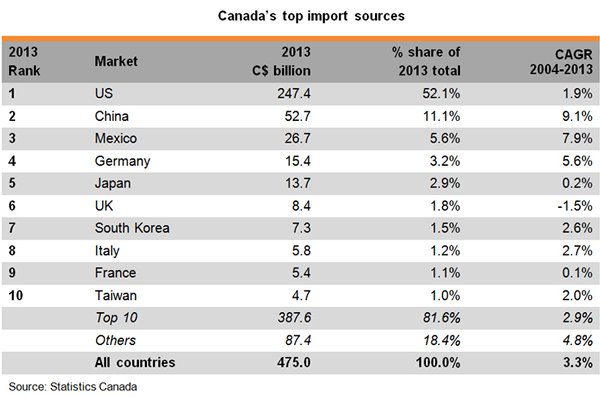 As the first offshore RMB trading hub in the Americas and the eighth RMB trading hub globally (alongside Hong Kong, London, Singapore, Paris, Frankfurt, Seoul and Doha), Canada is expected to see more Sino-Canadian trade being denominated and settled in RMB. By lowering currency barriers for trade, the Canadian/RMB trading hub is set to boost Canada's exports by up to C$32 billion over the next 10 years and, therefore, be conducive to the process of trade diversification. Meanwhile, the RMB trading hub will also help cut Canadian importers' costs by as much as C$2.75 billion which, in turn, could potentially benefit consumers through lower prices.

On the other hand, the expected uptake of RMB trade settlement in Canada also opens a window of opportunity for collaborations between the financial sectors in Hong Kong and Canada in the field of RMB-related financial services, notably trade finances and investment funds.

New trade plan calls for greater synergies between Hong Kong and Canadian SMEs

In line with the establishment of the RMB trading hub, on November 27 2013, the Government of Canada launched an updated foreign policy and trade plan, entitled the Global Markets Action Plan: The Blueprint for Creating Jobs and Opportunities for Canadians Through Trade (the Plan). As a means to encourage market diversification while concentrating its efforts on the markets that hold the greatest promise for Canadian business, the Plan aims to create more than 40,000 new jobs and to grow Canada's SME export presence in emerging markets from 29% to 50%, while its related SME footprint is seen as growing from 11,000 to 21,000 by 2018.

Under the Plan, 20 emerging markets were identified with broad Canadian commercial interests, including Hong Kong, the Chinese mainland and seven other Asia Pacific economies, namely India, Indonesia, Malaysia, Singapore, South Korea, Thailand and Vietnam. Meanwhile, 22 priority sectors were highlighted with strong competitive advantages or dynamic growth opportunities for Canadians, including aerospace, agriculture and processed foods, education, information and communications technology, life sciences, sustainable technologies and transportation with regard to Hong Kong.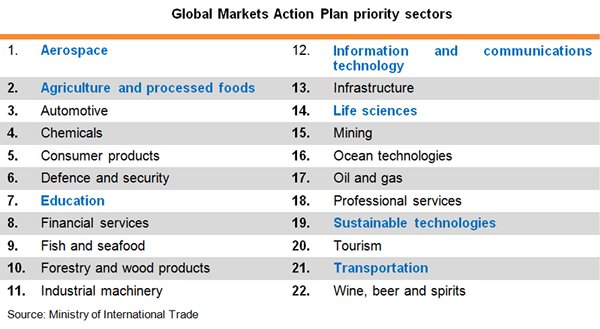 As the backbone of the Canadian economy, SMEs are the key to the Plan. Currently, SMEs account for more than 60% of Canada's labour force and 98% of all business establishments, while contributing more than 30% of Canada's GDP. While nearly 90% of the country's exporting companies are SMEs, in total they represent no more than 25% of Canada's total exports. Constrained somehow by their limited resources and their understanding of the overseas markets, only 41,000 out of 1.09 million (or 3.8%) of Canadian SMEs are currently exporting (this figure varies and can go up as high as 10.4% if service exports are included).

To overcome the low participation rate of SMEs in export activities, Hong Kong's 320,000-strong SME community represents a substantial pool of potential business partners for their Canadian counterparts. In particular, many Hong Kong SME owners have lived, studied or worked abroad, with many of them having done so in Canada. As a result, many of them are familiar with Canadian business practices. Coupled with their experience and knowledge of the mainland, these Hong Kong SMEs are ideal facilitators between Canadian and mainland companies and can respond effectively to the requirements of both parties in Canada, China and other parts of Asia.

In addition to a large, vibrant pool of experienced SMEs, Hong Kong offers generous support to help overseas companies set up and expand. These include incubator programmes under the Hong Kong Science & Technology Parks and Cyberport, financial support schemes under the SME Loan Guarantee Scheme (SGS), SME Export Marketing Fund (EMF), SME Financing Guarantee Scheme, CreateSmart Initiative and technology and innovation funding programmes, such as the Innovation and Technology Fund (ITF) and the Small Entrepreneur Research Assistance Programme (SERAP). All of these incentives have proved to be important, helpful elements for Canadian SMEs, many of which lack the financial muscle to develop business overseas on their own.

Hong Kong-Canada tax treaty spurs a new wave of cooperation

As an important additional step in accommodating greater synergies, Hong Kong and Canada signed a Comprehensive Agreement for the Avoidance of Double Taxation (CDTA) on 11 November 2012, which came into force on 29 October 2013. The CDTA not only provides Hong Kong companies with the possibility of establishing a Canadian entity and conducting business in Canada and repatriating profits to Hong Kong at reduced withholding tax rates, but also eliminates double taxation on any income earned by Canadian residents in Hong Kong and on the profits of Canadian companies doing business in Hong Kong in most instances.

Furthermore, by virtue of similar tax treaties signed between Hong Kong and the Chinese mainland, Canadian (or Chinese mainland) companies can now appeal to their holding company structures in Hong Kong for outward bound investment to China (or Canada). This not only sharpens Hong Kong's role as a magnet of international investment, but gives Hong Kong a new, unrivalled edge to serve as a platform to channel Sino-Canadian investment.

By the same token, Hong Kong companies which have substantial businesses in both Canada and Hong Kong and can now explore the feasibility of expanding into the US market by utilising a similar tax treaty signed between Canada and the US. To illustrate, the withholding tax rate for US dividends paying through Canada to Hong Kong would be just about 10% (5% under the US-Canada tax treaty plus 5% under the Canada-Hong Kong tax treaty), which is far lower than the 30% applicable for direct payment.
Canada
North America
Hong Kong