https://hkmb.hktdc.com/en/1X0A0W93
Integrated Services Tap Into China's Infrastructural Development Opportunities
China's progress toward urbanisation has been unprecedented in its speed and scale over the past decade and has created vast business opportunities for a variety of service providers. In the process, a number of rural counties have been transformed into developed areas, while construction works have become commonplace in many parts of the country. Infrastructure services provider AECOM[1], however, points out that people rather than the hardware remain the core of the urbanisation.
Holistic: The Key Approach to Urban Development
Speaking to HKTDC Research, Alex Kwan, Greater China Chief Executive of AECOM, said: "The key to the success of urbanisation is to embrace a 'holistic' approach that integrates infrastructural development with environmental, cultural and social development. This is the way to ensure that developed areas are sustainable and liveable in the long term."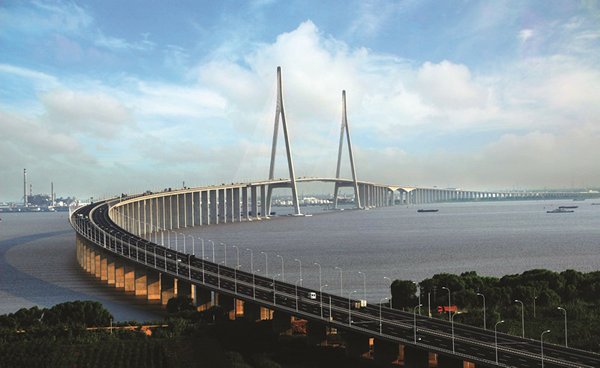 "China's urbanisation occurs alongside rapid economic development and a rise in the middle income population. City dwellers, with higher incomes than ever before, are now looking for a better work/leisure environment in order to pursue a better quality of life."
Similar views are reflected in China's urbanisation policies. In particular, Premier Li Keqiang has repeatedly stressed the prime purpose of urbanisation is to improve the living standards of the general population.[2] There is also increasing public concern with regard to pollution problems and the degradation of the environment, forcing government planners and developers to focus on creating liveable environments in their projects.
Meanwhile, the total population of China is expected to grow only marginally over the next few decades. Increasing business activities, though, have attracted millions of villagers and migrant workers to move from the countryside to the cities in search of jobs. This dramatic increase in the urban population has spurred a huge demand for a wide range of facilities.
For example, according to the current urbanisation plan for Jiangsu, a Yangtze River Delta province that has seen rapid economic development in the past decade, the urban population is projected to account for 72% of the total population by 2020, up from 64.1% in 2013. Even though the total population of the province, amounting to some 79.4 million by end-2013, is not expected to increase substantially, its urban population will grow by more than 6 million people between 2014-2020.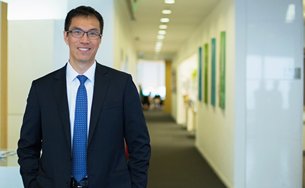 Wealthier, More Mature City-dwellers
Putting these changes into perspective, Kwan says: "Taking residential development as an example, apart from supplying water and electricity, design and planning has to take care of such complementary matters as drainage, sewage, and waste collection systems that make the resultant community friendly to the environment, while at the same time liveable."
It is of no surprise that availability of community facilities, as well as transport connections with such daily living and working areas as the business and shopping districts nearby are among the key ways to make such projects attractive to city dwellers. Meanwhile, new technological applications that can help city dwellers to enjoy life conveniently are especially appealing to the wealthier, but more mature, adults, whose number is increasing amid the aging population trend across the country.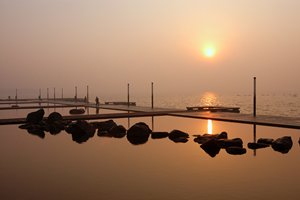 In the circumstances, Kwan noted that in addition to traditional engineering expertise, green and low carbon, as well as new applications like the smart city technology, would be among the important elements for urbanisation in China.
AECOM is a world-renowned, fully integrated infrastructure and support services firm, with nearly 100,000 employees worldwide, including architects, engineers, designers, management and other construction services professionals. Its Asia-Pacific headquarters is situated in Hong Kong, and enjoys the support of experts in a number of related areas, including transportation, facilities, environmental protection, energy, water and high-rise buildings. AECOM is among the major designers and engineers that serve China's urbanisation programme.
Huge Service Demand in Yangtze River Delta
In one urbanisation project, for example, AECOM has drawn up a landscaping master plan for the Jinji Lake district of Suzhou, a city in the Jiangsu Province. Appreciating the value of the open space and the scenic water resource of the district, AECOM has provided the developer with planning and design details for the creative use of the 550-hectare lake area. These include providing a civic promenade, a residential village, a recreational park and contemplative gardens, as well as detailed guidelines for water quality control for the lake and the feeder canals. This has enabled the land to be developed in harmony with the environment, while preserving the local culture and allowing the inhabitants to enjoy the scenic environment.
Indeed, the pace of urbanisation in Jiangsu province has quickened in recent years. The enhancement of a number of urban facilities, notably developed areas, tap water supply, gas pipelines, road systems, sewer pipelines and public green areas has expanded at a rapid pace over the last decade (see graph below). This has elicited huge demand for planning, design and building services, boding well for related services providers.
Development of Urban Facilities in Jiangsu Province (selected areas)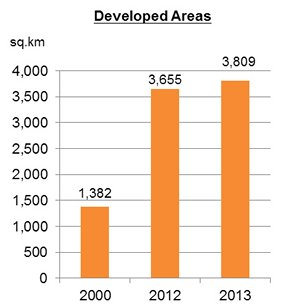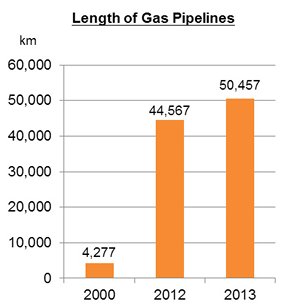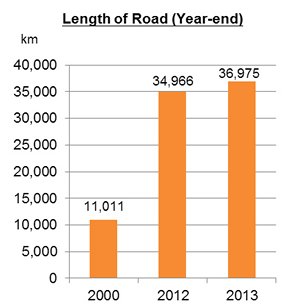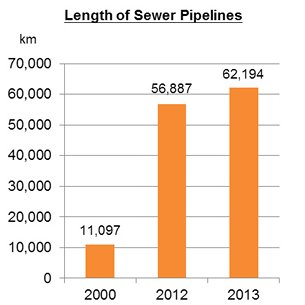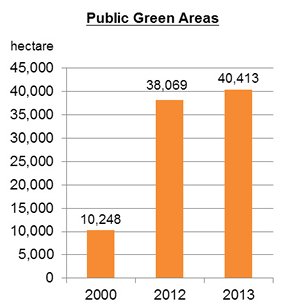 Source: Jiangsu Statistical Yearbook
Emerging Market Niches
In terms of challenges remaining to be addressed, Kwan says: "A lack of comprehensive planning, however, would result in problems like environmental, sanitation and traffic issues, and would have an impact upon the liveability of the community in the developed area. In the worst case, this would fail the whole development, as remedies may not be cost-effective - or even technically feasible - once the construction works have begun or reached a point of no return."
Indeed, service providers with the integrated capabilities to meet the market demand are now required by the current levels of rapid urbanisation. Increases in income levels have pushed China's authorities and developers to look for quality – rather than speed or quantity – when it comes to urbanisation. This has created niches for competent service providers looking to tap into the China market.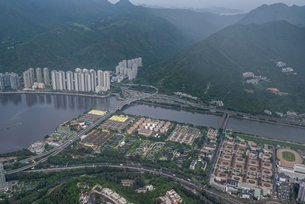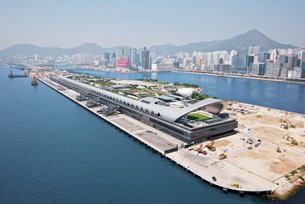 Kwan added: "Service providers, of course, need to find ways to demonstrate their comprehensive capabilities so that Chinese clients can understand the benefits of these services. Business missions destined for certain provincial or municipal development projects could provide a good starting point. They would also enable newcomers to get a feel for the market developments in China."
Hong Kong Experience
Citing the opportunities now opening up for Hong Kong businesses, Kwan says: "Riding on the territory's intensive urban development of the last few decades, Hong Kong's designers and engineers possess the necessary experience to provide a wide range of planning and construction services for urban and related infrastructural development in a cost-effective and efficient manner.
"With the territory's advantages in terms of language and communication, professionals here have the capability to apply home grown and foreign advanced technology, coupled with the knowledge of modern city and project management. They can provide a wide range of services for urban development on the Chinese mainland and beyond. All of these can help Hong Kong providers be a step ahead of their competitors when tapping into the opportunities on the mainland."
AECOM's regional headquarters in Hong Kong oversees its operations in Asia-Pacific, including the Greater China region. Its team of 4,700 local and foreign employees has the expertise to handle both public and private sector projects, including the development of horizontal infrastructure in relation to roads, bridges, water, architecture, building engineering, urban development, etc. With vast experience of highly efficient and sophisticated infrastructural projects, AECOM's Hong Kong team can tap into China's urbanisation opportunities in the Yangtze River Delta region and beyond.
---
[1] AECOM, a Fortune 500 company, is publicly listed on the New York Stock Exchange. The company is the world's leading fully integrated engineering and construction consulting firm, providing a wide range of services including design, build, financing, operation and maintenance of infrastructure projects.
[2] For more details, please refer to the news issued by the State Council: "Premier puts people first in urbanisation"
Architecture & Planning
Building & Construction
Engineering
Real Estate Services
Technology
Mainland China
Mainland China