https://hkmb.hktdc.com/en/1X0A0R0R
New Bridge and Pearl River Delta West (6): Property and Consumer Markets
After the opening of the Hong Kong-Zhuhai-Macau Bridge (HZMB), Hong Kong will not only have direct land transport link with Zhuhai, but will find its land distance with Zhongshan and Jiangmen in the vicinity of Zhuhai greatly shortened. The HZMB will contribute to Hong Kong's economic and people-to-people links with western PRD. In order to assist Hong Kong companies in making early plans for development, HKTDC Research conducted preliminary studies in Zhuhai, Zhongshan and Jiangmen as well as Yangjiang which lies further west but is still within the HZMB's three-hour economic circle to explore business opportunities worthy of attention in western PRD thanks to easier accessibility.
Some Hong Kong residents moving to PRD
A certain proportion of Hong Kong residents, especially retirees, choose to relocate to the PRD region. According to surveys conducted by the Census and Statistics Department of Hong Kong, a total of 115,500 Hong Kong residents over 60 years old resided in the mainland during 2011, of which 72% were retirees[1]. Among them, 63.8% lived in Guangdong province. The proportion was lower than that of 2008, while the proportion living in Fujian and Shanghai had increased significantly, probably due in part to the ancestral home, since family reunion has been the main reason for residence in the mainland.
On the other hand, the living environment of the mainland continues to improve is one of the factors that attract Hong Kong residents to live in the mainland. According to another earlier survey of the Hong Kong Census and Statistics Department[2], other than work reasons, a major consideration for Hong Kong people living in the mainland is that it provides better living environment. It is worth noting that according to the survey about Hong Kong elderly living in the mainland, although the proportion of residence in Guangdong declined, and within Guangdong province, among the major cities of residence, Guangzhou and Shenzhen also fell, the proportion of living in Zhongshan rose significantly by 6.4 percentage points to 9.9% in 2011. Zhuhai and Jiangmen also accounted for 2.9% and 2.5%, respectively.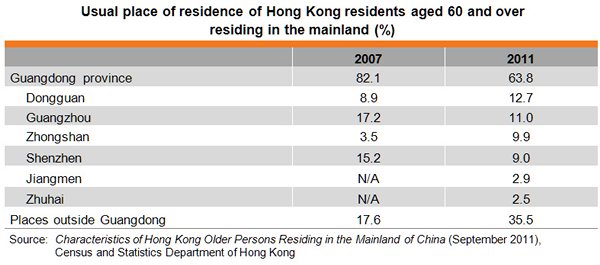 In fact, not only retirees buy property or live in Guangdong province. Some other Hong Kong residents also buy property in the PRD as vacation home, and some might stay a longer time for reasons of work. According to a survey conducted by Hong Kong's Census and Statistics Department, among Hong Kong residents working in the mainland, 52.3% stay in the mainland over five days on average, while 9.8% of them residing in self-owned/ self-rented property[3].
Zhongshan attractive to Hong Kong people
Zhongshan's Agile Group estimated that about 20,000-30,000 residents of its estate are from Hong Kong. Unofficial estimates show that about 50,000 Hong Kong people live in Zhongshan. In Zhongshan Agile's La Cité Greenville, for example, among the 14,000 property owners, about 30-40% are from Hong Kong. Many of them are of age group over 35 years and close to retirement. Some are of long-term residence, including retirees or working in the mainland (including running factories in the vicinity). There are also many families staying in Zhongshan for a weekend, then back to Hong Kong in the evening. Excellent spacious living environment and convenient transportation are the main attraction in buying property in the city. Zhongshan's advantage lies not only in its geographic proximity to Hong Kong and Macau, but also better living conditions and relatively cheap property prices. Current property prices of Zhongshan are at the level of Rmb5,800-Rmb6,000 per square metre on average, and prices are relatively stable.
When the HZMB opens to traffic, more convenient transportation between Hong Kong and western PRD will stimulate interest of more Hong Kong people in buying property in Zhongshan. It is estimated that, in addition to the HZMB, the planned Zhongshan-Shenzhen passageway will also bring another important development opportunity. Future tenants may not only be pensioners or on vacation, but may move towards higher-end customer base, thus derived demand for related high-end services such as golf and fitness clubs.
Plans to introduce more retail and recreational services
Since many Hong Kong people live in Zhongshan for short-term or long-term, property developers are keen to offer a cultural environment that resembles Hong Kong's in the real estate projects, making it easier for Hong Kong people to adapt. Therefore, in recruiting tenants in the mall, they also hope to bring more Hong Kong-style culture, such as Hong Kong-style tea cafe, and also to have service culture close to that of Hong Kong. With prevalent consumer demand in this area, developers wish to introduce more consumer services from Hong Kong. Meanwhile, dining, education and training centres in Zhongshan are also partly invested by Hong Kong funds. As many retirees choose to live in Zhongshan, demand for related services and entertainment may rise further.
In the overall retail market, Zhongshan and Zhuhai are two major markets in western PRD that are closest to the HZMB. The two cities were selected among the top 30 Chinese cities for domestic sales by HKTDC in 2012, and both have a certain market size and spending power. Zhuhai, as a tourist city, attracted more than 15 million overnight visitors in 2013, contributing to the local retail sector. In Zhongshan, however, local residents are the major contributors. According to a department store in Zhongshan which positions itself as high-end, although online sales in recent years, coupled with the anti-corruption campaign this year, have significant impact on luxury goods, sales of the department store still managed to stay flat, showing support of high-end local private consumption, including the great demand for imported food. In addition, several fast fashion brands such as Uniqlo, H & M and Zara have also entered the Zhongshan market.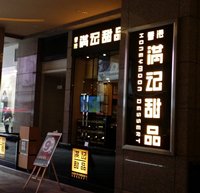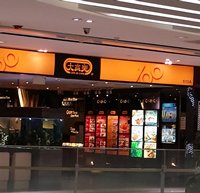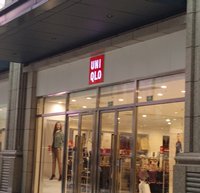 In recent years, new shopping centres have sprung up in Zhongshan. As to real estate development strategy, supporting services within different areas of the city are also different. For instance, large commercial complexes in downtown areas usually house the larger and new shopping malls offering a wide variety of retail formats and service types. Whereas supporting consumer services in the residential community are relatively simple. According to a developer in Zhongshan, some businesspeople from Hong Kong operate Hong Kong-style tea cafe/ bakery in the community as individually-owned businesses (some are landlords themselves). After the bridge opens, more businesses operated by Hong Kong people are expected to be brought in. From the business point of view, the operators of shopping malls would certainly like to introduce more diversified shops and services in order to reduce competition of the same type. In the operation of department store, dislocation business strategy is quite important, and therefore the need to introduce more new brands / new designs, including dining (different specialties) and entertainment (including for children), are also very important factors in operating modern shopping malls.
According to a representative of a high-end catering group in Zhongshan, customers are quite demanding about food quality. As to food type, consumers are increasingly health conscious. Combinations of Chinese and Western cuisine, with increasingly more imported ingredients which are mainly through Hong Kong importers / agents, are sought after. As to the overall catering market, most operators position themselves in the mid-range. The trend in recent years has been to diversify, featuring more distinctive restaurants of Italy, France, as well as local snacks eateries. According to the Zhongshan group, they like to hire chefs from Hong Kong, expecting them to have better work attitude. They reckoned that western food chefs, in particular, are more professional and meticulous. This may be a development opportunity for Hong Kong businesses or expertise wishing to tap the Zhongshan market.
At the retail level, there may be opportunities for Hong Kong design sector. A department store in Zhongshan, for example, is planning to go for personalised service in order to compete with online shopping, and is ready to develop custom furniture business, including interior design. The company plans to collaborate with design companies in servicing customers through a platform. It reckons Zhongshan has great market potential in this area because local consumption levels and demand for higher-end design are on the rise. As the new bridge is set to bring better connectivity, Hong Kong businesses making use of the retail channels to provide specialised services is also a development worth noting.
---
[1] Characteristics of Hong Kong Older Persons Residing in the Mainland of China (September 2011), Census and Statistics Department of Hong Kong. As defined by the survey, residence refers to Hong Kong residents staying at least one month in the mainland within six months before the survey.
[2] Hong Kong Residents' Experience of and Aspiration for Taking Up Residence in the Mainland of China (April 2009), Census and Statistics Department of Hong Kong.
[3] Hong Kong Residents Working in the Mainland of China (October 2001), Census and Statistics Department of Hong Kong.
Mainland China
Hong Kong
Mainland China
Hong Kong