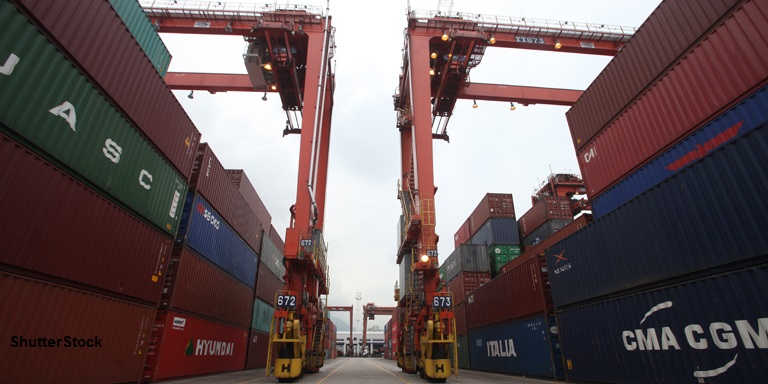 In Growth Mode
Hong Kong exports are tipped to expand in 2015, with traders optimistic about medium-term prospects.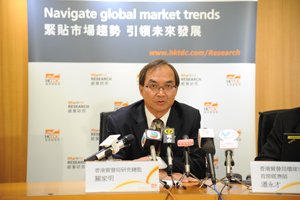 The value of Hong Kong exports is expected to grow by three per cent next year, according to the Hong Kong Trade Development Council's (HKTDC) latest forecast. The growth will be driven by increased export volume, while unit value is expected to remain unchanged from 2014.

HKTDC Director of Research Nicholas Kwan said that Hong Kong exports would increase moderately in 2015, benefiting from a mild improvement of the world economy. "In volume terms, Hong Kong exports are projected to expand at a faster rate, a testament to stronger overseas demand for a number of Hong Kong products," said Mr Kwan.

He added that softening oil and commodity prices would help the global recovery, while falling raw material prices, coupled with continued consumer conservatism, should ease the upward pressure on the unit values of Hong Kong exports. "Importers and retailers maintain their cautiousness in terms of order size, lead time and pricing," Mr Kwan said. "It would be difficult for Hong Kong manufacturers to raise prices. Evidently, the recent protests in Hong Kong have yet to show any lasting impact on the order placement and sourcing practices of overseas buyers."

Further Growth in Emerging Markets
Mr Kwan highlighted opportunities brought on by this year's rapid growth in Asian trade. In the first 10 months of the year, Hong Kong exports to the ASEAN region jumped 8.3 per cent. "Outside developing Asia, other emerging markets fared even better, with exports to Africa surging 34 per cent, the Middle East 23 per cent, emerging Europe up some 10 per cent and Latin America also rising 10 per cent," Mr Kwan said. Product-wise, electronics exports grew by six per cent year-on-year, while timepieces and jewellery increased six per cent and three per cent respectively.

Hong Kong's exports to emerging markets will rise further in 2015, according to Mr Kwan. "The launch of the ASEAN Economic Community by the end of 2015 – with more than 600 million consumers in this single market – creates new opportunities for Hong Kong exporters," he said.

Mr Kwan added that Indonesia, Myanmar, Vietnam and India have the greatest potential among emerging Asian countries, while the outlook for Brazil and Mexico is better than other economies in Latin America. In emerging Europe, Poland, Hungary, the Czech Republic and Turkey are outperforming other countries."And for the Middle East and North Africa, Hong Kong exporters should leverage Dubai's entrenched role as a regional trading hub to attract buyers and importers in the region," Mr Kwan said.
Mixed Outlook for Mature Markets
The global economic recovery is forecast to remain modest and uneven in 2015. "Among the developed economies, the US is expected to lead the pack, with growth momentum largely underpinned by falling unemployment, steady payroll gains, an improving housing market, better household balance sheets, and stronger consumer confidence," Mr Kwan said. In contrast, the Eurozone is unlikely to improve significantly due to lingering high jobless rates, tight budgets and sustained de-leveraging pressures across the region.

Mr Kwan said the United Kingdom should see more solid growth momentum, with demand reinforced by improving employment figures and a strong property market. In Japan, Abenomics will enter a critical phase in 2015. Structural reforms will need to sustain the initial recovery momentum unleashed by aggressive monetary easing and fiscal stimulus. He noted that the impact of a weakening yen remains unclear.
Sector Sales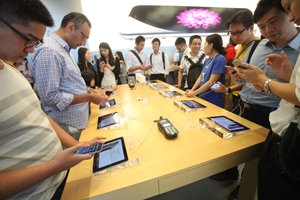 Looking at various industry sectors, electronics, which account for some 60 per cent of Hong Kong's total exports, will remain the engine for growth amid the prevalence of smart devices, particularly consumer wearables. According to an onsite survey at the HKTDC Hong Kong Electronics Fair (Autumn Edition) in October, 92 per cent of buyers and 90 per cent of exhibitors said they expect sales to increase or remain unchanged in 2015.

Sales of higher-end watches and clocks are projected to perform somewhat better on the back of a healthier consumer appetite, while demand for less expensive items, such as fashion watches, should hold up amid continued cost-conscious spending. "Spurred by the growing popularity of wearable technology, there are also decent sales prospects for smart watches that can link up with a smart phone, track a person's movement, as well as measure health signs," Mr Kwan said.
As with timepieces, consumer appetite for jewellery will strengthen as the global economy rides out the headwinds. While likely securing more orders, Hong Kong exporters will have to contend with fluctuating costs of precious stones and metals.

While consumers gradually resume spending on fashion apparel, the spotlight will likely stay on items that offer comfort, function and value-for-money. The rise of emerging production bases, including Bangladesh, Indonesia, Vietnam, Cambodia and Myanmar, will continue to bring new challenges to Hong Kong clothing manufacturers.

Improving economic conditions in overseas markets will stimulate toy sales. While the booming online games sector remains a huge and growing competitor, smart toys and educational playthings are highly sought after. "As Hong Kong manufacturers are deemed more capable of meeting the stringent overseas regulatory requirements on toy safety, sourcing from other production bases is less likely," Mr Kwan said.
Medium Term Optimism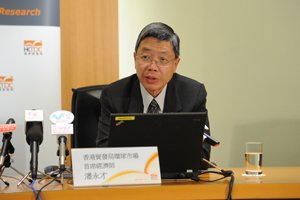 The HKTDC also unveiled its Hong Kong Export Index for the fourth quarter of 2014. The index, which measures exporter confidence, dropped 3.5 points to 38.5. The HKTDC's Principal Economist (Global Research) Daniel Poon, said the Export Index's dipping below the 50-point line, the level between expansion and contraction, indicates that enterprises are pessimistic about Hong Kong exports in the short term.

While the index for various industries fell in the fourth quarter of 2014, pessimism among the jewellery and machinery sectors was relatively milder, with index ratings of 42.8 and 42 respectively. Among the major markets, exporter confidence in the US, the EU and Japan dropped slightly, while sentiment towards the Chinese mainland slightly improved compared to the previous quarter.

Mr Poon added that the trade value index edged down from 56.2 in the first quarter of 2014 to 48.7 in the fourth quarter, indicating a drop in unit prices, especially clothing. In addition, the procurement index also fell to 46.7. It's the second consecutive quarterly decline below the 50 mark, reflecting continuing negative procurement sentiment.

Hong Kong exporters, however, are more optimistic about the medium term. "For 2015 as a whole, 73 per cent of respondents expect their sales to increase or remain unchanged," said Mr Poon.
Electronics & Electrical Appliances
Toys & Games