https://hkmb.hktdc.com/en/1X0A0G7H
Franchising Opportunities: The Provision of Professional Services
Hong Kong services providers can offer an array of professional services for the franchising industry. For decades, Hong Kong has played an important role as a facilitator or middleman for China's external economic relations. Hong Kong should extend its advantages to the arena of franchising by providing integrated professional services that are closely aligned with the needs of international franchising.

According to an HKTDC survey of 70 international franchisors, the services that international franchising requires the most are, in descending order, accounting/tax services (85%), legal services (76%), market/customer research (66%), localisation of products (53%), franchise brokerage (51%) and importing products and raw materials (51%). The findings echo with the opinions expressed by the respondents in the in-depth interviews. Availability of these professional services in a country will ultimately determine how well it can compete in the global franchising game.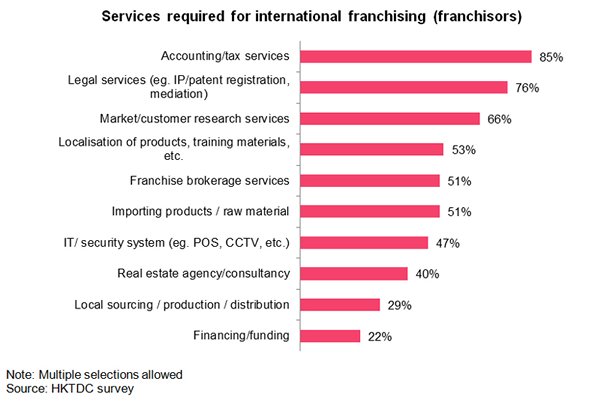 The creation and management of franchises require different types of knowledge. Franchising is a professional discipline similar to accounting and financial planning that requires rigorous training. Industry players who are interested in providing professional services relating to international franchising are recommended to take the relevant courses and obtain the qualifications such as the internationally recognised Certificate Franchise Executive Program (CFE).
In many cases, franchisors would consult franchise consultants, who help validate the business models, form strategies, provide guidance through the brand promotion practices and recruit suitable franchisees, etc. Franchisees may also seek advice from franchise consultants on reviewing and evaluating the franchise business before buying. The demand for franchise consultants is expected to increase when there are more franchise opportunities in the region.
All services in one place

Anytime Fitness frequently ranks as the world's top franchise system owing to its fast growth and profitability. Today, Anytime Fitness has a membership base of more than two million and this number is growing every day!

Anytime Fitness' worldwide network builds on an innovative business model, which allows its members to exercise in a safe and secure environment on a 24-hour basis. The application of proprietary access software, security and surveillance technology including remote monitoring of a closed circuit television system and personal safety devices enables members to feel safe even when the club is not staffed. In addition, its member check-in software is fully integrated with onsite security systems.

John Phillips, Director of Anytime Fitness Hong Kong, is responsible for business development in Hong Kong. He moved to the city from Australia in early 2014 and now regards Hong Kong as home. He is very impressed with the vibrancy and entrepreneurial spirit of Hong Kong – everything that needs to be done can be done efficiently and professionally.

In order to develop effective franchisee support which includes site selection and lease negotiation, the club design and build-out, security and surveillance systems as well as branding and marketing support, Phillips needs an array of professional services locally – information technology, data management, accounting, real estate brokerage, design, construction and equipment supply, etc. He is very pleased that Hong Kong has all these services available in one place. Equally important, the law is upheld in Hong Kong and people are accountable to it.

Phillips has already been approached by a number of interested investors with deep pockets and business acumen. He is very confident that he can build a successful franchise system in Hong Kong.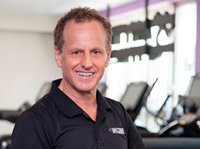 Hong Kong
Southeast Asia