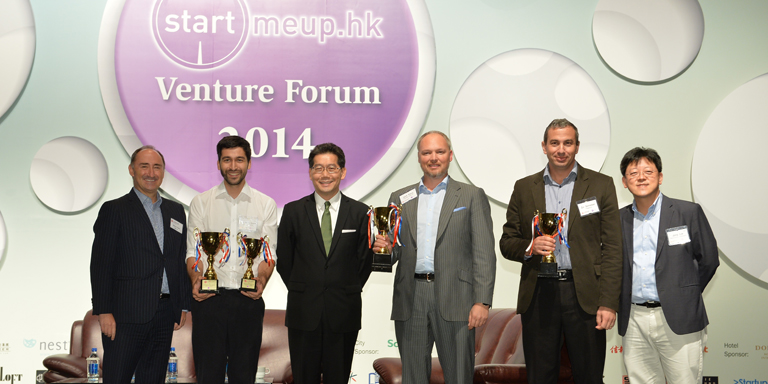 https://hkmb.hktdc.com/en/1X0A0EQ4
Winning Start-ups Show the Way
Problem-solving start-ups from around the world have been honoured in Hong Kong's innovative venture programme.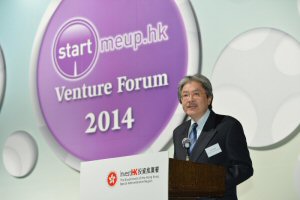 Five budding entrepreneurs from Hong Kong, the United Kingdom and the United States have been named champions of the 2014 StartmeupHK Venture Programme, a global business start-up competition, which salutes innovation.

The winners receive a range of business support in the form of free professional services, mentoring and work space provided by corporate sponsors; prizes worth about HK$5 million.

Now in its second year, the programme seeks to raise awareness of Hong Kong's potential as Asia's leading hub of entrepreneurship and innovation. Designed and staged by InvestHK, the competition drew 550 entries from 47 economies this year, up from 384 entries from 39 economies in 2013.
Twelve finalists were selected last month to attend the StartmeupHK Venture Forum 2014, where they underwent two final rounds of pitching in front of judges and forum attendees. The three Grand Award winners were Freightos of Hong Kong, Perseus Telecom of the US, and Scoutbots Ltd of Hong Kong. Scoutbots also scooped a second award for Data Analytics, while Seevider, a US company, was the SmartCity Award winner, and the UK's Easy Finance won the FinTech Award.
Environmental Endeavour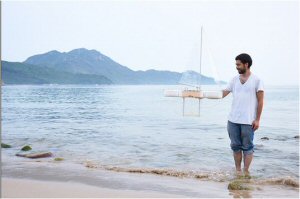 Scoutbots' founder Cesar Harada, a French-born environmentalist who invents sailing drones to clean up the world's oceans, says it is particularly exciting that a small company of just two full-time staff – the only social enterprise among the 12 finalists – has been honoured.

"For us, it is telling that the Hong Kong Government is really interested in supporting environmental ventures, and that is very exciting. It shows that Hong Kong is not only a hub for finance, IP, software, but also a great place for new types of hardware. As a social enterprise, we want to champion that," said Mr Harada.
Ocean Robotics

The catalyst was the devastating BP oil spill in the Gulf of Mexico in 2010, where conventional clean-up methods proved ineffective for the task. His work thus far has been financed via a mixture of self-funding, private investment, crowd-funding and US$100,000 in prize money from the 2013 Ocean Exchange Award.

"Protei is a low-cost open-source oil-collecting robot that autonomously sails upwind, intercepting oil sheens going downwind," Mr Harada explained. Whereas existing oil-absorbent boom technology was able to collect only three per cent of the BP oil spill, a fleet of many Protei would work automatically as a swarm, the rudderless hull "bending like a fish" exposing both sides of the boat to the wind, so it can tack faster while pulling more payload of oil sorbent to clean up the spill. "It's a totally new way of sailing," he said.

Built in Rotterdam, Netherlands, Protei version 006 was "very much a sailing rocket with a sail": a three-metre unmanned vessel capable of pulling 25 metres of oil boom, Mr Harada said. "Other pollutants such as plastic debris are being studied to be collected in the future."

Looking for a permanent home for his fledgling company, Mr Harada toured the world on a "floating university," the research ship Unreasonable at Sea, visiting ports and meeting authorities and potential investors.

Hong Kong, he decided, had "the best port in the world" for ocean robotics, with Shenzhen just across the border, and ocean all around.

"It is easy to test boats in Hong Kong waters, to raise capital, and export our boats efficiently – all the components our company needs," Mr Harada said. With Asia developing so rapidly, placing its oceans under stress, it also made sense for a problem-solver like Scoutbot to be centrally located.


Connecting Business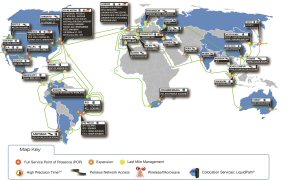 Headquartered in New York City, Perseus Telecom was founded in 2010 and has 73 employees. The company provides managed services for high-speed connectivity to financial services, gaming, telecoms, media, technology, gaming and other online providers.
CEO Jock Percy said the company offers faster, more direct, responsive, and globally networked connectivity to a growing range of innovative businesses, including some of the world's largest e-commerce companies.
"Asia is becoming increasingly important to our global customer base and, as a result, is a strategic beachhead for our services," said Dr Percy. Hong Kong, the ideal platform for Perseus Telecom's regional expansion, is one of the world's most international centres with a high level of financial and technology expertise and experience, he said. "In addition, it has a dynamic and entrepreneurial approach to business, which fits well with the Perseus brand."
Apart from the services being provided to Perseus as a result of winning this award, Dr Percy said, the prestige associated with it "will be invaluable in building business relationships in the region." He is "extremely grateful" to the Hong Kong Government, InvestHK and the StartmeupHK programme for recognising the young US firm. "We are committed to doing business in the region and look forward to building and growing many long and rewarding relationships in the years ahead."
Global Trade Solution
Freightos, a logistics technology start-up, was founded by Zvi Schreiber, an Israeli entrepreneur, in early 2012. Although he still lives in Israel, Dr Schreiber chose to establish the business in Hong Kong because it is "the best place for us."

"So much of the world's trade is going through Hong Kong and China, so Hong Kong was a good location in that respect," said Dr Schreiber, the company's CEO. "The city is also a good place to incorporate [our business] as the legal, financial and tax systems are all favourable."

Freightos addresses a gap in the world of international cargo – a vast industry worth about US$1 trillion annually, shipping goods worth US$19 trillion.

"It's a vast industry but very old-fashioned – about 15 years behind other industries like passenger travel," Dr Schreiber said.

For years, he explained, airline travellers have been able to get a ticket price instantly, online. This is not the case with quotes for cargo, which still take three days. "Freightos is automating that [process], bringing freight into the 21st century," he said.

Using Freightos' automated systems, freight forwarders can provide their customers with a quote in just three minutes. "In the end, the import/export company can do more business as they can get instant transparent prices – it has a big impact on trade."

According to Dr Schreiber, winning a StartmeupHK Grand Award has raised the profile of the young company. "A couple of times I've walked into freight companies in Hong Kong and been congratulated," he said. "The fact that we gained publicity and recognition from the award has helped us to have more credibility with big companies in Hong Kong – and they're the connections that we really want."
Start-up Hub of Asia
InvestHK's Director-General of Investment Promotion, Simon Galpin, said that after two successful competitions and given the tremendous response and high quality of entries, "I believe that Hong Kong's position as one of the fastest growing start-up hubs in Asia has been confirmed."

InvestHK, he said, "will continue to encourage scalable entrepreneurs to come and set up in our city and enjoy its many enduring business advantages, while bringing new skills and ideas to inspire our local community."
Related Links
Freightos
Perseus Telecom
Scoutbots Ltd
StartmeupHK Venture Forum
USA
Israel
Hong Kong
North America
Middle East