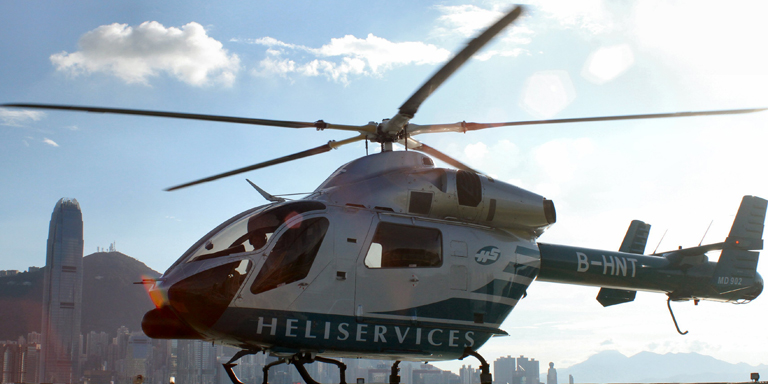 https://hkmb.hktdc.com/en/1X0A0B21
Flying High
A Hong Kong-based aerial service business is spreading its wings to the Chinese mainland, thanks to expertise honed in the city.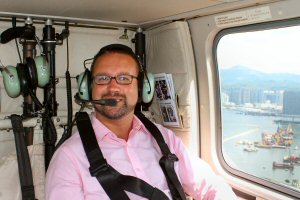 "It was fantastic," says a British tourist couple, who just completed an aerial tour of Hong Kong. "Seeing the Happy Valley racecourse, up through Central; and then around the Peak. It was great."

Local company Heliservices (HK) Ltd is capitalising on Hong Kong's tourism growth by offering visitors a chance to see the city from a unique vantage point. Their tours take customers above Hong Kong's famous skyline and give a bird's eye view rarely seen by tourists.

"Hong Kong is really an exciting city," said Graham Hamilton, Heliservices' Marketing and Safety Manager. "The skyline is absolutely stunning and we want to be in a position to offer something unique to tourists coming to Hong Kong."
The flights are quickly becoming one of the most popular ways to see the city. They traverse Hong Kong's varied landscape, including Victoria Harbour, Sai Kung and many of the mountains, bays and beaches in between. With millions of tourists from the Chinese mainland, Europe, North America and Australasia visiting Hong Kong each year, Mr Hamilton said that tourism is key to the development of the company's business.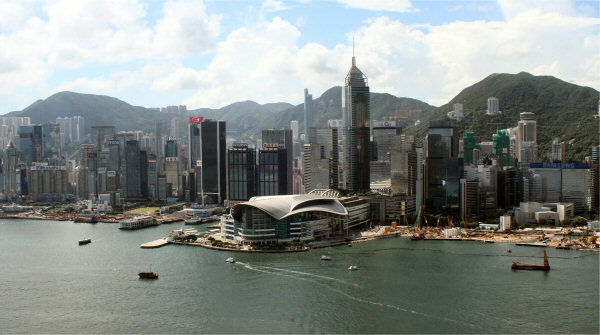 Building Hong Kong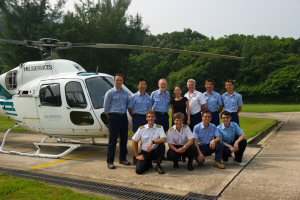 Established in 1978, Heliservices started with one helicopter constructing power lines and delivering materials to remote locations across Hong Kong. As much of the city was inaccessible to ground vehicles, helicopters became the ideal method to transport equipment across the often difficult terrain. "Heliservices literally became the company that built Hong Kong," said Mr Hamilton.

The company has since grown significantly and now features 15 operations staff and 16 engineers. With its fleet of six helicopters including four different models, Heliservices is now involved in the specialised skill of insulator washing and is part of the Super Typhoon project to strengthen the city's many power lines.
Rolling Out the Red Carpet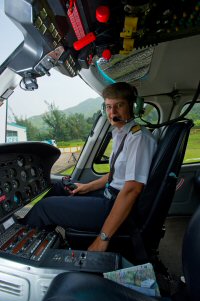 Heliservices has also been enlisted for local aerial filming and photography. The company helped shoot some of Hong Kong's most iconic views for dozens of Hollywood movies, including Tomb Raider 2, The Dark Knight and more recently, Transformers: Age of Extinction. Mr Hamilton expects to see more Hollywood and other international studios filming in Hong Kong due to the city's "unlimited potential" for aerial footage and cinematic backdrops.

Inge Baggaley, a career pilot who has been with Heliservices since 1992, was specifically chosen to work on all three films. Ms Baggaley noted that while film production crews often bring their own helicopter pilots who are "good at looking at the world through the eye of the camera," local captains, she said, play a crucial role during this stage. They "basically run the operation overall, making sure the rules in Hong Kong are followed, that the flight is flown safely, and that the helicopter is operated safely," she said.
Aviation Age
While aerial filming and photography have been around for years in Hong Kong, new technological advancements in the industry have opened new avenues for those seeking to capture the city at its best. Unmanned Aerial Vehicles (UAVs), also known as drones, have become an integral tool for photographers and filmmakers.

"We don't see UAVs as a threat, we see them as an opportunity," said Mr Hamilton. "We believe it is a complementary service and the type of business we have is ideally set up to be operating UAVs." With their ability to operate closer to the ground and in more confined spaces, UAVs may offer unparalleled access to a city high-rise buildings, forests and mountains, he added.
Mainland Expansion
Heliservices has also spread its wings to the Chinese mainland, including forming a joint venture with a mainland company. With approximately 200,000 kilometers of power lines running through the mainland that require maintenance, Mr Hamilton believes there is plenty of opportunity across the border for the company to employ its 36 years of knowledge and experience.

But Hong Kong, Mr Hamilton says, will remain the core of its business. "Hong Kong is a hub for world business and for us, we see huge opportunity because we've got people coming from all over the world into Hong Kong to do business," said Mr Hamilton. "There's a lot of big banking and finance going on here. Those types of businesses demand helicopter services and that's why Heliservices is here."
Related Link
Heliservices (HK) Ltd