https://hkmb.hktdc.com/en/1X0A08PN
Boosting Green Tech in China
Government incentives and consumer demand are driving growth in alternative and eco-friendly energy systems on the Chinese mainland.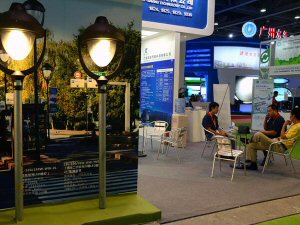 Solar-energy sewage treatment technology, wave power generators and a residual-heat recovery system for compound direct-heating air compressors were some of the highlights at the fourth International (Guangdong) Energy Conservation Expo. The event, staged in September at the Guangzhou Poly World Trade Center, is among the leading showcases for green technology on the Chinese mainland.

Developing and adopting new energy products is the focus in this emerging sector. The expected growth in new energy home appliances expected on the mainland is being driven by environmental and cost-saving considerations, coupled with the Central Government's energy-saving and emissions reduction policies. Some companies at the Expo, however, expressed concern over high manufacturing costs and low market receptiveness in the sector.

Among them was Guangzhou's EBO Environmental Protection Technology Co Ltd, specialists in environmental microbial technology. The company's solar-powered sewage treatment plants are widely used in remote rural areas. Xie Haisong, the company's General Manager, said this uptake is partly due to concerns over unstable power supplies and high manpower requirements.

The use of photovoltaic (PV) modules to convert solar energy into electricity, he says, has several advantages, including local control over production and consumption. This reduces dependence on long-distance power, as well as savings on power transmission and distribution costs.

"The development and utilisation of new energy products is the way forward in light of worsening environmental pollution," said Mr Xie. "Traditional energy supplies are dwindling and the government is now offering incentives for the use of new energy across a variety of sectors." He also predicted that solar energy would be widely used in cars, street lighting, home appliances and other areas in the next 20 years.
Solar Solution
Building-integrated photovoltaics (BIPV) is an emerging concept in solar power application. The innovation focuses on providing integrated solutions for the development and management of renewable energy and has found a number of applications on green buildings, wind-PV hybrid systems, smart emissions reduction and other related technology.

One company at the forefront of BIPV is Jiangmen Goldan Electrical Technology Co Ltd. Marketing representative Huang Xiaomin believes that while alternative energy has strong potential, there are challenges to widely adopting the technology across the country.

First, government support is required to encourage development, cut costs and increase consumer receptiveness. In line with this, Goldan plans to build a 24,000- square- metre "zero-energy building experience zone" as a demonstration project in 2015. The zone will feature a BIPV structure, while PV software will be installed on the building's surface, supplying electricity for the PV-tile rooftop, PV curtain wall and PV glass skylight. All of the home appliances will be solar-powered, creating a self-sufficient unit.

"We estimate this demo offers 30 per cent higher savings than any solutions presented by our peers," said Mr Huang. "It can supply sustainable and stable clean energy to manufacturers, commerce, agriculture and residential areas."

Many companies emphasise that efficient energy-saving products must be used in conjunction with green power generation, to achieve true low-carbon environmental protection. "In the case of household lighting, for instance, incandescent light bulbs generate 95 per cent heat and just five per cent light," said Deng Hongyong, a Sales Engineer with Foshan SMC Multi-Media Products Co Ltd. "A seven-watt LED bulb is equivalent to a 60-watt incandescent bulb, but reduces electricity usage by around 85 per cent, while having a life span of 40,000 hours." As the new energy industry matures, he believes, fresh opportunities will open up for the home appliance and energy-saving products industry.
Playing the Low-Carbon Card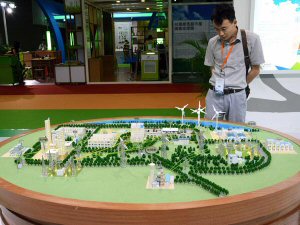 Low-carbon and energy-saving home appliances are increasingly popular among consumers. Many exhibitors focused on environmentally-friendly new energy products, with manufacturers keen to emphasise their green credentials.
Zhongshan Weifeng Electrical Co, for instance, promoted its patented heat recovery water heater, a system that can recycle hot water in bathroom drains by extracting the residual heat and warming up cold water. This water can also be used when flushing toilets.

"Only 20 per cent of the heat energy is used when we take a bath or wash our hands and 80 per cent of the heat energy and water is wasted," said Yu Fuqi, the company's Assistant General Manager for Sales. Weifeng's heat recovery system, he said, has an energy efficiency ratio of 5.42, making it one of the most efficient heating systems on the market. It also reduces harmful gas emissions and the prevalence of dust.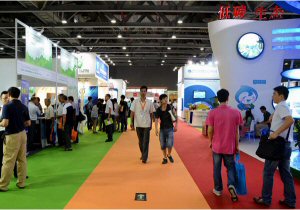 The heat recovery sector is also the mainstay of Guangdong Shunde Hynov Energy Science and Technology Co, with its principal focus on R&D, production and the marketing of industrial residual heat recovery systems. Its residual heat recovery system for compound direct heating air compressors requires no circulating pump or water tank. Cold water enters the device after passing through the pressure pump and the cold water absorbs the residual heat of the compressed air. This pre-heated water can then be raised to the desired temperature, reaching a temperature of above 60°C, sufficient for the needs of most domestic users.

According to Ru Zhuojun, a Senior Manager with Shunde Hynov, energy use efficiency across the mainland is about 33 per cent, some 10 per cent lower than in developed countries, with at least 50 per cent of industrial energy consumption wasted through various forms of residual heat.
Another company keen to harness this potential is Zhejiang AMA & Hien Technology Co, which manufactures air source heat pump water heaters. According to the company, its technology works on the principle of heat pumps that absorb low heat energy in the water, which is then compressed into high-temperature gas by a heat exchanger that heats up the water.

The device has an energy efficiency ratio of 4.5 and consumes a quarter of the electricity used by electric water heaters. As the heater has no electric heating element and no direct contact with the water, it is more efficient and safer. It also avoids the problem of leakage, reducing the likelihood of accidents. As they are not solar-powered, they can be used both indoors and outside, and is being widely used in developed countries.
Kinetic Power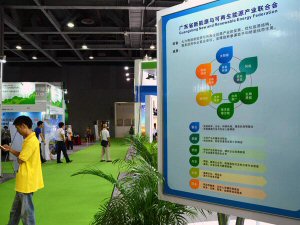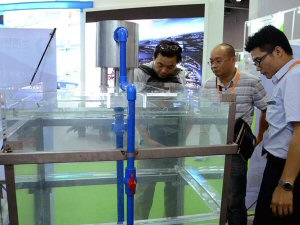 Another area that has seen strong growth is kinetic energy conservation. Guangzhou EBO Environmental Protection Technology Co has developed a siphon pulse water distributor for anoxic hydrolysis acidification in sewage treatment. The company's system uses fast- flowing water in siphons to remove air in the main pipeline and create a vacuum. Under atmospheric pressure, both inside and outside the pipe, the water flows into the main pipe and drains into a pool, stirring up the sludge and enabling anaerobic organisms to mix with organic matter in sewage-contaminated water. The constant input of water and instantaneous drainage results in a cyclical pulsed supply into the sewage treatment pool.

EBO's General Manager Xie Haisong said pulse water distributors are more efficient and consume less energy than submerged agitators. This is largely because the entire siphon distribution process is enabled by water pressure without any energy used, except to increase the flow of water. Zero-energy is required if solar power is used.
For more market opportunities, please visit: http://research.hktdc.com/
Hong Kong
Mainland China