https://hkmb.hktdc.com/en/1X0A05UR
Capitalising on China's Character Licensing Market
Practical Tips from Jonathan So, the creator of Pleasant Goat
In 2013, China's total retail value of licensing products was US$5.5 billion, ranking it sixth in the world. This was up 9.2% from 2012, a much higher growth rate than both the global average of 1.7% and the overall Asian growth rate of 3.2%.[1]
Jonathan So, Chief Executive of the Wing Lok Innovative Education Organisation, is one of the mainland's growing number of licensing entrepreneurs. In 1979, his family set up a toy factory in Nantong, Jiangsu, as an OEM manufacturer producing toys for foreign brands. In 2003, he created the Chinese animation series Pleasant Goat and Big Big Wolf, with Pleasant Goat going on to become a household name. Here he shares his views on successfully using cartoon characters to tap into China's brand licensing market and discusses the licensing development trends across the mainland.
Joint Promotions with Licensees
Pleasant Goat: the musical
The TV cartoon series Pleasant Goat debuted in China in 2005. To date, 1,200 episodes have been aired on 80 TV channels nationwide, with the gross box office of the eight Pleasant Goat movies now exceeding Rmb1.1 billion. In addition, over 70 million copies of related comics have been published. A tie-up with Walt Disney saw Pleasant Goat aired in 17 languages in 52 countries. The core Pleasant Goat business covers publishing, television and films. Pleasant Goat carnivals and musicals have also been staged in a number of different Chinese cities, building additional awareness of the Pleasant Goat brand and its associated products. As owner and licensor of the brand, So has looked to work closely with the licensees with regard to all of these promotional activities. He has also assisted the licensees in nurturing the brand image and opening up the retail market, while looking to work closely with them to the benefit of both parties.
Brand Licensing Focussed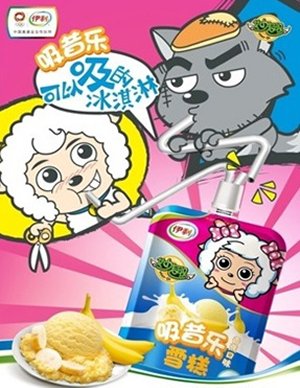 Character licensing on food and beverage packaging.
As his focus is in the brand-licensing sector, he has looked to concentrate on brand building and increasing the added-value of his company's brands, while leaving the production and marketing aspects of the business to the licensees. When he launched his business in 2004, few people in China had a clear idea as to what brand licensing actually was. After successfully building the brand over a number of years, Pleasant Goat now has more than 300 licensees across a wide range of products, including food and beverages, books, furniture, toys, DVD/VCDs, and stationery. Overall, food and beverage-related products are the best performing. With 5,000-10,000 points of sale in supermarkets and convenience stores nationwide, for example, Mengniu and Yili, two dairy licensees, can quickly promote the Pleasant Goat characters across the country.
According to So, China's toy licensing business still has to contend with problems of piracy and infringement. As the sales network for Pleasant Goat toys is still not well-established, toy licensing is not its most successful licensed property. In addition to Pleasant Goat, So said his company has also developed a number of other brands in order to expand its licensing business.
Animation's Cultural Cross-over
Currently, So is seeking to promote the development of cultural industries, including cultural education, cultural tourism and cultural parks, through publishing, television and movies. This initiative has seen his company extending the use of its animated characters from beyond the television screen and into shopping centres, museums and theme parks as a means of increasing the footfall in shopping venues and tourist attractions.
A number of overseas animation brands are also looking to expand into the mainland market, but have yet to reach a consensus with local firms on various aspects of brand licensing. Hong Kong companies can often act as a bridge between overseas and mainland companies in this regard. At the Beijing Auto Show, held at the Beijing National Aquatics Center in April 2014, for example, So's company was licensed to display a Transformer 4 model as part of a promotion for the Chevrolet Cruze. The use of animation brands at exhibitions is something that is becoming more and more diversified. In addition to displays of models, there are also experiential halls for interactive games, shops for spin-off products, exhibitions of props and children's educational resources.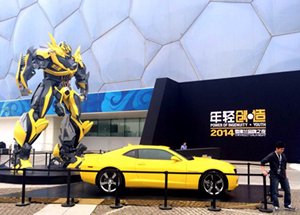 Chevrolet at 2014 Beijing Auto Show.
So has been actively involved in the development of teaching apps in recent years, a move spurred by the extensive use of tablet PC s in children's education. He began his cooperation with the Ministry of Education and Ministry of Culture in 2009 with his company now developing animated apps as a lively and interactive means of teaching, ensuring children can have fun while learning something new. The apps target children of 3-6 years of age, with modules relating to Chinese culture, Chinese language, English, mathematics, science and technology, fitness and health, art, character development and education.
China's Animation Brand Licensing: The Current Situation
The value of any brand stems from its ability to increase people's awareness of the associated products or services, induce consumers to buy and, ultimately, its success in bringing additional sales/profit growth. A valuable brand can generate considerable economic value for the licensor and increase the value-added nature of the product or service for the licensee.
According to So, mainland brands account for 25% of the animation licensing business, with the remaining 75% controlled by foreign brands. Chinese cartoon brands still lack competitiveness in market positioning and consumer awareness when compared with foreign brands. It is believed that the business will have great potential for development as China's animation brand licensing becomes increasingly professional.
---
[1] International Licensing: A Status Report 2014
Licensing
Toys & Games
Mainland China
Mainland China