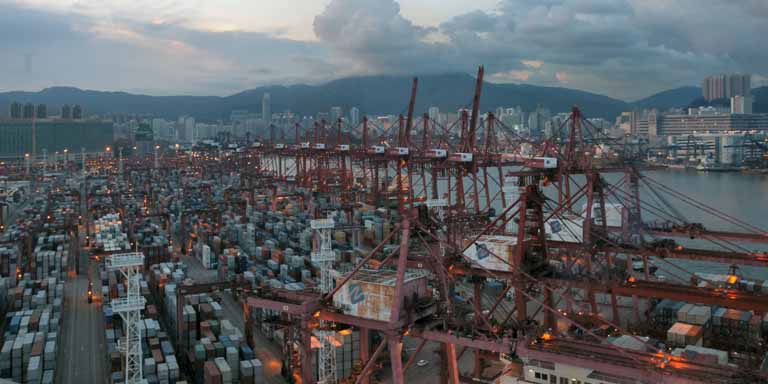 https://hkmb.hktdc.com/en/1X0A05F6
Moving with the Times
Rising inter-regional trade and continued growth of e-commerce are reshaping Asia's supply chain.
More than 1,600 business leaders from over 30 countries and regions attended the fourth edition of the Asian Logistics and Maritime Conference in Hong Kong this week
Globalisation of both big and small business has fueled growth in the logistics industry. The more recent trend of rising regional trade is further reshaping the global supply chain.

Nowhere is this development more apparent than in Asia, according to participants at the Asian Logistics and Maritime Conference, held this week in Hong Kong. Organised by the Hong Kong Trade Development Council and the Hong Kong SAR Government, the fourth edition attracted more than 1,600 business leaders from over 30 countries and regions.

"These are certainly exciting times in Asia," said Dr Karen Reddington, Regional Vice President, FedEX Express, South Pacific, who was among the guest speakers at the plenary session on "Navigating the New Competitive Landscape." She noted the plethora of free trade agreements in the region, including this week's signing of a free trade deal between China and Australia.

That trend is making the global supply chain increasingly regional, according to Hubert Escaith, Chief Statistician of the World Trade Organization. Mr Escaith said the regionalisation of supply chains is due to increased market risks, the growth of new markets and environmental concerns.

Emerging markets, he said, are fueling demand for new ways of distribution, particularly inland. The future, he said, will be that of a market of smaller volumes with higher risk.
Small-Package Business
The main catalyst to growth in the logistics industry is the explosion of e-commerce. Henry Tan, CEO of Hong Kong-listed Luen Thai Holdings Ltd, cited a Morgan Stanley report showing that e-commerce is projected to become a US$2.17 trillion industry by 2018, with China accounting for half of that. He noted that small-package shipping will replace container shipping. China's shifting role, from of a manufacturer to a consumer and innovating society, is further changing the logistics industry.

Ms Reddington cited as an example Shenzhen, where mobile phone makers can immediately sell their innovations on the streets and get instant feedback. These innovators, she said, will seek to sell in the global market, creating new opportunities for the logistics industry.
Several speakers cited the September listing in the United States of Chinese online retail giant Alibaba as a new era in e-commerce, in which Chinese operators are expanding beyond China.
China e-commerce Boom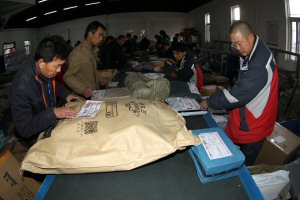 Cross-border e-commerce currently represents 14 percent of the Chinese mainland's good trade (photo: EyePress)

While Chinese consumers have already shown a strong appetite for online shopping, experts predict it only represents the tip of the iceberg.

"Online retail is 10 per cent of China's total retail sales as of 2014," said George Li, Group Vice President of SF Express, the mainland's largest private express delivery company. "But low penetration among Internet and smart-device users and SMEs means bigger opportunities for e-commerce going forward."

He cited food and health as the fastest-growing sectors in mainland e-commerce, with the country's three-largest players, Baidu, Alibaba and Tencent, building their own online-to-offline systems.

The Chinese e-commerce holiday on 11 November (11-11), also known as Single's Day, has become the world's biggest online shopping event. This year was a huge success for Alibaba, which achieved a record US$9.3 billion in sales in one day.

Cross-border e-commerce, which was introduced in six mainland cities in 2013, currently represents14 per cent of the mainland's goods trade. "The government plans to develop a rulebook and standardise cross-border e-commerce," said Ai Qing, General Manager of Igetmall, a leading mainland one-shop ground service provider for cross-border e-commerce in western China.
Hong Kong Advantage
As a free port, Hong Kong's role in facilitating China's cross-border e-commerce is crucial. "Hong Kong remains the preferred location to reach the rest of Asia," said John Geng, Senior Vice President of LF Logistics (China) Co Ltd. Hong Kong, he said, may face challenges when it comes to infrastructure cost, but this can be offset through cooperation with Shenzhen.

Ms Ai said Hong Kong can capitalise on two opportunities going forward; by establishing direct air cargo links with Chongqing, and by becoming an overseas stock-keeping warehouse for mainland business.
Maritime Overcapacity
But while freight forwarders have been the winners in the e-commerce era, shipping liners have fallen behind.

Continuing overcapacity, brought on by the trend of upgrading to larger vessels, has kept shipping rates low. Junichiro Ikeda, Director and Senior Managing Executive Officer of Mitsui, OSK Lines, projected container cargo capacity will keep growing at seven per cent until 2016, when it will drop to three per cent until 2020.

Echoing those projections, Martin Stopford, President of Clarkson Research Services Ltd, said the current cycle will continue until 2021. Mr Stopford noted, however, that the recession has been dynamic, with some spikes, including last autumn. He also noted that "most of the best business in shipping was set up in the midst of a recession."

With the market stuck in a long cycle of low returns, experts said it was time for the industry to think of new ways to run the business. Paul Dewberry, Head of Asia-Pacific Transportation Research at Bank of America Merrill Lynch, pointed out that even small liners are upgrading to megaships, worsening oversupply. The industry, he said, needs consolidating.

"Given that price dominates now, the cheapest line will be most popular," he said. But he added that customers would need to decide "whether price was the ultimate goal or whether the quality of service was as well."
Connectivity Counts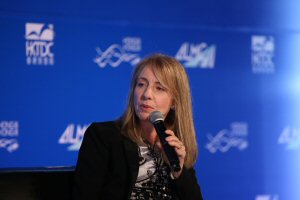 Karen Reddington, Regional Vice President, FedEX Express, South Pacific
To ensure continued growth in the sector, experts emphasised the importance of connectivity. Dr Reddington said that ease of movement ensures that trade doesn't merely grow but thrives.
"Hong Kong is a city built on a lifeblood which is trade, and the city can only flourish if it's governed by connectivity." She added: "We see the future as bright, but the future can only flourish if we support global connectivity, and Hong Kong gets this like nowhere else."
Related Link
Asian Logistics and Maritime Conference (ALMC)
Hong Kong
Mainland China