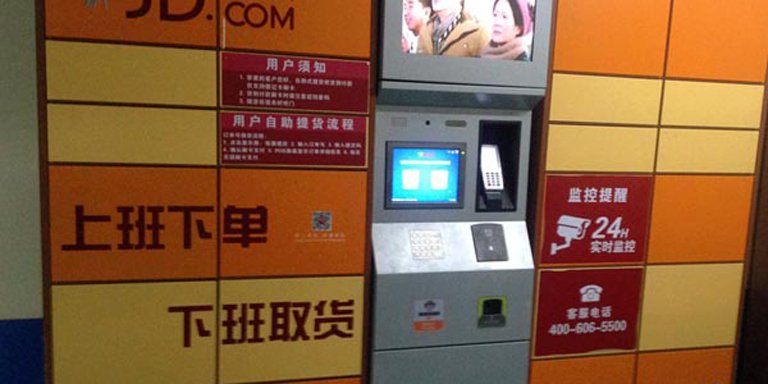 https://hkmb.hktdc.com/en/1X09ZVYH
Smart Lockers
"Intelligent" high-tech parcel delivery lockers may provide the solution for the current shortage in delivery services across the Chinese mainland.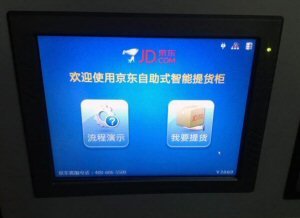 The explosive growth in e-commerce has created huge demand for express delivery services, putting a strain on recruitment and labour costs in the sector. At the same time, delivery to remote areas and second-attempt deliveries have proven increasingly challenging for companies in China. As a result, a new self-pickup solution has emerged in the form of "intelligent" high-tech parcel delivery lockers.

These smart lockers automatically generate a unique collection code, which is texted to the intended recipient who can then collect the parcel anytime.
Amazon Locker
Several communities and schools in Beijing have adopted this smart parcel-delivery system, introduced in July. "To date, we have found that they are very safe," said one parcel locker manager at the University of Chemical Technology. "When picking up the shipment, the collector needs to provide the locker number, password, phone number and recipient name. Only then can the doors be opened, avoiding any possibility of misrepresentation or error."
Similar intelligent kiosks were launched in the United States a year ago. Amazon, which has a 30 per cent e-market share in the US, launched the Amazon Locker in convenience stores and drugstores across the country. The lockers have also been successfully introduced in Canada.

The introduction of these lockers has cut the number of delivery personnel, trimmed companies' distribution cost, and improved delivery efficiency by more than 50 per cent. In the Chinese market, the concept will be rolled out across second- and third-tier cities in the near future.

Competing Companies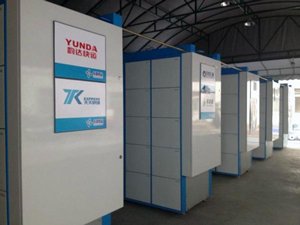 JD.com was the first e-commerce company on the mainland to introduce the large-scale use of intelligent parcel lockers. In August 2012, the e-commerce company's self-pickup service officially went live, allowing users who paid by credit card to collect their purchase via the facility. Subsequently, JD collaborated with several convenience stores to establish additional pick-up points. The company now has 600 pick-up facilities, with the number expected to increase to more than 2,000 by the end of the year. When a consumer places an order at JD.com, the system generates data regarding order details, logistics and self-pickup arrangements. The whole process is a "closed loop system" with every aspect controlled by JD, guaranteeing efficiency and security.
JD's self-pickup equipment is manufactured by Hangzhou Dongcheng Electronic Company, a specialist manufacturer of electronic lockers. "We are the largest and longest-established specialised manufacturer of intelligent self-pickup lockers on the mainland," said Huang Yuanbiao, Dongcheng's Marketing Director. "Apart from JD, we also supply China Post, having established 45 service points for them in 2013. More are planned for the near future."
Value-added Features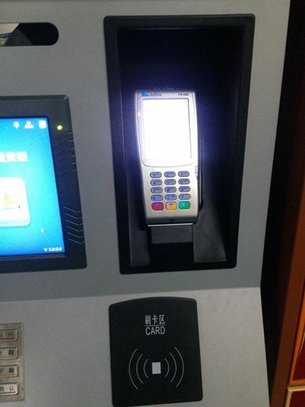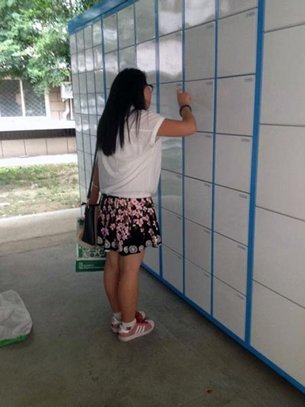 In addition to accepting self-pickup parcels, Dongcheng's intelligent lockers offer a number of other features, including streaming advertising, third-party payment and self-service payment for such activities as mobile phone top-up and settling utility bills. "Intelligent self-pickup lockers can add more features, including community lifestyle information, storage and forwarding, special deals in the local area, coupon printing, direct dispatch and a range of other value-added services," said Mr Huang.
Even though the smart locker concept is relatively new to China, competition is already heating up. The Zhongtuan Yihao [Terminal No.1] service, for instance, was launched by Beijing-based Angel (www.ourangel.cn), offering some 3,000 service points in Beijing, Shanghai and Shenzhen. This community-focused e-commerce company hopes to replace all of its manual service points with intelligent lockers.

Other entrants to the sector include ExBox, a Shanghai-based express delivery company (www.exbox.cn), M6 Fresh of Ningbo, a Ningbo-based fresh food distributor, and Yixinorth Digital Tech, a northwest-based manufacturer. Several general electronics firms have also identified opportunities offered by intelligent kiosks and are looking to enter the market.

Last year, Saitai Electronic Industrial launched its 24-hour self-service network. It now has facilities operating in 1,000 large residential areas, commercial districts, school campuses and office districts in six major cities, including Beijing, Guangzhou and Shanghai. By the end of June 2015, the company hopes to have 12,000 service points in 15 major cities. Currently, its service is free for the first 48 hours, with a late pick-up fee of about Rmb1 a day.
Profit Potential
The express delivery industry is expanding rapidly as labour costs continue to rise – a major factor in the rapid uptake of intelligent parcel lockers. In light of escalating demand, Mr Huang sees widespread adoption of the intelligent kiosk, with spin-off benefits for courier companies, e-commerce players and consumers.

Emphasising the system's security, Mr Huang said: "Cameras are installed at every self-service point. They record the whole delivery process, streamlining any future claim process and facilitating any necessary liaison." He believes the requirement for official receipts will eventually phase out because cash on delivery is comparatively rare on the mainland.
But not everyone sees the introduction of smart lockers as a panacea for the mainland logistics sector. "The key constraint for the development of intelligent express delivery is that charging for them can be very difficult," said Xu Yong, Chief Consultant for cecss.com, an express and logistics website. Mr Xu says one problem is that both the recipient and courier company are unwilling to pay the fees, with the latter particularly disinclined due to already narrow margins.

While some see e-commerce companies owning the lockers as the way forward, others favour collaboration with e-commerce companies via rental arrangements. They also see profits for property owners stemming from selling advertising space on the side of lockers.

Qin Minggang, Marketing Manager of Sposter.net, a Chengdu-based logistics company and locker provider, is among those favouring more innovative solutions. "We only charge courier companies a fraction of one yuan for access to our lockers," said Mr Qin. "This is just a means of regulating their use. With continuous improvements to the delivery solutions, a number of value-added services – including public transportation, mobile phone top-up, advertising opportunities and community finance – can become profitable areas."

For Mr Huang, there are boundless opportunities for market players. "We have developed multi-purpose lockers, including those suitable for fresh food distribution, hot food distribution, frozen food storage and self-service washing. These just scratch the surface of what is possible. We can do a lot more and we'll continue to explore possibilities."

For more market opportunities, please visit: http://research.hktdc.com/
Logistics & Supply Chain
Technology
Hong Kong
Mainland China