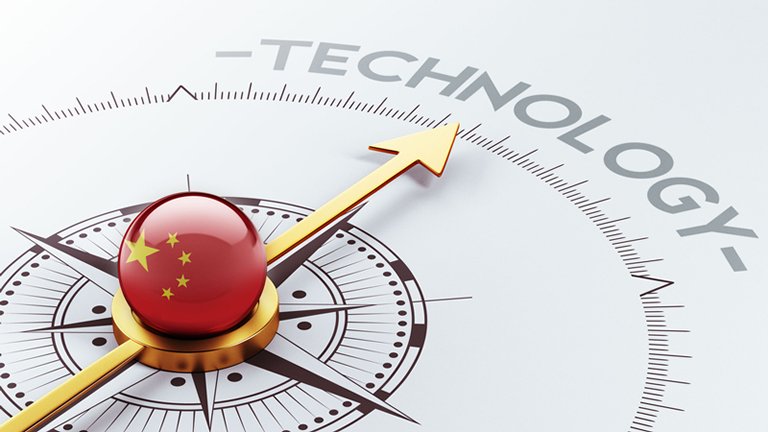 https://hkmb.hktdc.com/en/1X09ZR7K
China's Intellectual Property Development: New Dynamics and Opportunities
China's evolving technology market offers enormous potential for IP trading services and collaborative opportunities.
Technology advancement has played a crucial role in China's industrial transformation over the past few decades. While encouraging technology transfer, China has also placed a sizable emphasis on nurturing home-grown technology through substantial investment in research and development (R&D). China's technology ecosystem has drastically evolved over recent years, resulting in increased levels of patent-related activity. The majority of patents applied for relate to intellectual properties (IP) owned by Chinese enterprises, while those attributed to overseas companies are also showing a rapid increase.
Increased entrepreneurship among inventors and researchers attached to Chinese enterprises and universities has accelerated the expansion of the overall Chinese portfolio of IP assets. At the same time, this increased IP supply has been met with rising demand from those Chinese enterprises seeking to acquire existing patents useful for business development and market expansion. Many of these companies want to strengthen their competitiveness while avoiding the long lead time and risk that is part and parcel of the R&D needed to develop in-house IP.
Apart from being the world's factory and its role in serving the global supply chain, China's middle-class consumer sector has expanded quickly. This segment has driven up demand for a wide array of IP-associated products, including smart electronic gadgets, watches and handbags. Thanks to rising R&D spending and a series of policy initiatives, China became the world's largest IP registrant in 2012 for three types of IP - patents, trademarks and industrial designs.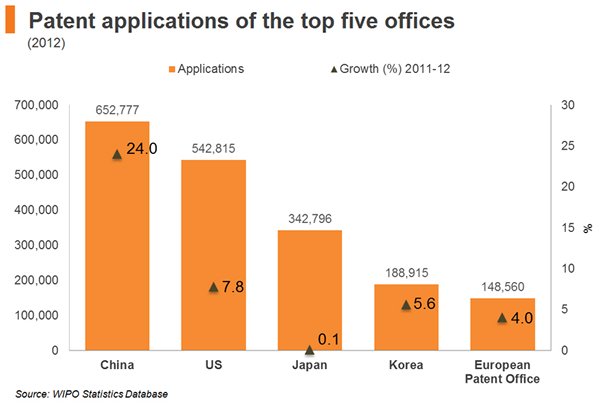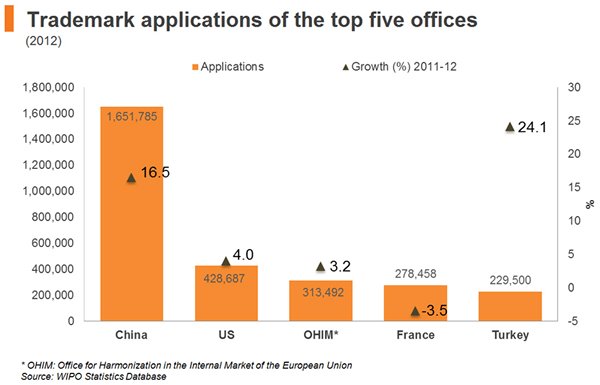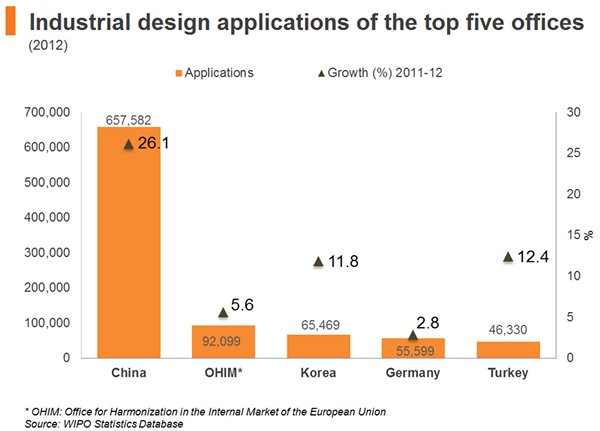 China's continued robust growth in IP filing is the main driver of global IP growth. Among the top 10 patent offices worldwide, the State Intellectual Property Office of China (SIPO) was the only one posting double-digit growth in 2012. Recognising the country's rising status as an IP powerhouse, the World Intellectual Property Organisation (WIPO) opened its first China office (in Beijing) in July 2014. This provides legal and technical assistance on IP matters to government authorities and to related institutions.
Despite the encouraging developments on the IP creation front, the majority of Chinese IP owners still have insufficient know-how and lack of technology transfer experience, as well shortcomings when it comes to marketing new inventions. In this regard, there are enormous opportunities for Hong Kong IP professionals to provide intermediary services for the expanding IP market on the Chinese mainland. Under the terms of CEPA, Hong Kong professionals are allowed to take the National Qualification Examination for Patent Agents on the Chinese mainland. Those who pass are then issued with a Patent Agent Qualification Certificate. Hong Kong professionals with this certificate may then practise in patent agencies on the Chinese mainland.
Government incentives: An essential boost for IP creation
In order to support research collaborations and foreign investment in innovation projects, the Chinese government offers tax incentives as well as a number of funding schemes aimed at helping facilitate foreign technology licensing or joint ventures with Chinese companies. In addition, some local governments provide financial incentives designed to make it attractive for foreign companies to set up R&D offices on the mainland, particularly in their high-tech industrial zones. The Chengdu Hi-tech Industrial Development Zone, for example, was established in 1988 and is now home to more than 1,000 foreign-invested enterprises, including Microsoft, Intel, Siemens and Sony.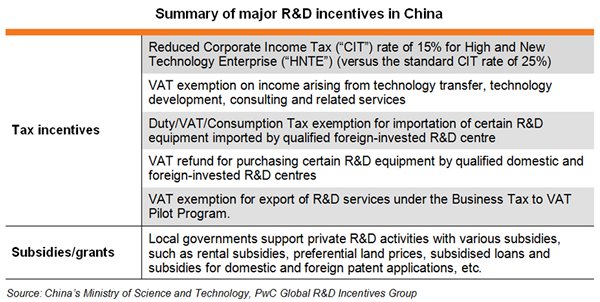 Driven by rapid growth in R&D spending of Chinese enterprises, in 2012 China's R&D intensity [1] (1.98%) surpassed that of the UK (1.73%), Canada (1.69%) and the EU (1.97%). Strong government support for R&D development has resulted in a sharp increase in resident patent filings [2], a major driver of China's becoming the world's largest patent office in 2012. Between 2009-2013, the number of resident-patent applications grew at a compound annual growth rate (CAGR) of 32%. This took it to 704,936 filings in 2013, accounting for 85% of total patent applications for that year - up from a 73% share in 2009.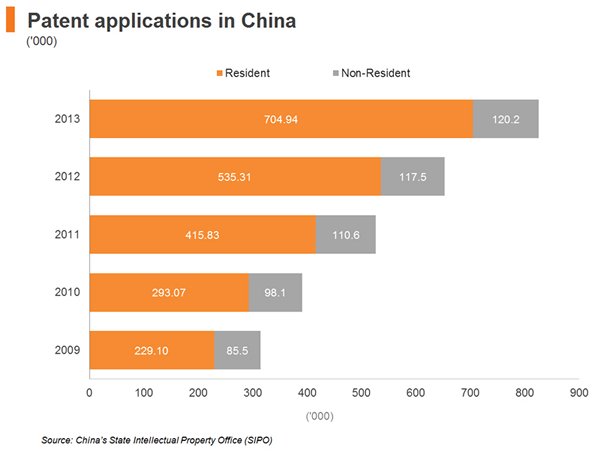 University technology transfer on the rise
Constrained by their limited R&D resources, many small- to medium-sized enterprises (SMEs) in China often rely on external sources of innovation, including local universities, research institutions and overseas organisations. University-industry partnerships in China began as early as the 1950s. Tsinghua University, one of the leading universities in China, was appointed by the Chinese government to establish the country's first research institute in 1956, creating a platform for academic and scientific research projects. In addition, there are numerous applied research institutes, such as the Chinese Academy of Sciences, and more than 100 affiliated research institutes and laboratories that aim to develop innovations for industry and nurture scientific research talent.
At present, technology transfer offices, university science parks and incubators play important roles in transferring technology from universities to industry. Due to strong policy incentives, such as allowing researchers to keep a certain proportion of the earnings from commercialised technologies, university technology transfer and patent applications are on the rise. In 2012, Chinese universities concluded a total of Rmb29.4 billion worth of technology transfers through 58,000 contracts, a growth of 16% year-on-year and accounting for 21% of the national total. Meanwhile, the number of patent applications by universities increased 20% to 78,000 in 2012, accounting for 57% of the country's total.


Commercialisation of university innovation
Tsinghua University is one of the key Chinese institutions engaged in university-industry collaboration and technology transfer, with Mn-bainite steel technology being a prime example. Invented by Tsinghua in 2009, Mn-bainite steel incorporates manganese (Mn) through a cost-effective production process. This technology was licensed to several transportation, mining and construction companies in China and overseas. Mn-bainite steel is now widely used in developing products in the automotive, construction machinery, equipment and railway sectors. Since 2009, more than 10 licensing contracts have been signed with a total value of US$1 million, with future royalties expected through the sale of products by the licensed companies.
Nowadays, universities in China are frequently involved in profit-making scientific or engineering businesses. For instance, Beijing University and Tsinghua University have established more than 60 spin-off enterprises in many sectors, including information technology, environmental technology and biotechnology. A number of these are now listed companies. During 2008-2012, the funding of universities' R&D expenditure by private companies almost doubled, reaching Rmb26 billion in 2012. This accounted for more than one third of the total, indicating a high level of readiness among enterprises to pursue university-industry collaboration.
In view of the continuous improvement in Chinese universities' innovation capabilities, both the private and public sectors are increasingly seeking collaboration with university researchers when it comes to applied technologies, including many cross-border endeavours. The rapid change in China's patent capability and IP ecosystem has created increased business opportunities for Hong Kong companies and professionals.
A Hong Kong IP services provider on the Chinese mainland market
Possessing extensive expertise in the commercial exploitation of scientific research, Hong Kong professionals in technology transfer and IP services providers are capable of providing patenting and consultancy services to the Chinese mainland. For example, Isis Innovation (Hong Kong) - a subsidiary of a UK technology transfer and patent management consultancy owned by Oxford University - has established technology transfer centres via joint ventures with Chinese enterprises on the mainland. With their technology transfer centres set up in Jiangsu and Guangxi provinces, Isis Innovation is able to serve its growing number of Chinese clients and better collaborate with its local partners, including enterprises, local governments and research organisations.
With a view to gaining earlier and wider access to the Chinese technology market, foreign companies are interested in fostering partnerships with Chinese universities, while the latter could benefit from acquiring needed know-how from more advanced countries. In 2013, Tsinghua University established five new joint research centres, tying up deals with Samsung, Daimler, Intel and Microsoft. Tsinghua and Kyoto Universities collaborated even earlier, jointly establishing the Research and Education Centre for Environmental Technology in 2005.
Globalisation of Chinese companies boosting use of PCT system
Patents granted under the Patent Co-operation Treaty (PCT) are often regarded as valuable IP assets for a company. The PCT system, administered by WIPO, enables applicants to seek patent protection for an invention simultaneously in more than 145 member countries by filing a single international patent application instead of filing separate national patent applications, saving both the time and resources of the IP applicants [3]. In 2013, China overtook Germany to become the world's third largest user of the PCT system, with its PCT applications increasing 16% to more than 21,500, accounting for 10% of the world's total. Two Chinese telecommunication companies, ZTE and Huawei, were ranked as the world's second and the third largest PCT applicants.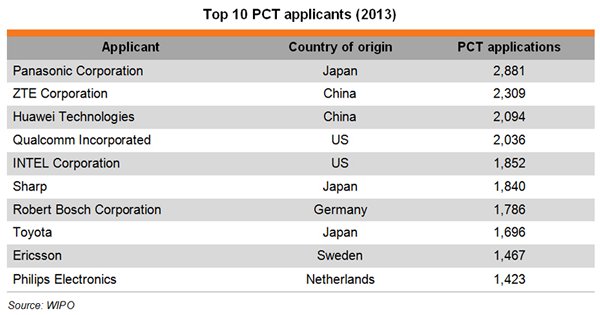 Multinationals, research institutions and universities seeking international patent protection often use PCT. At present, China's PCT conversion ratio is 0.04, meaning that less than 5% of the country's resident applications are converted into PCT applications, compared with the 0.21 for the US and 0.15 for Japan. This implies there is more room for Chinese patent owners to expand their patent protection overseas. Concomitantly, with awareness of PCT among Chinese patent applicants expected to grow over time, there will be greater demand for patent services for PCT applications. As of the end of 2013, there were 8,950 certified patent agents in China, with patent applications numbering more than 820,000 in the year. That means a patent agent would have to handle on average 92 applications a year. This shortfall in patent services represents huge opportunities for Hong Kong patent agencies or IP-related services providers.
ZTE proactively invests in patented technology
ZTE Corporation has been one of the world's top three patent applicants under the Patent Co-operation Treaty (PCT) since 2010, with more than 2,300 PCT filings in 2013, and possessing more than 16,000 patents granted globally. To raise its global competitiveness, ZTE has devoted substantial resources to R&D in many technology sectors, with a view to growing its portfolio of IP assets, and augmenting its flexibility and capability in applying the right mix of underlying technologies for commercialisation, spanning cloud computing, big data and 4G LTE, and next-generation technologies such as 5G.
---
[1] R&D intensity: The ratio of gross domestic expenditures on R&D to GDP
[2] Resident filing: an application filed by an applicant at its national patent office. Non-resident filing: an IP application filed by an applicant at a foreign IP office. For example, an IP application filed at the IP office of China by an applicant residing in the US is considered a non-resident filing for China
[3] For more details about PCT, please refer to WIPO's PCT website: http://www.wipo.int/pct/en/
Legal Services
intellectual property
Mainland China
Hong Kong
Mainland China