https://hkmb.hktdc.com/en/1X09ZPMB
China's Pampered Pet Market
Demand is rapidly outstripping supply for premium pet supplies and services on the Chinese mainland.
Among the beneficiaries of rising disposable income across the Chinese mainland has been the pet-grooming sector. Owners pursue ever more outlandish, expensive and tailored looks for their pets as well as specially-made nameplates and outfits that match their own.

While summer is considered low season for the pet grooming business, this has not been the case in 2014. Research visits to a number of Beijing pet shops uncovered a thriving scene, with many owners keen to give their pets a seasonal new look.

"The owner of a 'teddy bear' dog came in recently and asked if we could trim his pet's hair to match his own," said the store manager of a pet shop in Beijing's Haidian district. "This is very much in keeping with the more sophisticated requests we get these days. We used to provide standard services, but now many clients have their own ideas about the styles they want."

Such requests reached fever pitch during the recent football World Cup, when many grooming salons were asked to transform pets into appropriate "mascots" for fans of various national teams, complete with the necessary perms, fur trims and hair dyes. Other items said to be particularly popular with clients include Chinese lotus flowers and elements of Japanese style.
注意:?使用Flash Player 10.0.0 或以上版本播放此影片。

?

按此

更新。
China's increasing love for pets is fueling demand for better-quality food to keep domestic animals healthy and happy
Unsurprisingly, such bespoke pet grooming comes at a premium, with salons charging for the longer hours involved and the more complex procedures required. Typically, an ordinary summer cut costs about Rmb200, but the price for more customised styling can easily be double that. As for more creative themed looks, such as lotus flowers and World Cup insignias, the cost can be well above Rmb1,000.

According to the owner of a Beijing-based pet store, located in a prosperous neighbourhood near the East Third Ring Road, his customers now spend about Rmb10,000 on pet grooming every year. He estimates that some 20 to 30 per cent of his customers are regular clients, while another 50 to 60 per cent of his trade is derived from those who visit occasionally.

With small-scale pet stores an increasingly common feature in many second and third-tier cities, the concept of specialised pet care is becoming widely accepted across the mainland. Despite this growth, however, the number of such stores and the quality of service on offer is not keeping pace with demand.

For Beijing, the city's pet-care industry is dominated by several chain store operations, notably Kudi Pets, Petdog and Favor Pets. There are also a growing number of privately-owned pet shops serving clients across the capital. The small-scale local stores, however, lag behind in providing more specialised services. The high-end stores also have their work cut out, with many keen to build market share, while warding off a number of the medium-sized chain stores that are increasingly looking to encroach on their territory. At present, few Hong Kong companies have made inroads into the sector.
Customised Pet Food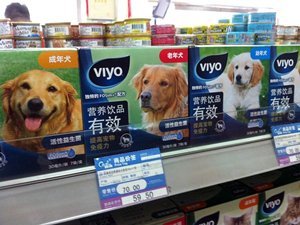 Dog diet supplements
As well as pet grooming, there is also higher demand for customised pet food. One Beijing pet store, for instance, offers eight varieties of cat food, each designed to meet specific feline needs, including weight management, digestive health or nutrition suitable for mature cats.

At one pet hospital operated by a leading pet supplies chain store, prescription diet pet food featured prominently. According to the local vet, the axiom "food is the best medicine," also applies to pets.

Indeed, prescription diet pet foods were available to treat a variety of ailments, including indigestion, pruritus [compulsive itching] and heart disease. As with doctors, vets also evaluate individual pets before prescribing the appropriate diet. In addition to remedial treatments, the hospital also developed supplements to enhance overall pet health, including supplements designed to promote speed healing, regulate the spleen and stomach, and improve hair and skin condition.

Prescription diet pet food is proving increasingly popular with owners, largely because it spares pets from the potentially harmful side effects of medication. Typically, a two kilogramme pack of prescription diet pet food is priced at about Rmb160-320, some 30 to 50 per cent higher than standard pet food.

Imported pet food currently accounts for about half of supplies. In terms of the specialist supplements, the mid-to high-end markets are dominated by products from the United States, Japan and Thailand. Only the smaller pet stores generally sell made-in-China pet food. Of the top 10 mainland pet food brands in 2013, seven were overseas brands.

Explaining the preference for overseas brands, one affluent Beijing pet owner said: "The quality of imported pet food is guaranteed, that's why many people prefer to buy it. The problem is that prices are getting higher. If the locally produced variety was cheaper, healthier and more diverse, I would probably try it."

In terms of local producers, the pet-treats market has proved particularly lucrative, allowing many producers to stay afloat through tough market conditions. Meat bars and chicken shreds from Shandong are said to be perennial favourites.
Made-to-order Accessories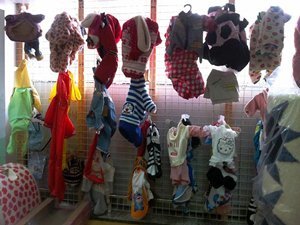 Feline fashion and doggy designer wear
The ubiquity of the Internet has led to expansion of the bespoke pet supplies industry. Pet owners can order a variety of products online, including tailor-made pet outfits, dog nameplates, dog chains, pet-photo packages and pet-care supplies.

LML Family is one such online store specialising in producing cartoon headshots of pets based on photos provided. As an additional service, owners can have these cartoons printed on T-shirts, pillows or mobile phone cases. Another online company offers custom-made dog nameplates, available in steel, leather and titanium alloy. Information about the pet is engraved on one side, while the owner's contact details and relevant instructions are carved on the other.

Tailor-made for dogs of all sizes and breeds, a dog nameplate costs between Rmb25 and Rmb45. Customised T-shirts are available from the same company, with a printed T-shirt costing about Rmb160. This is a considerable mark-up, given that a blank T-shirt typically retails at about Rmb20.
Supply Bottleneck
Despite the industry boom, many believe the custom-made pet supplies industry is heading for a bottleneck in the near future. According to the founder of LML Family, demand is outstripping supply. Describing the problems her own business faces, she says: "I've received many online orders, but I can't satisfy all of them by working alone. It takes me two to three hours to finish a single cartoon headshot." The owner is looking at expanding her operation by appointing a dedicated team and developing an app that would streamline the process.

The supply shortfall was also highlighted by the marketing manager of a branded pet store in Beijing. He said: "High-end pet products remain a major gap in the local industry. To compensate, we attend international pet fairs every year to stay abreast of the latest products and ideas."

At present, younger owners have the greatest penchant for custom-made items, as they are particularly willing to spend more on their pets. Another significant demographic is the rise of the single-female pet owner. This has seen a number of female-friendly products – notably cushions, matching outfits, pendants and purses – prove particularly popular. There are also specialist opportunities beginning to emerge for products aimed at elderly pets.

Latest statistics show that by the end of 2013, there were more than 120 million pets on the mainland. More than 10 million households own one or more pets, with the number growing by about 20 per cent per annum. With the industry already struggling to meet the current level of demand, the sector's growth offers huge opportunities for new entrants to the mainland market.

For more market opportunities, please visit: http://research.hktdc.com/.
Mainland China
Hong Kong