https://hkmb.hktdc.com/en/1X09ZHD8
China's Jewellery Shoppers: The Shopping Experience Counts
According to the Survey on Jewellery Shoppers in Chinese Cities: Purchasing Habits and the Hong Kong Premium [1] released by HKTDC Research, mainland consumers' demand for experiential consumption is on the rise.
Experiential consumption
Major channels through which respondents get jewellery information include shopping malls / department stores (60%), recommendations of sales attendants (47%) and of friends and relatives (45%). Compared with the 2011 survey, the proportions of the first two of the channels mentioned above have increased. In contrast, the proportions of obtaining information from TV commercials, newspapers / magazines and outdoor advertising billboards have dropped significantly. In the present era of information overload, respondents have increasingly opted for experiential consumption while reducing the use of traditional media.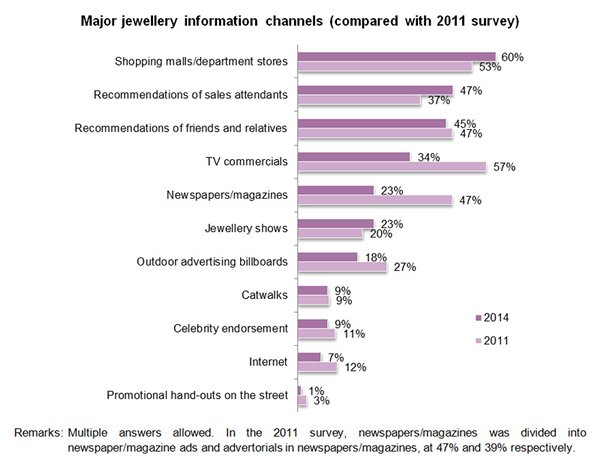 In most cities, respondents get jewellery information mainly from shopping malls / department stores while in Guangzhou, Shenyang and Dalian, there is a higher proportion through recommendations by sales attendants. In Hangzhou and Shenyang, the proportions for jewellery shows, catwalks and celebrity endorsement are higher than other cities.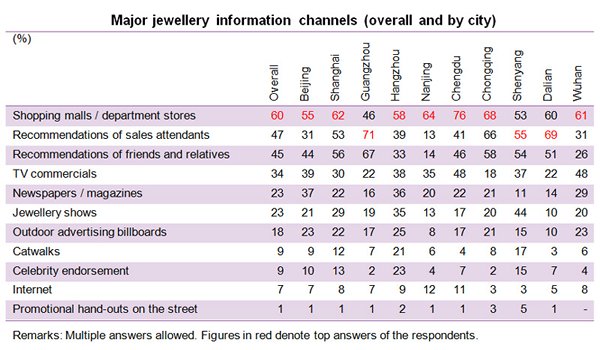 Promotion activities become less effective
What catch the attention of the respondents are mostly promotional booths at shopping malls (53%), discounts (46%) and TV / radio commercials (44%). Compared with the 2011 survey, the proportions of all activities have significantly decreased, of which TV / radio commercials, jewellery shows, newspaper / magazine ads and celebrity endorsement all drop more than 20 percentage points, indicating significant decrease in the effectiveness of promotion or marketing activities. Whereas, the proportion of respondents saying that they never paid attention to any jewellery promotion activities has risen from 4% in 2011 to 8% in 2014.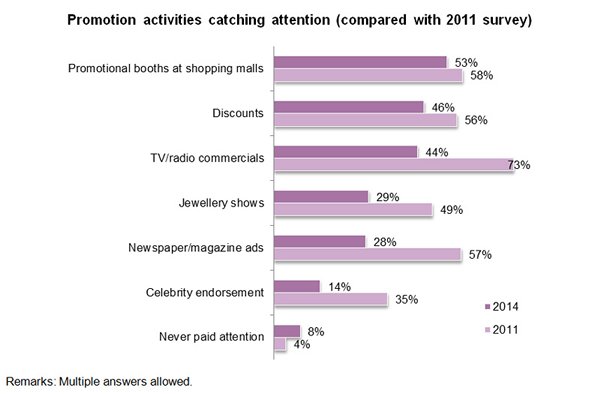 The situation is different in various cities in this aspect. In Beijing, Nanjing and Chengdu, the proportion of TV / radio commercials in catching the attention of respondents is the highest while in Hangzhou, there is a fairly average distribution in the types of promotion activities that catch attention, ranging between 33-54%. In Guangzhou, respondents saying they never paid attention to any jewellery promotion activities are 23%, which is much higher than other cities.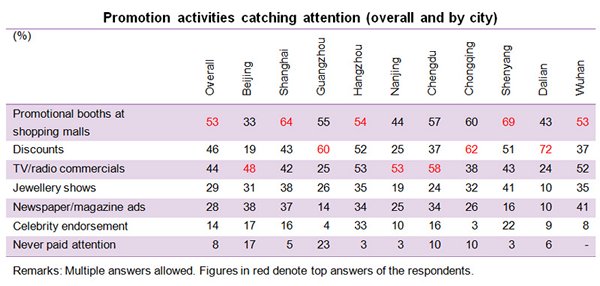 Customer's shopping experience a must-heed
Given the above-mentioned trends, the industry should pay attention to customer's shopping experience. They may consider changing the shop decoration design, creating a more comfortable shopping environment from the aspects of lighting, furnishings, atmosphere, and services, or consider using shop space for activities promoting experiential consumption, such as placing fashion magazine type product publications, playing videos, organising workshops, seminars or performing activities.
Respondents are unwilling to be passive receivers of information and begin to ignore traditional promotional tactics, which is a challenge for businesses. The industry is recommended to step up efforts in marketing and creativity, such as making use of membership system and customer data and purchase records collected from customers on an opt-in basis, to carry out targeted marketing and information push.
---
[1] The survey was conducted in May 2014, covering the 10 cities of Beijing, Shanghai, Guangzhou, Hangzhou, Nanjing, Chengdu, Chongqing, Dalian, Shenyang and Wuhan. The total sample size was 3,000, with 300 consumers interviewed in each city. The 300 respondents in each city were divided equally among three age groups, namely 18-30, 31-45, and 46 or above.