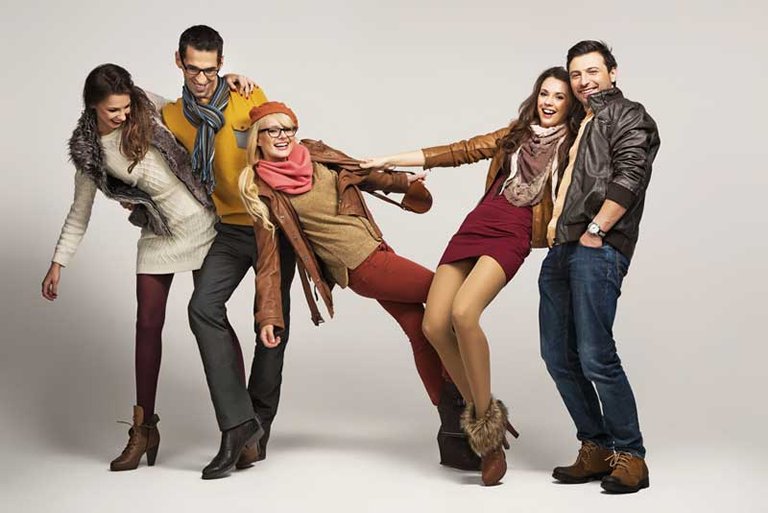 https://hkmb.hktdc.com/en/1X09ZH5G
Licensing Opportunities in Asia: An In-depth Look
Increased demand for licensed products across Asia represents real opportunities for overseas companies to access this vibrant market, with Hong Kong providing the perfect intermediary.
Licensing is a global business, with the developed markets still accounting for the lion's share of the sale of all licensed products. Regionally, North America and Western Europe are the top two licensed product markets, accounting for 63% and 20% respectively of the global market in 2013. Asian consumers, particularly those in China and Southeast Asia, now play an increasingly important role in licensed product sales. Sales of licensed products in Asia, outside of Japan, grew at a CAGR of 8.9% between 2008 and 2013, reaching US$8.7 billion. This has seen the region emerge as the new focus for business opportunities and for the growth of international licensing companies.

The global market for licensed goods has had a painfully slow recovery in the wake of the 2008 global financial collapse. Based on the latest estimates, the global retail sales of licensed goods amounted to US$156 billion in 2013, representing only a 6% gain on the US$147 billion low of 2010 and still some eight-percentage points below the 2008 level. With yearly growth rates in low single digits in recent years, and sales growth projected to remain sluggish in 2014, it will be several more years before the global licensed product market makes up the shortfall that has existed since 2008.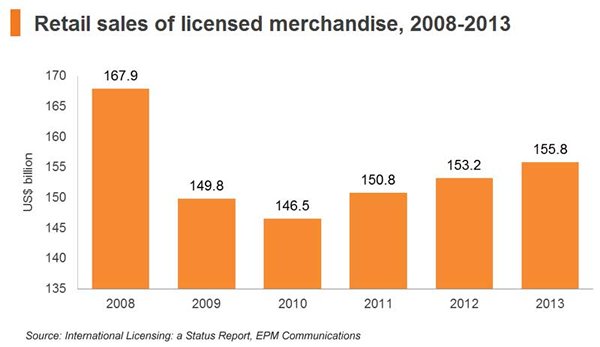 Licensing markets in Asia
The moderate, unimpressive 2013 growth of 3.2% in Asia's licensed product market can be easily explained by the performance dichotomy of its top two markets. In Japan, the larger of the two markets, the sector edged up by just 0.2% compared to China's 9.2% for the year. In 2012, Japan's market shrank by 1.8%, while China's soared by 9.1%, continuing the solid uptrend in evidence since 2008. In fact, China's licensed product market expanded at a CAGR of 14% between 2008 and 2013, whereas Japan's shrank by a CAGR of more than 5% over the same period.
As the second-largest licensing market in Asia, China had an estimated market size of about US$5.5 billion in 2013, accounting for some 29% of the entire Asian market. In 2013, for the first time, China's licensed product sales surpassed half of Japan's sales (54% to be exact). In 2008, by contrast, China's licensing market was less than 22% of Japan's. As one of the world's fastest growing markets for licensed goods, China's market has expanded by about 90% - from US$2.9 billion in 2008 to US$5.5 billion in 2013. Notably, China's per capita sales of licensed products have surged by around 1,000%, from US$0.4 in 2001 to US$4.1 in 2013. With the sluggish licensed products market in Japan, it is no surprise that international licensors are now keen to enter the China market.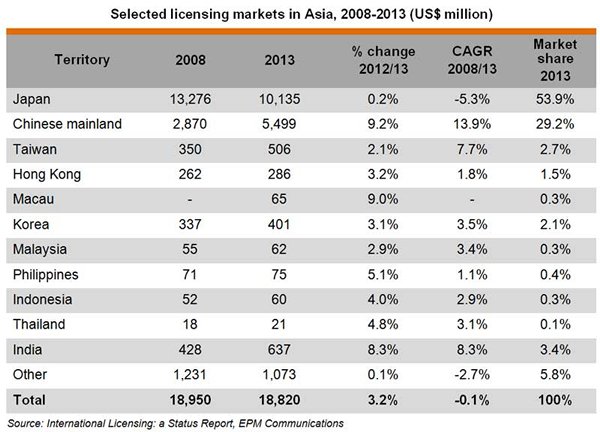 Character licensing continues to dominate Asia
Asia's licensing market is dominated by entertainment/character properties (with a 2013 share of 37%). This is followed by fashion (29%) and trademarks and brands (11%). Although the entertainment/character segment maintains a lead over other properties, its lead has been declining following negligible growth in the four years to 2013. Over the same period, fashion and trademark/brand properties have posted average annual growth rates of about 5-6%.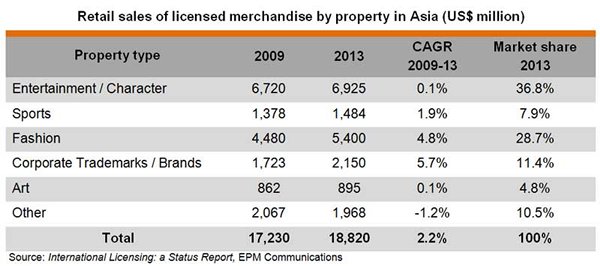 Consistent with its overall lead, Japan's licensed products in the entertainment/character sector accounted for more than 57% of the total, about 20 percentage points higher than that of China. Japan's licensed market of entertainment/character products is mostly served by home-grown properties, with cross-border use of Japanese properties in other Asian markets also becoming apparent. This is a result of many licensors seeking to venture out by themselves or through licensing agents in established licensing hubs, notably Hong Kong.
Hong Kong as Asia's preferred licensing hub
Many international licensors and licensing agents have, for a number of years, chosen Hong Kong as their strategic base. It is seen as a prime location for those looking to expand their licensing business in Asia, particularly with regard to the Chinese mainland. It has been widely recognised that Hong Kong offers a number of clear advantages. It is seen as the ideal interface for licensors, licensees, licensing agents and manufacturers. For many such organizations, Hong Kong's appeal lies in its commitment to intellectual property (IP) rights protection, respect for business agreements, high quality distribution networks, access to quality licensees, availability of industry talent, market sensitivity and close business connections with the mainland.
Against this broad backdrop, HKTDC Research set out to acquire an updated understanding of the role of Hong Kong as a licensing hub for Asia. To this end, it conducted a number of in depth interviews and undertook a major questionnaire-based survey. In total, this involved 50 in depth interviews and 169 questionnaire surveys. These involved licensors, licensing agents and licensees in Japan, Korea, Hong Kong, the Chinese mainland, Taiwan, India and four selected Southeast Asian countries (Malaysia, the Philippines, Indonesia and Thailand), which were completed in the first half of 2014.
The findings of the interviews and surveys will be covered in subsequent articles with the aim of assessing the general conditions and the licensing markets across Asia. The research will also consider the potential for the concerned markets, and detail how individual respondents entered their respective licensing markets in Asia and their underlying rationales. Additionally, it will look at the role of Hong Kong as a licensing hub for Asia, particularly with regard to international licensors from Japan and Korea.
This is covered in Capitalising on Licensing Opportunities in Asia via Hong Kong, the second article in this series, which focuses on Hong Kong's role in securing business opportunities in Asia by international and Asian licensing companies.