https://hkmb.hktdc.com/en/1X09ZBJK
Jiangsu/YRD: Hong Kong Service Opportunities Amid China's "Going Out" Initiative
China's outward foreign direct investment (FDI) has continued to expand in recent years, making it the world's third-largest source of such funding after the US and Japan. According to the latest available figures of the United Nations Conference on Trade and Development (UNCTAD), in 2013 China's outward FDI amounted to an estimated US$101 billion, an increase of 15% compared to 2012[1].
During 2004-2013, China's outward FDI flows grew at an average rate of about 38% per annum. In particular, since 2008, its outward investment has exceeded US$50 billion annually. Though China had a late start compared with other developed countries, the cumulative stock of its outward FDI reached US$613.5 billion by the end of 2013.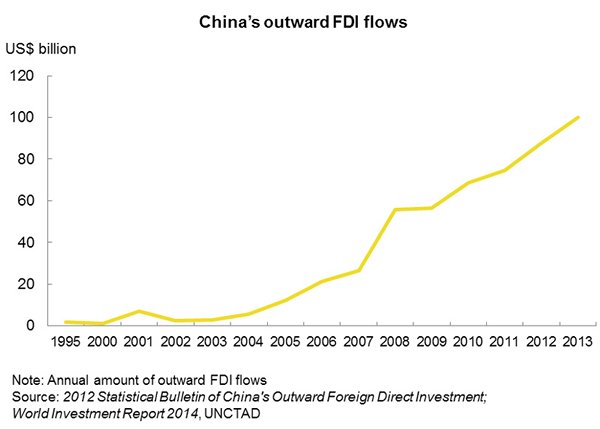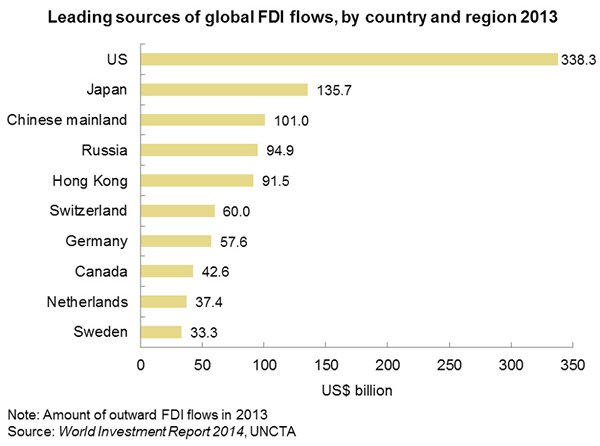 China stepping up efforts to promote outward investment
Alongside a substantial relaxation of outward investment procedures in recent years, the Chinese government has been actively building platforms to encourage enterprises to "go out" further. The objective is to drive their upgrade and transformation by stepping up their outward direct investment, and facilitating their co-operation with foreign partners. The Third Plenary Session of the 18th Central Committee of the Communist Party of China, held in November 2013, proposed that the country should open up internally and externally, while at the same time adopting the strategies of "going out" and "bringing in".[2] This is essential to help the country adjust to economic globalisation, while facilitating a more efficient allocation of resources, both domestically and in the international market. This entails further opening up to and co-operating with Hong Kong, Macau and Taiwan.
In the Government Work Report published in March 2014, the government stressed that amid economic development it will continue to open up further the Chinese markets, promote reform on the management of the outward investment, hoping to enhance the "going out" competitiveness.[3] Subsequently, the National Development and Reform Commission (NDRC) issued its Administrative Measures for the Approval and Filing of Outbound Investment Projects, significantly narrowing the scope of investment requiring approval. Since May 2014, a filing system has been adopted for managing general outbound investment projects involving an investment of less than US$1 billion. In addition, when an offshore mainland-funded enterprise undertakes offshore a re-investment project which does not require financing or credit guarantee from its Chinese parent, it no longer needs to obtain approval or file a record with the authorities.
Since then, outward investment projects of China no longer distinguish between resource and non-resource categories, except for projects involving sensitive countries/regions and sensitive sectors. The NDRC approval limit was raised from US$300 million, in terms of Chinese investment, in the resources category, and from US$100 million or more in the non-resource category, to a uniform level of US$1 billion or more, irrespective of category. Projects below US$ 1 billion will be replaced by a filing system in lieu of approval.[4] All these greatly facilitate the outward investment by Chinese companies.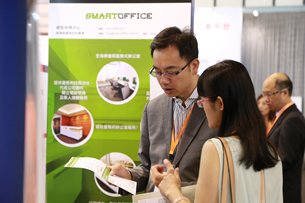 Chinese enterprises seeking professional services support (1)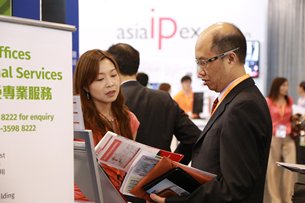 Chinese enterprises seeking professional services support (2)
Jiangsu/YRD region among the major sources of outward investment
China's coastal areas, particularly in the Yangtze River Delta (YRD) and Pearl River Delta (PRD), encompass many of the cities and economic regions that were opened up earliest. With the rapid development of China's economy in recent years, these areas have nurtured a growing cluster of the mature and competitive Chinese enterprises. For example, Shanghai, as China's metropolis, is the YRD business and logistics centre. Adjoining Jiangsu Province has emerged as one of China's economic powerhouses. The province's GDP is second only to Guangdong Province and ranks second in the country, accounting for about 10.4% of the national GDP in 2013.
Along with the economic development of the YRD, more and more of its enterprises seek investment and co-operation opportunities overseas in order to further develop their business. Against this backdrop, Shanghai and Jiangsu have become one of the major sources of China's outward investment, including the non-financial sector. In 2012, Shanghai and Jiangsu's outflow of non-financial sector FDI reached US$3.3 billion and US$3.1 billion, respectively, second only to Guangdong and Shandong provinces.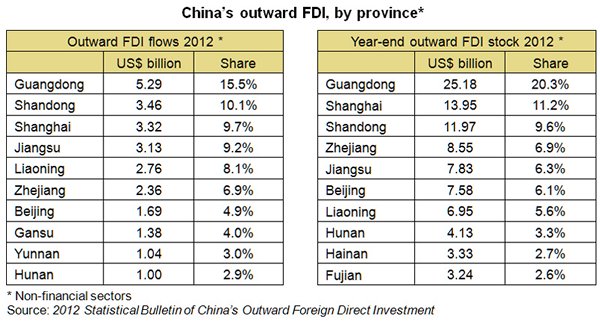 Hong Kong as service platform for mainland enterprise "going out" activities
Many mainland enterprises prefer Hong Kong as their "going out" service platform to invest overseas and look for foreign partners. Statistics show that Hong Kong has, understandably, been a key destination for the mainland's outward FDI. In 2012, Hong Kong channelled 58.4% of the mainland's FDI outflow, amounting to US$51.2 billion. It accounted for 57.6% of the year-end outward FDI stock of the mainland, the cumulative value of which stood at US$306.4 billion.[5]
Moreover, YRD companies "going out" also use Hong Kong as a major platform to invest overseas. Take the example of Jiangsu. As of end-May 2014, the cumulative total approved amount of outward investment reached US$23 billion, of which US$8 billion was invested in Hong Kong. The territory is a major destination for outward investment for enterprises in Jiangsu, accounting for the province's cumulative total approved amount of 35% of outward investment. More recent notable examples of Jiangsu enterprises investing through Hong Kong include the acquisition of the Swiss Oerlikon Group textile machinery parts and technology projects by Jiangsu Jinsheng Industrial Co Ltd, and the M&A deal of the German Schwing complete equipment for concrete production by the XCMG Construction Machinery Co Ltd. Both projects involved financing in Hong Kong and making use of Hong Kong's professional services for the investment[6].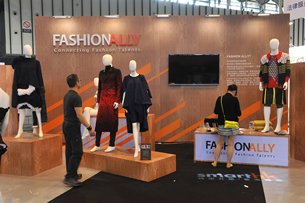 "SmartHK, Nanjing" organised by HKTDC (1)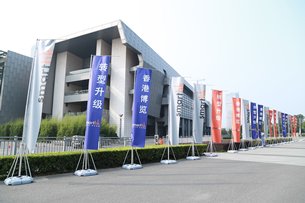 "SmartHK, Nanjing" organised by HKTDC (2)
Jiangsu/YRD companies "going out" service needs
To further understand the transformation and upgrading of enterprises in the YRD, their "going out" intent to find partners, and their demand for related professional services, HKTDC Research conducted a survey at the SmartHK Expo held in Nanjing, the capital of Jiangsu province, in June 2014. That HKTDC survey followed a similar research project conducted in Guangdong in the second half of 2013.[7]
The Nanjing survey received a total of 223 valid questionnaires filled out by mainland enterprises (comprising traders, manufacturers and service providers), of which about 75% were enterprises from Jiangsu. Other respondents were mainly from Shanghai and Zhejiang province in the YRD. Following are key findings from the surveyed 223 mainland enterprises on "industrial transformation, upgrading and going out"[8].
• Transforming and upgrading to improve product design and development capabilities
Nearly all respondents (99%) indicated that they have actually increased investment or will consider to do so in the next one to three years in order to upgrade and enhance their competitiveness. The most important area for investment is to upgrade their product design and R&D capabilities, (53% of respondents), followed by development and promotion of their own brands (46%). This is compared to the 2013 Guangdong survey, which found that Guangdong enterprises rated development and promotion of own brands as most important, followed by upgrading product design and technical capabilities. This shows that the main direction of business transformation and upgrading is slightly different between the YRD and the PRD.
In addition, YRD respondents said that they would invest to upgrade their production technology level (32%), strengthen product quality control management (30%), and raise the level of production automation (27%). Some companies will increase investment in the use of the Internet of Things (IoT) and radio frequency identification (RFID) technology to enhance logistics management capabilities of materials and products (21%), as well as meeting green production/environmental protection requirements (20%).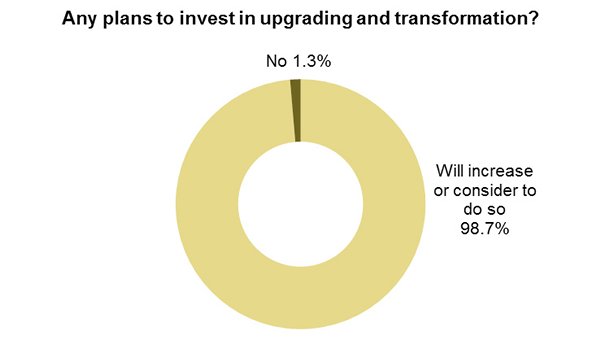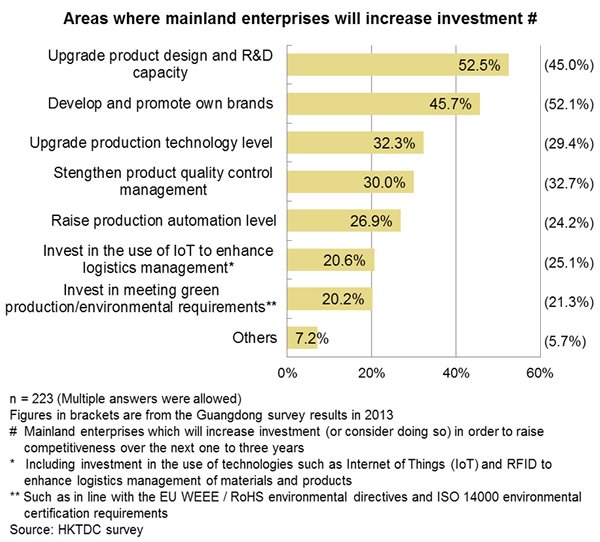 • Development of China and overseas markets
Most of the surveyed YRD companies said they have begun to adjust their business and operating strategies, and to make appropriate investments (98%). The main strategy of 66% of respondents is to further develop the domestic markets. Fewer respondents (27% and 26%, respectively) said that they would develop mature markets and emerging markets overseas. But overall, YRD enterprises seem to focus more on domestic markets, compared with their PRD counterparts which tend to consider both domestic and overseas markets.
Meanwhile, some companies adopt other business strategies, including increasing the development of related new series of products, as well as the development of related upstream (parts, raw materials) or downstream (retail) businesses, accounting for 24%, 16% and 15% of the surveyed companies respectively.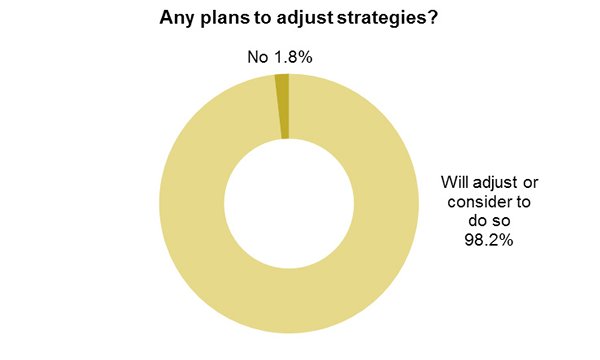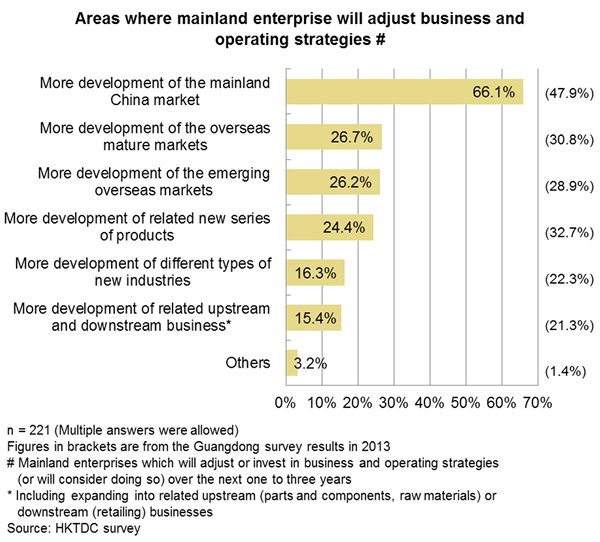 • Demand for Hong Kong and overseas services
The YRD respondents said they needed to engage various support services from outsiders to promote business transformation and upgrading, and for further business development. The most sought after services include product development and design (55%), brand design and promotion strategies (53%), and marketing strategies for the development of new business and new markets (47%). Although the focus of YRD and PRD enterprises in the aforementioned transformation and upgrading investment, as well as business strategy, is slightly different, the services they need are similar. More than 60% of the YRD enterprises indicated they want to obtain these services from Hong Kong or overseas.
Other services needed to be sought from outside include: banking, finance, project valuation and other financial services (43%); business consultancy, corporate management and training (39%); legal, accounting, due diligence and other professional services (34%); energy conservation, emission reduction and environmental protection technology (32%); quality management, inspection and testing, production technology (32%); and warehousing and logistics management of materials and products (27%). Among those YRD enterprises expressing a need for these services, more than half said that they would use the services provided by Hong Kong or overseas suppliers.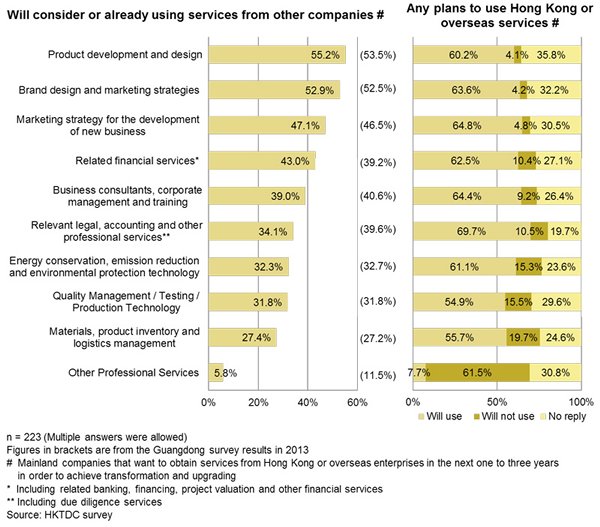 • "Going out" to seek business partners
In addition to the need to seek outside support services, 88% of respondents said that they are "going out" to seek business partners. More than 50% are particularly interested in working with foreign brands, which greatly exceeded that of last year's survey in Guangdong (37%). The reason is, as aforesaid, that YRD enterprises, compared with PRD businesses, are more focussed on improving product design and R&D capabilities to develop the mainland market. Through various forms of co-operation, the introduction of foreign brands and their design, technology and other advantages, they hope to jointly develop the booming Chinese market.
Meanwhile, 29% of respondents said they want to set up an overseas sales network through equity investment in foreign companies. Some 22% said they hope to carry out technological co-operation with overseas institutions in R&D, production and environmental protection. Through "going out", less than 20% of the respondents said they hoped to increase the procurement of foreign high-tech equipment, raw materials and key components, acquire foreign brands or foreign enterprises to expand overseas sales networks.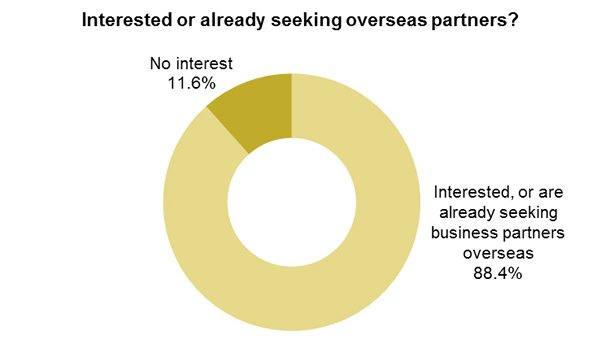 • Hong Kong preferred as partner and for services
When it comes to contracting overseas services, more than half the companies (56%) indicated a preference for sourcing services in Hong Kong. Such is the case in seeking business partners or conducting related commercial activities. Although this figure is slightly lower than the 65% level of the Guangdong survey, Hong Kong remains the preferred platform for "going out" for most YRD enterprises. Further, the slightly lower percentage could well be a reflection of the geographical distance between the YRD and Hong Kong. Aside from Hong Kong, other preferred sourcing destinations include the US (44%), Germany (27%), Taiwan (23%), Japan (19%) and Singapore (16%).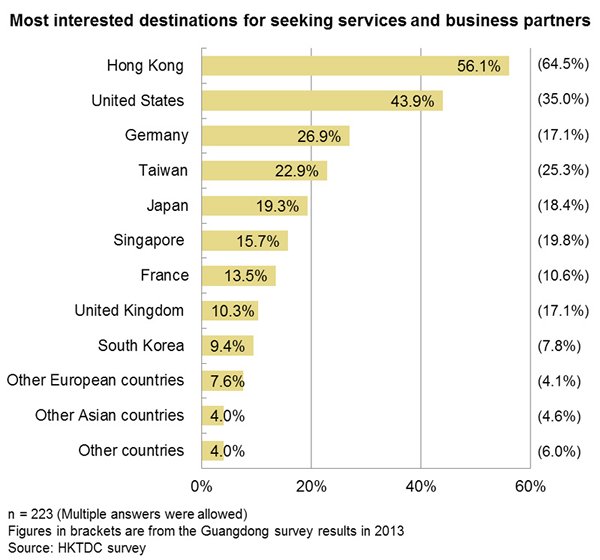 Conclusion
With advantages such as free flow of capital, extensive international communications resources and an international level of professional services, Hong Kong has real advantages when it comes to giving support to the "going out" activities of mainland enterprises. Indeed, Hong Kong service providers have been acting on the behalf of mainland enterprises for many years in matters of trade and investment in both Hong Kong and overseas markets. They provides mainland enterprises with professional services, including product development and design, brand and promotion strategy, marketing, finance, business consultancy, and legal and accounting services. With the mainland and the Jiangsu/YRD enterprises accelerating the pace of "going out" and "bringing in", this is bound to provide more opportunities for Hong Kong service providers.
---
[1] Source: World Investment Report 2014, UNCTAD
[2] The Decision on Major Issues Concerning Comprehensively Deepening Reforms as adopted by the Third Plenary Session of the 18th CPC Central Committee on 12 November 2013.
[3] Source: Government Work Report (delivered at the Second Session of the 12th National People's Congress on 5 March 2014)
[4] The new Administrative Measures for the Approval and Filing of Outbound Investment Projects took effect on 8 May 2014. For more details, please refer to "China eases restrictions on outbound investments" of the Business Alert-China of the HKTDC Research released on 17 April 2014.
[5] Source: 2012 Statistical Bulletin of China's Outward Foreign Direct Investment
[6] Source: Department of Commerce of Jiangsu Province
[7] For further information on the Guangdong survey, please see China's "Going Out" policy: Guangdong's demand for professional services, published in January 2014
[8] Organised by HKTDC, "SmartHK, Nanjing" was held at the Nanjing International Expo Centre during 10-11 June 2014. HKTDC Research conducted a questionnaire survey specifically on the participants for the "Transformation and Upgrading" CEO Forum and three other sessions of the "Going Out" seminar series. A total of 404 questionnaires were collected, of which 223 valid questionnaires were filled out by mainland enterprises (including traders, manufacturers and service providers).
Mainland China
Hong Kong
Mainland China
Hong Kong